This post was most recently updated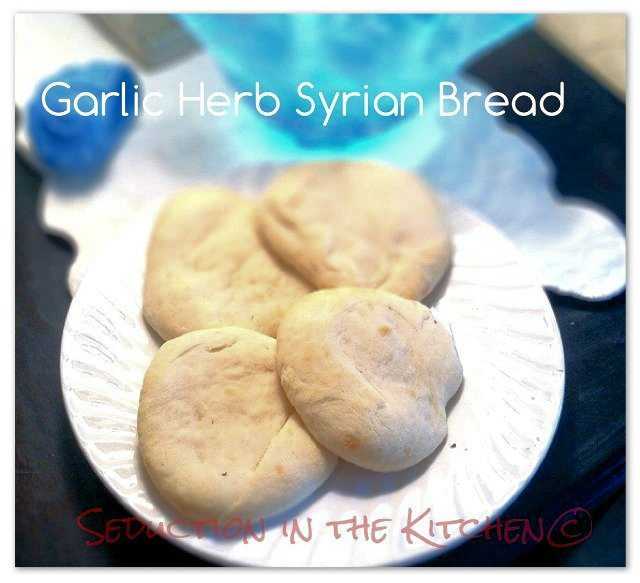 I was supposed to be on vacation this week. I was originally supposed to go to PA and spend time with this cute guy. However, after 6 months the relationship ended.
Long distances relationships, the fun of it all. The thing is I am from PA, I would have moved back for him. Everything happens for a reason if supposed to happen it will. Maybe us breaking up was a good thing because I suddenly found myself in a cast,
So I wasn't able to drive like I was supposed to. I am apartment bound for at least 2 weeks as of now. I have been on a weight loss regimen, eating right, taking vitamins, increase water intake, and of course exercising.
I have a goal to have a sexy body. I lost close to 40lbs, since I have started doing this I still have another 30 to go to get to what I feel is my ideal weight. I accept the fact I have curves and always will have them, I will have a Kim Kardashian ass, it not going to go away.
My body right now is in a weight transition. It looks ok, but it is my hips area, they are awkward right now, and need toned. So I stepped up the exercise. Oh did I mention, I did it because the guy in Pa had a bet with me about losing weight. He was trying to keep me motivated, I wanted to see me with this beautiful curvy figure.
The problem, I stumbled on the treadmill. At the time I thought I just irritated my tendonitis I have in my foot. I am a phlebotomist by day, and it is common to get tendinitis from being on your feet all day, especially in health care when you're running around like we do.
A month went by since that happened and just wasn't getting better. So I booked an appointment with a Podiatrist, and next thing I knew I was in a cast. I dislocated the bone.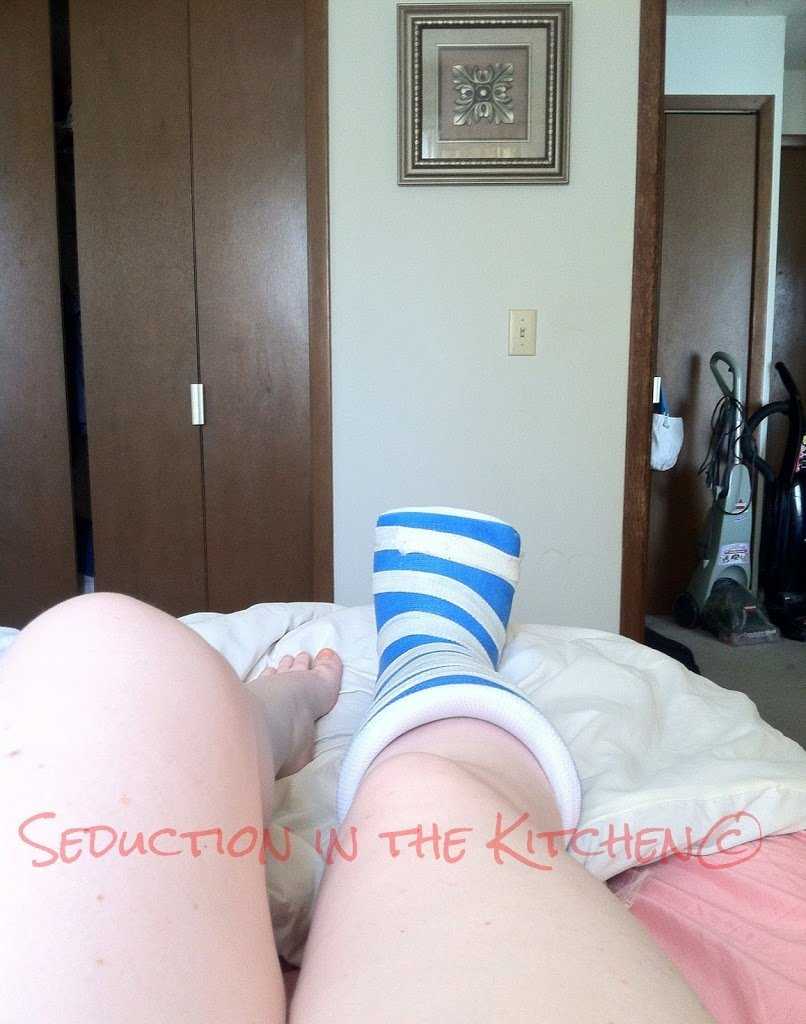 This my bad foot, I broke it a few years ago. So now what? Hopefully, this cast is only for 2 weeks, and not 3 months like last time.
So since I can't go anywhere, it seemed the perfect time to get back into food blogging again. So I wanted to make something that was easy and I do not have to be on my feet for too long to make it. Ahh, my Syrian bread, this is perfect, but let's kick it up a notch and had some more flavor to it with garlic.
I tend to favor Mediterranean styles of food, and men for some reason, I am attracted to them. My ex-husband was from Syria, so where I learned to make this flat little bread. What nice about this little round wonder is it is versatile.
I used it in place of french bread in things like require dipping, and of course in soup. It also makes for great sandwiches, like gyros. It just a good staple to have in your arsenal of recipes, plus using a bread maker makes it even better!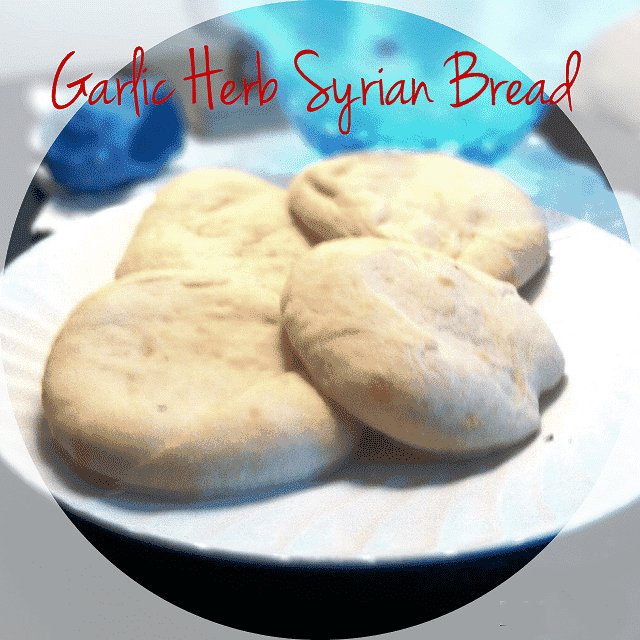 Yield:

6 servings
Garlic Herb Syrian Bread
Total Time:
2 hours
10 minutes
A flavorful middle eastern bread, a recipe from Seduction in the Kitchen
Ingredients
1 1/4 Cup Water
2 TB Olive Oil
1/2 ts White Sugar
2 ts Garlic and Herb Seasonings
1 ts Minced Garlic
1 1/2 ts Salt
3 Cups Flour
1 1/2 ts Dry Active Yeast
Instructions
Place the ingredients into your bread maker in the order recommended by the manufacturer. If you don't know the order, then follow the ingredients I have listed. This how my little machine recommends, and it tends to be similar for most brands. I will confess, as I was making these to show you, since I can not bed well with this cast, I accidentally picked up a bottle of olive oil with white truffle oil. So one TB of the oil is this blend, before I noticed what I was using, then I did the regular olive oil. I have to admit it did ad a good taste to these breads. So don't be afraid to try infused oils.
You want to select the dough cycle, I do not know what it is, but when it comes to dough, my bread machine just puffs it just right. I use the dough cycle for everything from sweet rolls to scones. I love it. Yes, I know a kitchen aid with a dough hook would be better, but they are over 0, and that something on my wish list that someday I will get. Plus, my kitchen in my apartment is very little, I have no room for it. It one those things I will get when I meet Mr Right and we have a house together.
Once the dough cycle is complete, it time to start making your little breads. Generally you can get about 8-10 rounds from one dough batch. If your single like me, this can last you a while, depending on what your using the bread for. So pre heat the oven to 475 now, when you hear the beep on your bread machine that the dough cycle is done.
Turn the dough out onto a lightly floured surface
and divide into sections. Depending on how you divide the dough, you can get anywhere from 8-10 pieces. Do not try and make any more or any less than this amount, you end up with bread that just isn't good.
Roll the pieces into little balls, and then with a rolling pin, shape them into flat little circles.
Depending on the size you can cook 3-4 at a time on a cookie sheet. You want to bake them for about 5-6 minutes. Just enough to puff them up and cook till golden brown. For these, I did brush a little melted butter onto the rounds before I baked them, so they have nice butter taste to go with the garlic.
Viola! fresh from your oven! You have made Garlic Herb Syrian Bread! If you want them plain, then omit the Garlic and Herb Seasoning and the garlic and you have a traditional plain loaf. There is plenty of room to get wild and crazy, like maybe add some cinnamon sugar to the tops as they bake? Almost like a healthier elephant ear, you get at the amusement park, now that is an idea right there. Plus this recipe is easy to adapt to those with allergies, like a gluten allergies. Potato flour works very well in this recipe.
Nutrition Information:
Amount Per Serving:
Calories:

120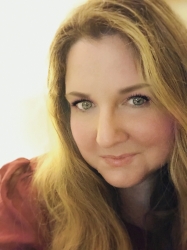 Latest posts by Deanna Samaan
(see all)