I am a participant in the Amazon Services LLC Associate Program, an affiliate advertising program designed to provide a means for me to earn fees to Amazon.com and affiliate sites.
Pumpkin Cheesecake French Toast Loaf is alternating layers of pumpkin and a cheesecake filling baked up in a sweet french toast loaf. A recipe from Seduction in the Kitchen.
Something inside me changed recently. Honestly, what changed was opening my eyes and seeing what is going on around me. Everything happens in three's they say. I had three things happen that just really had me open my eyes to the Cleveland surroundings.
I have always known I am different than people here in Cleveland and that is because I'm a native Pittsburgher. Lately, these three things and one was the work drama I mentioned in Chocolate Sour Cream Mini Donuts, has made me really realize, I don't belong in Cleveland. I will never be accepted here. I tried for 10 years but in end, it doesn't seem to matter, I simply do not belong in Cleveland.
People asked me why did I stay after the divorce. Everyone knows I have no family at all here. That I am 100% by myself here. The truth is I stayed because I didn't want start over with a job. At that time if I stayed another 2 1/2 years I could take my pension with me. I used to say I stayed because of my friends, now I wonder how many really are true friends to me. Now I think I stayed here because I was afraid to start over.
I have said it time for Dee to be Dee. It is, I'm glad my eyes are opening. Everything happens for a reason, having those three things happen, yes, it was hell going through them, it hurt having my feelings crushed, feeling like I'm not important sucks, and getting my gut all tied up in a knot is not fun, but I had to experience all that through those acts to open my eyes and see what really is in front of me.
Cleveland really is different than Pittsburgh. There was this article that was viral on my Facebook two ago. It was called It's hardly polite to be outside Pittsburgh. I thought I understood this article then. Now, well I have this Timehop app on my phone and I posted that article back when was viral, it showed up on Timehop under 2 years ago, so I was able to reread it. I really understand what the man was saying now than I did back then. Like I said everything happens for a reason, I think that article showing up in Timehop at this time was something that was supposed to happen.
I'm glad I have had this change inside me. Sometimes we go through life with blinders on sometimes. Well, I had my blinders taken off so I can see better. What am I going to do? Not sure yet, I got loose ends I need to tie up here in Cleveland. So I'm working on that first, then I will decide what I'm doing after that. Do I see myself retiring in Cleveland? No, I actually don't see me here this time next year in all honesty. I need to take my own advice, change is good.
Speaking of change, so I have had this recipe for French Toast Loaf forever. It is a Disney recipe, I do have it on my Recipes of Disney website. I do like playing with it to change it up. First time I changed it up was when I did Blueberry Peach French Toast Loaf.
I know everything is pumpkin right now. It pumpkin this and pumpkin that. I was thinking what pumpkin can I do? The French Toast Loaf was speaking to me, I thought if I change it up and do layers of pumpkin it might work. Then realized it needed something else. Cheesecake-like filling with pumpkin filling! Yes, that would work! So I made it and it was great! My favorite part, in all honesty, is the left overs. I melt some butter and fry the slices in the butter and makes for great grilled pumpkin stickies!!
Yield: 6 servings
Pumpkin Cheesecake French Toast Loaf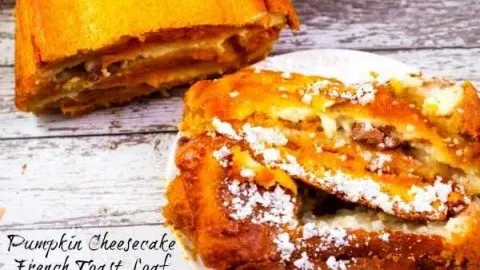 Alternating layers of pumpkin and a cheesecake filling baked up in a sweet french toast loaf. A recipe from Seduction in the Kitchen
Ingredients
1 small can of pumpkin pie filling
8 oz cream cheese (soften)
3 tablespoon sugar
1 teaspoon vanilla
1 tablespoon milk
1/4 cup pecans (chopped)
12 slices day-old white bread
8 oz . butter (chilled and sliced)
1 cup heavy cream
4 large eggs
1/2 tsp . vanilla
1/4 tsp . cinnamon
Instructions
In a small bowl, mix together the cream cheese, sugar, vanilla, and milk. Set it aside.
Liberally spray a loaf pan with cooking spray.
Layer three slices day old bread on bottom of pan. Spread the pumpkin pie mixture on top of bread, then layer 1/3 of the butter.
Add three more the bread, pushing the bread down. Then add the cream cheese mixture on top. Sprinkle that layer with a little the pecans, layer on the next 1/3 of the butter.
Keep layering and pushing the bread down, and doing layers of the pumpkin pie and cream cheese layers.
Top off with three more slices of bread (should have a total of 12 slices of bread). Press down with hand to compact bread into loaf pan.
Slowly pour the batter over top of loaf, covering completely. This may take a little time, to allow it to fully absorb into bread and flow into spaces at bottom. (Take
your time here and pour into corners. Lift bread at corners a little to get into bottom quicker if you want.)
Cover top of loaf with parchment paper and wrap top tightly with aluminum foil. Place in refrigerator and allow to sit overnight.
Heat oven to 325º F.
Bake for approximately 1 hour or until internal temperature in center of loaf is 160 degrees.
Uncover and bake for another 15 minutes.
Remove from oven and let rest for 5-10 minutes.
Place a plate on top of loaf pan and invert to remove from pan. Cut into 7 slices and serve.
Nutrition Information:
Amount Per Serving:
Calories:

725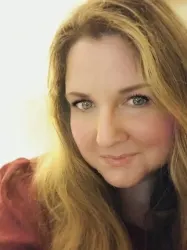 Latest posts by Deanna Samaan
(see all)