I am a participant in the Amazon Services LLC Associate Program, an affiliate advertising program designed to provide a means for me to earn fees to Amazon.com and affiliate sites.
Slow Cooker Pumpkin butter is an easy way to make pumpkin butter using sugar pumpkin. The slow cooker takes all the hard work out of creating this wonderful butter. A recipe from Seduction in the Kitchen.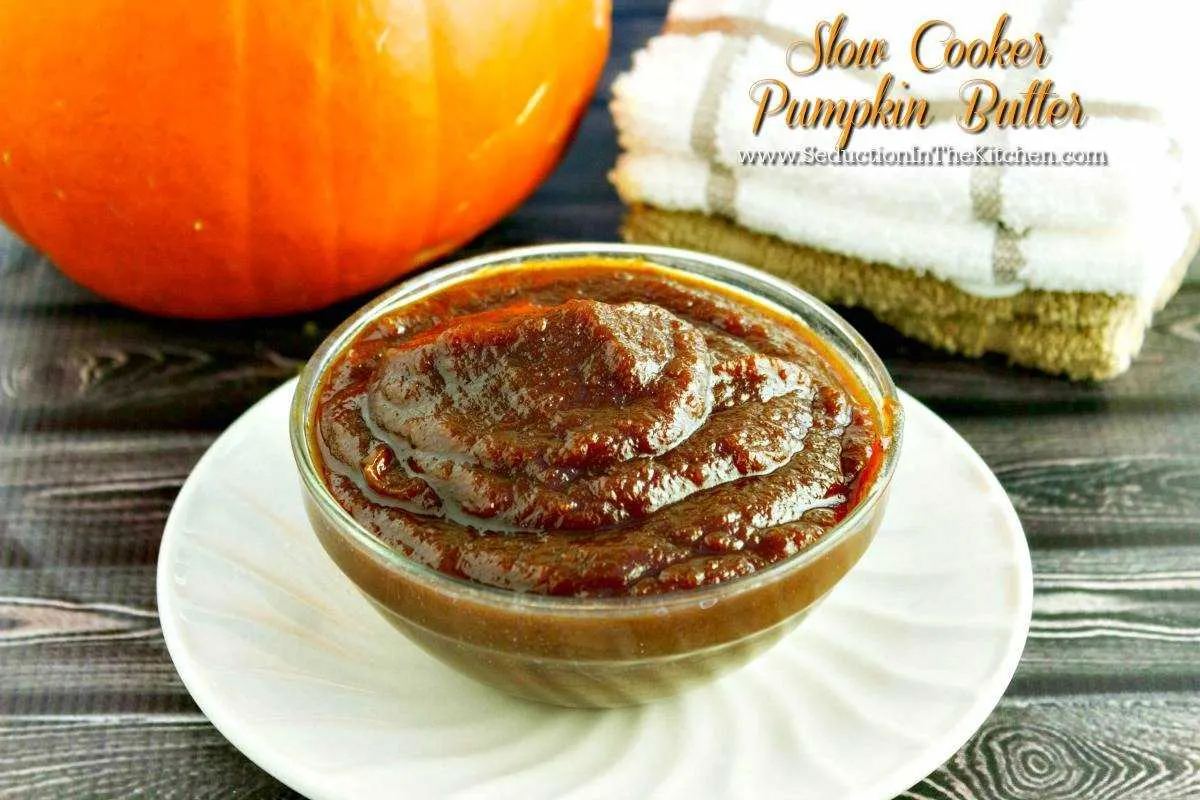 I know the last few posts I been a little frustrated, With this pumpkin butter post, I am actually excited to write. It is for many reasons, one of which this particular recipe will be my first crossover recipe for Seduction in the Kitchen. What does that mean? It means this pumpkin butter will be the base for the next recipe of mini pumpkin tarts, which I will be posting tomorrow. I have never done this type of post before and I am excited to do it.
Also, my plan of submitting after I post to food porn sites and such has worked for me! Also, me changing up the light filter on my photography light to the gauzy material has really helped. Why? Because FoodGwaker, has accepted every photo I sent them. That has never happened before. Foodgwaker almost always rejects me. It is rare that I would get accepted by them. Now, they are accepting me. it feels good, I am making some changes and they are working in my favor.
So what is next in my quest to improve Seduction in the Kitchen? Well, I got a few things behind the scenes you will not see, like SEO improvement. I admit I hate SEO, but it is a necessary evil you have to have in the blog world. So I am following my own advice of change is good.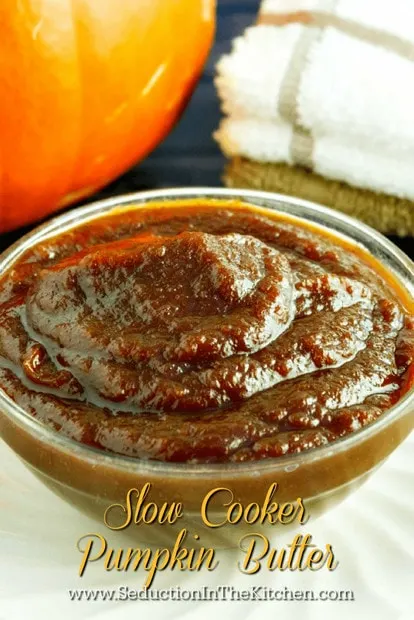 Love Seduction in the Kitchen recipes? Follow me on Facebook and Instagram! Don't want miss a recipe? Signup for my monthly newsletter with all the recipes posted in last month!
I go to the store and spotted cooking pumpkins or some may know them as sugar pumpkins, that are on sale. Now I have always wanted to make a pumpkin pie completely from scratch. For this, I know you need a sugar pumpkin to do this with. Regular pumpkins that you carve for Halloween, does not make very good pies. These sugar pumpkins are the best to use because they are much sweeter from what I know.
2 for 5 was the sale for these pumpkins, so I got 2. One is a pie that I actually want to do as a video recipe. Yes, another change I am hoping to do. The other, pumpkin butter. This is the season of pumpkin spiced everything right?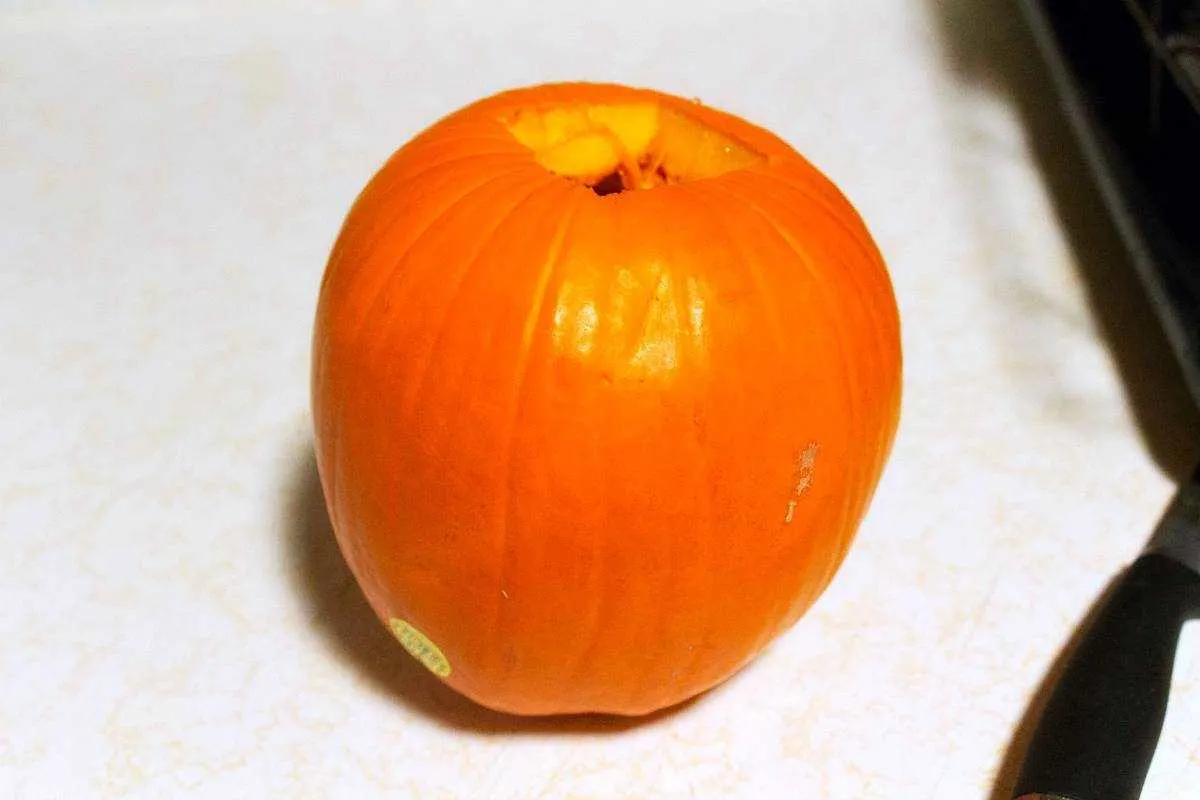 Cleaning out the cute little sugar pumpkin was the easy part for this pumpkin butter. You simply cut off the top and get rid of the seeds. No problems there.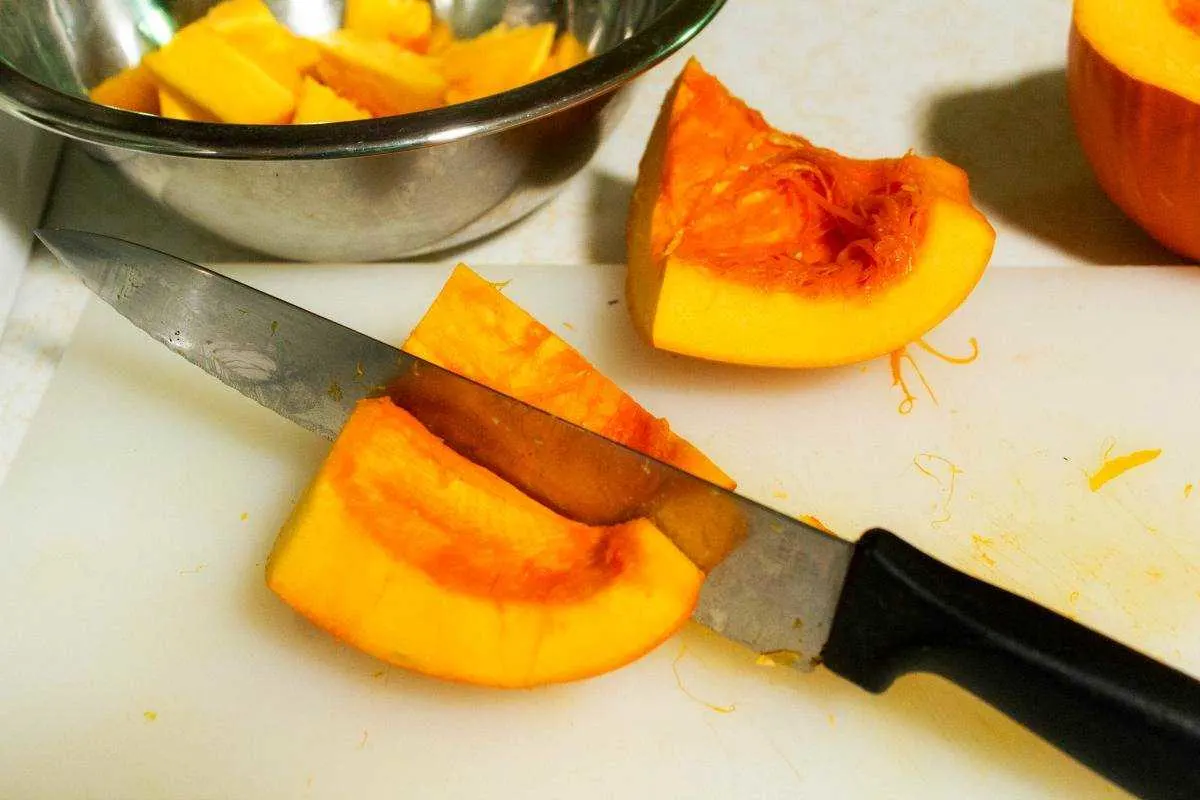 The hard part of this pumpkin butter is cutting up and taking the skin off the pumpkin. It could be the knife, I just found this the hardest part in making my pumpkin butter. I do not normally work with pumpkins. I use canned in many recipes.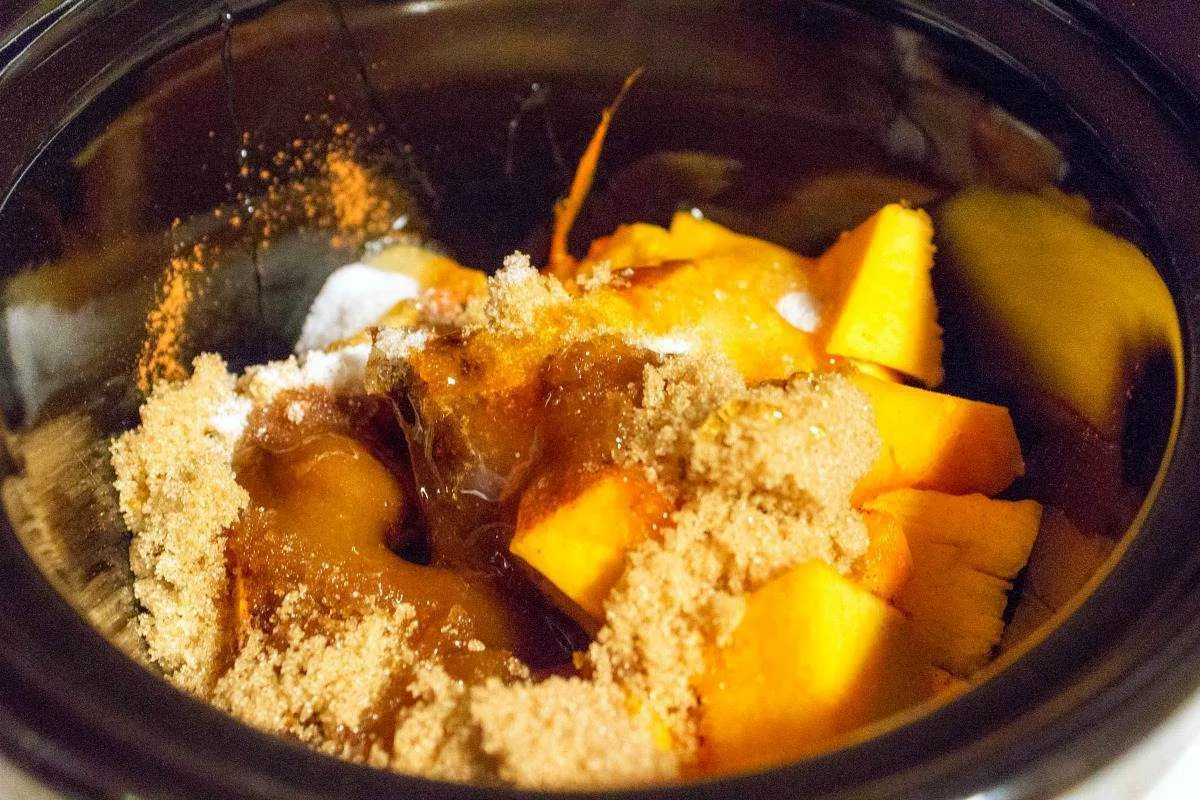 The sugar pumpkin got cut up and into the slow cooker. I have Golden Eagle Syrup I got from a recipe contest. I used it instead of molasses. The flavor is amazing to me.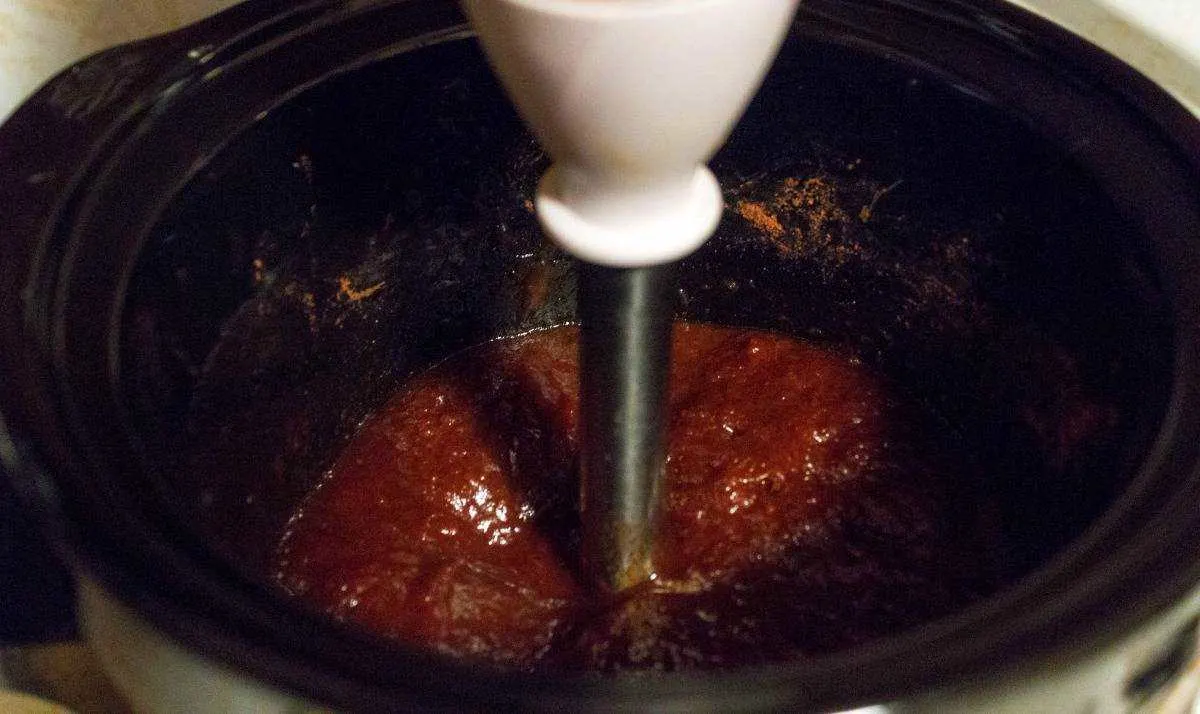 Letting the pumpkin butter cook overnight in the slow cooker was great. Waking up to the pumpkin and spice smell was a wonderful way to start my day. Now just had to puree it with a stick blender.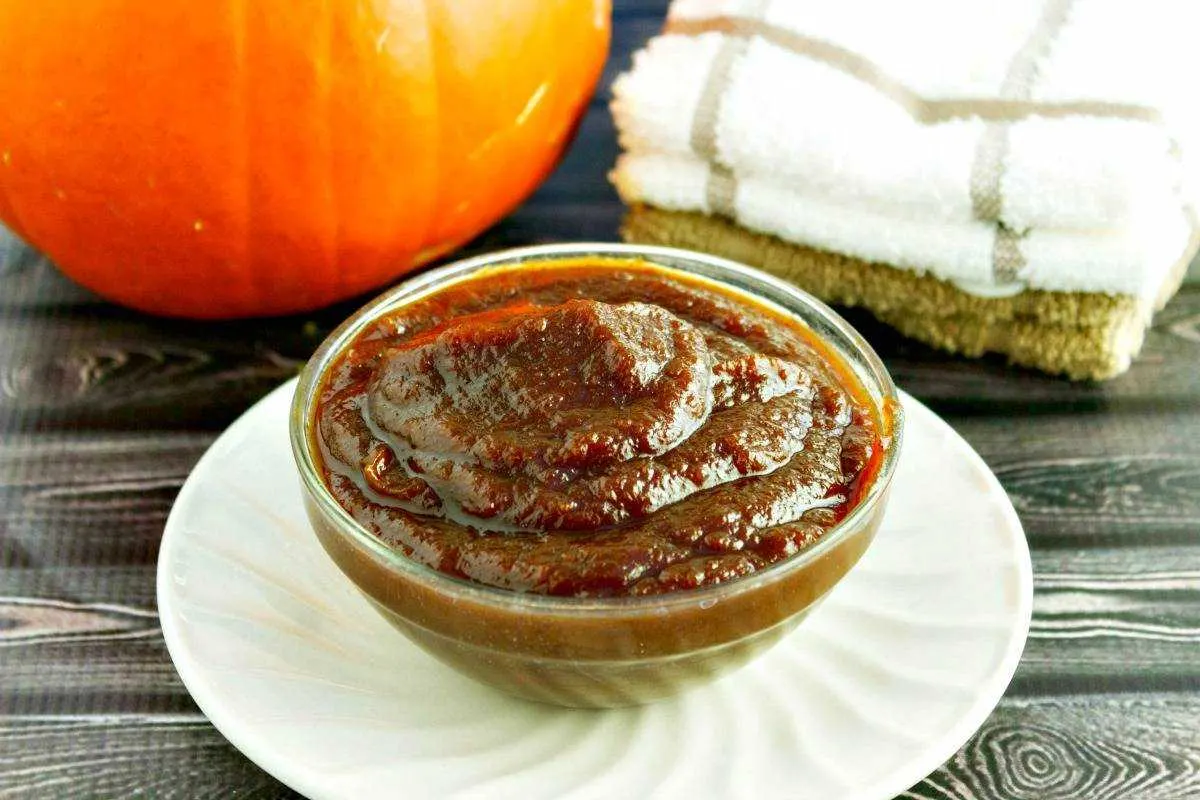 Slow cooker pumpkin butter was done. It tastes so yummy. It inspired the second recipe that will post tomorrow, Mini Pumpkin Tarts. Please check it out when it posts, it will be perfect for Thanksgiving dessert.
Yield: 6
Slow Cooker Pumpkin Butter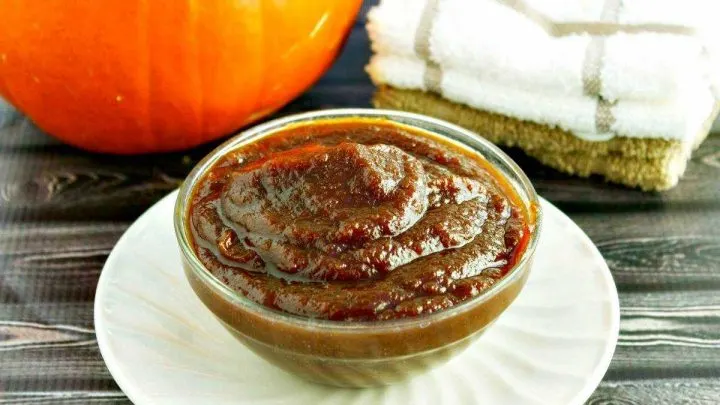 Slow Cooker Pumpkin butter is an easy way to make pumpkin butter using sugar pumpkin. The slow cooker takes all the hard work out of creating this wonderful butter.
Ingredients
1 whole sugar pumpkin (5lb) seeded, peeled, and cut into 2-inch cubes)
1/4 cup white sugar
1/2 cup brown sugar
1/4 cup Golden Eagle Syrup
1 TB ground cinnamon
1 TB pumpkin pie spice
Instructions
Combine the sugars, cinnamon, and pumpkin spice in a bowl.
Place about 1/4 of the pumpkin into the bottom of a slow cooker, and sprinkle with 1/4 of the sugar mixture; repeat layers.
Top off off with the Golden Eagle Syrup.
Cover the slow cooker, set it on Low, then cook for 8 hours or overnight.
Give the pumpkin butter a good stir.It should be a dark, golden color.
Place an immersion blender into the slow cooker, and blend the pumpkin butter until smooth.
Spoon it into a canning jar, it is good for a week that way.
Place on toast and ENJOY!
Nutrition Information:
Amount Per Serving:
Calories:

0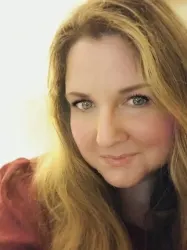 Latest posts by Deanna Samaan
(see all)