I am a participant in the Amazon Services LLC Associate Program, an affiliate advertising program designed to provide a means for me to earn fees to Amazon.com and affiliate sites.
Blueberry Peach French Toast Loaf, a great way to have for a Sunday breakfast, sweet and full of flavor.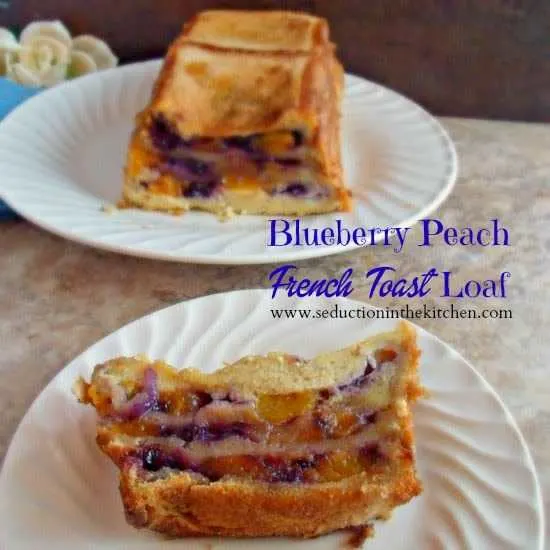 I had a dream the other day, I can not remember what the dream is about but I do remember as I was about to wake up and hearing this in the dream "The hardest part is making the phone call." I have no idea why I dream this or what it about, but I am thinking something is about to happen in my life, and for a good thing. I know recently I am being given an opportunity to have my very own web TV show on Foodies TV. They been sharing my recipes and it a great opportunity.
The downside is finding sponsors for the show. I drafted a letter and mailed out the first bunch to local businesses to see if they would want to have their ads and commercials in the show. Maybe that was why I dreamed, "The hardest part is making the phone call." Oh and by the way if you are a brand or a business and is interested in advertising on the Seduction in the Kitchen Web TV Show, drop me a line. Yes, I had to throw the pitch out there. I really like to see this web TV show happen.
Anyway, I do believe in signs, and I think that message in the dream is a sign of some sort. Like the Universe is telling me to do something to make something happen. Figuring out what, well that is the mystery. Besides this recipe blog, I do have things on my mind, like getting out debt, finding love, losing weight, stuff like that. So that advice can apply to just about anything.
It is right, the dream, the hardest part in any situation is making the first move. I have and I know many others, have lost out on something , all because we didn't make that first move. Fear is weird, it really can limit you in so many areas. Finding ways to swallow that fear and make that first move, the sky is limitless with what we can do. So now the real fun begins, figuring out what I have to call to make that first move.
Recipe development can be a scary thing. You have an idea, sometimes it works, sometimes it fails, but if you don't take the first step in trying out your idea you never know if it works. That is kind of what this recipe came under. I had this basic French Toast Loaf recipe from actually Disney world. I have made it several times, after scaling it down and doing some conversions from the recipe Disney gave me that is. It is always very good. In fact one my favorite things about the French Toast Loaf is that leftovers are great fried in butter. They make grilled stickies that way. I had peaches, I had blueberries, and the what ifs started inside my head. Do I mess with a great recipe or can it be taken to the next level? The only way I would know is by taking that first step and giving it a try. It ended up being a great success. In fact I think I like this version better then the old one. I would never have know it unless I did the first step and gave the idea change a try.
[
Yield: 6 servings
Blueberry Peach French Toast Loaf
Blueberry Peach French Toast Loaf, a great way to have for a Sunday breakfast, sweet and full of flavor. A recipe from Seduction in the Kitchen.
Ingredients
1/2 cup of blueberries
1 10 oz can of peach slices (drained)
6-8 pieces of thick sliced bread (texas toast)
1/2 cup brown sugar
1 1/2 teaspoon cinnamon (divided)
1 cup of heavy cream
1 teaspoon vanilla
1/4 teaspoon almond extract
4 eggs
1 stick of butter (cold and sliced)
Instructions
Grease a large bread pan very well with crisco, and set it aside. Then take a bowl and beat the eggs, heavy cream, vanilla, almond extract, and 1/2 teaspoon of cinnamon. This will be the batter. once all nice and blended, set it aside.
Next, in a small bowl mix together the brown sugar and cinnamon, set it aside.
Then, line the bottom of the bread pan with 2-3 slices of the bread. It will depend on how large your pan is for how many slices you use. I like using nice think slices like texas toast. Homestyle is good to use as well, you just dont want to use Wonder Bread type slices, they dont work well in this recipe.
Your going to start to layer, so on top the bread in the pan, sprinkle some the brown sugar mixture and spread it over the bread.
Next add a few slices of peaches, I do like 3- 4 to each slice of bread, the sprinkle some the blue berries on.
Then add the butter. I take the stick of butter, slice it into pieces, then each piece I slice in half then in half again. This way I have each slice into 4ths. I dot the bread with those little 4ths of butter. Usually about 2 slices, so it be 8 of those little 4ths.
Then top with another slice of bread, but you want to press down on the bread. Then start the layering again like you did with that first layer. Keep doing that till you reached the top of the pan. Put on the final pieces of bread, press down, then you should have 2 slices of butter left, or 8 of the 4ths. dot the top with the butter. Then you are going to slowly pour the batter over the bread. Take your time with this, it will spill out. I pour a little let the bread soak it up for a few minutes the pour again. Pour it down the sides, in the corners. Get as much of the batter into the pan as you can.
Once the batter is poured and absorbed into the bread, cover with foil and let sit for about 2 hours in the fridge or over night.
Pre heat the oven to 375 and bake the french toast loaf for about 75 minutes. You will see the top will puff up and the bread will get a nice golden toasty color.
When it is done, take a knife and rim it around the loaf. Let it cool slightly and then invert the pan onto a plate.
Cut the loaf into slices and then ENJOY!
Nutrition Information:
Amount Per Serving:
Calories:

520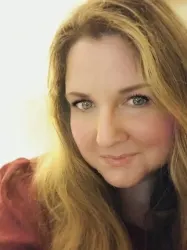 Latest posts by Deanna Samaan
(see all)