This post was most recently updated
Portobello Stacks are a healthy, tasty, stacked dish of portobello, tomato, eggplant and onion that is perfect for anyone!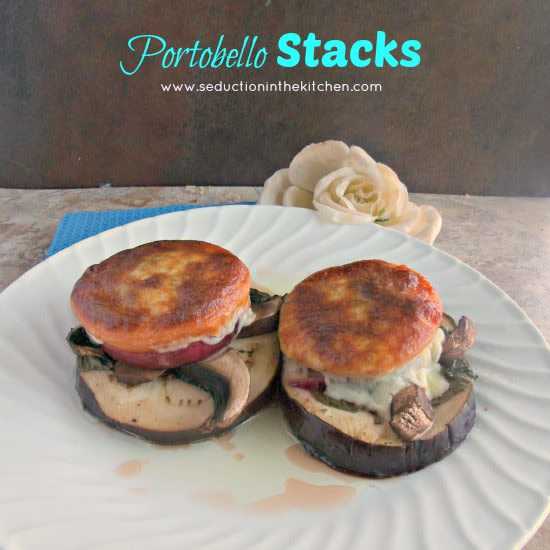 This is my second makeover post I am doing. I published this one originally when I was off in my cast and stranded inside. My furry nursemaids of Angel, Doodle Bug, and Lily kept me company. So much has changed since I originally published this post.
One change is my photographic skills. I would use my iPhone to do all my photos. Then use various apps to add words and editing. I did not know anything about lighting, PicMonkey, food props, styling, photo editing. Well as you can see in the photo below, which was the original photo on this post, I have come a long way, baby!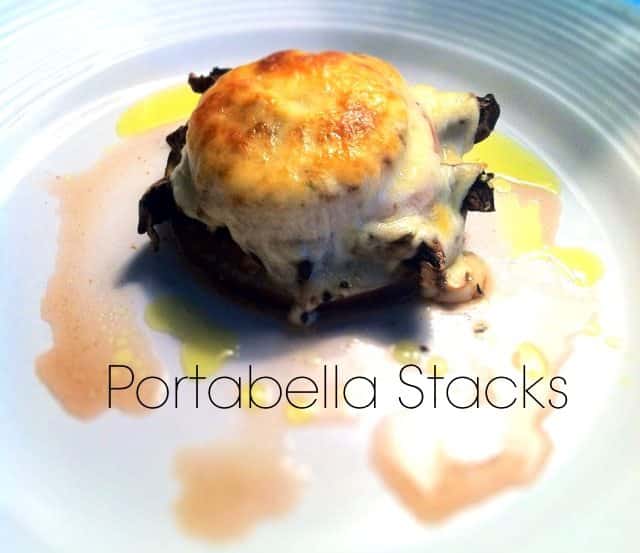 It is a learning process, I am still learning it, I still have ways to go, wow, I admit I am impressed with how much I have grown in photography.
Another change is my babies, my fur kids. They came to live with my mom in PA after the manager of the apartment complex said no more pets. I came in to see my family in PA for a long weekend.
This a rough time of year, you see August 12, is my dad's birthday and we have lost our furry family members on and around his birthday.
As you recall, Odie, my sister's dog passed away on Aug 3, that I talked about in the
Pineapple Pretzel Delight recipe.
Well, I came in on Thursday the 14th, my mom sat me down and told me, My sweet Angel, passed away on Tuesday, my father's birthday.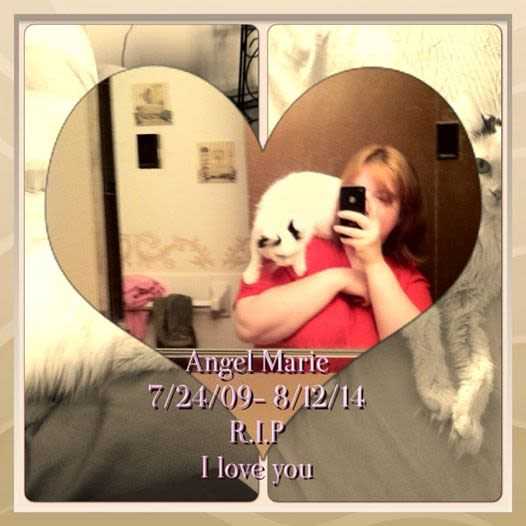 My mom didn't want to tell me on the phone, she thought would be better in person. She knew I was coming in a few days later. Angel had a rare condition that developed the last year and a half.
What happens is her uterus, even though she was fixed, would fill with fluid. Usually, in pets that are fixed, the fluid drains ok. However, in Angel's case, she had a closed cervix.
So it would cause her to blow up like a balloon. Then it would burst. It is usually 99% fatal. She survived, in fact, she had a total of 5 episodes and survived each time.
My vet did not know how or why she survived. We put on antibiotics, which trust me was not fun to give her this pill. The best way was to crush it mix with some water then squirt down her throat. Anyone give a cat a pill knows the fun in giving a cat a pill. She truly was a miracle. In between these occurrences, she was an active little cat.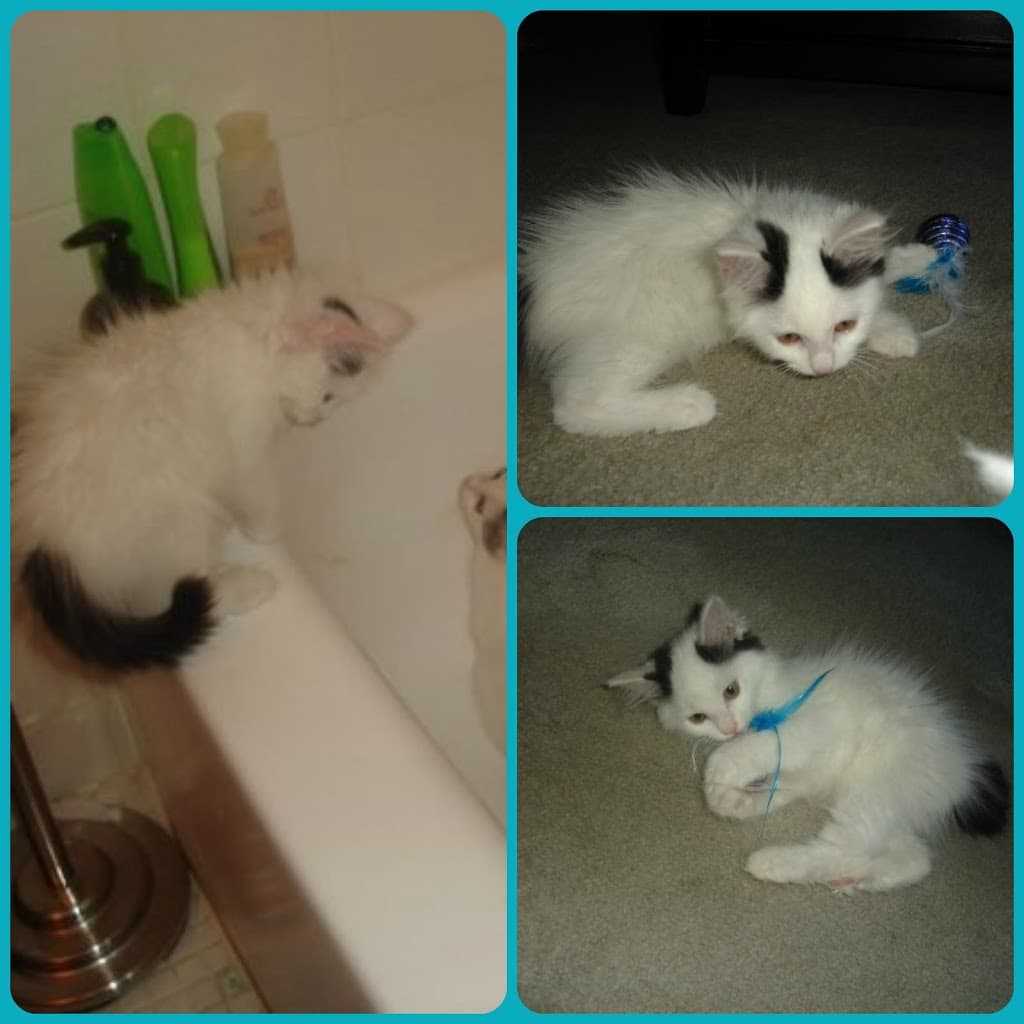 She truly was a miracle. In between these occurrences, she was an active little cat. She never showed signs she was in pain. The vet and I did not put her down because she was active. Her occurrences would happen at night when I was asleep. I see in the morning she had a bout of this condition. It happens so quickly and without warning.
Well, my mom said she didn't look good over the weekend, she was starting to blow up, but it wasn't like the usual. She looked tired this time. My mom was with her on the bed, scratching her head, and told her, it was ok to go to sleep, to go and be with Odie. She closed her eyes and went to sleep.
Portobello Stacks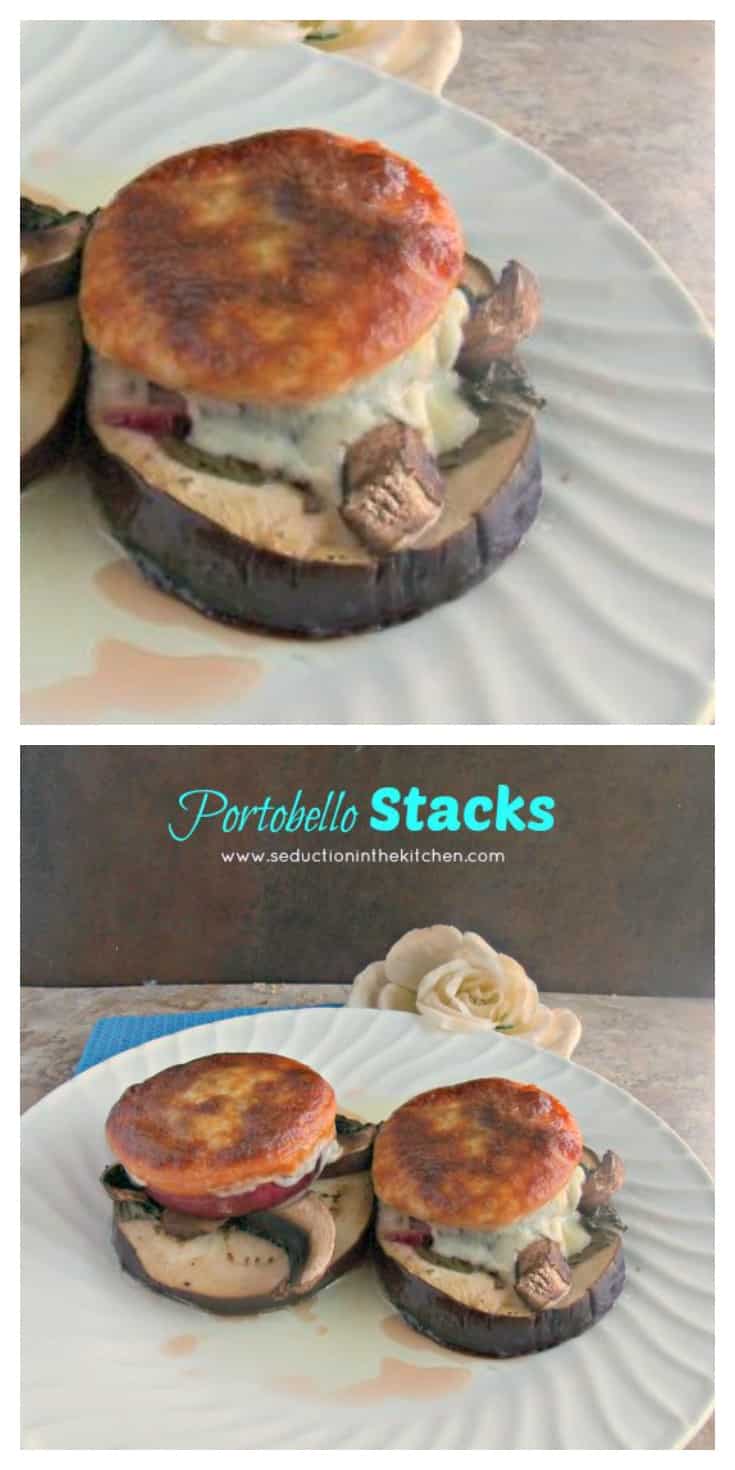 I decided to use this recipe for Angel's dedication because, well she was with me when I first published it. Plus it a makeover post. Angel was my "pretty" kitty. She would get on my shoulder, as I put makeup on and want makeup put on her, So I always pretend to put blush on her. So a "makeover" post seems just right for my pretty kitty. R.I.P Angel Marie, you were loved, your name fits you, that was for sure.
This Portobello Stacks came from a variation on a Disney recipe. I had some eggplant, and I wanted to do something different with it. California Disney had a deconstructed eggplant parmesan recipe that I used as a loose basis for Portobello Stacks.
I decided to add the portobello to it to give some earthiness to this delicious recipe. Then, of course, you need a little tart with the vinegar. Finally, top off with a little provolone cheese and the Portobello Stacks come to life.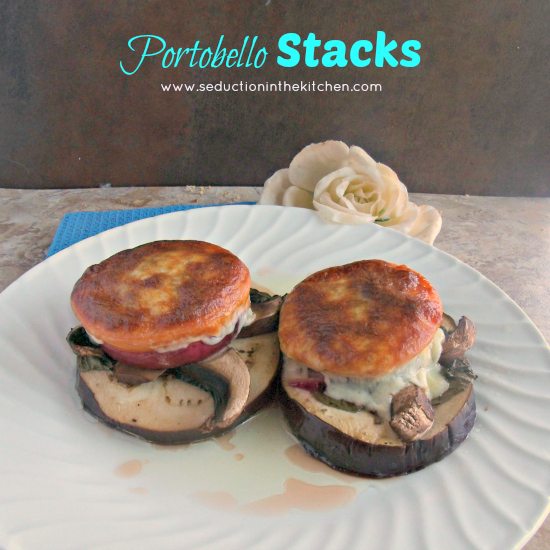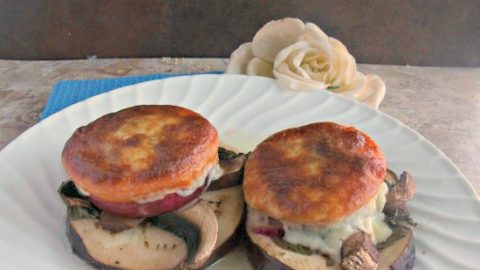 Yield:

4 servings
Portobello Stacks
Portobello Stacks are a healthy, tasty, stacked salad that is perfect for anyone! A recipe from Seduction in the Kitchen
Ingredients
milk
salt
4 slices eggplant
4 portobello mushrooms (sliced optional)
4 slices of onion
4 tablespoons of balsamic or red wine vinegar
4 slices of tomato
leaves basil (fresh preferred (but dried is good as well))
oregano
fresh ground pepper
4 slices of provolone cheese
olive oil (infused with truffle oil is better (but not necessary))
Instructions
Soak the eggplant in milk with a little bit of salt. This helps tenderize the eggplant, but also helps take out the bitterness of it. Also in another bowl, soak the portobellas and onions in the vinegar. Let them soak for a minimum of 1/2 hour, the longer the better.
The preference is up to you what you like, balsamic or red wine. Personally I like the balsamic taste, so I use it. Also I find the sliced portobellas, stack better, so it was why I use them in this recipe, but whole caps are just as good.
When you are ready to start stacking, put a thin layer of olive oil down on the bottom of your pan, about 1 tablespoon. Then let it glaze over the bottom by moving the pan around till it looks like the bottom is well covered. I use a truffle infused olive oil, I like how it gives the oil a burst of flavor. That is just again a preference I have. Regular extra virgin olive oil is fine. Place the eggplant on top the oil covered bottom.
Next layer will be the mushrooms, take them out the vinegar and place them on top of the eggplant slices.
Next, add the tomato slices on top the portobellas. The add basil leaves on top the tomatoes. Seeing as I am in a cast, I am out of fresh basil leaves and I cant drive to get some, I used dried basil instead. Use your best judgement to sprinkle on the basil. A light layer is all you need, with the fresh, usually 2-3 leaves on each stack.
Now it is time for the onion layer. Take the onions out the vinegar, but do not throw the vinegar away just yet. Place the onions on top the tomatoes, and season the onions with oregano. Just like with the basil, use your best judgement of how much, a light layer is all you need. Then add a little bit of fresh ground pepper. With a teaspoon, drizzle a little bit the vinegar over the stacks.
Finally, top off the stacks with the provolone cheese.
Make sure you preheated the oven at 350. Place then pan with the stacks, uncovered in the oven and bake them for 25-30 minutes. As they bake you notice a wonderful aroma from the combination of these items coming from the oven, and it does smell heavenly. You know they are done with the cheese is a nice golden brown. Serve them, you can get fancy like I did and drizzle a little bit of the olive oil and vinegar over them to serve, but not necessary. They will be a bit crisp, but tender, Then ENJOY!
Nutrition Information:
Amount Per Serving:
Calories:

150
Check out my the latest on my other blog: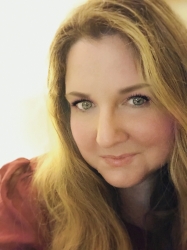 Latest posts by Deanna Samaan
(see all)