I am a participant in the Amazon Services LLC Associate Program, an affiliate advertising program designed to provide a means for me to earn fees to Amazon.com and affiliate sites.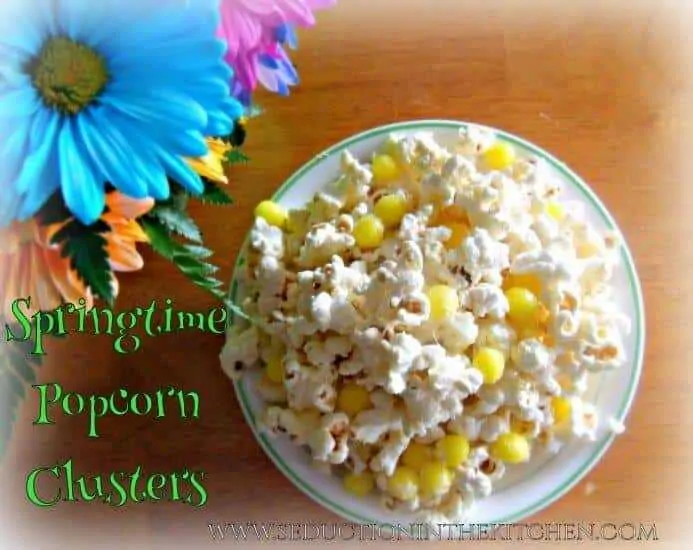 I am finishing up my "Springtime" vacation in Pittsburgh with my family. If you been a reader of my blog, you know I am at a real disadvantage at my parent's house. My family likes things very plain, the only spice is salt and pepper. So making any dish here is usually out the question. I have managed to make things here and there when I visit, and yes they like it, but as the saying goes, "you can not teach an old dog new tricks." My parents, like most people's, are just stubborn to change.
However, I did manage to make 2 dishes while I was here, one of which is this popcorn. My mom buys those movie theater candies from the store, like Mike and Ikes, Lemonheads, etc, all the time. I wanted to do something with Lemonheads that she buys. I will admit it is one of my favorite candies, so that was why I wanted to do something with it. I saw where someone made popcorn with jelly beans and pretzels, which was the inspiration for this recipe.
For this recipe, I wanted to balance with sweet, tart, and crunch. I also wanted to be a fun, easy thing to make. All these thoughts, what to do. Then it came to me at Wal-Mart when I saw a bag of Indiana Movie Theater Popcorn. That would be perfect for this. I choose white chocolate over milk because I wanted the main flavor to be that of the Lemonheads. So I went about making this Springtime treat, I admit when it was all done, it became very addicting to eat. How did I come up with Springtime Popcorn Clusters as the name? Well, my mom said they looked like Daisies. Plus with Easter coming, I just thought it would be a cute name for this lovely treat.
Yield: 6 servings
Springtime Popcorn Clusters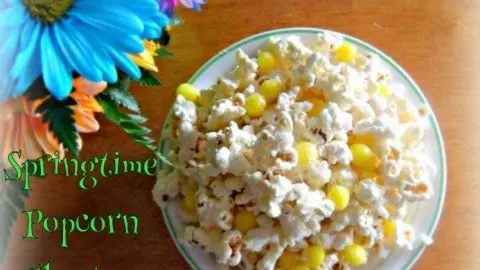 Easter and Springtime is in the air, what a perfect no bake treat then with these Springtime Popcorn Clusters. They are a great combination of sweet white chocolate, tartness of Lemonheads, and the crunch of buttery popcorn. A recipe from Seduction in the Kitchen. #springtime #easter #recipe #chocolate #candy #lemon #popcorn
Ingredients
1 large bag of Indiana Movie Theater Popcorn
1 bar of Ghirardelli White Chocolate
1 movie theater box of Lemonheads
Instructions
In a large, microwaveable bowl melt 3 squares of the chocolate in the bowl on 30 second intervals and stirring in between each interval till the chocolate is melted.
Mix in the popcorn **Note, use your best judgement, you do not have to use the entire bag** and the Lemonheads with the melted chocolate.
Give a good mixing so the chocolate lightly coats the Lemonheads and popcorn.
Line a cookie sheet with some foil and spread out the popcorn/Lemonhead mixture on it.
Melt the remaining white chocolate in a microwaveable bowl on 30 second intervals again until it is all melted.
Drizzle the melted white chocolate all over the popcorn mixture on the cookie sheet.
Let the chocolate set up on it, about an hour, then ENJOY!
Nutrition Information:
Amount Per Serving:
Calories:

310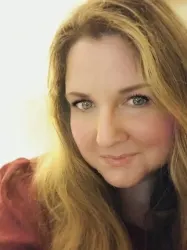 Latest posts by Deanna Samaan
(see all)