This post was most recently updated
Pomegranate Broccoli Slaw is a sweet and tangy holiday version of the classic broccoli slaw. It will bring a festive touch to your meal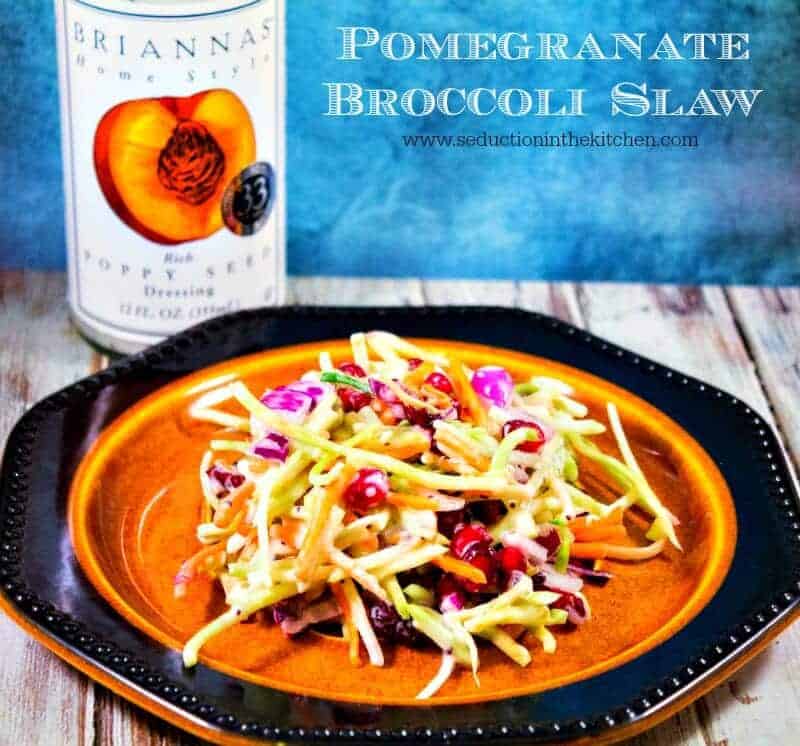 Flashback
I
got a free preview for 2 months of Sirus XM radio. So, I like 70's on 7, 80's on 8, and 90's on 9. Out all those stations I listen and flip through those 3 stations. I am hearing songs I have not heard in ages! One song stands in my mind that I heard recently when I googled to see the video, OMG talk about serious flashback time. It was The Jets, Rocket 2 U!
That video back in the day was cutting edge. Look at it now, yeah that is late 80's early 90's, it is dated but it is fun. I remember when that video came out, I was a kid, and I and my sisters would always do this for anything that had three girls in it.
We would yell, that's me! And pick one the girls.  My sister Lori was always the first to yell this, then I, and Chrissy was always got who was last. The Jets had 3 girls in the group, so we do that, Banana Rama, we pick out one and say that's me.
It didn't matter, if there were 3 girls on the TV we yell that's me. Why did we do that, I don't know other than we had fun doing that. We didn't have to explain ourselves, we were using our imaginations by pretending to be that group. Yes, we would sing and dance along, like it was us in the video. No reason, it was just us having fun.
Pomegranate Broccoli Slaw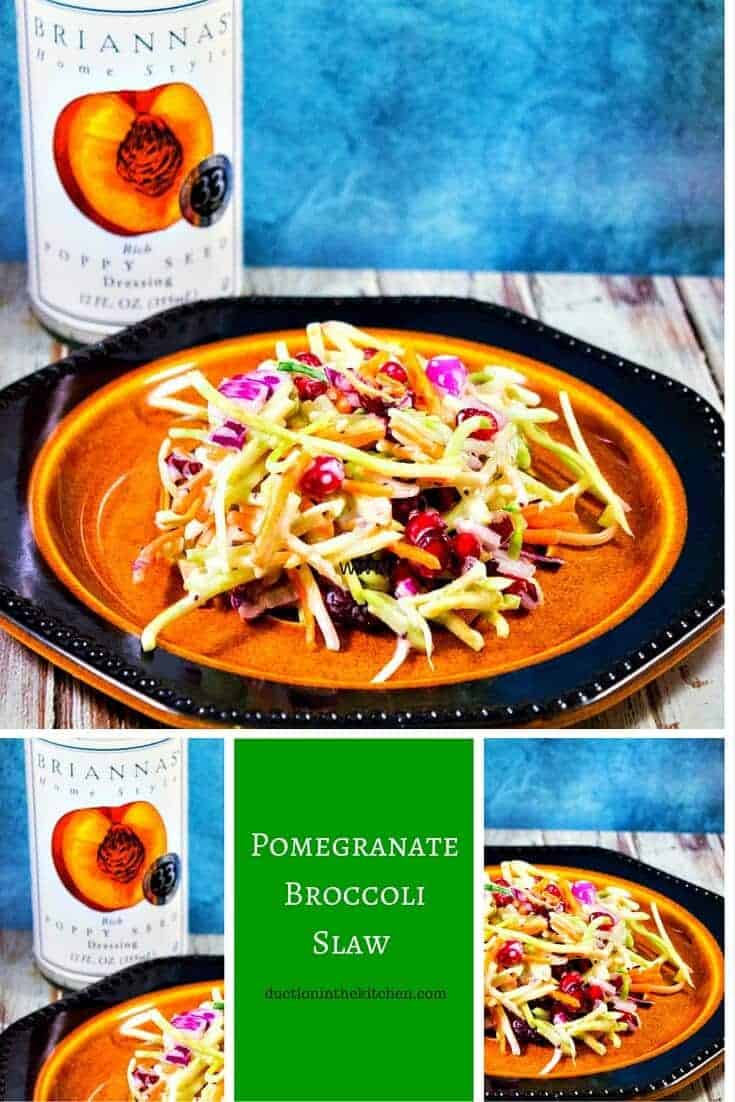 I needed to get out of my funk. So I did something I have never done before, I went to Cleveland's Fabulous Food Show. Why was that different for me? Well, I went by myself.
I actually hate doing things by myself. I would skip something rather than do it by myself. This time I just needed to do something to cheer myself up, even if it was going to the Food show all by myself. Why? Because it sounded fun, I needed to do something fun.
I found some great vendors there, besides having fun. One vendor I got something from to make some new recipes with was Brianna's Dressings. They had some pretty amazing flavors for dressings. I admit I seen the dressings in stores but never tried them before the Food Show. The poppy-seed dressing had me in love, and I knew it would be great in a Pomegranate Broccoli Slaw recipe.
The reason I decided to use it in a Pomegranate Broccoli Slaw was that I been craving broccoli salad and spotted a bag of broccoli slaw in the supermarket. Plus I have been on a pomegranate kick lately, what about if we combine the pomegranate with the broccoli slaw and Brianna's Poppyseed dressing? The results, WONDERFUL! It is a great holiday twist on broccoli salad!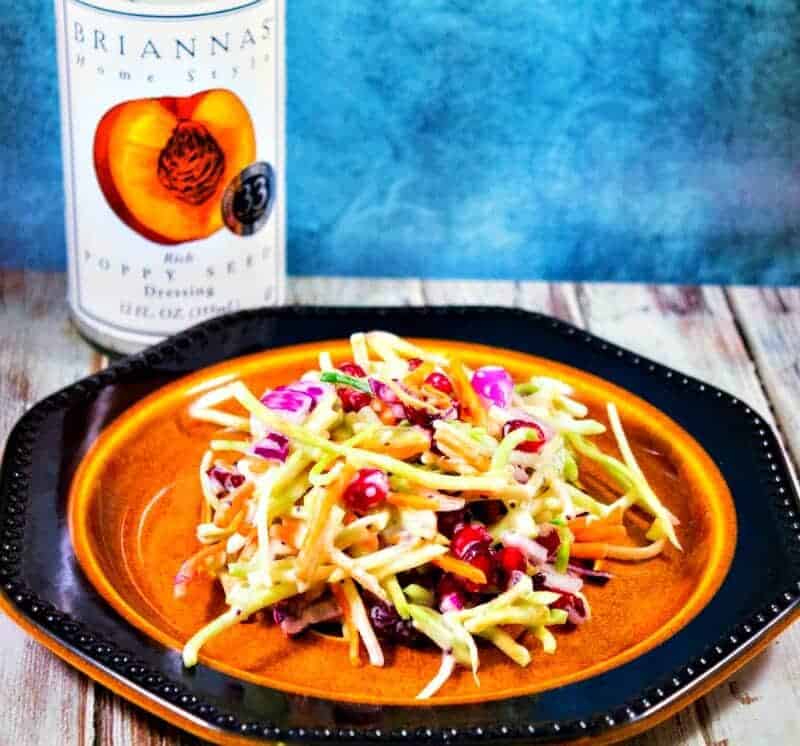 Check out these recipes: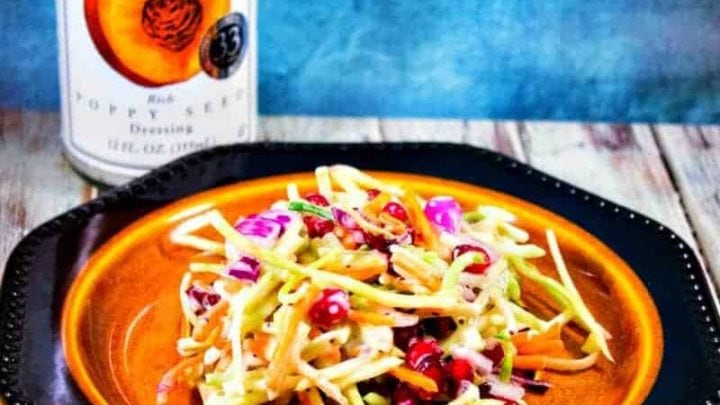 Yield:

6
Pomegranate Broccoli Slaw
A sweet and tangy salad that is perfect for the holidays! A recipe from Seduction in the Kitchen.
Ingredients
1 lb bag of Brocco Slaw
2/3 cup Pomegranate seeds
3/4 cup sunflower seeds
1 cup BRIANNAS Rich Poppy Seed Dressing
Instructions
In a bowl, add the brooco slaw, sunflower seeds, and pomegranate seeds.
Drizzle the Brianna's poppy seed dressing over the mixture.
Toss everything together until it is all well coated.
Put in the fridge and let set for about an hour.
Take it out, serve it up and ENJOY!
Nutrition Information:
Amount Per Serving:
Calories:

171
Total Fat:

13g
Saturated Fat:

1g
Trans Fat:

0g
Cholesterol:

0mg
Sodium:

7mg
Carbohydrates:

11g
Fiber:

6g
Sugar:

3g
Protein:

6g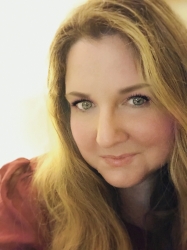 Latest posts by Deanna Samaan
(see all)