I am a participant in the Amazon Services LLC Associate Program, an affiliate advertising program designed to provide a means for me to earn fees to Amazon.com and affiliate sites.
Pierogie Lasagna is an easy way to have "homemade" pierogies without all the hard work. A recipe from Seduction in the Kitchen.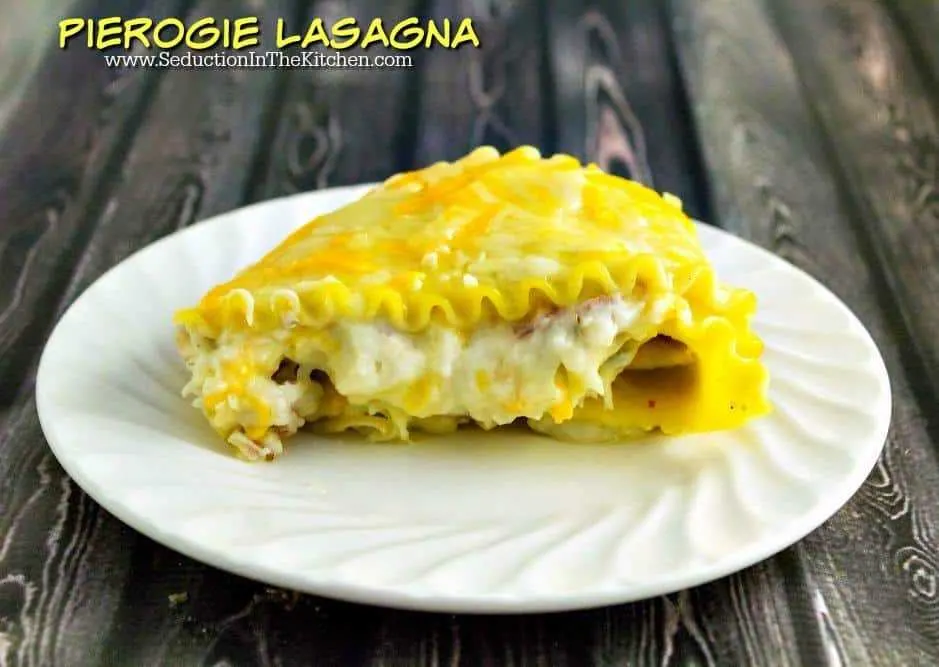 Countdown to my birthday begins, in a little, over a week I will be 41. It has been an interesting year for me. Turning 40 I got my eyes opened to many things around me between life in general and how my friends perceive me. I opened myself up more and realized I needed to get out my box I have been living in. I want this next year to be even more opening for me. I have been taking baby steps to getting out the box and I want to continue that. I think that has shown in my recipes. You got to admit, I have thought outside the box on quite a few of them.
This pierogie lasagna recipe is going to be slightly different than my last few recipes. The big difference you will see is there is no step by step photos and that is because I took this photos prior to me deciding to take the step by step photos. The other change is I decided to take the tips and quotes out of the posts.
I am always about change and I am still playing around with how to make Seduction in the Kitchen better. It is that balance of staying true to who I am, how I write, and developing recipes. I actually test out my recipes, there is many that never make it onto Seduction. Why, well they didn't turn out. Why bring this up? Well, I recently read another food blog where she was ranting in the post and saying that impossible to test every recipe a food blogger puts up. I admit I, myself have questioned blogs that pump out recipes everyday. I can't do that. So I can see how every recipe may not be tested out before a blogger publishes it. So I agree with it, no I do not. Why I won't put up a recipe every day, seven days a week.
My routine, because of the day job as a phlebotomist, I do the same thing for recipe development. Sunday is my only day off from work, so every Sunday I am in the kitchen cooking up about 4 recipes. Most of them, if they turn out, is my dinner and lunches for the week. I do have a little surplus of recipes that I can do 3 a week. I don't want to put up recipes to be putting up recipes because this is a food blog. I love creating recipes, I want to put up recipes I really do eat and enjoy. I won't compromise on that.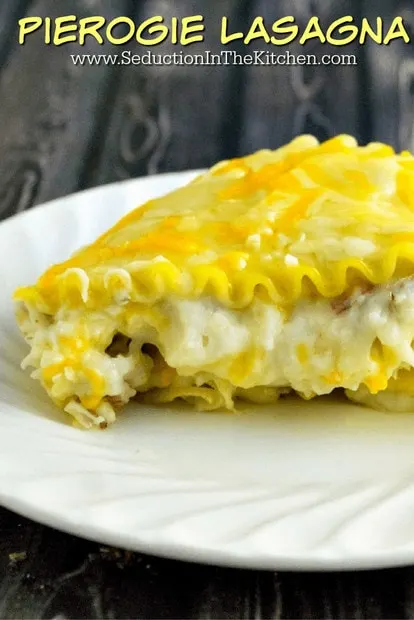 Love Seduction in the Kitchen recipes? Follow me on Facebook and Instagram! Don't want to miss a recipe? Signup for my monthly newsletter with all the recipes posted in last month!
I am a pierogie lover. It is a Pittsburgh thing. I did promise my Polish friend, who thinks I abuse pierogies because I have put them in everything from Pierogie Stuffed Meatloaf to a Pierogie Soup. In fact, if you put the word "Pierogie" into the search field at the top, you will see some surprise recipe that uses pierogies.
Anyway, I promised her I would not use pierogies for my next recipe, but I wanted to make a pierogies. Which I will do one day and make them from scratch, I know I do have a faux pierogies recipe in the Pierogie Stuffed Shells. I can't just not have some type of pierogies recipe. That was why I decided I want to make a classic Pittsburgh recipe, that actually has quite a few names. It is called sometimes Poorman's Pierogies. I have even seen it called Pierogie Casserole. Plus I have seen it called what I called it, Pierogie Lasagna.
Yield: 8
Pierogie Lasagna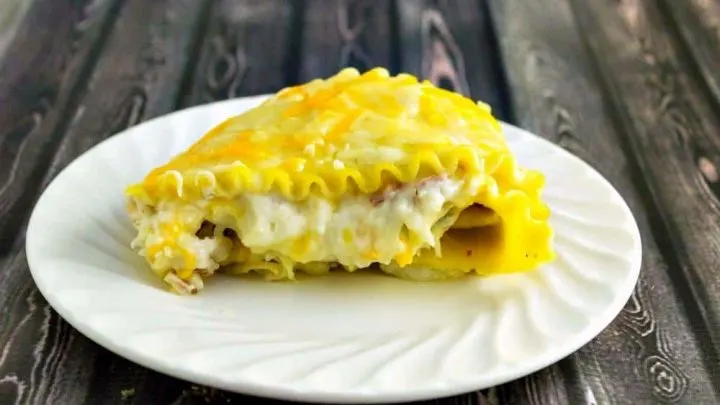 Pierogie Lasagna is an easy way to have "homemade" pierogies without all the hard work. A recipe from Seduction in the Kitchen.
Total Time
1 hour
30 minutes
Ingredients
5 potatoes (peeled and cubed)
1/2 cup milk
1/2 cup butter (melted)
1 lb bacon (diced)
1 onion (chopped)
6 cloves garlic (minced)
8 ounces packages lasagna noodles
2 cups shredded cheddar cheese
salt and pepper
1 (8 ounce) container sour cream
Instructions
Preheat oven to 350 degrees.
Place the potatoes in a large pot with water to cover over high heat.
Bring to a boil and cook until the potatoes are tender.
Remove from heat, drain, then combine with milk and 6 tablespoons of butter, mash and set aside.
Melt the remaining 2 tablespoons of the butter in a large skillet over medium high heat.
Saute the bacon, onions and garlic in the butter for 5 to 10 minutes, or until the bacon is fully cooked.
Cook the lasagna noodles according to package directions and cool under running water.
In a baking dish, sprayed with a cooking spray, place a player of cooked lasagna noodles.
Place 1/2 of the mashed potatoes on top the noodles.
Place a little bit of the bacon onion mixture on top the potatoes.
Top this with 1/3 of the cheese, followed by another layer of lasgana noodles.
Repeat the layers again until the the top layer of the lasagna noodles and top with the remaining cheese.
Bake, uncovered at 350 for 30 to 45 minutes, or until the cheese is melted and bubbly.
Serve it up with sour cream and ENJOY!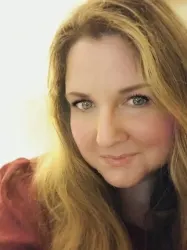 Latest posts by Deanna Samaan
(see all)