Peach Sweet Tea is a flavored iced tea. This sweet tea recipe will help you cool down from the summer heat. This peach ice tea so easy to make at home that you will never want store bought peach tea again!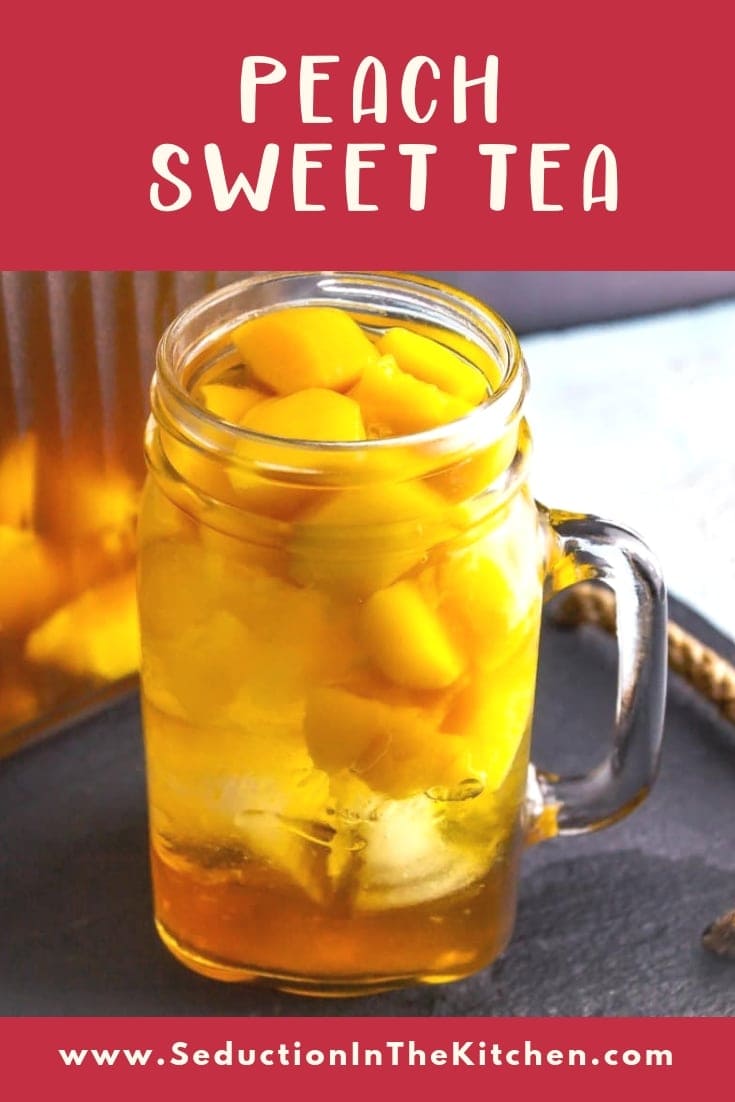 Lipton Peach Tea
I am a fan of Lipton peach tea. When it is hot out give me a flavored iced tea any time. Sure it is easy to grab a bottle of Lipton peach tea from the fridge, what about grabbing a pitcher with a homemade sweet tea recipe in it instead?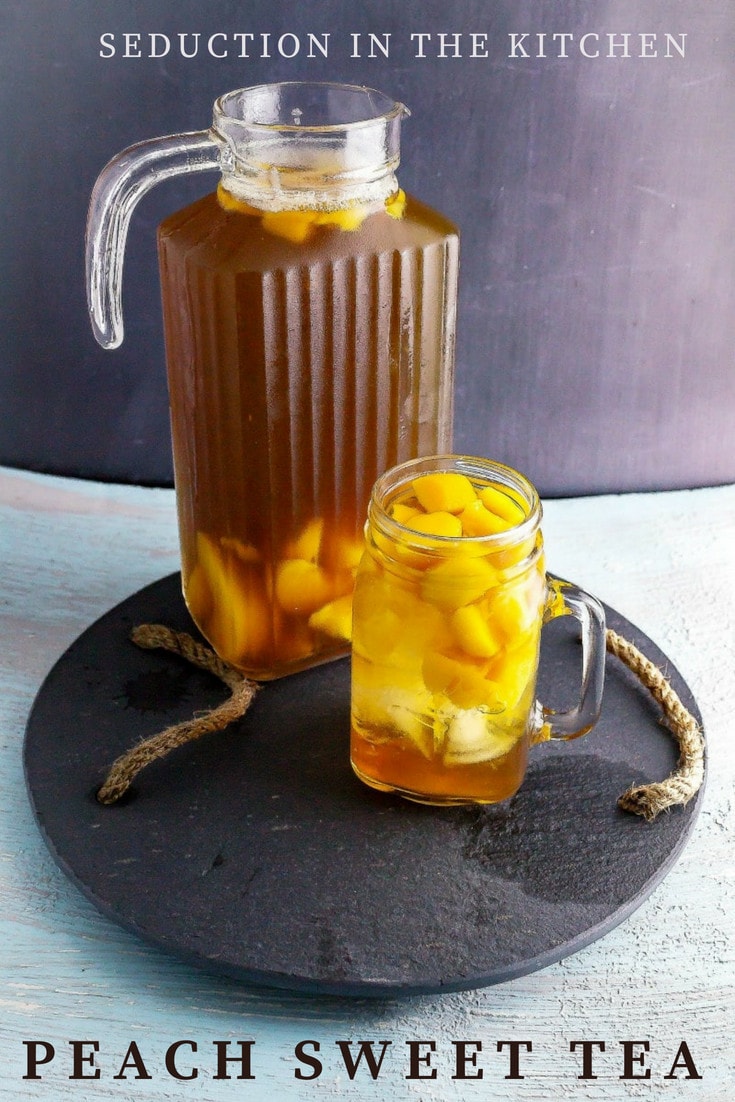 Flavored Iced Tea
An old fashion sweet tea recipe is nice. However, flavored iced tea is even better. Peach ice tea just quenches my thirst better. Plus I love peaches, so drinking peach tea is something you will find constantly in my fridge.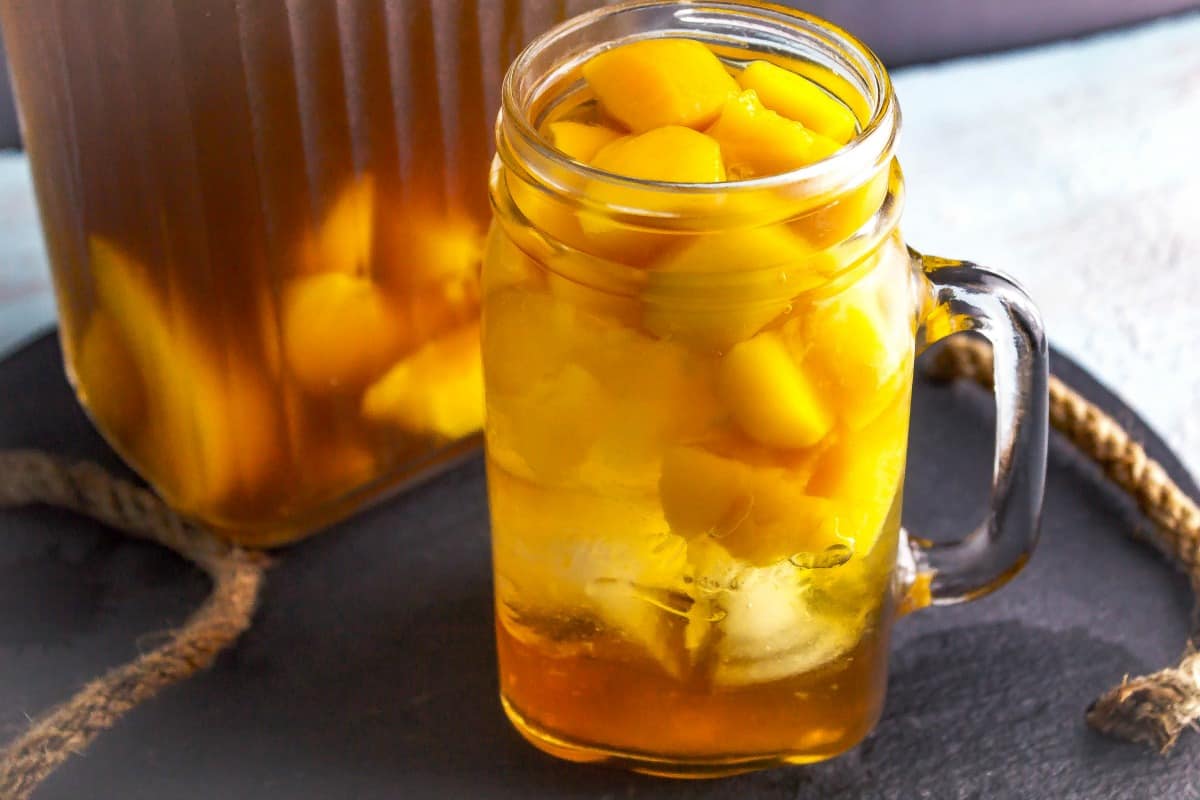 Belle Of The Kitchen
Originally this peach iced tea recipe was part of the Freaky Friday series I took part in. I was assigned: Ashlyn from Belle Of The Kitchen. Ashlyn's blog is full of sweet Georgia Southern charm. Belle of The Kitchen has recipes like CUCUMBER GREEK SALAD and TROPICAL POPSICLES.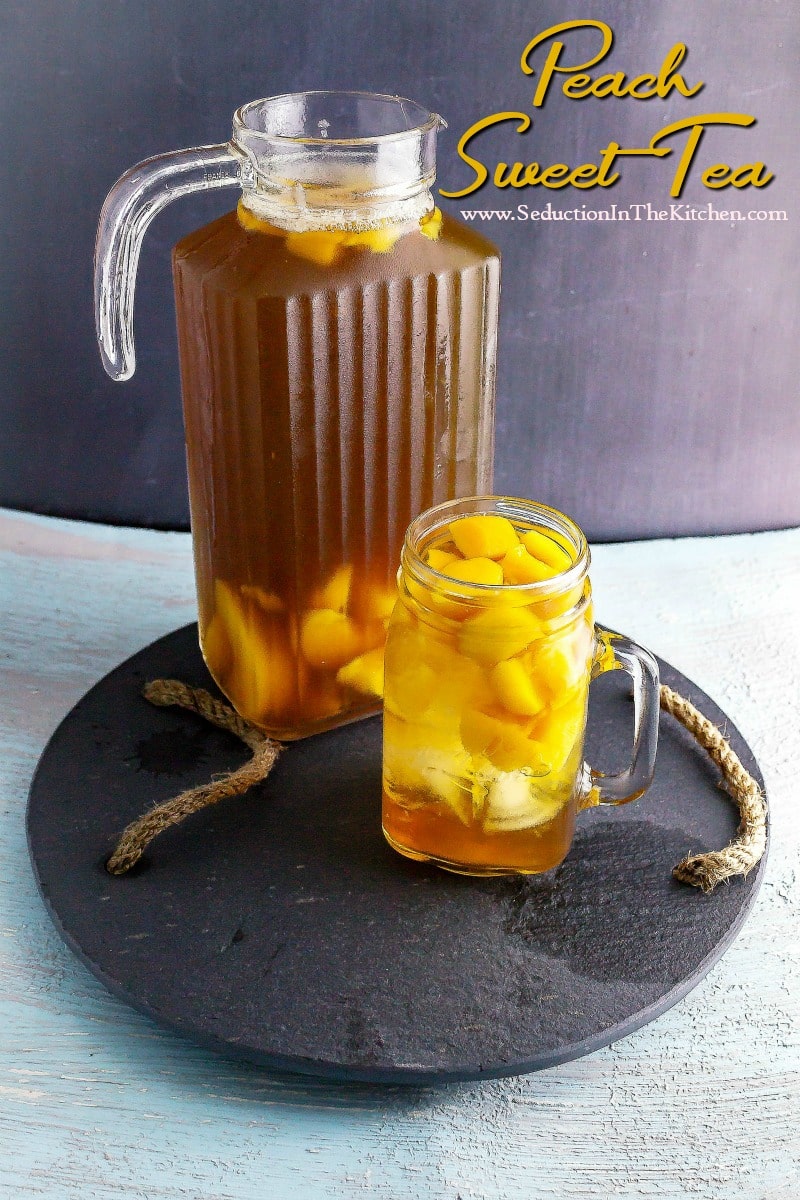 Peach Iced Tea Recipe
It was Belle Of The Kitchen's Peach Iced Tea Recipe that called out to me to make for the Freaky Friday recipe. Now that I am in Florida, it made sense for me to create a sweet tea recipe. Peach ice tea is huge here in the south!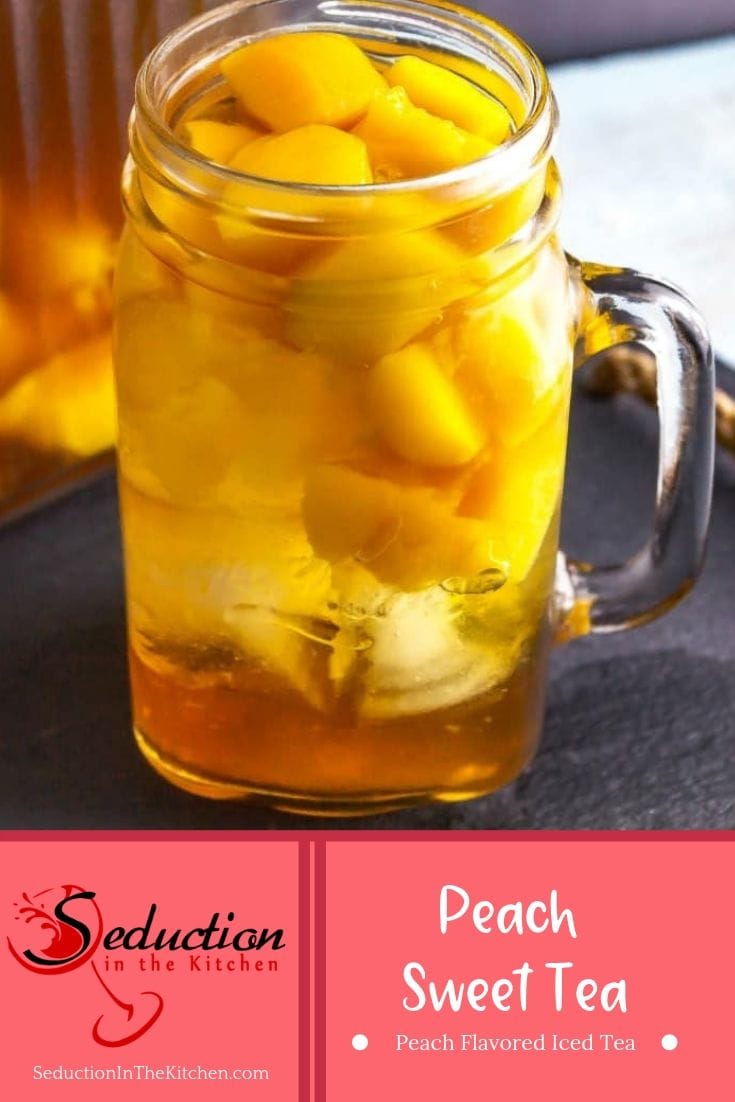 Sweet Tea Recipe
This sweet tea recipe has really helped me with the Florida heat. When I was in Ohio drinking that Lipton peach tea, it really helped me with getting used to drinking sweet tea recipes here in the South. Sweet tea rules down here.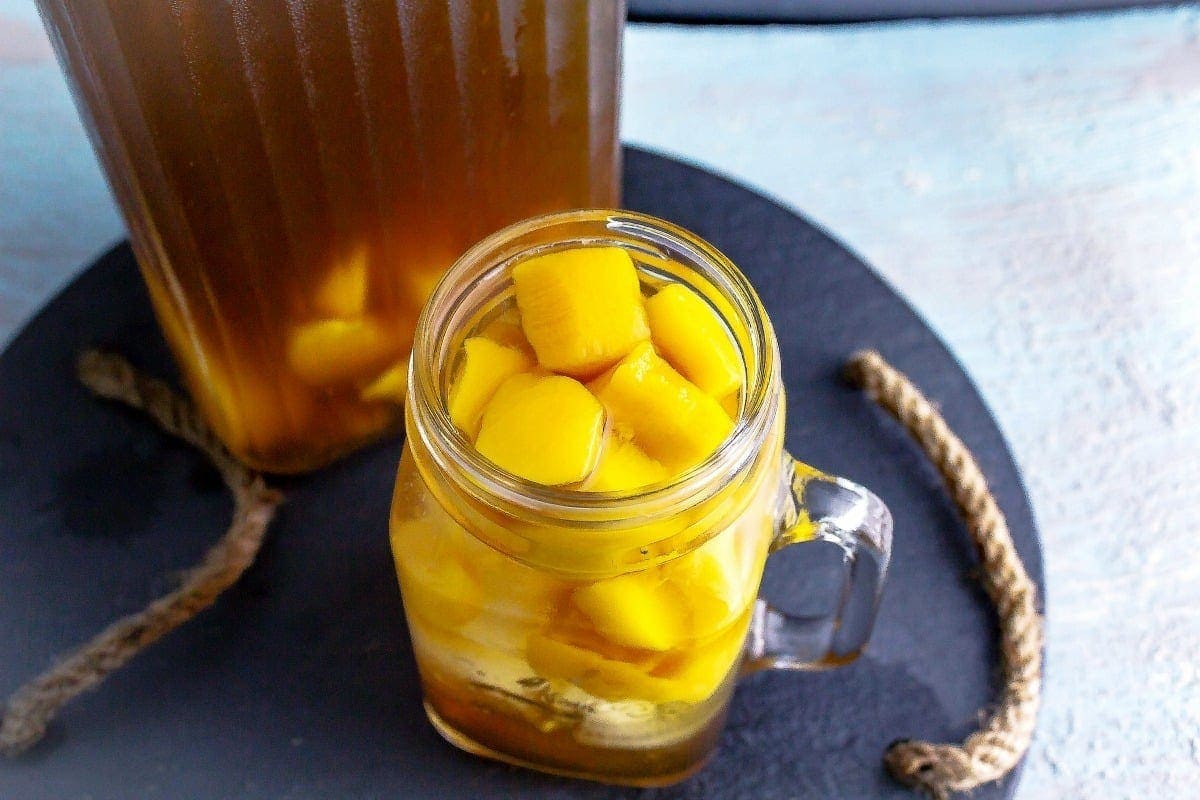 How To Make Peach Iced Tea
How to make peach iced tea? The secret really is using sweet peaches in a peach iced tea recipe. Canned peaches work, but fresh peaches makes flavored iced tea recipe better. Sometimes you be craving peach tea and can not get fresh sweet peaches!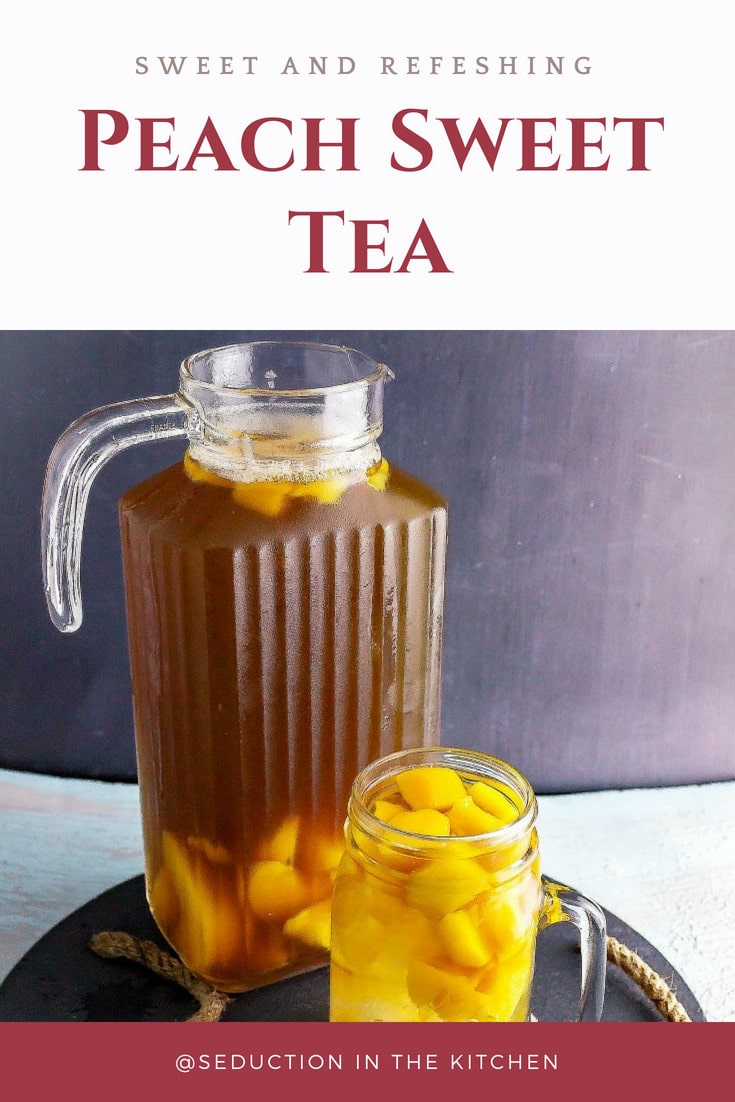 Peach Iced Tea
You will love this peach iced tea. This sweet tea recipe is going to quench your thirst in the summer heat. Trust me you will not want bottled peach tea. Instead, you will be craving this peach iced tea recipe!
Peach Sweet Tea is a southern thirst quencher that will help you beat the summer heat!
Ingredients
6 regular tea bags
1 quart water
1 can (15 oz) peaches in juice pureed in blender
1 quart cold water
1 cup water
1 cup granulated white sugar
Instructions
Boil one quart of water in a large pot. Add tea bags and steep for 3-5 minutes. Remove tea bags and discard.
While tea is steeping, prepare simple syrup: in a separate small saucepan, combine one cup of water and one cup of sugar and bring to a boil. Stir until sugar is dissolved. Remove from heat and allow to cool.
Pour simple syrup into pot with tea and stir. In a heat-safe pitcher, combine the tea with pureed peaches, and one quart of cold water. Refrigerate until ready to use.
Serve tea over ice and peach slices and ENJOY!
Recommended Products
As an Amazon Associate and member of other affiliate programs, I earn from qualifying purchases.
Nutrition Information:
Yield:
6
Serving Size:
1
Amount Per Serving:
Calories:

163
Total Fat:

0g
Saturated Fat:

0g
Trans Fat:

0g
Unsaturated Fat:

0g
Cholesterol:

0mg
Sodium:

39mg
Carbohydrates:

42g
Fiber:

0g
Sugar:

41g
Protein:

0g
Iced Tea Recipes
Looking for iced tea recipes you can make? Check out these recipes from Seduction In The Kitchen
Check out my the latest on my other blog:
40.6K Followers
This post was most recently updated
I want to hear what you have to say about this recipe that is on
SEDUCTION IN THE KITCHEN!
Let's get this conversation started! What do you think of this recipe?