Smoked Orange Rosemary Duck is a wonderful duck recipe. This succulent orange duck recipe has a smokey but sweet taste that will knock your socks off! You will love making this smoked duck breast for a meal!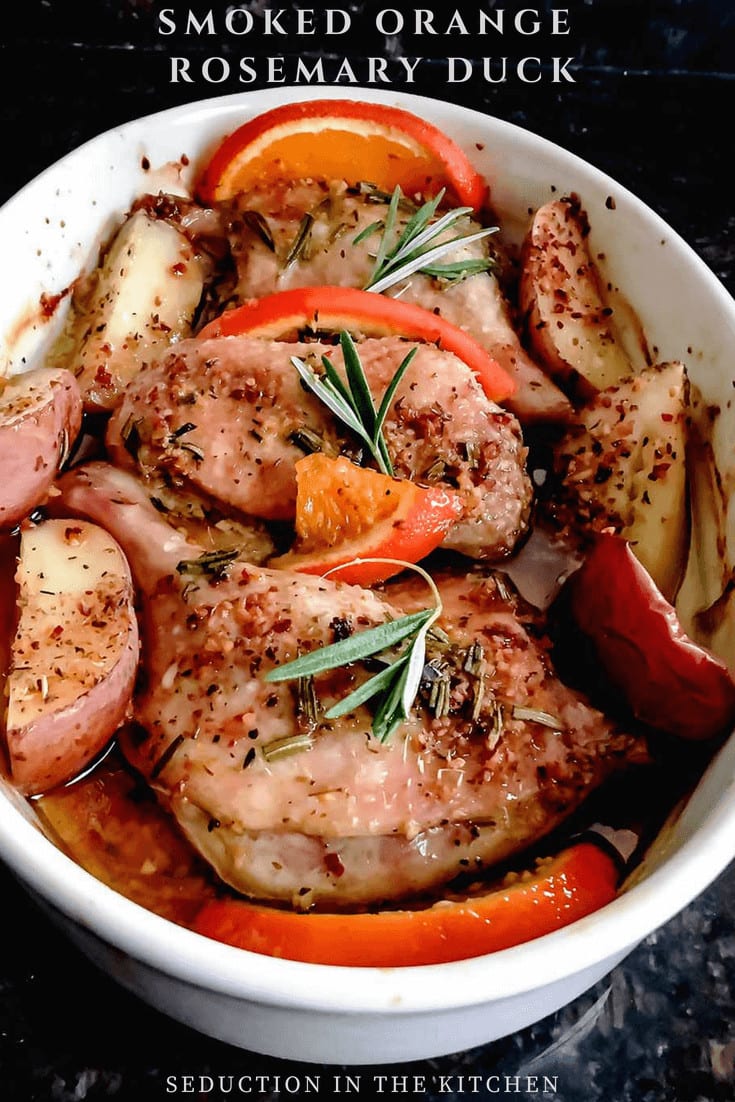 Duck Recipes
I admit when comes to duck recipes, it is not my specialty. I have never even tried an orange duck recipe that Chinese places have. So When Maple Leaf Farms sent me some duck breasts, I had to have a friend help me develop a smoked duck recipe!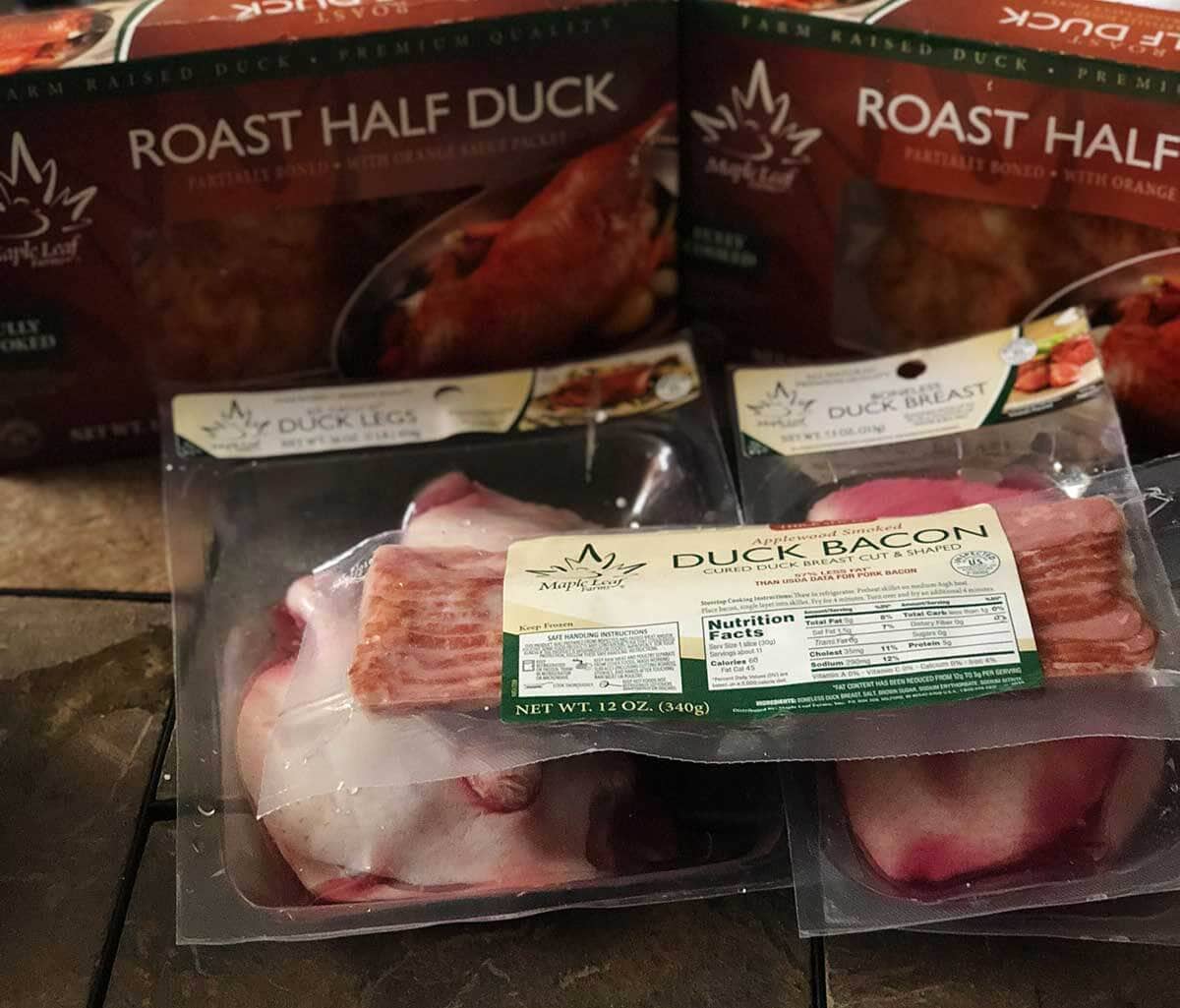 Maple Leaf Farms
Maple leaf Farms has been in business for over 60 years. It produces quality duck products. Maple Leaf farms with care. Their ducks are from the local farm raised and follow animal well-being guidelines.
Duck with Orange
The friend who helped me develop this duck with orange recipe is originally from Poland. In Poland, duck is common dark meat. She was the perfect person to help develop a recipe for smoked duck breast.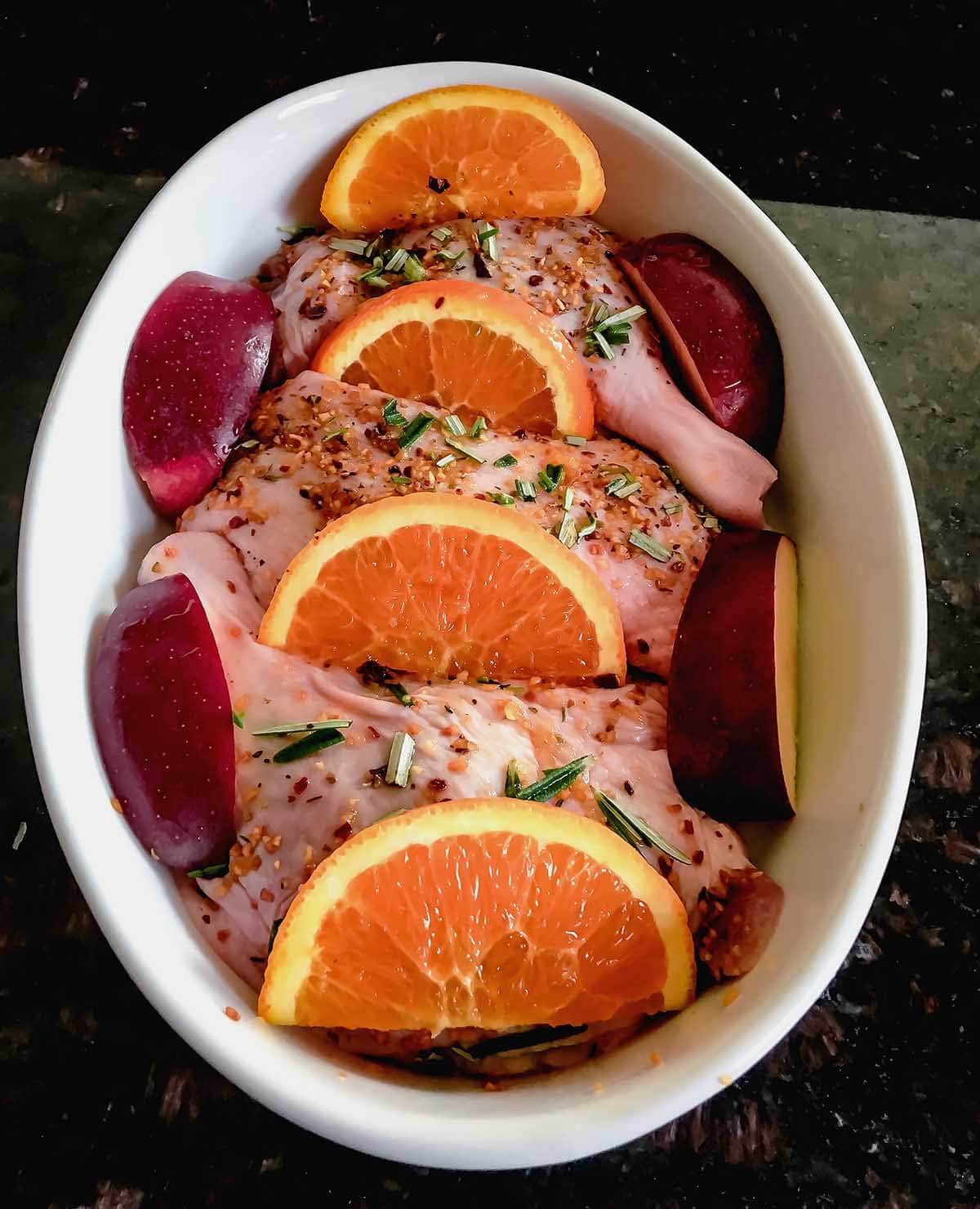 Smoked Duck
We decided to make a this a smoked duck. To create this smoked duck recipe on a grill, we used a product called Smokin O's. They are these wood rings you can put on a grill and turn the grill into a wood smoker. These rings really added flavor to this smoked duck breast!
Orange Duck Recipe
To complement the smoke flavor in the duck breast, we to make this an orange duck recipe. To really make the citrus soak into the duck recipe, a heatproof dish was used. The citrus juices get smoked right into the duck meat. This orange duck really came out with incredible flavor!
If we just put the duck breasts on the grill, you could lose that citrus taste. The heatproof baking dish on the grill was perfect for keeping the flavors we wanted in this smoked duck breast!
Smoked Apple
My friend suggested we add some apple to the duck recipe to help balance out the citrus with the smoke. Apple enhances that smoky taste we were going for in this duck with orange recipe.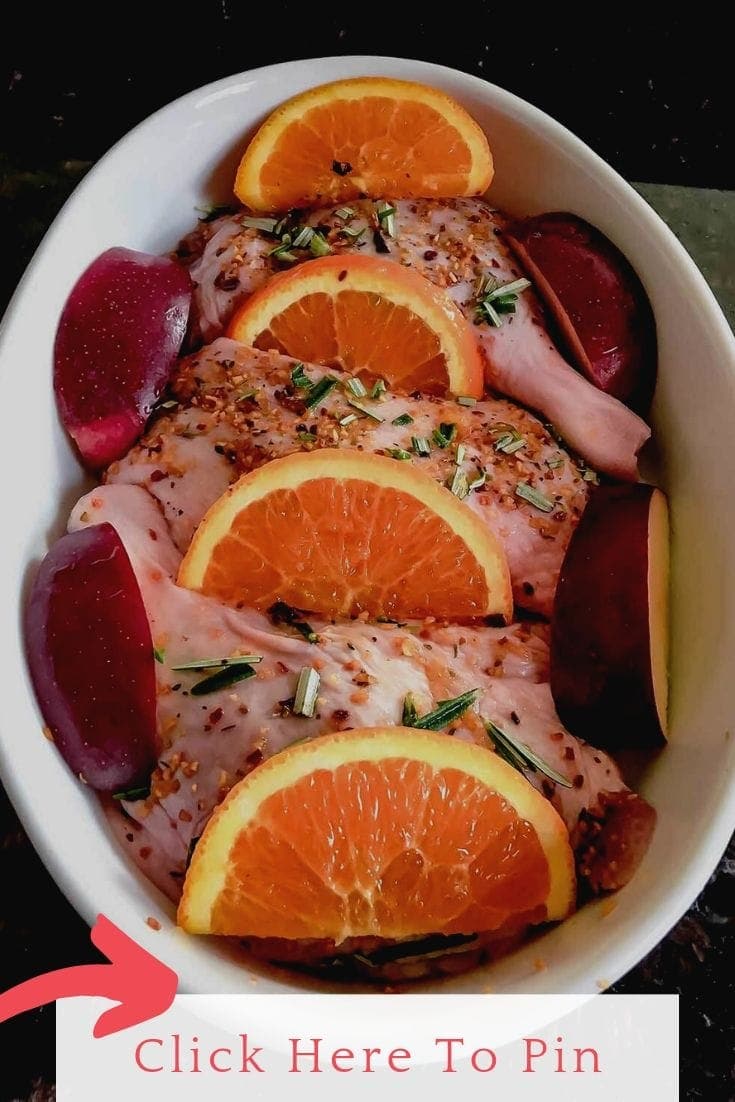 Orange Rosemary Duck
When this duck recipe came off the grill, it was so delicious. The orange and rosemary just made this smoked duck burst with flavor. This orange duck recipe was a great way to enjoy duck meat recipe.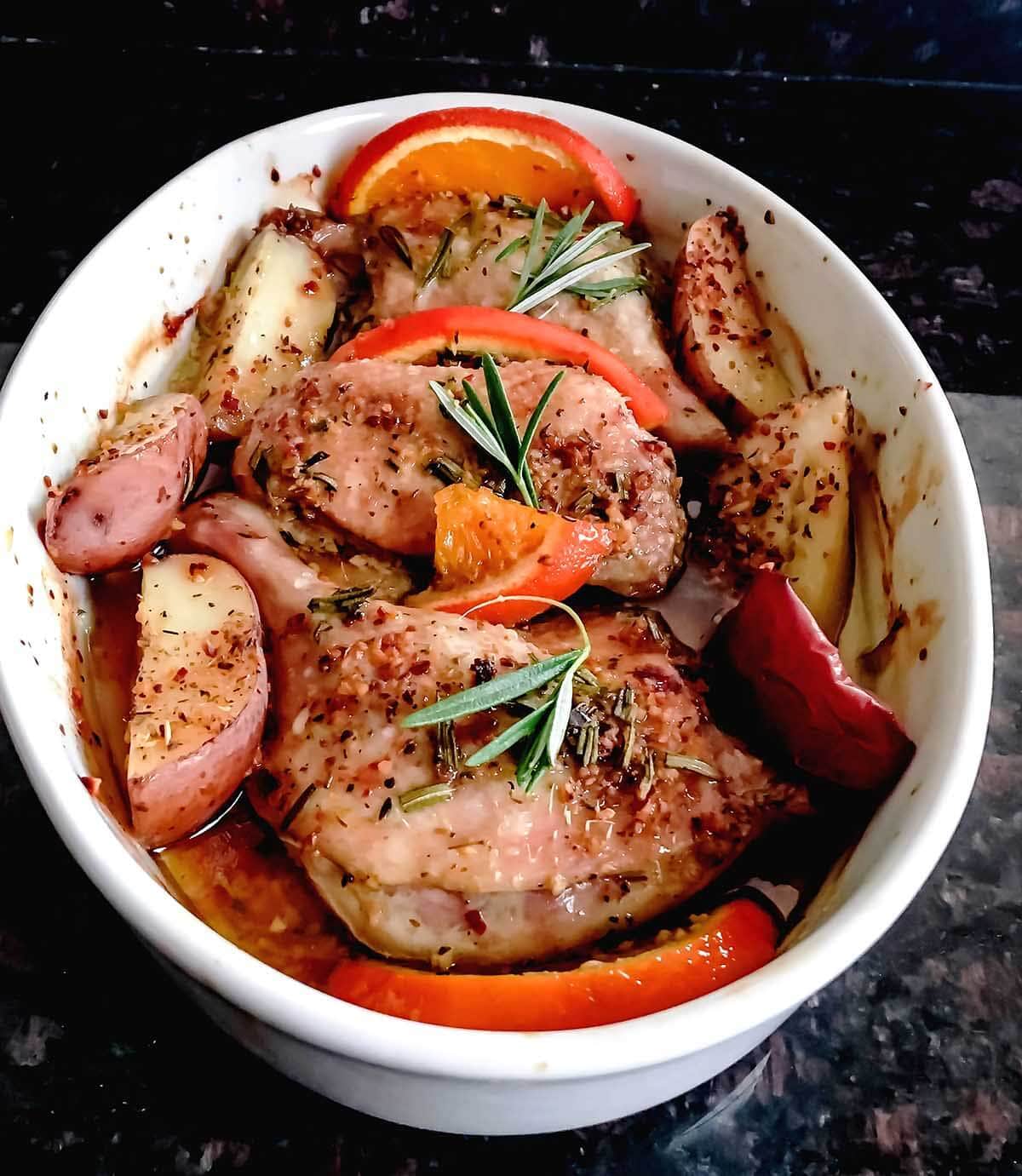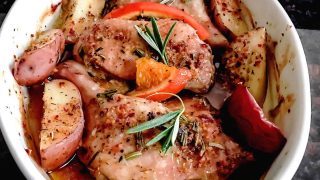 Yield:

4 servings
Smoked Orange Rosemary Duck Recipe
Smoked Orange Rosemary Duck is a wonderful duck recipe. This succulent orange duck recipe has a smokey but sweet taste that will knock your socks off!
Ingredients
1 lb duck breasts
2 oranges
2 sprigs of fresh rosemary
1 clove garlic, minced
1 apple, sliced
1 teaspoon of lemon pepper seasoning
2 teaspoon Vegeta seasoning
2 small red potatoes, sliced
Instructions
Season the duck meat and potatoes with the garlic, lemon pepper, and Vegeta seasonings.
Juice one of the oranges and set aside the juice.
Slice the other orange.
In a heatproof baking dish place the duck breasts and potatoes inside of it.
Pour the orange juice around the duck.
Add the rosemary sprigs on to the duck.
Add the apple slices.
Top with the orange slices.
Set your grill to medium-high heat and follow the directions on using the Smokin O's for your grill.
Place the baking dish on the grill and close it.
Allow the duck to cook on the grill for about 15 minutes.
Take the dish off the grill and allow the duck to rest for 2-3 minutes.
Check that the internal temperature is 165F Serve it up and ENJOY!
Notes
There are tube smokers you can get if you don't want to use the Smokin O's they are a mesh tube that you throw on the grill with wood pellets.
Recommended Products
As an Amazon Associate and member of other affiliate programs, I earn from qualifying purchases.
Nutrition Information:
Yield:
4
Serving Size:
1
Amount Per Serving:
Calories:

352
Total Fat:

13g
Saturated Fat:

3g
Trans Fat:

0g
Unsaturated Fat:

8g
Cholesterol:

154mg
Sodium:

1089mg
Carbohydrates:

29g
Fiber:

4g
Sugar:

12g
Protein:

30g
Looking for more grill recipes? Check out these recipes:
Check out my the latest on my other blog:
40.6K Followers
This post was most recently updated
I want to hear what you have to say about this recipe that is on
SEDUCTION IN THE KITCHEN!
Let's get this conversation started! What do you think of this recipe?