This post was most recently updated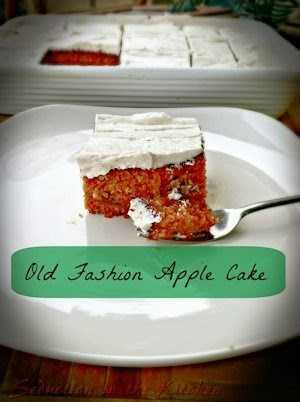 A friend told me a long time ago that there is no such thing as luck. He has told me this a few times, when I say, "I can not believe all the bad luck I am having." Or "wish me luck."
Last Thursday I had my first ever car accident, someone rear ended me. We were at a light, she was in a GMC truck, I drive a G6, she turned to pet the 2 labs she had in the truck and her foot slipped off the brake and it went right into me.
Funny, I suddenly had a weird feeling and next thing I was hit. I guess I saw the truck coming out the corner of my eye. I knew I was about to be hit for a brief second, it was weird. She came running out her truck yelling, "It is my fault, I am so sorry, I am at fault!" The damage isn't too bad, couple holes in the bumper, it hanging a bit, tail light popped out, and the trunk looks like crooked. I wasn't hurt, I am stiff but not in pain which is good.
I posted on Facebook about the accident, on my personal page, and one of my friends on it, message me privately saying about, there no such thing as bad luck, it was echoing what my friend always said to me. The Facebook friend added that it just us being tested. Hmm, so I thought about it. Ok, I had to calm this poor woman down who hit me. She said to me when I got her information, she was having the really bad day with so much going on in her life. Maybe, going by what the Facebook friend said and my friend here, maybe it wasn't my bad luck as to why I got rear ended, maybe I was to be in that position to help her realize she was lacking focus and it was causing her more issues and needed to be involved in an accident to wake her up? It is an interesting concept.
Next week is my birthday, and I usually go to the apple festival and pumpkin festival back home. Fall is here. I love fall baking, I love the aroma of the cinnamon that popular in fall recipes. I admit I have been craving an old fashion apple cake for awhile now. I know there is a simple way of using a cake mix and make a dump cake, I love making things from scratch. I found this old 1930's church cookbook from Georgia at a rummage sale. I was leafing through it and saw an apple cake recipe. It was simple, there were no frills to it. I decided to make it but with some differences, like using canned apple pie filling extracts, and a frosting I have used on tassies, with those changes to the recipe, this cake was created.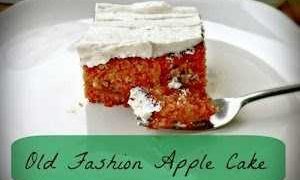 Yield:

8 servings
Old Fashion Apple Cake
Old fashion apple cake recipe with a frosting, it a simple recipe from Seduction in The Kitchen
Ingredients
1 ounces can apple pie filling (20 1/2)
2 eggs
2 cups sugar
1/2 cup canola oil
1 teaspoon cinnamon
1/4 teaspoon nutmeg
1 tablespoon vanilla
1/4 teaspoon butter extract
2 cups all-purpose flour
2 teaspoons baking soda
1/2 cup sugar
1/3 cup evaporated milk
1 cup of shortening
1 tablespoon vanilla
1/4 teaspoon vanilla extract
1/4 teaspoon of maple extract
Instructions
In a bowl, combine the oil and sugar together. Mix them up till the oil is absorbed by the sugar.
Next, add the apple pie filling and eggs. Mix everything together.
Add the extracts and spices to the mix, if you like a stronger cinnamon taste, add it. It will all depend on the apple pie filling you get, some are lightly cinnamon flavored, yet some are heavier in the cinnamon flavoring. So if feel should add more, I add no more then 1 teaspoon more. Give another good mixing. Note this all done by hand, no mixer.
Finally, add the flour and baking soda and blend it in till you have a nice looking batter.
Grease a 9×13 baking dish and pour the batter into the dish.
Put the cake into a pre heated oven at 350 degrees. The original recipe in the cookbook said to bake for 1 hour, I checked after 45 minutes and my cake was done. So I suggest, you check the cake after 45 minutes and see if it is done, if not bake it for up to 60 minutes. When done, take out the oven and let it cool completely.
For the frosting, blend the shortening, extracts, milk and sugar in a bowl.
With a mixer, blend it all together till it is nice and smooth. If you want to have a stronger maple taste, adjust the maple flavoring, personally, I wanted just a hint of maple.
When the cake is completely cooled, spread the frosting onto the cake.
Slice it up and ENJOY!
Nutrition Information:
Amount Per Serving:
Calories:

420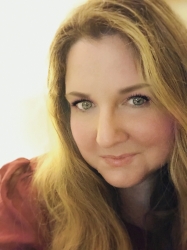 Latest posts by Deanna Samaan
(see all)