I am a participant in the Amazon Services LLC Associate Program, an affiliate advertising program designed to provide a means for me to earn fees to Amazon.com and affiliate sites.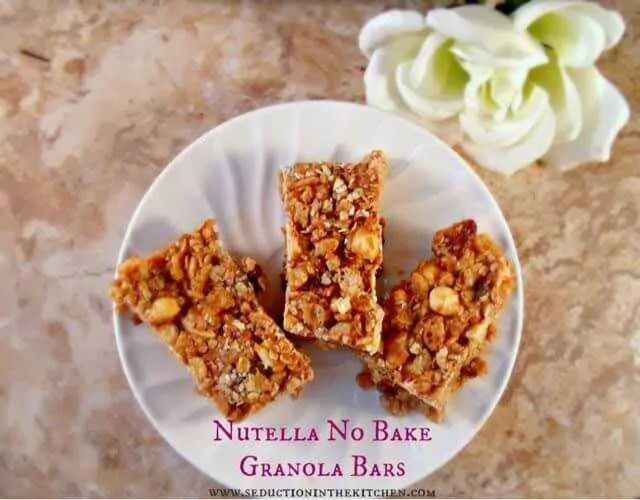 First, my Internet is down. The company is having issues with satellite I guess. The expected by date is Thursday at the soonest I will have my internet back. I admit I have cheap service, I'm looking into another company at this point. Anyway, I wanted to post something, last week I only posted once and that was because I had to go out town for work, so I really wasn't able to do anything. My phone is working, so here I am doing a post on my phone! I took a teaser photo and put in Facebook, so I had my main photo, but as I found out when the computer broke, posting from iPad and iPhone the photos get, well screwed up! So I decided best to only have the main photo and not the story by step ones due to me having to use my iPhone to post. So looking, over my recipes the No Bake Nutella bars would be the best to post without the step by steps, so that is how I came to decide what to post today!
Actually, since I did go out of town, I wanted to take something healthy with me for snacks, that actually why I made these. Plus in all honesty, it cheaper to make your own than to buy store packaged kinds. I am on a very strict budget right now. I saving up for a new place to live. After 6 years living in this apartment it time to move on.
I realized, this apartment actually holds a lot of pain for me. I was forced into it by my ex-husband. He was a cruel man I come to realize after the divorce, when I was gathering up myself and getting back to, well me, Dee. I stayed here because I was afraid to move on. Now 6 years later. I realized this, everything happens for a reason.
My dishwasher broke in September, the complex has yet to get me a new one. They changed the rules about pets, so my "girls" are living with my mom in PA. This whole complex has gone down hill since the new manager was hired. In fact in the 2 1/2 years since she took over. Everyone thinks this place is now section 8, when not. That is how bad it went downhill and it is escalating very quickly. That was when I decided, when the lease is up, I am not renewing I am out of this place.
So yes, everything happens for reason, if those chain of events that started in September with the dishwasher, had not happened, I would never realize I need to move. I may still be in a place that nothing but memories of pain. I still am afraid to move on. This apartment is in away holding me back. It, not me anymore. I found myself again after being in an abusive marriage, I have grown and learned from it, now I am in a different place in life. This time it is me, and time to take on a new life and enjoy it.
Now back to these bars, I actually like healthier snacks. Nutella or now Hershey has those new spreads out, which I want to make these again but with the Hershey chocolate almond spread. Love chocolate almonds. Anyway, it a good combo of ingredients. Truthfully when you start making own snack bars, you will like them so much better than store bought. Plus they can be addicting, just be forewarned!
Yield: 12 servings
Nutella No Bake Granola Bars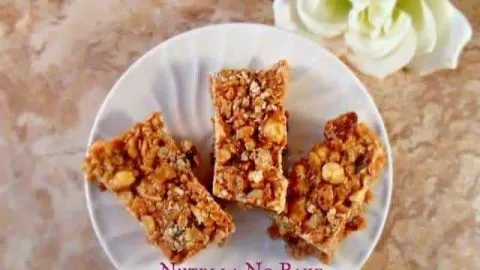 What can make a granola bar better then Nutella, how about a no bake one? A recipe from Seduction in the Kitchen
Ingredients
2 1/2 cups crispy rice cereal
2 cups quick-cooking rolled oats
1/2 cup raisins
1/3 cup peanuts
1/2 cup firmly packed brown sugar
1/2 cup honey
1/2 cup Nutella
1 teaspoon vanilla
Instructions
Combine in a bowl, the oats, cereal, raisins, and peanuts.
Next, in a sauce pan add the brown sugar and honey, bring it to a boil.
Then stir in the Nutella, stir until the Nutella is all smooth. Take off the heat and add the vanilla. Stir it in.
Pour the Nutella syrup over the oat mixture. Mix it up until everything is coated.
Press the oat mixture into a 9×13 baking pan. You can use a smaller one if you want thicker bars. Press firmly the mixture down in pan as you even it out.
Set aside and let cool for about an hour. Then cut into bars and ENJOY!
Nutrition Information:
Amount Per Serving:
Calories:

150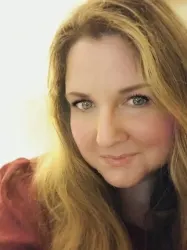 Latest posts by Deanna Samaan
(see all)