I am a participant in the Amazon Services LLC Associate Program, an affiliate advertising program designed to provide a means for me to earn fees to Amazon.com and affiliate sites.
Maple Onion Baked Beans are made the old fashion way without any canned beans. They have a sweet, yet savory flavor to them.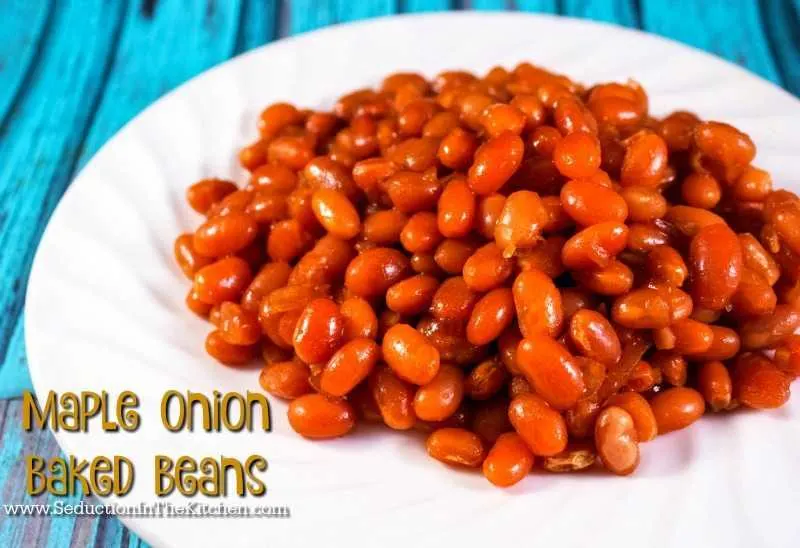 Things have been crazy with me with this move! Last time I moved, which was 2.5 years ago, I did all in 2 weeks. This time, I have 45 days.
I am taking my time with the packing. I am really going through things, donating the stuff I don't need or use. Throwing away items, that need to be just pitched, cleaning and all that good stuff.
I am packing more boxes with this move. Why? Well, because I am making them lighter, and not just throwing everything I can into a box because I am in a hurry, like last time. When I did that last time it was very hectic and disorganized the boxes.
With all that being said, I think I have seen more, well drama with this move. Wait drama? Well, as I said previously, my main reason I decided not to renew the lease at this current apartment was all because of the neighbor downstairs.
I can't take her lazy piggish ways anymore. Plus she thinks she this whole building. It just too much to put up with anymore.
Well, with that being said, around the 4th of July holiday weekend, let's just say the police were here and I can hear downstairs yelling, "call the landlord" and "my civil liberties." I have no idea what they heck was going on. I'm guessing she was drunk.
The police were here for about 20 minutes, then they left. Tuesday I came home from work and there was this big red piece of paper on the door from the Sherriff's department and was for her. Bottom line they were attempting to serve her with what looks like a restraining order. Oh boy! Yeah, I made the right decision to move away from her and this apartment.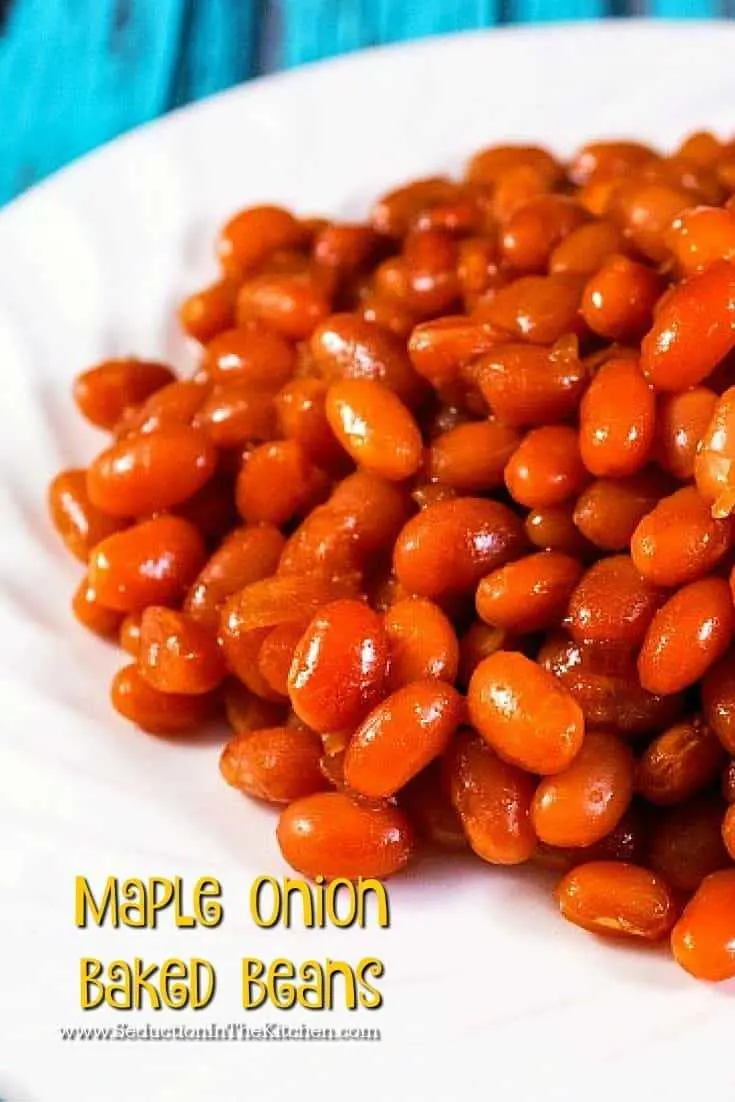 Love Seduction in the Kitchen recipes? Follow me on Facebook and Instagram!
Summer cookouts and baked beans go hand in hand. I have been wanting to make old fashion baked beans for a long time. Every recipe I find involves using can pork and beans.
Now if I wanted to just doctor up canned beans, I would. However, that would defeat the purpose of cooking baked beans the old fashion way. So I went to my old standby, the church cookbooks, to find an old fashion baked bean recipe.
And I did find one! It was for this Maple Onion Baked Beans. This Maple Onion Baked Beans came out so good. I will admit they taste better than canned beans in my opinion. Yes, the old fashion way does take longer, but these Maple Onion Baked Beans is well worth it in my opinion.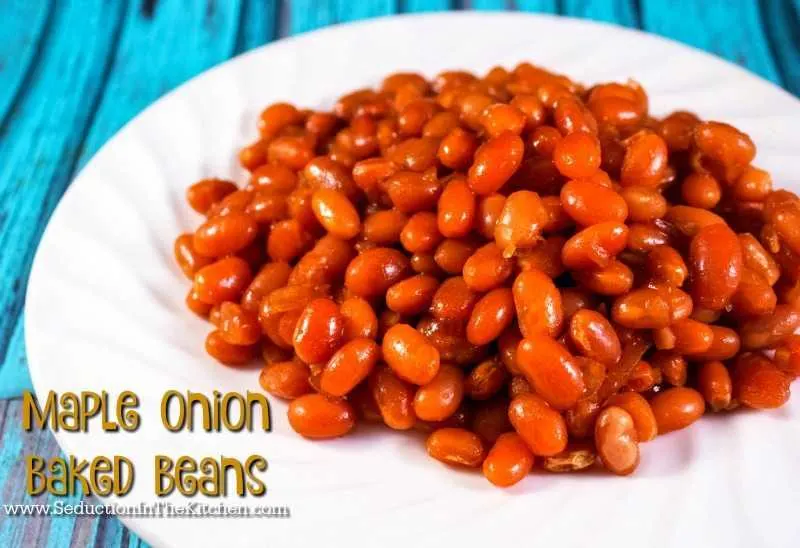 Yield: 8 servings
Maple Onion Baked Beans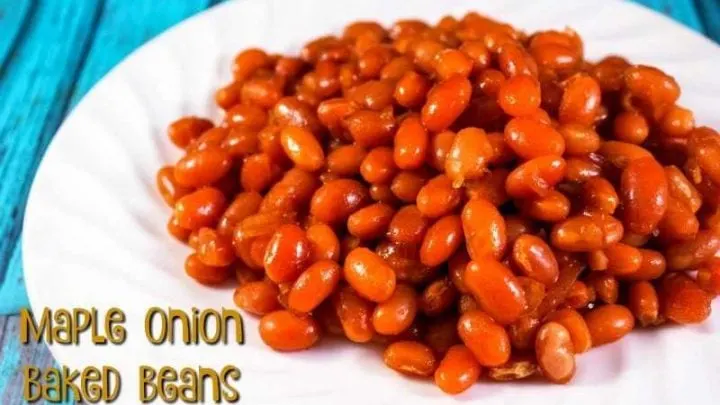 Maple Onion Baked Beans are made the old fashion way without any canned beans. They have a sweet, yet savory flavor to them. A recipe from Seduction in the Kitchen.
Total Time
5 hours
20 minutes
Ingredients
2 cups dried navy beans
0.5 ounce Lipton Recipe Secrets onion soup mix (2, 1 envelope)
1 cup ⁄2 maple syrup
1 tablespoon molasses
1 tablespoon mustard
2 tablespoon brown sugar
1 teaspoon liquid smoke
1 lb ⁄4 bacon (cut up into pieces.)
Instructions
Wash beans, cover and soak overnight. Drain and combine with 6 cups water.
Bring to a boil, reduce heat and simmer 40 minutes until the beans are tender.
Pre-heat oven to 300 degrees.
Drain beans but reserve 1 1/2 cups of the liquid.
Place beans in bean pot, mix in onion soup mix, maple syrup, molasses, mustard, brown sugar, liquid smoke, and bean liquid.
Place cut up the bacon in center of beans (Omit this if you want vegetarian beans).
Bake covered for 5 hours. Stir every hour and add more water if necessary.
Take them out, serve them up and ENJOY!
Nutrition Information:
Amount Per Serving:
Calories:

320
Check out my the latest on my other blog: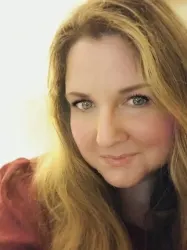 Latest posts by Deanna Samaan
(see all)