Grape and Feta Salad is a healthy delicious salad that is simple to make. This salad with green grapes is also a nice break from leafy green salads. This healthy grape salad can easily be your new lunchtime favorite. Serves 6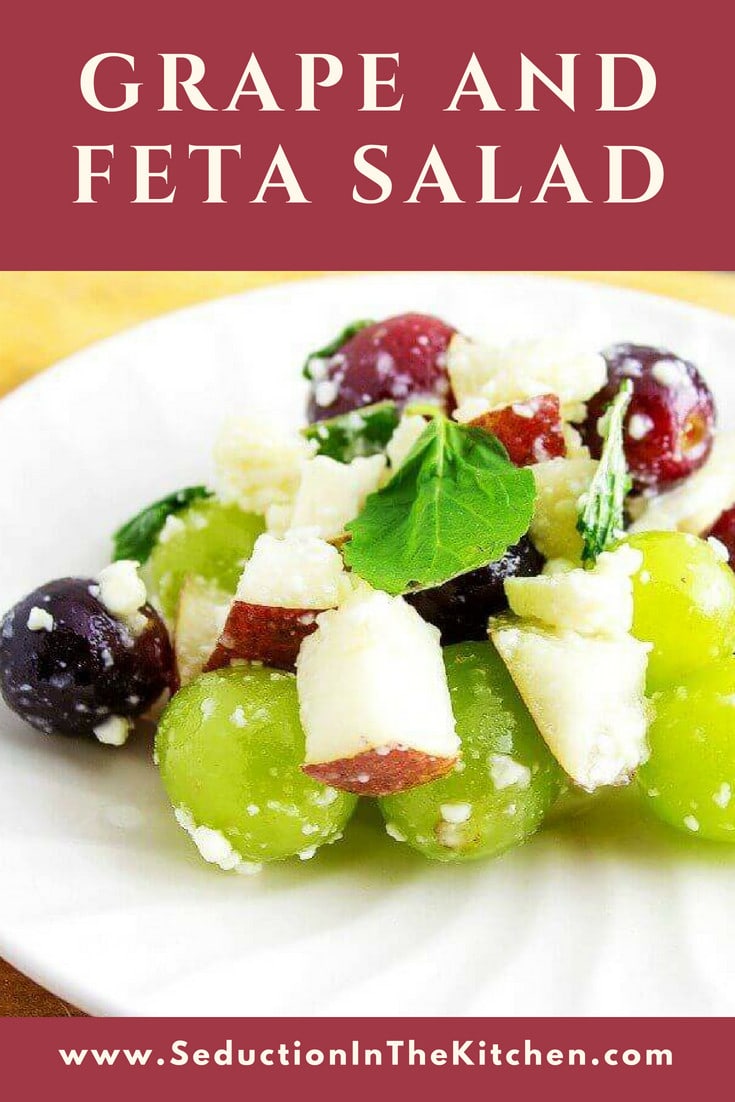 Leafy Salad
Eating a green, leafy salad for lunch can be boring. I wanted to do something different from leafy green salads. I spotted in an old copy of  Eating Light Magazine in the waiting room of the doctor's office, a recipe for a green grape salad.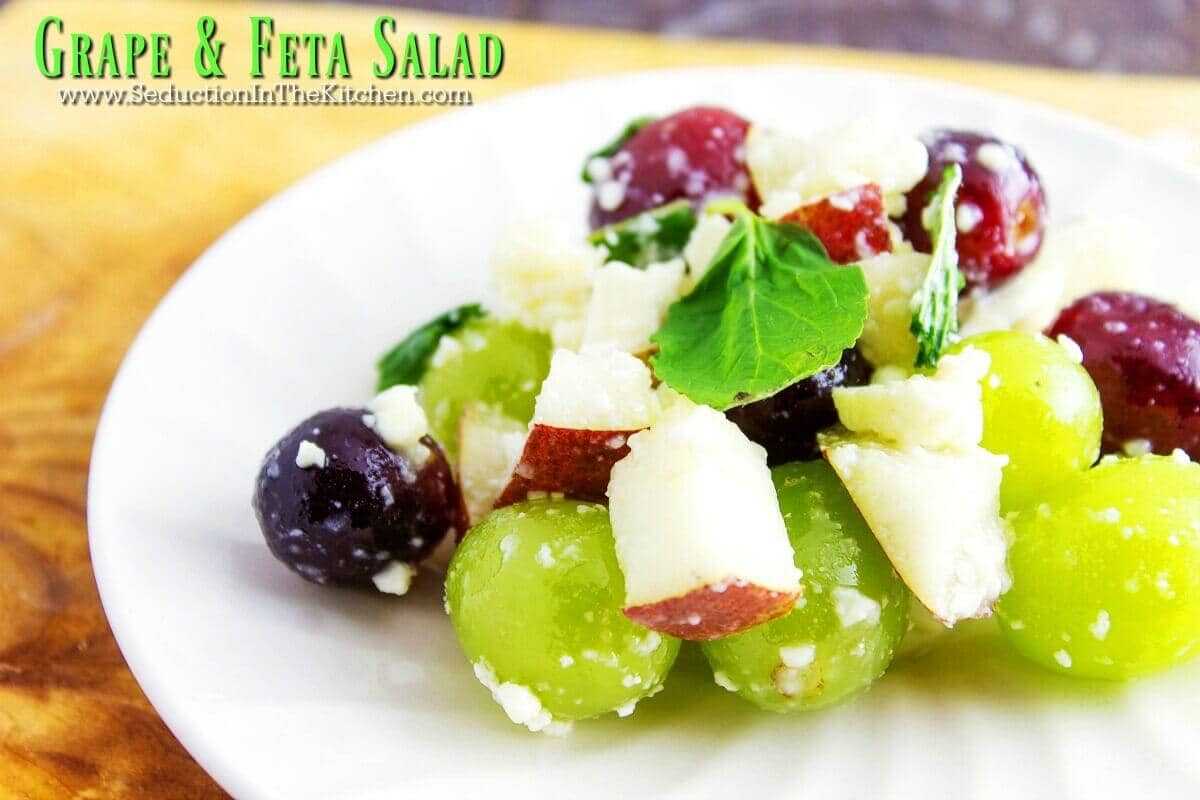 Healthy Grape Salad
To me, this healthy grape salad sounded good but could be improved. I ran the recipe by my GBF (Gay Best Friend), he is a culinary wizard.  He suggested adding mint this salad with green grapes. To me, this was a wonderful idea.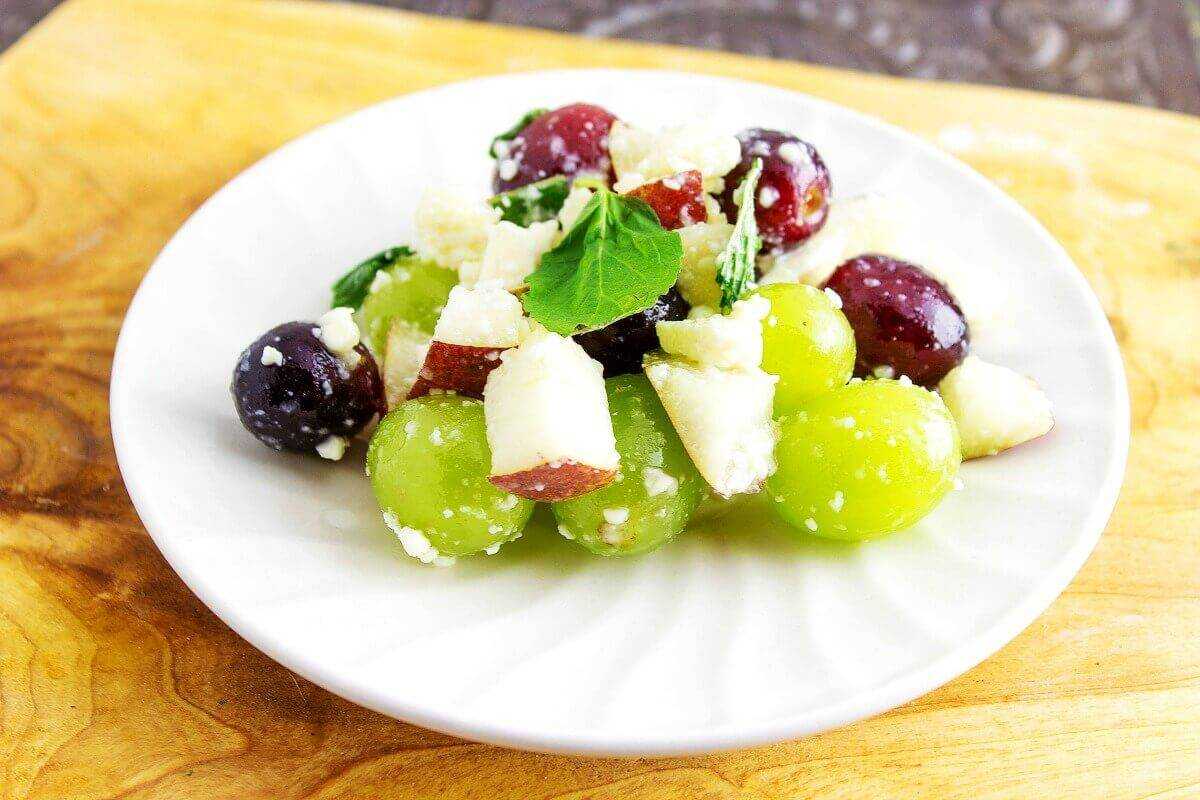 Recipes With Green Grapes
With my new position, I have to have quick lunches. Recipes with green grapes can be a nice quick lunch! Plus this healthy grape salad is a great alternative to green leafy salad.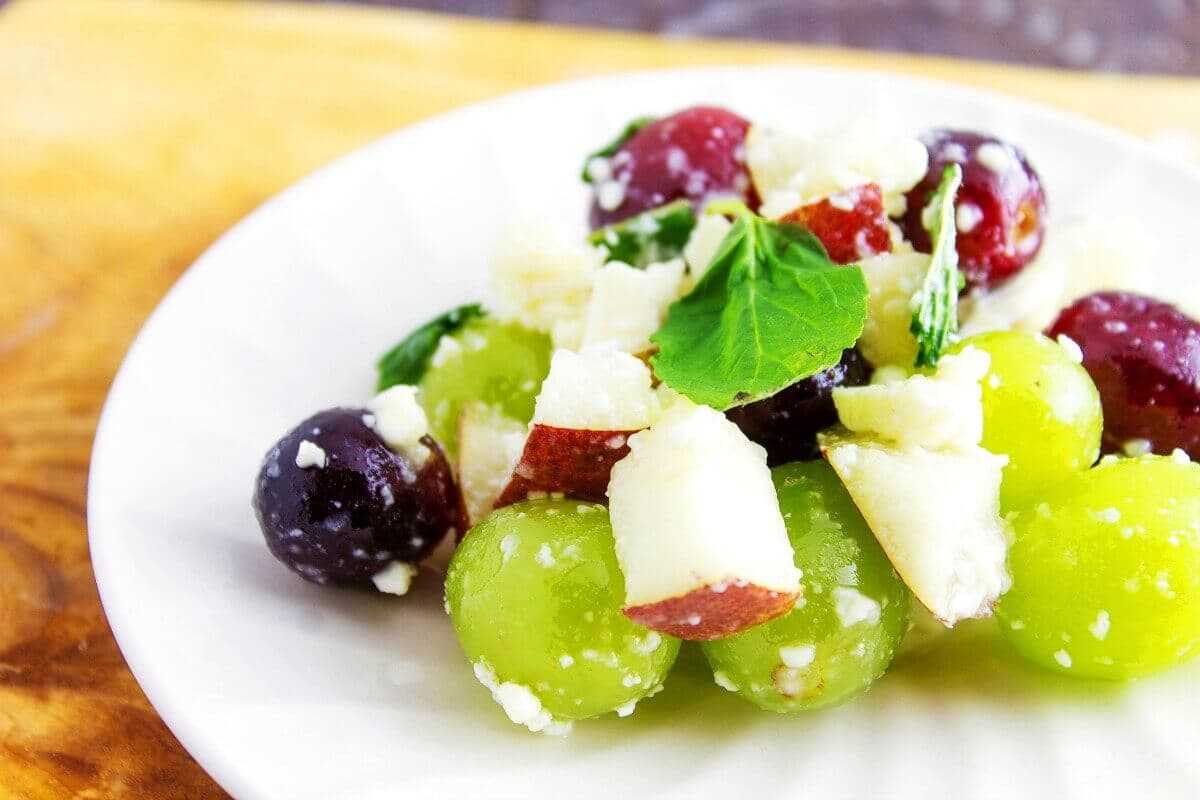 Healthy Delicious Salads
With me wanting to have a healthier lifestyle, healthy delicious salads are important to me. Even if those healthy delicious salads have to be quick. So this salad with green grapes is perfect.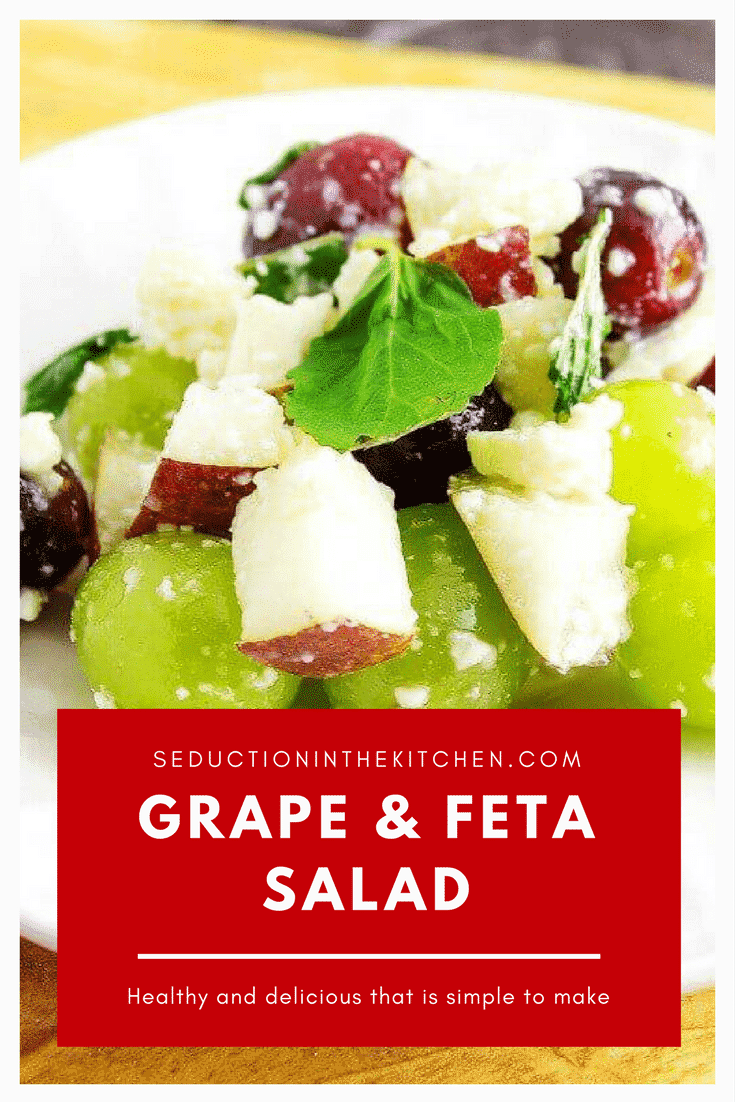 Grape and Feta Salad
When I saw that recipe for the green grape salad, and Richard's suggestion to add mint to the grape recipe, I felt it needed more than just green grapes. I added red grapes and feta to this grape and feta salad.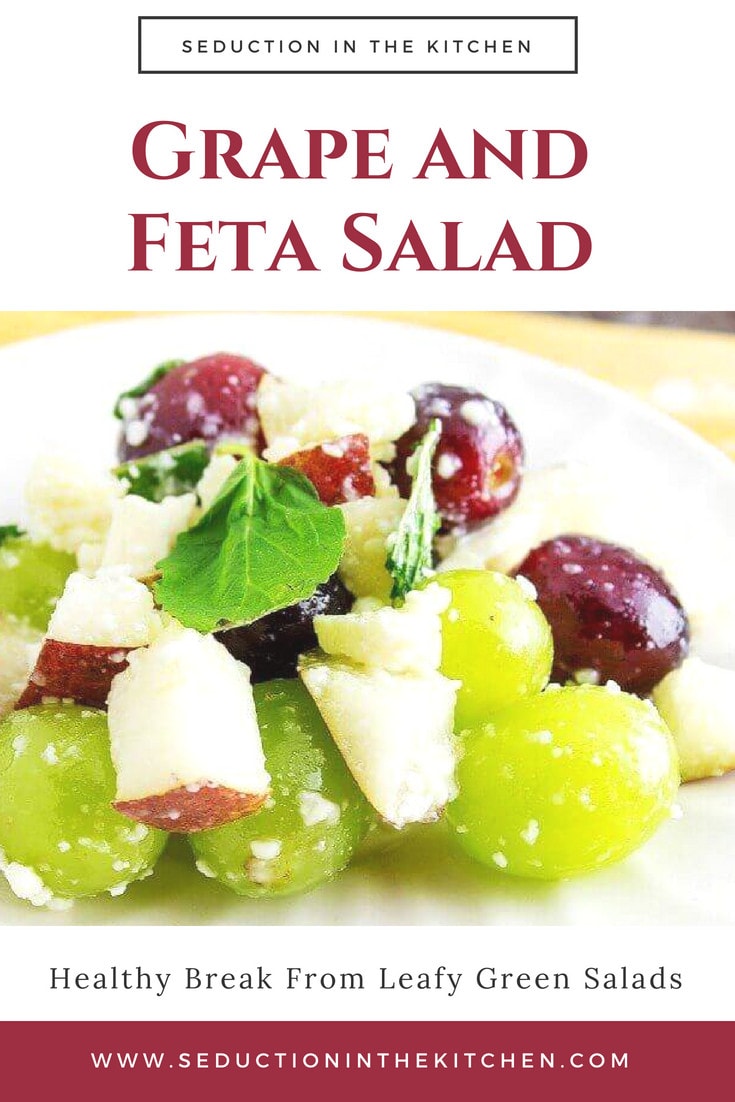 For This Recipe You Will Need
Grape Recipes
Besides this grape salad being a change from leafy green salads. I decided to create this recipe because there isn't a lot of grape recipes out there. Plus I obtained my goal of making a healthy grape salad that can be considered part of the healthy delicious salads category!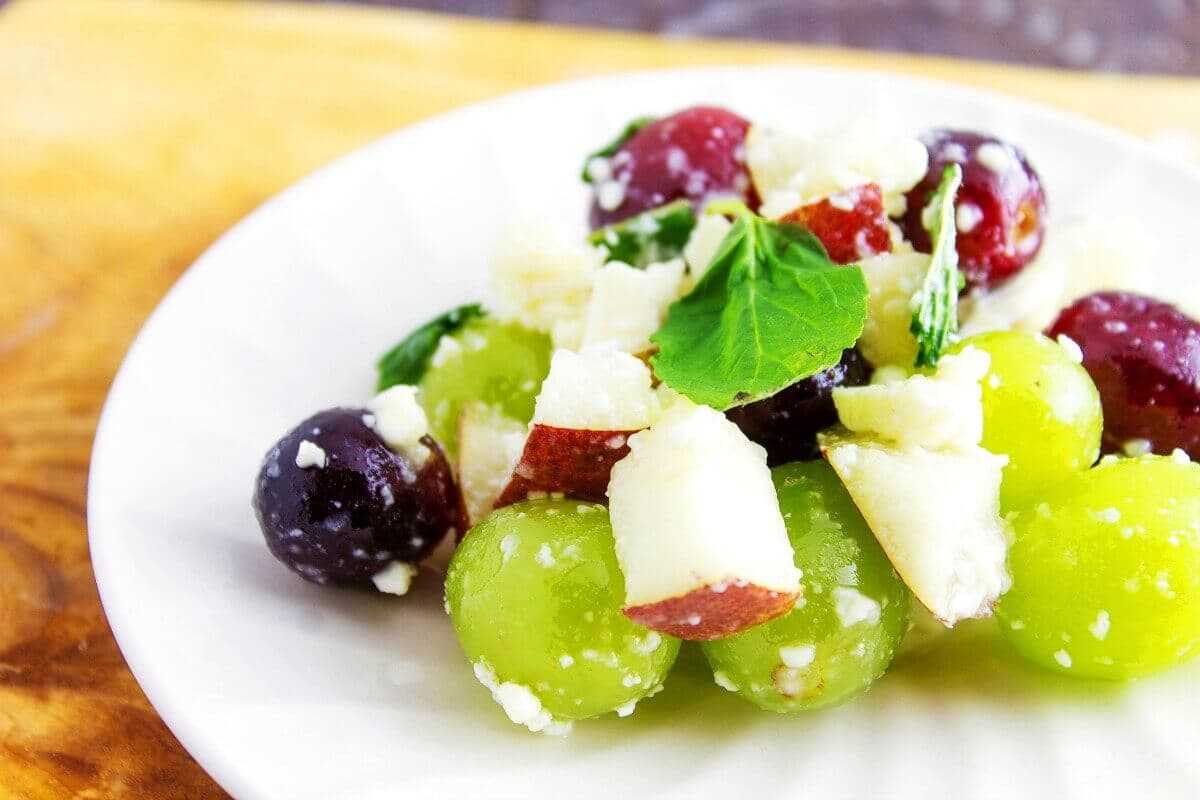 Yield:

6 Servings
Grape and Feta Salad Recipe
Grape and Feta Salad is a healthy and delicious salad that is simple to make. It is also a nice break from leafy green salads. This grape salad can easily be your new lunchtime favorite
Ingredients
1/4 lb feta cheese crumbled
2 teaspoons extra virgin lemon olive oil
2 teaspoons raw honey
fresh ground pepper
1 1/4 cups green seedless grapes
1 1/4 cups red seedless grapes
1 pear, chopped
6 -8 fresh mint leaves thinly sliced
Instructions
Place feta in a small bowl.
Drizzle with oil and honey.
Add pepper and toss gently.
Add grapes and pear.
Add mint
Gently toss everything together.
Serve it up and ENJOY!
Nutrition Information:
Amount Per Serving:
Calories:

132
Total Fat:

6g
Saturated Fat:

3g
Trans Fat:

0g
Cholesterol:

17mg
Sodium:

175mg
Carbohydrates:

19g
Fiber:

2g
Sugar:

16g
Protein:

3g
I want to hear what you have to say about this recipe that is on
SEDUCTION IN THE KITCHEN!
Let's get this conversation started! What do you think of this recipe?