This post was most recently updated
So, was asked on Facebook what been going on with me. I have been very quiet. Well first, had internet issues, then I had a bout with the flu. So that was the main reasons as to why I been quiet, however, within the last few days I have had what I call, "ah huh" moment, I feel a huge change happening in my life.
I have been talking about moving, it been talk, not actions. I am a firm believer of everything happening for a reason. With that said, let's say I am realizing the series of events that has happened since September in my apartment, from the dishwasher breaking, the manager not allowing me to have my cats and having then gone live with my mom, it all been to wake me up!
Yep, you read that correct, it was to wake me up. I need to move, my apartment had actually been holding me back. I moved in here 6 years ago because of my exhaust and forced me into this place. He was controlling, he was mentally abusive as well as mentally abusive to me. He only married me because he messed up his visa and needed a wife so he could become a US citizen to do his residency.
Unfortunately, I was actually in love with him, so I was blinded to the real truth. After said "I Do" his true nature came out and his mental and emotional abuse started. It changed me, I didn't know who I was because of it. When he forced me into this apartment, during our divorce. I did stay, but it was because of fear. Fear of change I think. I was in love with him, I think I thought he misses me and come back. It took a long time, in fact, took all if these 6 years to come to terms that he was a bad man, he abused me emotionally and mentally.
This apartment is a vortex of all that pain and hurt he put me through. I am not that same woman I was 6 years ago. It took all this time but I got myself back and I am stronger than I was before. Its time to move. Maybe this apartment complex going down hill and everything happened with the dishwasher and the cats, it was to help me realize this, wake me up so to say.
So, I did a little L.O.A, I took all my art off the walls, I packed up nick nacks, I got boxes stacked up against one wall. Do I have a new place yet, no? But I am positive and I am visualizing a better place already. Time for the new chapter in my life. So, yes over the next few weeks, I am going to be busy with packing and getting ready for a new chapter in my life.
When you have "ah huh" moments like I had, you should celebrate those moments. To celebrate sounds like a great excuse to have a girl's night in! For this, I teamed up with Veev. They are an organic acai liquor and they also have other pre-made cocktails like a cosmopolitan.
VeeV was launched in 2007 by two brothers, Courtney and Carter Reum, after a surfing trip to Brazil where they discovered smoothies made with the Açaí berry, known locally as "purple gold" because of its health properties. Inspired by the wonderful superfruit, they left behind their investment banker roles at Goldman Sachs with a singular goal to start a unique sustainable liquor company and never looked back.
The name VeeV is a playful take on the French word for "live." Intended to uplift and inspire, VeeV represents our philosophy to live consciously and to always have fun. Can you not think of a perfect spirit to have for a girls night in? So, let's celebrate new beginnings and have fun with this Tuscan Sunrise.
Yield:

1 drink
Girl's Night In: Tuscan Sunrise With Veev Acai Liquor
Veev acai liquor makes this drink perfect for girl's night in! A recipe from Seduction in the Kitchen
Ingredients
3 oz pineapple juice
1 oz Veev Acai
1/2 oz whiskey
1/2 oz grand mariner
Splash greninade
Whipped cream
Cherry for garnish
Instructions
Pour the pineapple juice, whiskey, Veev acai, and grand mariner in cocktail shaker, give a good shake, then pour into a glass.
Layer on to the greninade, you will see it will do the nice layer effect in the glass.
Top it off with some whipped cream and a cherry, and then ENJOY!
Nutrition Information:
Amount Per Serving:
Calories:

200
Check out my the latest on my other blog: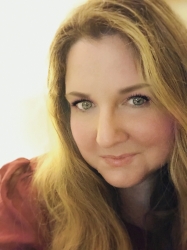 Latest posts by Deanna Samaan (see all)