This post was most recently updated
Dumante Soaked Plum Cake An Italian sweet cake that is topped with fresh plums soaked in Dumante liquor.  A recipe from Seduction in the Kitchen
It is no secret that I deal with stress by cooking and baking. I channel my stress into creative recipes. I also use that stress creativity into other avenues that allow me to be creative. Right now that is photography, what started off as practice to learn my new camera, I actually turned into a side hobby, it something just for fun, that is just that a fun hobby, that helps me learn. It is good to have several hobbies.
Speaking of creativity, My day job, I got a camcorder for my 10 year anniversary. A very, very long time ago, I did start a YouTube channel. I did a few teaser videos and 2 full recipe videos. I stopped doing full video for 2 reasons, one was because had a tiny kitchen in my old apartment. The I just don't like how I look on video and I am not good at editing. Plus at the time, I really didn't have a proper camera to do videos, I used my computer to film. Well, I am building up the courage to try to do a video again now that I do have a proper camera.
I got introduced to Dumante when I first started food blogging, they were the first company I worked with to develop recipes with. I created with Dumante:
 #SundaySupper Dumante Frozen Espresso Creams
Dumante Baklava Muffins
Dumante Baklava
Festive Dumante Soda Stream Cosmo
Apple Pie Cupcakes with Dumante Caramel Buttercream
Peach Dumplings
I love this liquor. It is so smooth. It is handcrafted in select small batches in Italy with a genuine Sicilian pistachio infusion. There is nothing like it. One taste, you see why I love working with it so much.
I really wanted to make something with it, and I been wanting to do something with plums for awhile. Plum cake and Dumante seem like a perfect combination, this Italian liquor really enhances the sweetness of the plums, for a wonderful cake.
Yield:

6 servings
Dumante Soaked Plum Cake
An Italian sweet cake that is topped with fresh plums soaked in Dumante liquor. A recipe from Seduction in the Kitchen
Ingredients
1 lb ⁄4 butter
1 cup ⁄3 sugar
1 teaspoon ⁄2 vanilla
1 egg
1 tablespoon sour cream
1/4 cup Dumante liquor
1 teaspoon lemon (rind of)
1 3 cups ⁄4 flour
1 teaspoon baking powder
2 cups plums (pitted and sliced into thin wedges)
1 teaspoon cinnamon
1/4 teaspoon nutmeg
Instructions
In a large bowl, add the plums, the Dumante, cinnamon, and nutmeg. Mix together and let it stand for about an hour.
In a large bowl, cream the butter, add the sugar, vanilla, egg, lemon peel, sour cream
Mix the flour and baking powder and add that into the wet mixture.
Grease the base of a round baking pan and spread the dough over the pan.
Pour the plums over the dough.
Bake for 30-45 minutes at 375 F.
Take out the oven and let it cool, slice it up and ENJOY!
Nutrition Information:
Amount Per Serving:
Calories:

410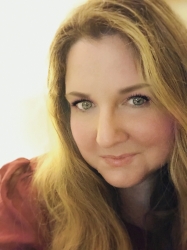 Latest posts by Deanna Samaan
(see all)