I am a participant in the Amazon Services LLC Associate Program, an affiliate advertising program designed to provide a means for me to earn fees to Amazon.com and affiliate sites.
[intro]Slow Cooker Salisbury Steak is made with a rich, tangy gravy that is made in the slow cooker and is perfect for a busy family dinner![/intro]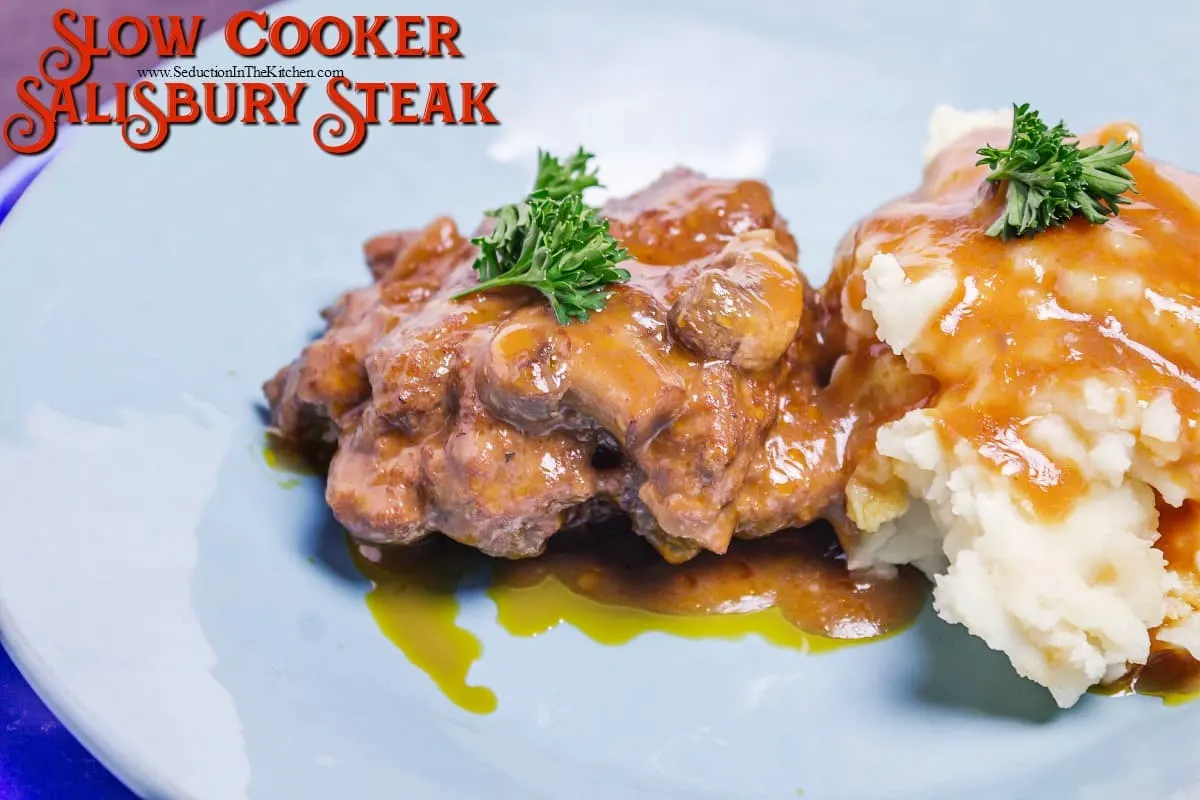 Updating Old Crockpot Salisbury Steak
[dropcap custom_class="normal"] T [/dropcap]ime for a recipe post makeover. This time, it was this old crockpot Salisbury steak recipe. What inspired this recipe makeover was, well when someone asked me at work for a Salisbury steak recipe, and I went to print it off, it was screaming at me, I need to be updated!
Old Photo
It wasn't the photo so much that needed to be updated, though was a bit small. In fact, you can see it is actually was a decent old photo:
The whole post talked about when I was on Blogger platform and how I might move to WordPress. The issues Blogger was giving me. Yeah, that content was outdated for sure.
Reposting old content as new
I have always said, I write in real time. Which is good, but as I have been having 1 older post a day repost as newer content, it gets a bit confusing. Example, some the very old posts, I was talking about when I was a cast for 3 months, showing photos of my healing and such in the cast.
I have had people writing that they hope I get better, even though that was in 2013 I was in that cast! The blog post got republish now, so it looks like I am in the cast this moment in time when I am really not. No plan is perfect, that was something did not consider, when I decided to do the automatic republish of older posts.
Slow Cooker Salisbury Steak Recipe
I am a busy woman. Especially since I work full time and I have been working on the behind the scenes blog stuff. That means I need something I can whip up and not worry about as it cooks for dinner. So that means the slow cooker is my best friend!
That is what I love about this Slow Cooker Salisbury Steak recipe, I can put everything into the slow cooker, turn it on, and sit down and do other things and not worry about cooking.
My mom always gets the Banquet Salisbury steak things. They are good and I like Salisbury steak. I always wondered what a homemade would taste like, and not the frozen stuff she got.
The secret to a good Salisbury steak is that tangy gravy. The best and easiest way to make slow cooker Salisbury steak is with one-word SOUP! Yes soup, it does make the best gravies for slow cooker cooking.
So I played with some soups to create an easy slow cooker Salisbury Steak recipe. It came out so divine!!! I love the way the soups just enhanced this slow cooker Salisbury Steak. I mean, after all, it is all about the gravy when it comes to Salisbury steak!

Yield: 6 Servings
Slow Cooker Salisbury Steak Recipe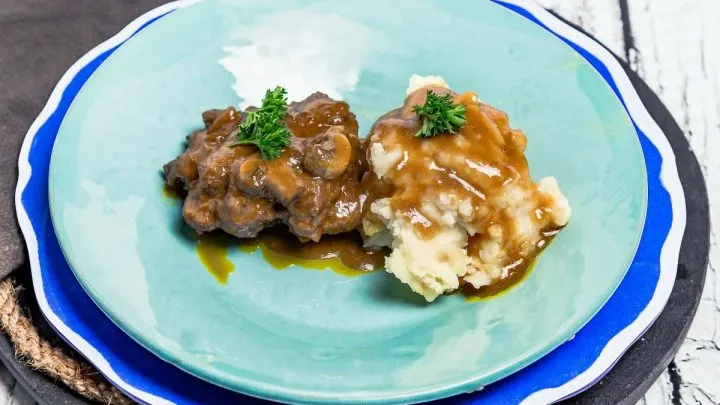 Slow Cooker Salisbury Steak is made with a rich, tangy gravy that is made in the slow cooker and is perfect for a busy family dinner!
Total Time
6 hours
10 minutes
Ingredients
2 lbs ground beef
1 (1 oz) envelope dry onion soup mix
1/2 cup Italian seasoned breadcrumbs
1/4 cup milk
1/4 cup all-purpose flour
2 tablespoons vegetable oil
1 can (10 3/4 oz) condensed cream of mushroom soup
1 can (10 3/4 oz) condensed golden mushroom soup
1 (1 oz) packet au jus gravy mix
3/4 cup water
1 small onion, chopped
6 oz package sliced mushrooms
Instructions
Mix together the ground beef, onion soup mix, bread crumbs and the milk. The milk helps tenderize the beef, so it gives that melt in your mouth taste.
Next, shape the beef into patties, then lightly dredge them in the flour. Heat up the oil and brown the patties, about 2 minutes on each side.
In the slow cooker, add the can soups, au jus mix, water, onions, and mushrooms, and mix it up. Place the patties into the gravy mixture, and put the slow cooker on low.
Let cook for 4-6 hours, finally serve them up with a side of mashed potatoes and ENJOY!
Nutrition Information:
Amount Per Serving:
Calories:

581
Total Fat:

40g
Saturated Fat:

13g
Cholesterol:

109mg
Sodium:

1026mg
Carbohydrates:

23g
Fiber:

2g
Sugar:

4g
Protein:

30g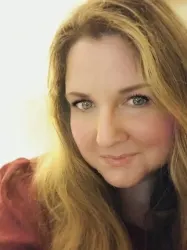 Latest posts by Deanna Samaan
(see all)