I am a participant in the Amazon Services LLC Associate Program, an affiliate advertising program designed to provide a means for me to earn fees to Amazon.com and affiliate sites.
Chocolate Covered Cherry Cookies is a chocolate cookie recipe. These chocolate cherry cookies are the best Christmas cookies you can make! If you love chocolate covered cherries then you will like this cookie recipe!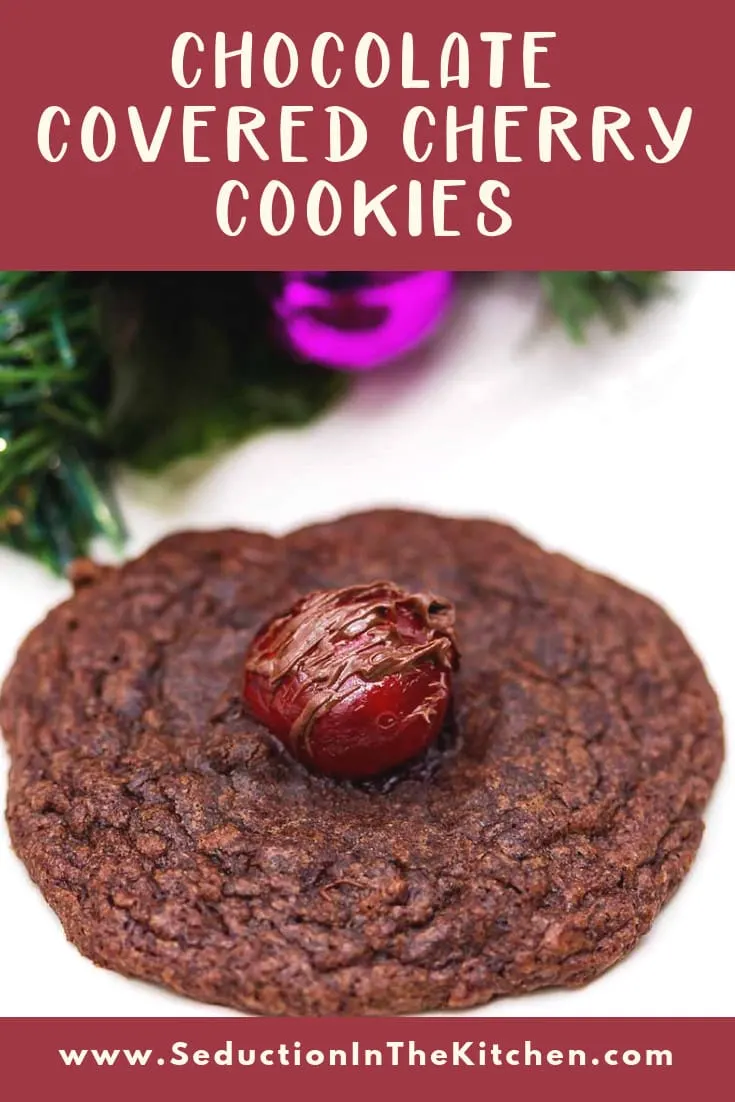 Chocolate covered cherries
Do you like chocolate covered cherries? My dad sure does. Being from Pittsburgh, we would buy Sarris chocolate covered cherries every year for Christmas and for his birthday. That is how much he loves chocolate covered cherries.
Why talk about chocolate covered cherries? Chocolate covered cherries was a treat for my dad. I was trying to pull myself out of a funk. I thought I could use a treat as my dad has with his chocolate covered cherries.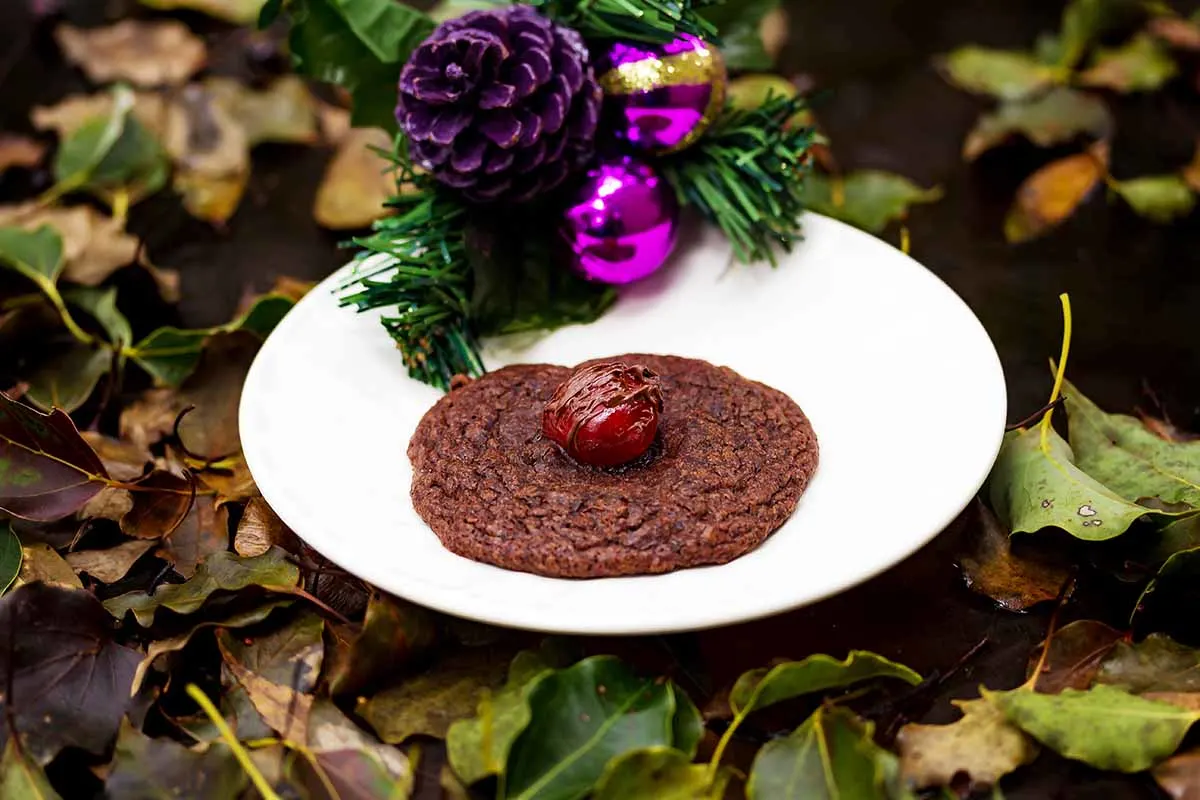 Best Christmas cookies
Baking is my way of pulling myself out of a funk. I wanted to make the best Christmas cookies I could. So I thought that chocolate cherry cookies would be great!
Why are chocolate cherry cookies the best Christmas cookies? that cookie recipe has not only chocolate but cherries as well! How can that chocolate cherry combo not be the best Christmas cookies?
Chocolate cookie recipe
Even though the chocolate cookies were easy, To me a chocolate cookie recipe was missing something. In comes LorAnn Oils cherry flavoring. If I want this chocolate cookie recipe to be chocolate cherry cookies, one cherry on top won't do it! You need to add some cherry flavor to the chocolate cookie.
Double Chocolate Cookies Recipe
By adding in LorAnn Oils's cherry flavoring, it turned my chocolate cookies recipe into chocolate cherry cookies. However, you still need to make these into chocolate covered cherry cookies. So I added cherry in the middle with a chocolate drizzle for the best Christmas cookies!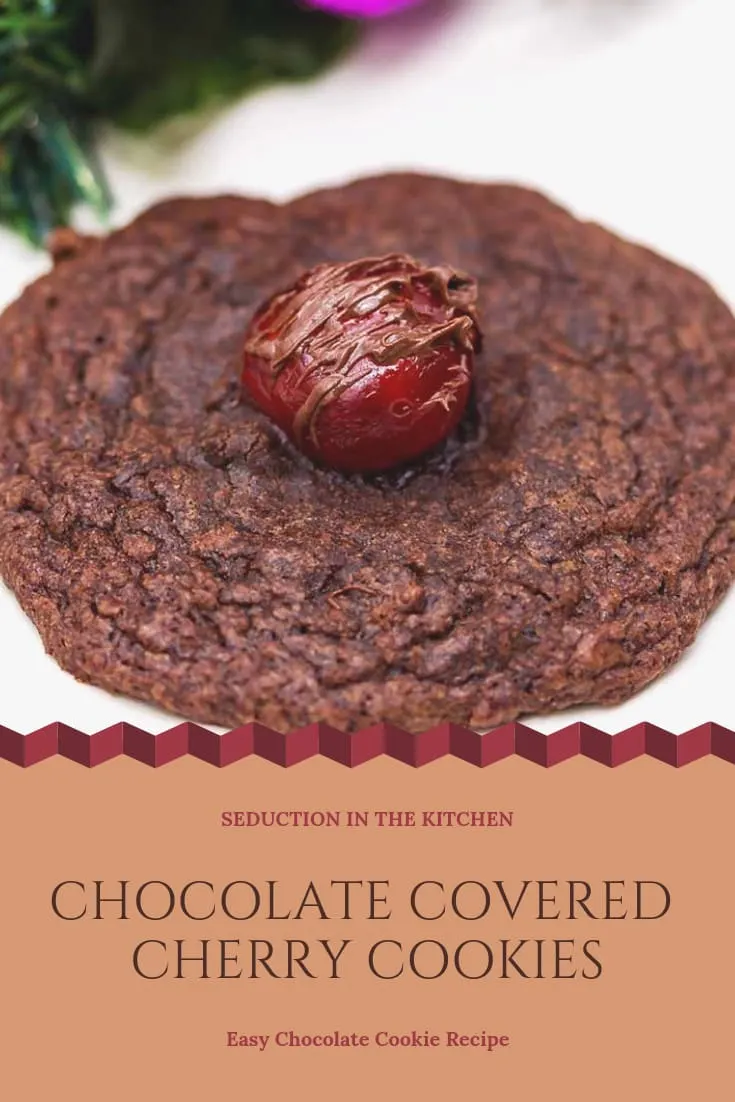 Christmas Cookies
I made this batch of chocolate covered cherries cookies for my dad since he is a lover of chocolate covered cherries in general. He loved these Christmas cookies! Since I got his approval, I added these chocolate cookies to my list of cookie exchange recipes. Now I am sharing this double chocolate cookie recipe with you!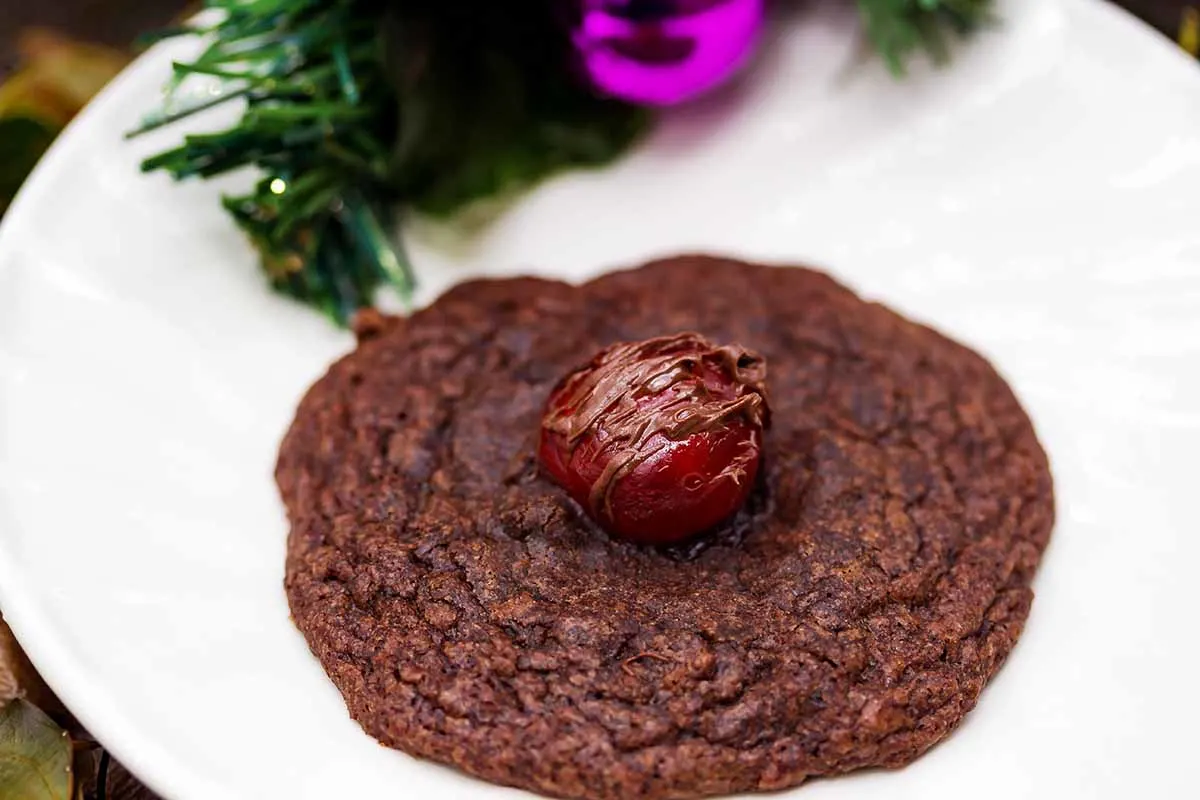 Yield: 48 cookies
Chocolate Covered Cherry Cookies
Chocolate Covered Cherry Cookies are easy chocolate cookies. If you love chocolate covered cherries, you love these chocolate cookies!
Ingredients
1 1⁄2 cups all-purpose flour
1⁄2 cup unsweetened cocoa powder
1 bag (12 oz) chocolate chips
1⁄2 cup butter
1 cup Dixie Crystals sugar
1⁄4 teaspoon baking soda
1⁄4 teaspoon salt
1 large egg
1 1⁄2 teaspoons vanilla
1 teaspoon LorAnn Oils Cherry Flavoring
48 undrained maraschino cherries
1 cup semisweet chocolate chips
Instructions
Combine flour and cocoa; set aside.
Beat butter in a med bowl on med speed until softened.
Add sugar, baking soda, and salt.
Beat until well mixed.
Beat in egg, LorAnn cherry flavoring and vanilla, scraping the side of the bowl.
Gradually beat in flour mixture.
Add in the bag of chocolate chips, mix until just combined
Shape dough into 1-inch balls.
Place 2-inches apart on an ungreased cooking sheet.
Press down the centers with your thumb.
Drain cherries
Place a cherry in the center of each cookie in the depression you made with your thumb.
Bake in a 350°F oven for about 10 minutes or until edges of cookie is firm.
Melt the 1 cup of chocolate chips.
Drizzle the melted chocolate over the cherry in the cookie.
Serve them up and ENJOY!
Recommended Products
As an Amazon Associate and member of other affiliate programs, I earn from qualifying purchases.
Nutrition Information:
Yield:
48
Serving Size:
1
Amount Per Serving:
Calories:

83
Total Fat:

4g
Saturated Fat:

2g
Trans Fat:

0g
Unsaturated Fat:

1g
Cholesterol:

9mg
Sodium:

35mg
Carbohydrates:

13g
Fiber:

1g
Sugar:

9g
Protein:

1g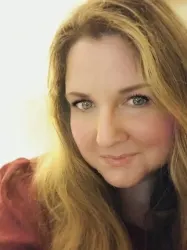 Latest posts by Deanna Samaan
(see all)