I am a participant in the Amazon Services LLC Associate Program, an affiliate advertising program designed to provide a means for me to earn fees to Amazon.com and affiliate sites.
Cherry Brie Pillows is an easy brie appetizer. If you are wondering what to make with puff pastry, then grab some sour cherries and make this brie recipe!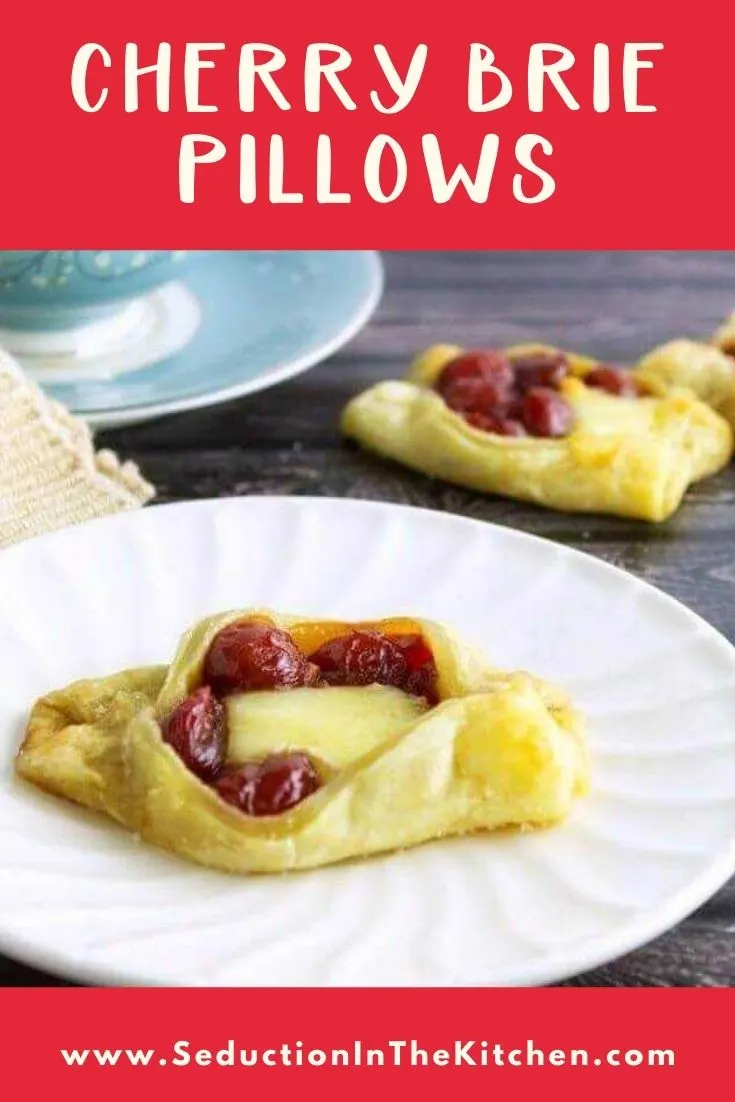 What to make with puff pastry
What to make with puff pastry? I had this dilemma when I had leftover puff pastry. The most what to make with puff pastry is to make an appetizer.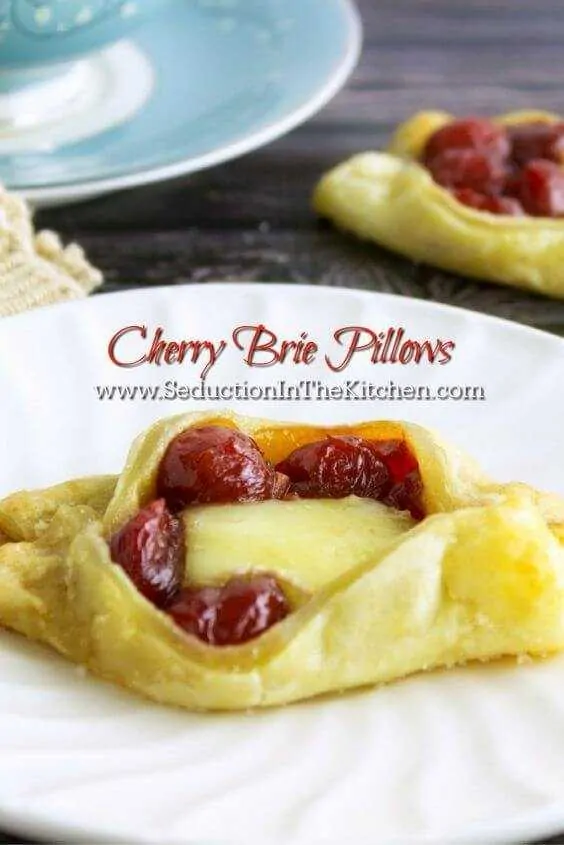 Brie recipes
One common thing I found that has puff pastry is brie recipes. Brie cheese is this mellow French cheese that can be amazing.
Most brie recipes are baked so you can get that nice melted cheese to scoop up. Making a brie recipe with that puff pastry was a great idea, however, I wanted to do something a little different.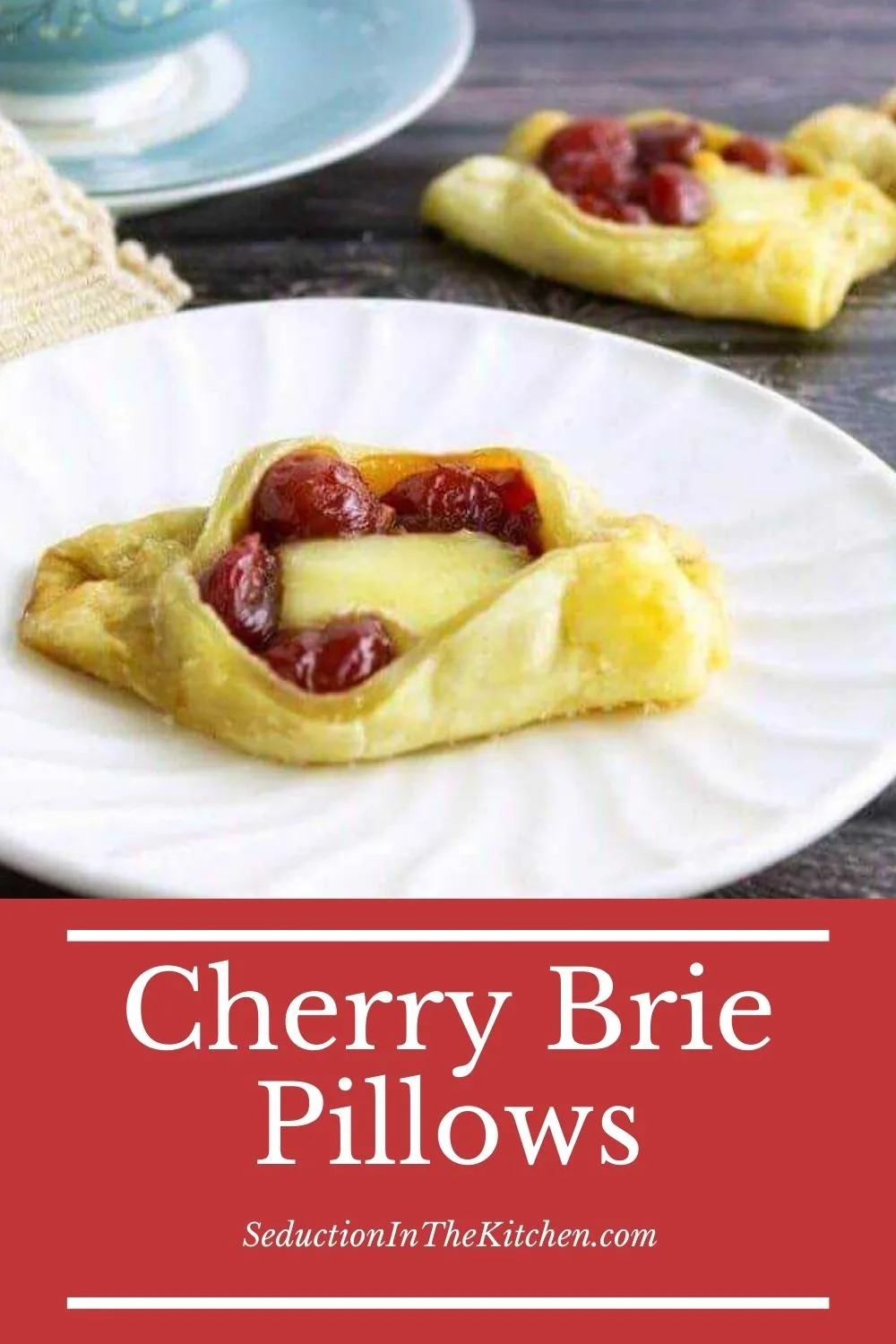 Sour cherries
Looking through brie recipes, I noticed most baked brie recipes had a brie topping. One topping stood out, a cherry compote. This cherry compote was sour cherries.
What if I just tuck some sour cherries into the puff pastry with a sliver of brie cheese and bake it up? This would be a simple brie appetizer.
Brie appetizer
Not only did this brie appetizer come out tasting amazing, but it was also easy to make. I wanted to create an appetizer recipe that anyone could make but also be elegant as well. That is what this brie appetizer is, an easy and elegant recipe.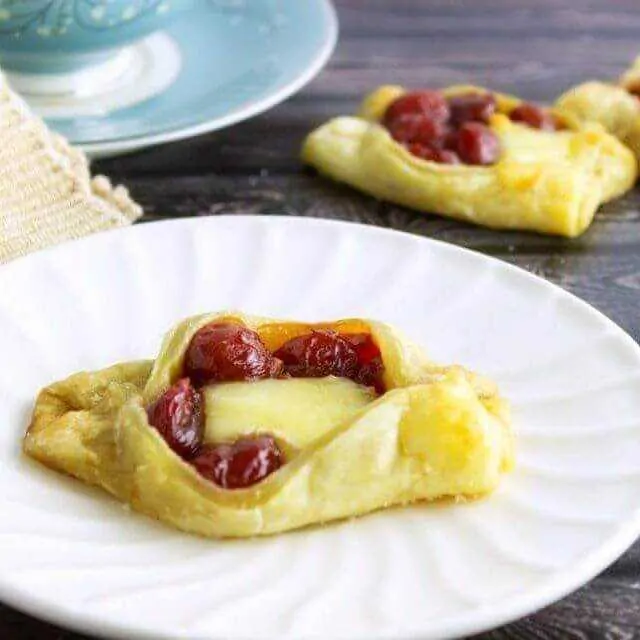 Yield: 8 Servings
Cherry Brie Pillows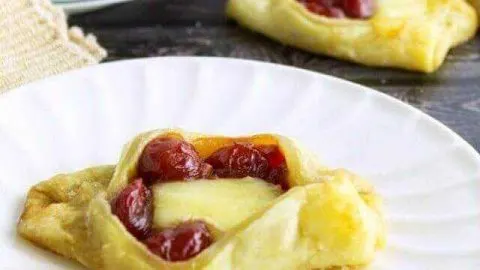 Cherry Brie Pillows is an easy appetizer to make that will impress your dinner guests. It is perfect to whip up for the holidays!
Ingredients
1 sheet frozen puff pastry (thawed)
1 can (14.5oz) pitted tart cherries (drained)
1 wheel brie cheese (rind removed)
1/4 cup water
1/4 cup sugar
Instructions
Preheat the oven to 350F and line a cookie sheet with parchment
Unroll the puff pastry and cut into 8 rectangles
Slice off 8 chunks of the brie cheese, the remaining brie you can wrap up for another use.
Place each section of the brie in the center of the puff pastry.
Spoon some the cherries around the brie in each the pastries.
In a small bowl, mix the water and sugar together. The brush each the pastries with the sugar water solution. Make sure you get the edges.
Fold up and press the edges together so you "pillow" the cherries and brie within the pastry.
Bake on the parchment lined cookie sheet for about 10 minutes or until that pastries are a nice golden brown color.
Take out the oven, serve them up and ENJOY!
Recommended Products
As an Amazon Associate and member of other affiliate programs, I earn from qualifying purchases.
Nutrition Information:
Yield:
8
Serving Size:
1
Amount Per Serving:
Calories:

65
Total Fat:

2g
Saturated Fat:

1g
Trans Fat:

0g
Unsaturated Fat:

1g
Cholesterol:

4mg
Sodium:

32mg
Carbohydrates:

10g
Fiber:

0g
Sugar:

8g
Protein:

1g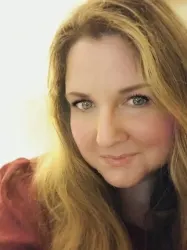 Latest posts by Deanna Samaan
(see all)