Green Tea Sorbet is easy to make.  The best part of this sorbet is that is is not made in an ice cream maker. Plus it requires only a few ingredients as well.
Green Tea Sorbet is has a minty taste, that will find so refreshing. This sorbet is perfect for everyone. Even the pickiest of eaters will love this homemade sorbet.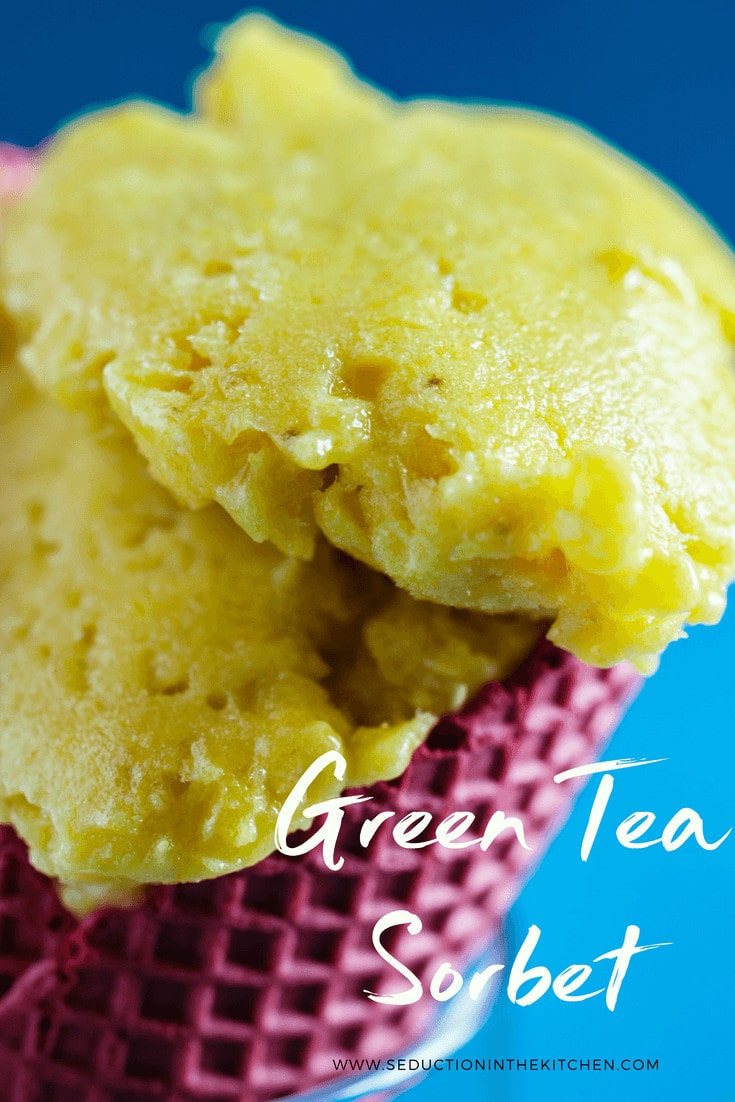 Older Posts
I have been revamping the old posts. In doing so I discovered the old gem recipes, like this green tea sorbet. I also remember that this green tea recipe also got my first hater comment when I published back in 2013.
The Old Mint Green Tea Sorbet
Thinking back, I have to agree with the comment. Back then I was offended that someone would make a bad comment on any of my recipe posts.
What was this hater comment?
"I am sorry, but this green tea sorbet looks more like mashed potatoes with chicken gravy."
It was a hot day, I was trying to take photos outside in natural light. It was something I had read in a how-to for food photography. The sorbet was melting.
The photo for the mint green tea sorbet is bad. I overexposed it. It was taken with an iPhone 4S.
To be honest, it does look like mashed potatoes and gravy. The reader was correct. The photo is so bad, I am not even going to put back in this post!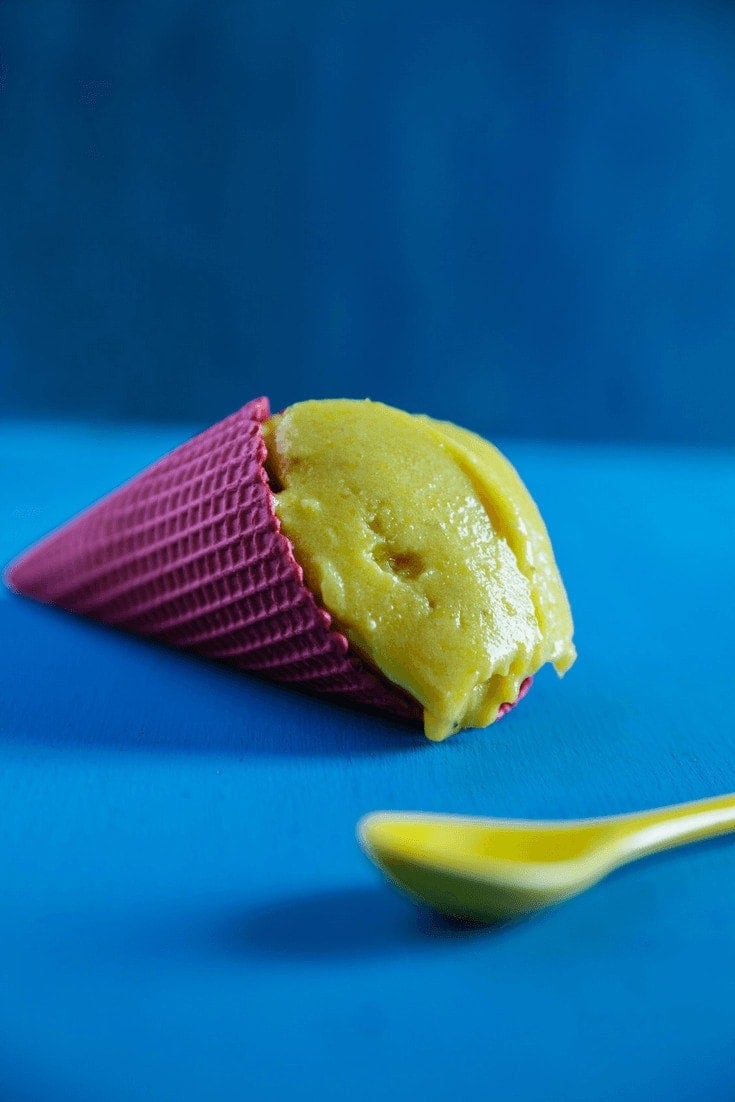 Making A Green Tea Sorbet
Why I made a green tea sorbet? Back then I was into health benefits of green tea and losing weight. Plus it was an experiment to see if I could make a mint green tea sorbet without an ice cream maker.
No Ice Cream Machine Needed
I still do not have an ice cream maker. I actually like making sorbets that are no churn. They taste wonderful.
If you had seen that original post for the mint green tea sorbet, you agree that post needed bad TLC. When I saw it, not only did have the bad photos, but there wasn't even a recipe card on the post.
How the green tea sorbet never got a recipe card I have no idea. I am thinking it was because this sorbet recipe was on a Blogger blog.
Yes, Seduction In The Kitchen in 2013 started out on a Blogger platform. Then I moved around 2014 to WordPress. Many of the recipes, like this green tea sorbet recipe that was on Blogger, has issues.
Issues that I am now finding since I am doing a through one by one post-redesign and SEO implementation. It is a good thing I am doing this, or you may have never seen this great tasting sorbet recipe.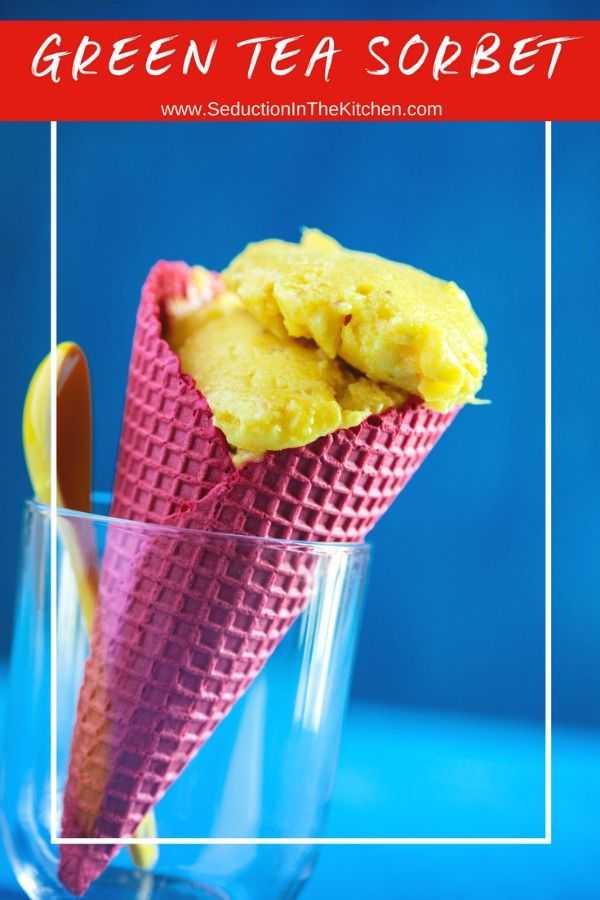 Green Tea Sorbet
Getting back to the green tea dessert. I played around with fresh mint and tea bags to create this recipe. The end result was this refreshing minty tea sorbet.
This time I did play with matcha green tea to make this frozen treat. It worked well like the tea bags did the first time I made this green tea frozen dessert.
Depending on what green tea you prefer, this sorbet recipe is actually versatile. You could even use a black tea or even a white tea if you prefer to make this tea sorbet.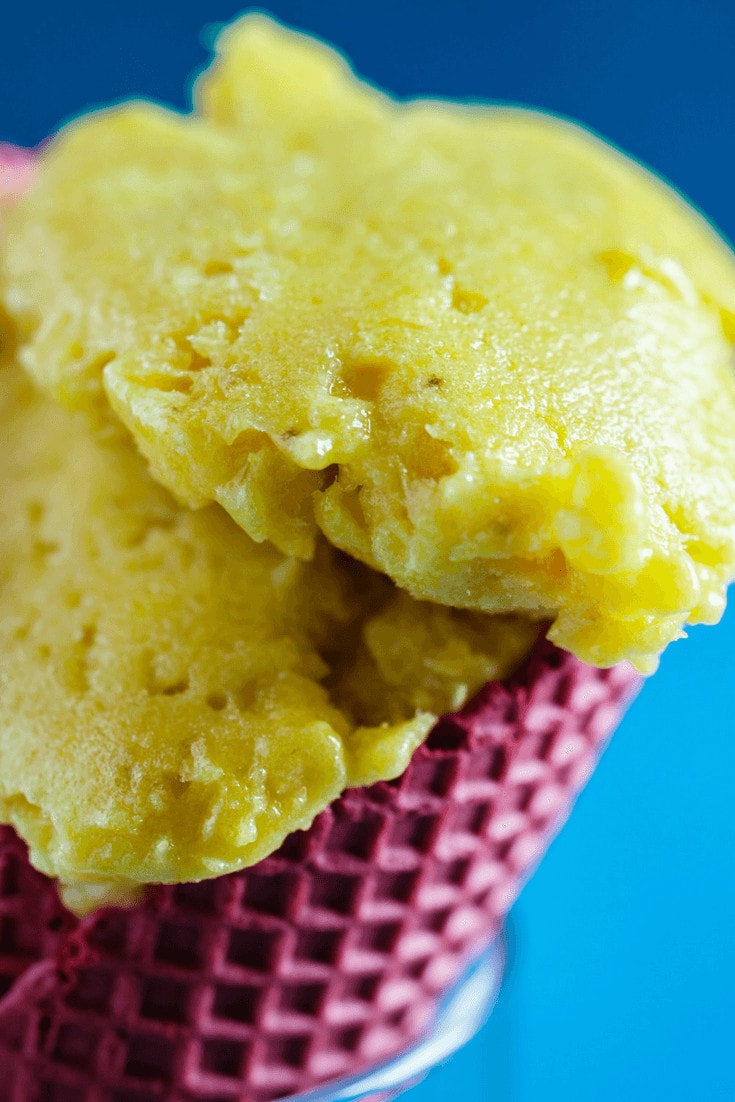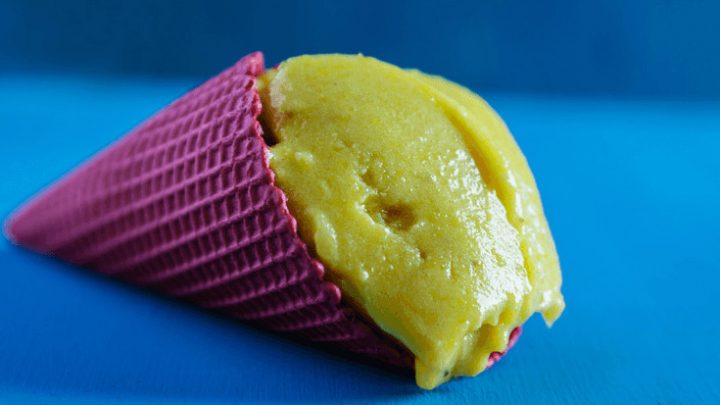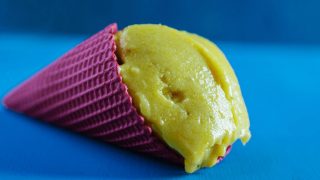 Yield:

serves 6
Green Tea Sorbet Recipe
Cook Time:
1 hour
30 minutes
Total Time:
1 hour
45 minutes
Green Tea Sorbet is easy to make. The best part of this sorbet is that is is not made in an ice cream maker. Plus it requires only a few ingredients as well. This Green Tea Sorbet is so refreshing that it is perfect for everyone.
Ingredients
1 1/2 cups water
1/2 cup sugar
1 teaspoon sugar
10-15 mint leaves
5 green tea bags (or green tea matcha bags)
1 lemon
Instructions
The first thing you need to do is "muddle" or crush the mint leaves. The term "muddle" in drink recipes, like Mint Julep, what it means basically is crush the leaves so that the oil can seep through. So to crush the leaves, use a mortar and pestle. Place the leaves in it with the teaspoon of sugar, and crush it till you see the sugar is evenly disturbed and looks like it is a bit absorbed by the oil from the leaves. If you don't have a mortal and Pestle than simply roll the leaves in your hands with the sugar. Roll the mint like you are wadding up tissue.
Next, combine the 1/2 sugar and water in a small saucepan.
Stir until the sugar is dissolved and bring the sugar water to a boil.
Next, after the water is boiling add the leaves to the water and let it boil for a minute or two longer with the leaves.
Take the minted water off the heat and add the tea bags.
Let the tea bags and mint steep in the water for a good 10-15 minutes.
After 10 minutes or so, remove the tea bags and use a slotted spoon to get the mint leaves out the tea solution.
Squeeze the juice of one lemon into the tea solution and give it a stir.
Pour the tea solution into a large Ziploc bag.
Place it in the freezer.
After half hour in the freezer, give the bag a nice squeeze.
Place back in the freezer let freeze for another half hour
Give it another squeeze should be slushy like sorbet, if not let go back in for another half hour.
Squeeze it one more time, then serve it up and ENJOY!
Notes
Squeezing the ziploc bag is the churning portion. You want to give it a good squeeze, meaning squeeze the contents a few times.
I want to hear what you have to say about this recipe that is on
SEDUCTION IN THE KITCHEN!
Let's get this conversation started! What do you think of this recipe?