Mushroom Purses is a mushroom mixture combined with a herbed goat cheese all tucked away in a wonton wrapping like a little purse.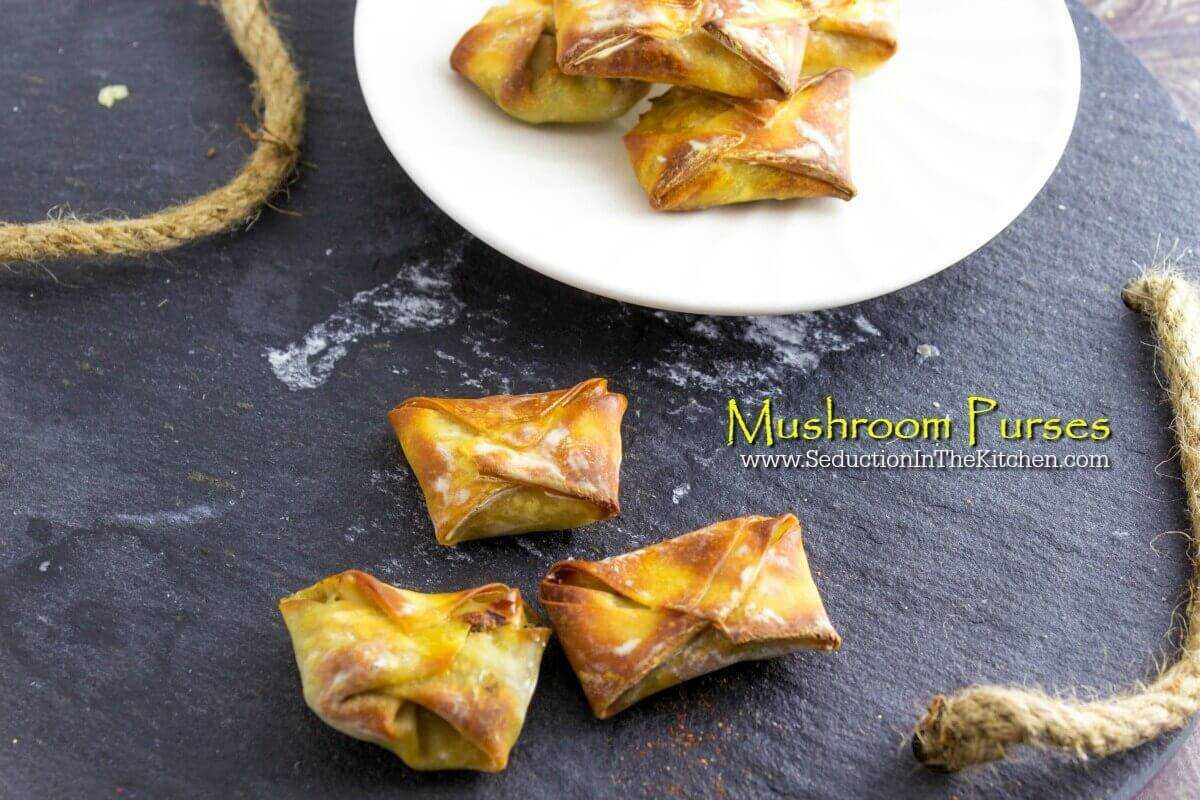 Long Time
It has been awhile since I last did a Sunday Supper post. Actually, because of work's toxic atmosphere, I admit I been neglecting a lot of things food blogging related. Now that I am only mere days away from starting a new phlebotomy lab and leaving that circus atmosphere, I am going to be able to enjoy and do the blogging stuff I need to do and want to do.
Sunday Supper
I think I choose a great week to do a Sunday Supper come back. This week the theme is Fancy Appetizers and it is hosted by Wendy from Wholistic Woman. I adore making appetizers. Little finger foods for parties and gatherings, my friends know I am good for making a few to bring.
Every year my one friend has a Halloween party. Every year I have bought at least 3 appetizers to her party. Yes, can you tell I really love making different appetizers? Everyone knows you need an appetizer call up Dee, she gives you at least 3!
This year, I didn't get to make appetizers for the Halloween party. My friend decided that she isn't having the party anymore. Not that I can blame her, it is hard to have a party.
People say they are coming, don't bother to even call to cancel. You are stuck with food you prepared. It is a bad habit here with people in Cleveland.
I myself have had people say they are coming, then don't show. I think what is bad is that they don't even bother to call to say, hey something came up, we can't make it. So yes, I really do understand why after 10 years she decided to no longer host the Halloween party.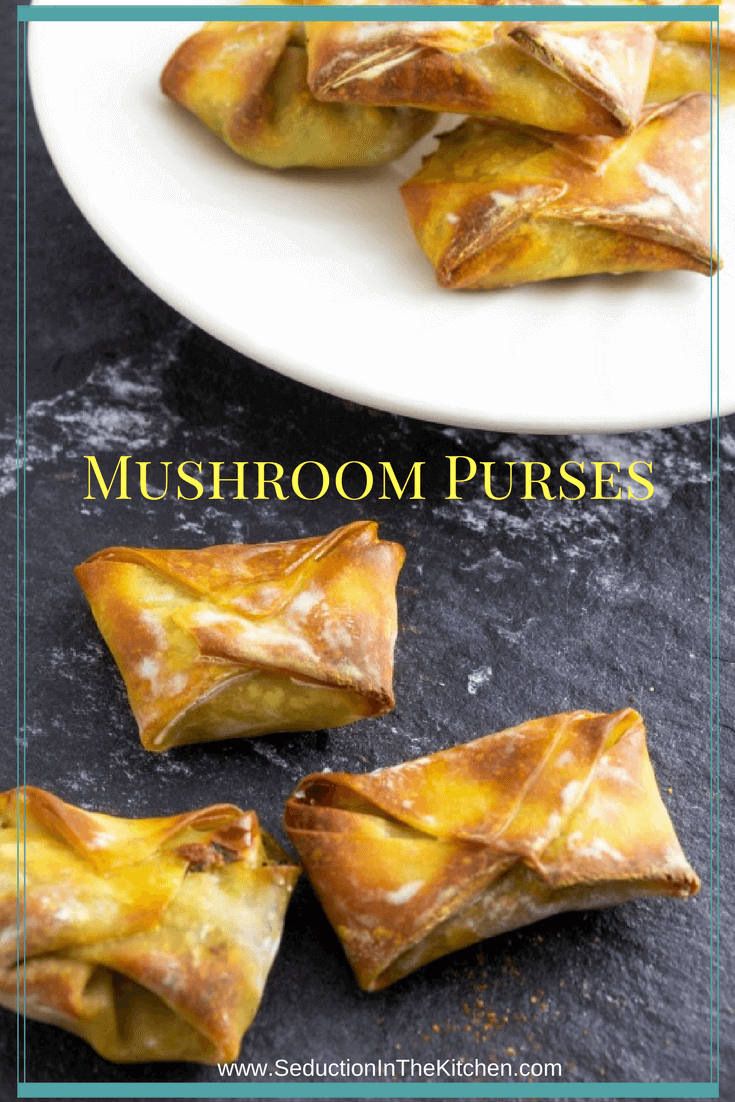 Mushroom Purses
A long time ago, I was at a work party in a country club. One of the appetizers were called mushroom purses. What I remember about these purses was the mushrooms had a cheese and was wrapped up in phyllo, tied with a green onion. They were fantastic.
When I have been wanting to make a version of the mushroom purses for a long time. I will admit, I hate working with phyllo. It is so thin and delicate. I just don't have patience with it. So after some thought, I decided a wonton wrapper would work.
So, since we didn't have the Halloween party, I invited a few friends over for a wine and appetizer party. Truth is, I was using them as testers for some appetizer ideas, including these mushroom purses. They were a smash hit. My friends were in love with them.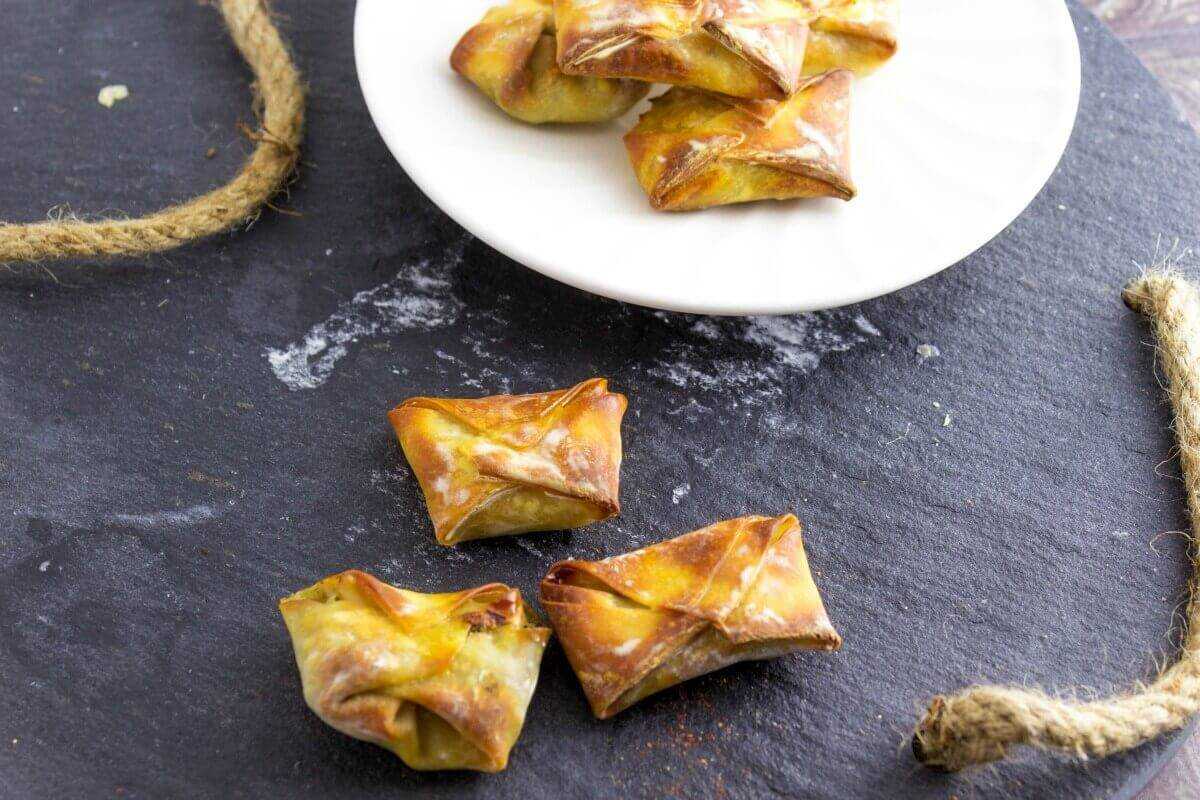 Video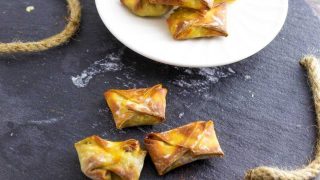 Yield:

12 servings
Mushroom Purses
Mushroom Purses is a mushroom mixture combined with a herbed goat cheese all tucked away in a wonton wrapping like a little purse. A recipe for #SundaySupper from Seduction in the Kitchen.
Ingredients
4 oz button mushrooms (chopped)
1/2 small shallot (chopped)
4 oz herb goat cheese
1 teaspoon fresh chives
1/2 teaspoon Cavander's All Purpose Greek Seasoning
12 wonton wrappers
2 tablespoons olive oil
Instructions
In a saute pan, heat up up the olive oil and saute the mushrooms and shallots till the onions are clear. Take off the heat and set aside.
In a bowl, add the herb goat cheese.
Add the chives, Cavander's All Purpose Greek Seasoning, and mushroom mixture.
Mix well.
Place a wonton wrapper on a hard surface, and moisten it with water lightly
Place a dollop of the mushroom mixture in the center of the wonton wrapper.
Fold up the wrapper like a triangle.
Then bring the two sides up to form it into an envelope
Place the little purses on a cookie sheet and lightly brush on a little olive oil
Bake at 400F for 15 minutes till the purses are a nice golden brown.
Take them out the oven and ENJOY!
Nutrition Information:
Amount Per Serving:
Calories:

210
This post was most recently updated
I want to hear what you have to say about this recipe that is on
SEDUCTION IN THE KITCHEN!
Let's get this conversation started! What do you think of this recipe?