This post was most recently updated
Frozen Hot Chocolate Milkshake combines the sweetness of hot chocolate in the milkshake form! This frozen chocolate milk is my version of the famous serendipity drink. You are going to love this hot chocolate milkshake.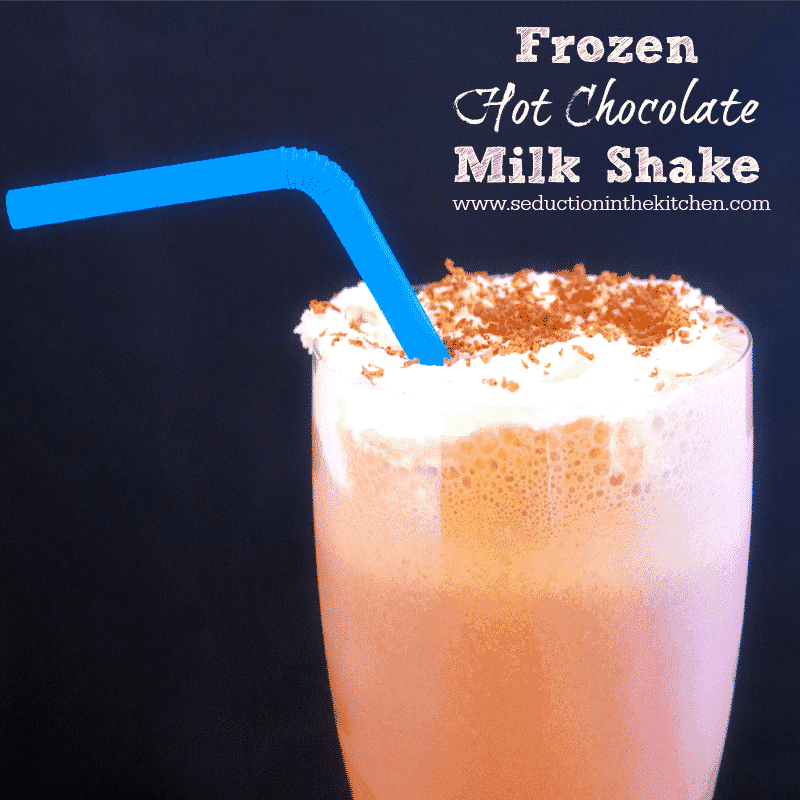 Puppy
There is an excitement in my family.  My mom and dad are getting a puppy. They have been lonely since their dog, Waldo passed away a few weeks ago.
My mom started looking on Petfinder for a puppy, well they did find one they liked from a rescue group in PA. They fell in love with the photo. So they filled out an application for it.
The rescue said they could not open the application, could my mom fill out again. So she did, and she emailed them to please let her know if they were still having issues and that they got the application. They were very anxious for this puppy.
A week went by and there was no answer from this rescue. My mom was even staying by the phone, so she could set up for the interview for the puppy. Something was strange, why did they email them 24 hours after the first application to say they could not open it, and would not email them or call them after the second application?
Friday after work, I looked on this Pet Rescue's Facebook page and I saw the puppy my parents were trying to adopt. The photo was put up with the caption that he was placed with his fur-ever family. I had to call my mom to give her the bad news.
Not A Good Rescue Place
This was so upsetting, the rescue group lied to my mom. The puppy was not available. It takes two weeks for these adoptions, with a background check, calling references, interviews, and home inspection.
Finally, Saturday morning, they emailed my mom to tell her although they loved reading her application, which by the way was 10 pages long, however, they called my mom's vet and found out she has never had any dog heartworm vaccinated. They do not adopt to people who do not have their dog's heart wormed.
I know this isn't true because one of her dogs was heart wormed. When comes to a pet's health, my mom is on top of it. We cared for an insulin dependent dog, a thyroid problem dog, and Waldo, who had Cushing's.
She has really gone above and beyond for special needs dogs. Plus the vet confirmed, this rescue place never called them. They lied to my parents. My one friend feels this place did age discrimination against my parents, I have to agree with him. The whole thing is very strange.
New Puppy
There is a new puppy coming!  I saw Craig's List Ad for Pittsburgh area that was for 5 eight week puppies. I emailed the woman, got some info, then forwarded to my mom.
I did that so can make sure this place was legit. I could not see my mom and dad go through another place that would lie to them. Long story short, she filled out on the application and 24 hours later she got a phone call, they loved her application and she was approved for one of the puppies.
My mom said she had the woman choking up on the phone when she told all about what they went through with Waldo. How they, my mom and dad, have been lonely since he passed. This woman could tell my mom loved dogs. Anyone one who knows my family knows we treat our pets like they are family.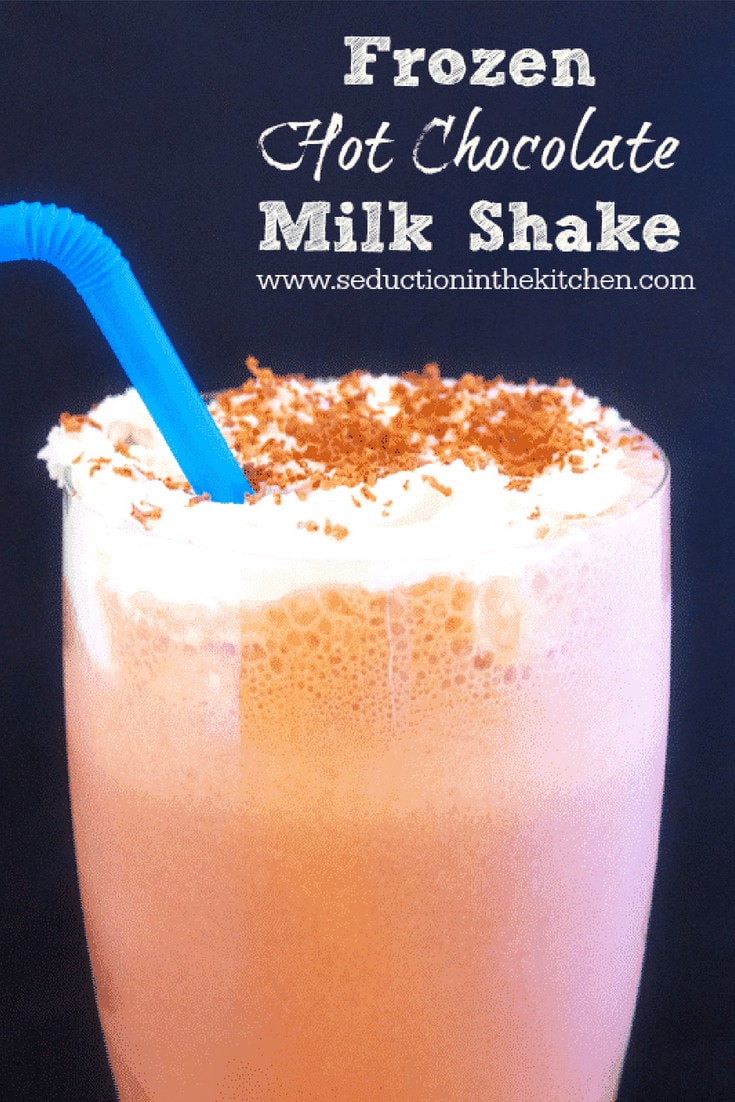 Frozen Hot Chocolate Milkshake
We need to celebrate to new beginnings. The simplest way to celebrate is with a milkshake. Not just any milkshake, but a Frozen Hot Chocolate Milkshake.
 I am obsessed with Frozen Hot Chocolate. The truth is, I wanted to reshoot the photo for my Frozen Hot Chocolate Pops, when I had an idea, why not make a milkshake instead. So I did and man was it good! A Frozen Hot Chocolate Milkshake was born.
Hot Chocolate Milkshake
So is the frozen hot chocolate milkshake a hot milkshake or is it frozen? Well, It is actually neither. It is kinda like frozen chocolate milk, only better.
This milkshake recipe tastes just like hot chocolate only cold. The frozen hot chocolate became popular from a shop in New York, Serendipity. Then the movie came out and the legendary frozen hot chocolate was here to stay.
How To Make A Milkshake
What is the best way to make a frozen hot chocolate milkshake or any milkshake? The milkshake recipe is easy, however, there are a few tips for creating the perfect milkshake every time.
Alway have 3 scoops of ice cream in the blender! Three is the magic number for that creamy milkshake taste.
Never add ice to a blender for a milkshake. Ice will water the shake down and it just will not taste right.
If you want a thinner milkshake, use milk, not ice or water.
Use soft ice cream, not runny or hard ice cream. Take out the freezer and let sit for about 10 minutes and you will see a difference soft ice cream makes in creamy milkshakes.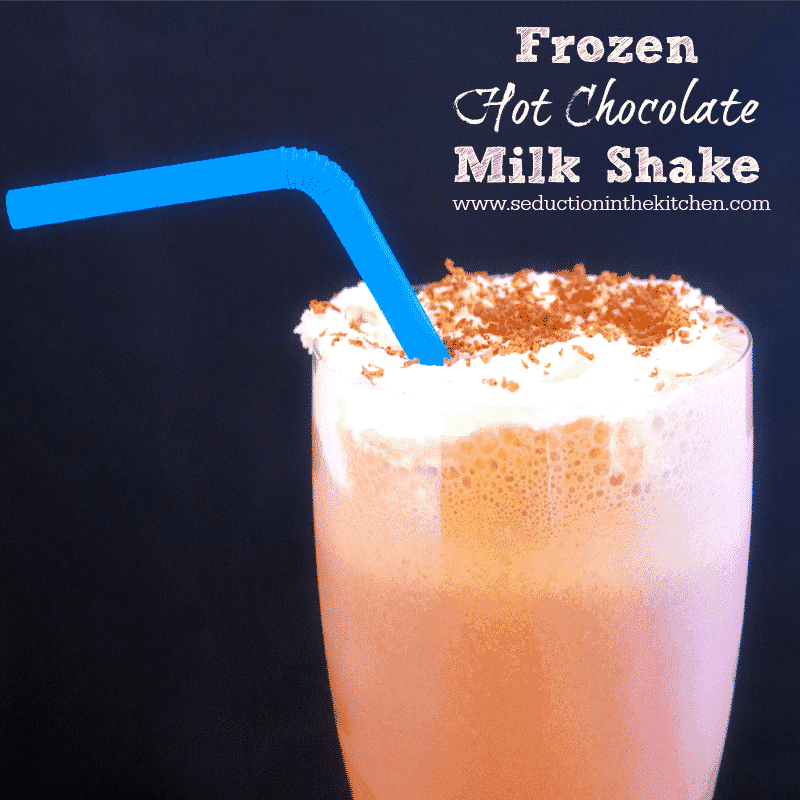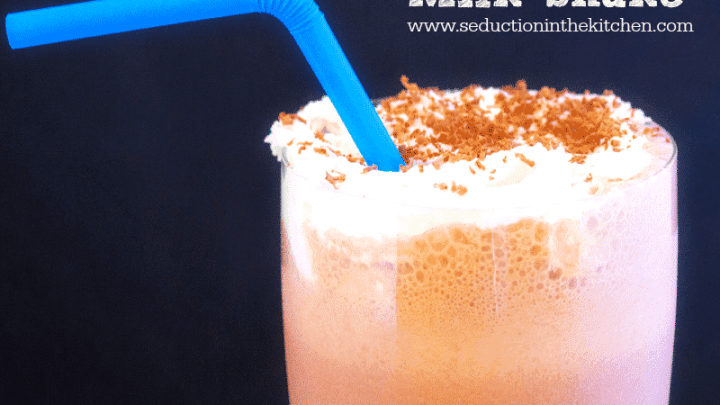 Yield:

2 servings
Frozen Hot Chocolate Milkshake Recipe
The sweetness of hot chocolate in the milkshake form! A recipe from Seduction in the Kitchen
Ingredients
1/2 cup 2% milk
2 packets hot chocolate mix
3 scoops vanilla ice cream
whipped cream
chocolate shavings
Instructions
In a small sauce pan, meat up the milk to warm, but not boiling.
Take off the heat and add 1 packet of the hot chocolate mix, stir until dissolved.
In a blender, add the ice cream and the other hot chocolate packet.
Pour in the milk mixture, and blend everything until it all mixed together.
Pour into a tall glass, garnish with some whipped cream and chocolate shavings and ENJOY!
Nutrition Information:
Amount Per Serving:
Calories:

410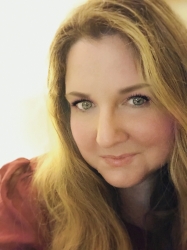 Latest posts by Deanna Samaan (see all)