This post was most recently updated
Edamame salad is a healthy salad made with edamame and sweet corn that has a basil balsamic vinaigrette that will have you wanting more.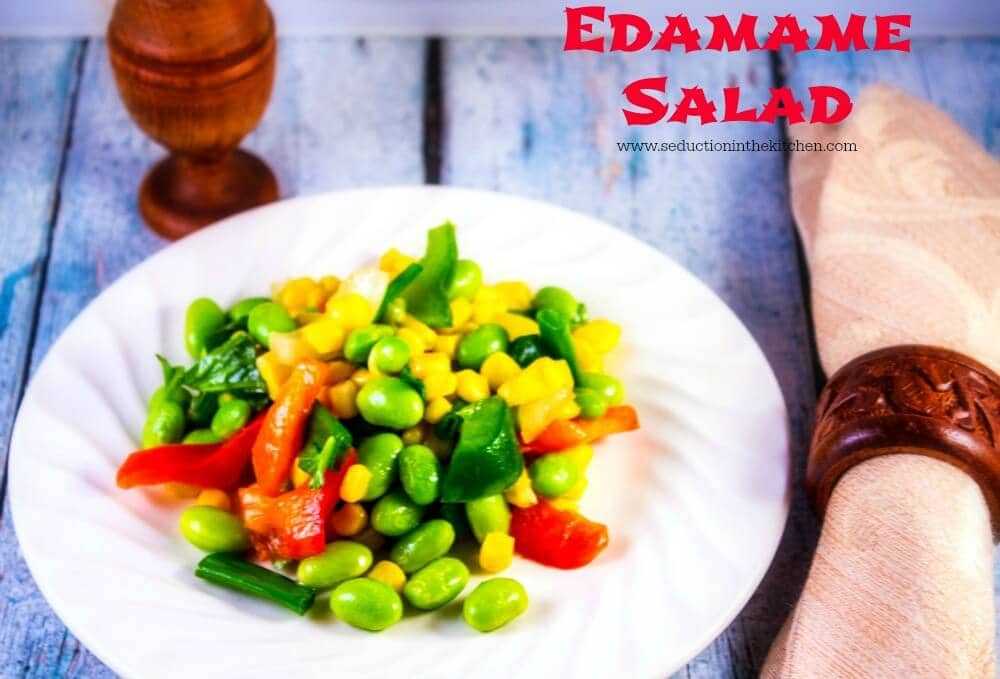 Parade Magazine
I have to admit I am on a blissful high after seeing my Smoked Salmon and Dill Goat Cheese Grilled Cheese in actual print in the Sunday supplement of Parade Magazine in the paper. I have had a few things published online as a feature of some sort, but actually being in print on paper, it is a different feeling I got. I felt like "wow I made it, I'm a serious food blogger."
I guess the reason is that my name was in an actual print publication that I could frame, which I did, by the way, You can't really frame a computer and hang it up on a wall like you can a newspaper can you? Plus, it was nice seeing in my blogging stats that people were googling my name and blog for the recipe.
I will also admit, I kind of hoped my ex-husband saw the post in Parade. Why you're asking? Well, it is going to sound childish of me but he refused to allow me to cook in our marriage. He thought I would be this terrible cook. He never even let me try, so he never found out that, yes I am a good cook. Anyway, I hope he saw the post in Parade Magazine because it is my symbolic way of sticking my tongue out to him.
Hey, it took me a long time to overcome all the emotional and verbal abuse he gave me. So I think he deserves that symbolic tongue sticking out. So yeah it might be childish act on my behalf but it is actually fitting for him.
Edamame Salad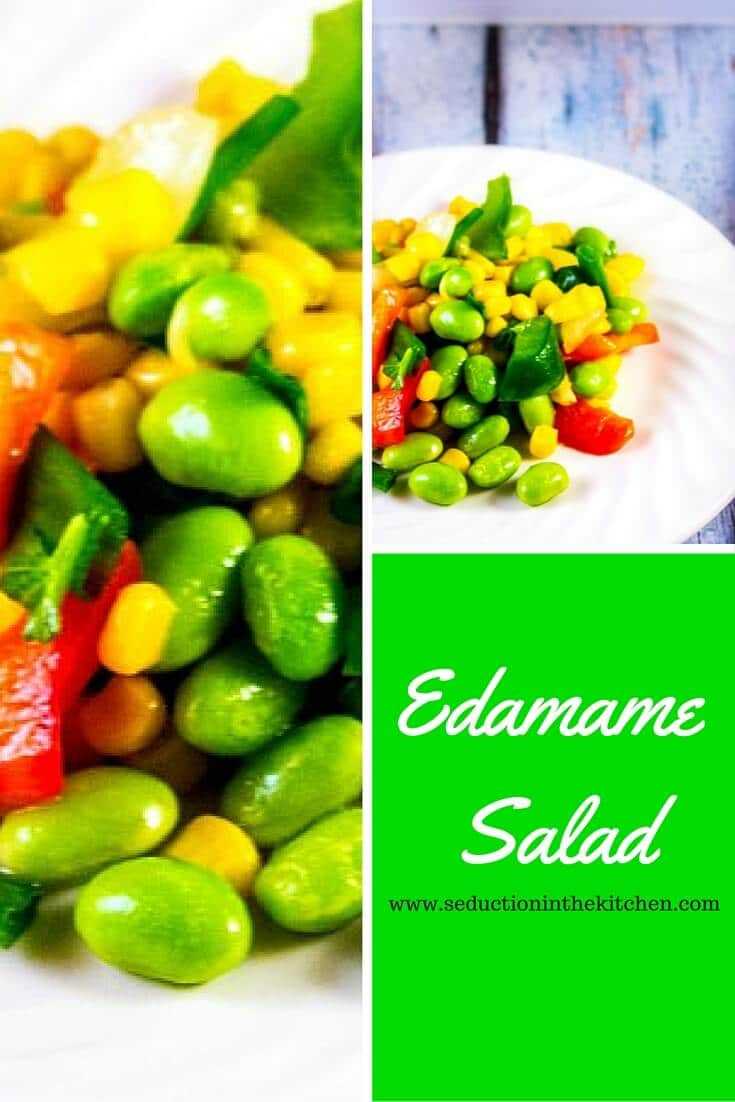 In the Fall, I went to this, quick-serve a type of dining place here in Cleveland. It was like a Subway sandwich type of only it was noodle bowls you choose the toppings for. One the "side" dishes was an edamame salad. At the urging of the woman at the register,  I got that Edamame Salad.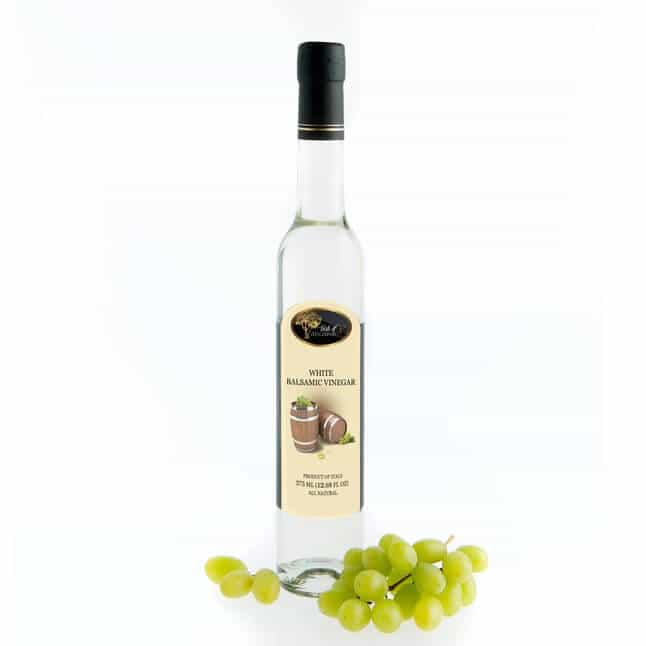 That edamame salad had a really good taste. The reason is because of the vinaigrette they used on the Edamame Salad. If you have a good vinaigrette, it will make a good salad, at least that is my thinking.
When I went to that Fabulous Food Show in November, I got a bottle of this white balsamic from Taste of Old Country. When I tried it, I knew it was perfect for a sweeter, lighter vinaigrette. The flavor isn't as robust as a traditional balsamic, but it does have this sweeter balsamic taste to it.
When I decided I wanted to make an edamame salad, like the one I got at this eatery, I knew this white balsamic was what I needed to make this salad. I thought fresh basil in the vinaigrette would be the perfect to balance out the sweetness of this white balsamic. I will say I think this edamame salad is now my new favorite go-to salad.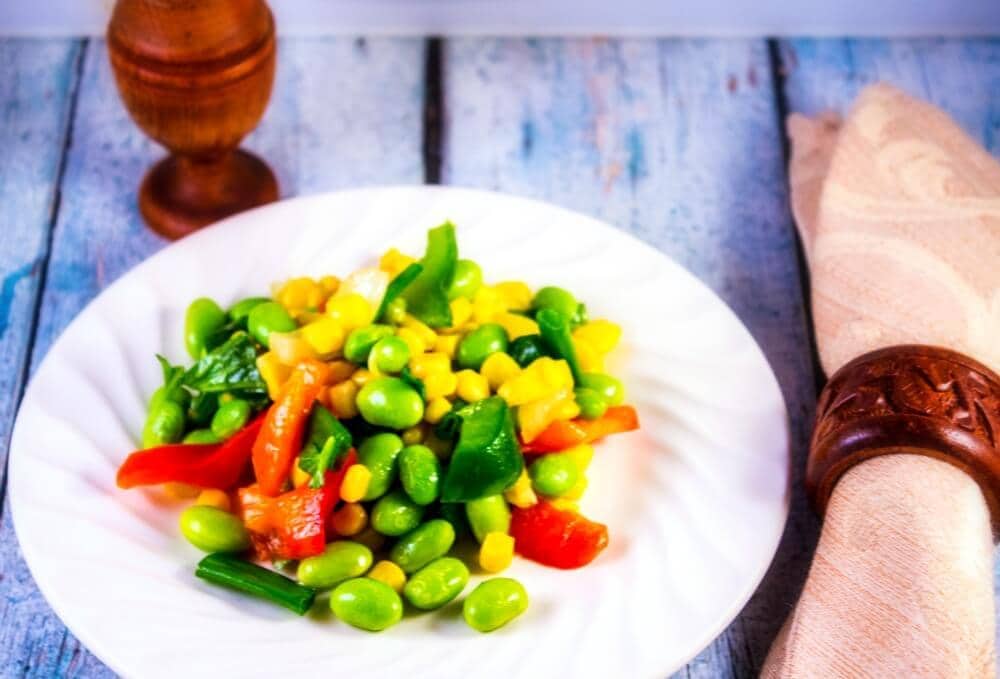 Edamame salad is a healthy salad made with edamame and sweet corn that has a basil balsamic vinaigrette that will have you wanting more. A recipe from Seduction in the Kitchen.
Ingredients
1 lb frozen shelled edamame
3 cups frozen corn kernels
1 chopped red bell pepper
1 chopped green bell pepper
3/4 cup sliced green onion
1/2 cup finely chopped onion
1/3 cup Taste of Old Country white balsamic vinegar
2 tablespoons Dijon mustard
2 tablespoons olive oil
3/4 teaspoon salt
3/4 teaspoon fresh ground black pepper
2 tablespoons chopped fresh basil
Instructions
Prepare edamame according to the directions on the package, then. drain and rinse with cold water. Set aside to drain thoroughly.
Combine edamame, corn, bell peppers, green onion, and onion.
For the dressing, combine the whisk the white balsamic vinegar, mustard, olive oil, basil, salt and pepper.
Pour the dressing over the veggies and toss to coat.
Refrigerate until ready to serve and ENJOY!.
Nutrition Information:
Amount Per Serving:
Calories:

260
Total Fat:

10g
Saturated Fat:

1g
Trans Fat:

0g
Cholesterol:

0mg
Sodium:

361mg
Carbohydrates:

33g
Fiber:

7g
Sugar:

8g
Protein:

12g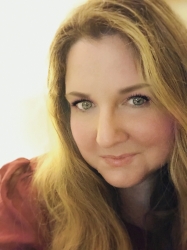 Latest posts by Deanna Samaan
(see all)