I am a participant in the Amazon Services LLC Associate Program, an affiliate advertising program designed to provide a means for me to earn fees to Amazon.com and affiliate sites.
It is my birthday, yep October 6 is my birthday. I realized as I am a year older now, I have been growing and changing. With the move to the new apartment, I have felt my energies change. I know I am truly starting new. Every year I make a wish, and usually the same wish on my birthday, yes I still believe in making a wish on your birthday. This year my wish will most likely be the same, but this time I am changing it up a bit. No I wont tell you my wish, then it wont come true. I really like for it to come true, so my secret for now.
With the move, as I said my energies have changed, I finally realized I need changes, So why not start with that wish I make every year. It is time to stop waiting for things and it is time to start doing things. That is what I have come to realize as I am turning 39. I spent so much time waiting for everything, from healing my heart to putting my dreams on hold. It is time to start doing things for Dee. I have finally realized it time for Dee, not anyone else, and stop waiting for dreams to happen, go and make the dreams happen.
I realized what my real passions are, I took the month off from blogging because I was moving, in that month I realized I missed blogging. My passion is cooking and food. Everyone keeps telling me they are surprised I do not pursue a career in food. My passion is doing this blog, I been told I need to move to WordPress platform. Maybe it is time to do the next step, go for it, see if I can make my dreams come true, which is making this, my blog a second income, so if anything happens at work I will be ok I have this. I admit I make gas money right now, nothing that is a second income. I know it can be done. I got to change it up. It part that making my dreams come true.
So let's celebrate my birthday. Dumante is one of my favorite liquors. I love the smoothness of this pistachio liquor. It is so wonderful not only in making a cocktail, but in baking too. It was the inspiration for me to recreate another favorite of mine, baklava. Traditional baklava is a lot of work, so I seen a recipe for a muffin version from Nigella Lawson. So let's mix it up add some this great Dumante liquor to it and celebrate my birthday.
Yield: 12 servings
Dumante Baklava Muffins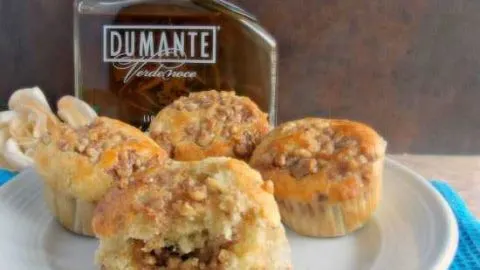 Dumante Baklava Muffins a sweet combination of flavors of #baklava in a #muffin! A #recipe from Seduction in the Kitchen
Ingredients
1/2 cup walnuts (chopped)
1/3 cup sugar
1 1/2 teaspoons cinnamon
3 tablespoons butter (melted)
1 tablespoon Dumante liquor
1 cup flour
7 tablespoons flour
2 teaspoons baking powder
1/2 teaspoon baking soda
1/4 cup sugar
1 large egg
3 tablespoons unsalted butter (melted)
1 cup buttermilk
2 tablespoons buttermilk
1 tablespoon vanilla
Topping
1/2 cup honey
1 tablespoon Dumante liquor
Instructions
Preheat oven to 400F degrees and mix all the filling ingredients together in a small bowl, set aside.
In a large bowl, mix together the flour, baking powder, baking soda and sugar.
In another bowl, mix the egg, melted butter, vanilla, and buttermilk.
Then make a well in the dry ingredients and add gently mix in the wet ingredients.
Fill 12 muffin cups 1/3 full, add a tablespoon of filling, cover with more muffin mixture until 2/3 full.
Then sprinkle any remaining filling on top of the muffins and bake for 15 minutes.
Meanwhile mix the liquor and honey together, when the muffins are done, pull out and drizzle them with the honey mixture and let cool.
When they are cool enough, then ENJOY!
Nutrition Information:
Amount Per Serving:
Calories:

410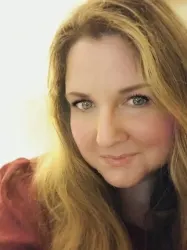 Latest posts by Deanna Samaan
(see all)