I am a participant in the Amazon Services LLC Associate Program, an affiliate advertising program designed to provide a means for me to earn fees to Amazon.com and affiliate sites.
Authentic Philly Steak Sliders secret is the 'wiz, as in Cheese Whiz. That is what makes this cheesesteak Philly approved!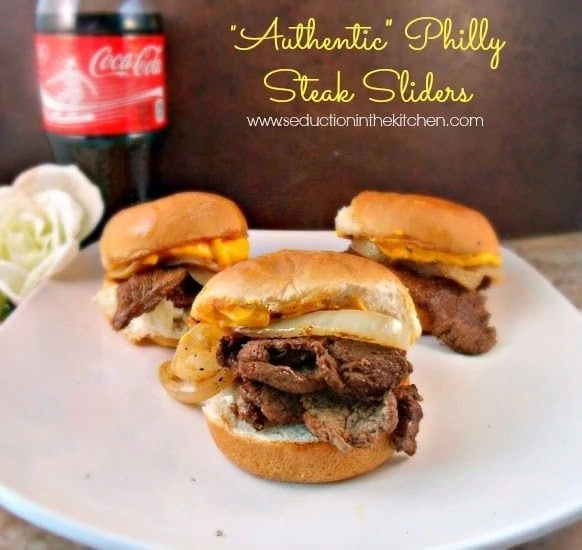 PA Girl
They say you can take the girl out of PA but you can never take the PA out the girl. It is so very true. PA is one of the friendliest states, people tell me this all the time.
Truthfully, living in Cleveland, OH, I have learned this. For example, I will do things like buying a cup of coffee for co-workers. I was already buying a cup for myself, so I just get one for my 4 other co-workers.
No reason other than just being nice. In Pittsburgh, no one would question you as to why you did that. In Cleveland, I got "Why are you doing this?" "You trying to bribe us?" "You a brown nose?" No, I was just being nice.
Funny, in my day job as a phlebotomist, I run into many people, some who are transplants, like myself. What is a transplant? It means you come from a different state but now live in Cleveland, Ohio.
Because I am a transplant, people pick up on my PA accent. The ones that are transplants will whisper to me, "how do you like living here?" The conversation always seems to turn to how Cleveland has this huge chip on its shoulder and they simply like to throw people under the bus and are not nice.
In all honesty, I would never even realized that where I come from, Pittsburgh, PA, is one the friendliest places to be if I had not moved. I am glad I have those PA raised life skills in me, like being nice for no reason at all. In fact, there was an article floating around on Facebook called: Local Dispatch: David Conrad says it's hardly polite to be outside Pittsburgh It an amazing story and it is so very true. Trust me when you read it you will understand.
Authentic Philly Steak Sliders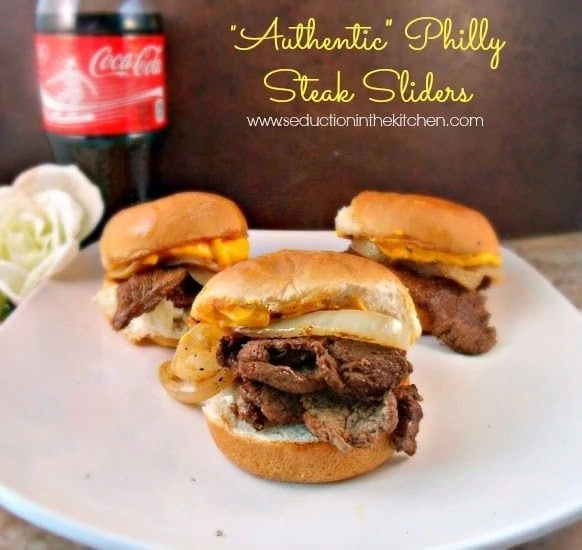 Besides the niceness, PA is also a great place for food. I gave you a small taste of Pittsburgh food like Lady Locks A Pittsburgh Cookie. However, PA is also home to Philly!
What comes from Philly, but CHEESESTEAKS! What is the Authentic Philly Steak sandwiches? Many people claim Authentic Philly Steak is shaved steak and provolone cheese.
For others to be a real Philly style steak sandwiches, it got to be ribeye and you have to have it with the 'whiz, as in cheese whiz. I admit I do prefer the Authentic Philly Steak wiz style ones. I decided let make them into sliders, mainly because I saw the cute little slider buns, still makes for a great steak sandwich.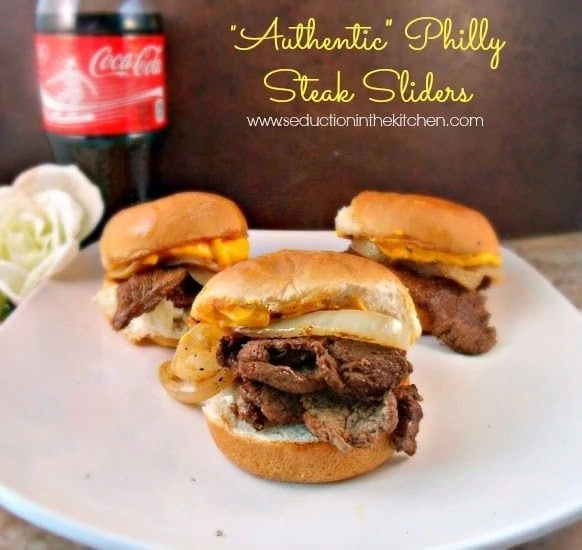 Yield: 6 servings
"Authentic" Philly Steak Sliders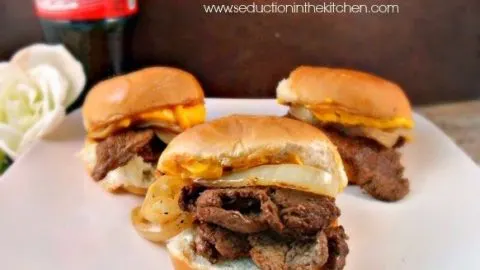 The real #secret to "authentic" #Philly #Steak is the 'wiz. You have to have Cheeze-Wiz for real Philly Steak #sandwiches. A #recipe from Seduction in the Kitchen.
Ingredients
1 lb of thinly sliced ribeye steak
1 sweet onion (sliced thin)
2 tablespoons butter
salt and pepper to taste
Cheeze-Wiz
slider buns
Instructions
Tenderize the ribeye steak. You can use a mallet, you can use a tenderizing blade, or use tenderizing salt if you like, the main issue is just tenderize that steak. It helps in chopping it up as you cook, plus it makes the meat more mouth watering too.
Season the ribeye with salt and pepper and let the meat rest after you tenderized it. Heat up a skillet. Melt the butter in the skillet and saute the onions in the butter. Saute them until they are translucent, careful not to burn them.
Take the onions out the skillet, and put in the ribeye. As the steak is cooking chop it up with your spatula. Because so thin it cook up with in minutes, so watch that the steaks do not burn.
Set the steaks aside and warm up the Cheeze-Wiz according to the label on the jar.
You can toast the slider buns in the skillet that you used. Simply remove the steaks, and place the slider buns insides down in the skillet for about 30 seconds, long enough to toast the inside part.
Add a layer of the 'Wiz, some the onions on the top part the bun. The on the bottom add the steak. Place them together, and then ENJOY!
Nutrition Information:
Amount Per Serving:
Calories:

346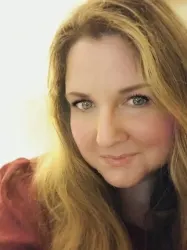 Latest posts by Deanna Samaan
(see all)