I am a participant in the Amazon Services LLC Associate Program, an affiliate advertising program designed to provide a means for me to earn fees to Amazon.com and affiliate sites.
Steakhouse Swiss Mushroom Meatloaf, steakhouse taste but in a meatloaf. A recipe from Seduction in the Kitchen
And then the heavens opened up! Finally, I am getting relief from working every weekend! We have been so short staffed that we have had to work every weekend since, well March. I have only been getting 1 weekend off a month. What happened? Well, they finally hired 2 part-timers who have to work every Saturday and one my co-workers went to part time due to school, so she has to work every Saturday. So that means the ones that left we only required to work 1 Saturday a month for 2 hours now! I am doing a happy dance! I am getting weekends back!!!
I know sometimes it sucks to work on health care, but This last year has been the worse I have seen in 17 years. Between my co-workers being, well very immature, but most them are now gone, and working short, it been brutal. Finally to have some much-needed break from the craziness I been putting up with, it a huge sigh of relief.
What has me thinking about all this craziness I put up with is because the other day one my co-workers, who are a male and is also much older than me, suddenly lost it at work. He was very upset because the negativity the one co-worker has and her attitude. Truth be told, she caused me a lot of grief, in fact, I talked about it in the Crock Pot Cheese Soup recipe.
She is our troublemaker, she lies very badly, in fact, I have told my boss and a few others, "that girl lies worse than a rug on the floor." Everything is drama with her. Let's put this way, she always wants to be the center of attention, and will never compliment you. Example, I got a haircut, It was the huge change for me, everyone was loving it. She says to me, "You got your hair cut? Good luck growing that out." What the hell kind of compliment is that? Another time:
"Dee, did you get a new purse?"
"Yes, I did I got at JustFab."
"I was going to say that looks like a knock off Prada purse."
Can't she just say, nice purse or, I like that color, or even, I heard about JustFab. No, she has to be, well negative, it isn't about her. Back when I wrote the post for Crock Pot Cheese Soup, I actually had to put up with 3 of them. There were 2 others just like her. They are all around the same age 23-25 and they were all friends. They just have the worst attitude. So my male co-worker had no idea what I had to put up with, so that was another reason I had him read that post, besides for the saying my mom told me about dealing with those, well for a lack of a better term, oh let be honest, "bitches. Trust me they really were that, and that is being nice believe it or not.
Things are changing, we got fresh blood, only have one the three bitches left. The new people have seen through her act, and I got my weekends back. I think we need a happy dance, don't you agree?
Usually, anything can have a reinvention, just like my work situation and meatloaf. Meatloaf have be reinvented several ways, it all depends on what you want to do with it to make it better. For this recipe, I decided to stuff it with saute onion and mushrooms and Swiss cheese. The real secret is this new seasoning found from McCormick's Grill Mates, it was called steakhouse mushroom. I admit this probably the best meatloaf I made in a long time.
Yield: 6 servings
Steakhouse Swiss Mushroom Meatloaf
Steakhouse Swiss Mushroom Meatloaf, steakhouse taste but in a meatloaf. A recipe from Seduction in the Kitchen
Total Time
1 hour
10 minutes
Ingredients
1 lb of ground sirloin
1 package of Grill Mates Steakhouse Mushroom
1 tablespoon Worcestershire sauce
1 egg
1 tablespoon milk
1/4 cup of breadcrumbs
3-4 slices of Swiss cheese
4-5 mushrooms (sliced)
1 small onion chopped
2 tablespoon butter
Instructions
In a saute pan, melt the butter, then add the mushrooms and onions. Saute them till the onions turn clear.
Take them off the heat and set them aside. Preheat the oven to 400F degrees.
In a bowl, add the sirloin, the Grill Mates, Worcestershire sauce, milk, egg, and bread crumbs. Mix it all together well. If it is too wet, add a little more bread crumbs, and mix it again.
Grease a loaf pan and set it aside.
On a piece of parchment, press out a flat, rectangle of the meat mixture. Down the center, lay the cheese slices.. On top the cheese slices, add the mushrooms and onions.
Carefully, roll up the meat starting on the short end. You will have to keep shaping the meat into the loaf, also keeping the filling from coming out.
Place the meatloaf, seam side down in the pan cover with foil and bake the meatloaf for about 60 minutes. Remove the foil, and let bake another 10-15 minutes till the top has a nice brown look to it.
Take it out the pan, slice it up and ENJOY!
Nutrition Information:
Amount Per Serving:
Calories:

425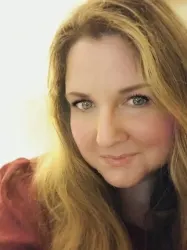 Latest posts by Deanna Samaan
(see all)