This post was most recently updated
The popular pretzel roll! Enjoy this yummy recipe from Seduction in the Kitchen.
**Updated photo 3/14/16 I am making photos on some the older recipes, let's be honest the early photos are simply horrible. This recipe is the first one to get an updated photo for 2016. The actual wording was not updated, it is from July 10, 2013, when I was returning to work from being 2 months in a cast and on bed rest.
I got great news, I have been released to go back to work on Monday! It is conditional, I do have to do some physical therapy. I am so happy, not that it hasn't been nice being off most the summer, but I need to work. One I need to keep busy and two, I need the money. Monday will be interesting  since I haven't done my phlebotomy skills since May 15. It like falling off a bicycle, you get up and comes back naturally.
I talked about looking outside the box and trying different things. Some great things have come about from looking outside the box and doing something different. I had an interesting conversation with someone yesterday, and the reason I was talking to them is because I decided to do a food blog again. I started blogging as a way to pass time and utilize my passion, cooking. It is one thing to post recipes on Facebook, which I did many years ago when I first joined Facebook, I do a note and post on my timeline. To look beyond that and blog, put my thoughts out there for everyone to see, wait I already do that, thanks to Facebook and Twitter, so what the difference between that and blogging?
Anyway in this conversation, I revealed I am from Pittsburgh originally, and I got how hilly it is in Pittsburgh. I was told something I did not know, Pittsburgh is the second hilliest place in America, San Francisco is number 1. Wow, that is amazing, now makes sense why when I drive, hills do not bother me, I was born in the second hilliest place in the USA. It is an adventure in the winter driving, but that can be fun too. Yes, I am being sarcastic with that last remark.
So I was thinking, after learning that little tidbit about Pittsburgh, someone had a thought, I am building a city in those hills. It was different, it was thinking outside the box, and look what came out that, a city of champions with the sports teams there. Black and gold fever, one the few cities that were in the black, when most are in the red, yes I am proud to call Pittsburgh my birthright, it is in my blood, and it always will be.
So thinking outside the box, someone had an idea what if we took soft pretzel dough and made it into rolls. Next thing this though became a staple, a must-have staple. Even fast-food chain, Wendy's has a sandwich that has a pretzel roll. The sweet, salty, chewy bread, it does enhance a sandwich. Plus they are good just eating them alone. After the doctor's yesterday, I had one of these pretzel sandwiches at Wendy's. I suddenly wanted to make a batch. So I called a friend, who has a bakery and said give me the recipe. I made a batch of pretzel rolls. What surprised me is these are baked bread but with an exception, there a special par boil you have to do, that is what gives a pretzel it's taste.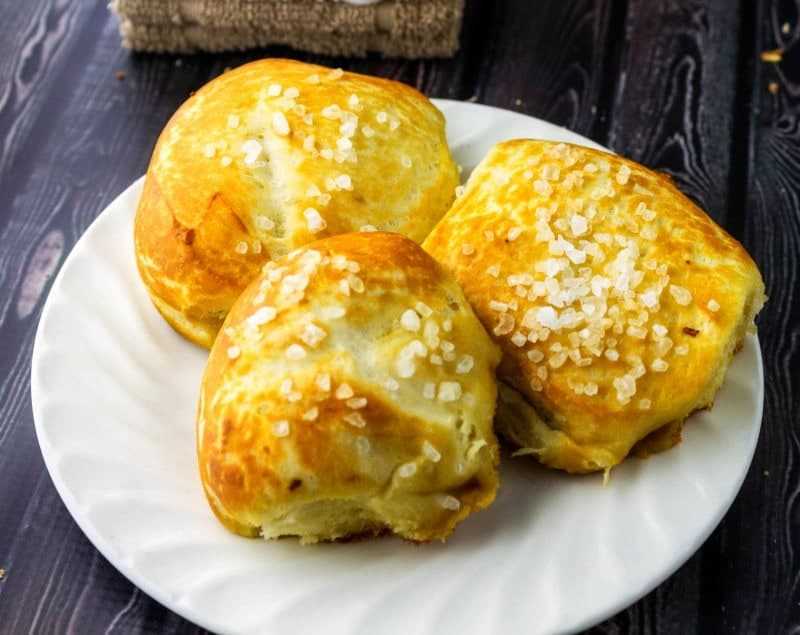 The popular pretzel roll! Enjoy this yummy recipe from Seduction in the Kitchen.
Ingredients
1 1/3 cups warm water
2 tablespoons warm milk
2 1/2 teaspoons active dry yeast
1/3 cup light brown sugar
2 tablespoons butter (melted)
4 cups all-purpose flour
course sea salt
2 quarts cold water
1/2 cup baking soda
Instructions
This is done a bit different than how I normally do any bread recipe. Normally I dump all in the bread machine on dough and be done, Pretzels have a few extra steps, but using the bread machine still makes it easier than all by hand. One the first steps is blooming the yeast. You want the foamy yeast to all ready be bloom, or the pretzels may not turn out correctly. Blooming means to basically activate it.So to bloom the yeast, take 1/3 a cup hot water and put the yeast into it and let sit about 5 minutes. You see it blooming, when looking all foamy.
Next, as the yeast is blooming, warm up the milk and melt the butter in microwave, just put both in a bowl, microwave about 20 seconds or so, just till butter melted. Then add that, the rest the warm water, and brown sugar into the bread machine. mix it all up so the sugar is dissolved. You don't want grainy pretzels, so this why we doing this.
By now the yeast has bloomed and time to add it to the mixture in the bread machine.
After the yeast is added, add the flour. and put the bread machine on dough cycle.
When the dough is done in the machine, take it out and put on a lightly floured surface. You will knead it by hand for a few minutes. This just to help with the chewiness of the rolls, and to help break up the gluten as well, for more pretzel like taste. Dont worry you only need to knead it 2-3 minutes, so not long.
Once you kneaded the dough, roll the dough into a rope about 24 inches long.
Cut the rope into 10-12 pieces. Take each piece and mold into rounds and then score the top with a knife. You can cut one slit or like me I did an X on the top.
Place on well oiled baking pan. You want well oiled, because when lift these off for the parboil, you want to lift off good, not stick to pan or they will deflate. Preheat the oven to 425 and put a pan full of water on the lower shelf, so you can have the water bath in the oven. My friend didn't say to do this, I just do it when I bake bread, the moist oven I feel really makes bread melt in your mouth. Anyway, let the dough rise for about 30 minutes.
As the dough is rising, get the largest stock pot you have, mine is 12 quarts, so I filled up about 1/4 of the way with water. Let the water come to a rolling boil.
When the water has a good rolling boil to it, add the baking soda to it. By now it should be about 30 minutes that the dough has raised. Once you added the baking soda, you see why I said get the biggest pot you have. It will boil very fast suddenly.
Putting in a few at a time, when I say few I mean 2, no more than 3 of the rolls into the boiling water. Boil on one side for about 15 seconds, using a slotted spoon flip over and boil them on the other side for 15 seconds, so about 30 seconds is how long the rolls will be in the parboil. This step is what makes a pretzel a pretzel taste, it the secret and has to be done, and you have to do with baking soda.
As the come out the water, place back on the baking sheets and sprinkle the salt on top. The wetness help make the salt stick.
Once you done with parboil all the rolls and salting them, place them into that hot, moist oven and bake them about 10-12 minutes. You see they have a nice brown tops when they are done.
Take them out the oven and let them cool. Serve as a sandwich or eat them plain. Enjoy!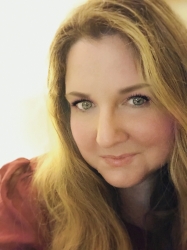 Latest posts by Deanna Samaan
(see all)