I am a participant in the Amazon Services LLC Associate Program, an affiliate advertising program designed to provide a means for me to earn fees to Amazon.com and affiliate sites.
The Cleveland Hogg Burger is an all pork burger inspired by men for #SundaySupper. A recipe from Seduction in the Kitchen.
Happy Father's Day! As you know I am a Pittsburgher living in Cleveland. It can be fun sometimes, especially when I talk. I may have lived here for 9 years, but I still say "Yinz", "Worsh", and the occasional "Gum Band". By now, my friends are used to my Pittsburghese, but sometimes when I meet someone new, they have not got a clue of what I am saying.
Pittsburgh is in my blood, it is where I am from, that is where my family lives. I do miss them, but for now, Cleveland is where I live. If I meet Mr. Right, yes I may move again to another state, I mean that was why I moved here to begin with, for love.
No matter where I live, I know my father will always be there for me. When I got divorced, he drove up here to help me move, of course, he got lost and somehow ended up by Brown's stadium with my sister, who decided to wear a Steelers sweatshirt. According to my dad he told her to duck down because Browns fans can get too crazy, he didn't need to be killed over her sweatshirt. None the less, they found their way to my apartment, loaded me up and helped me move out the place I shared with my ex-husband.
I love my father, I do have a nonbiological father in a way too. My very good friend Richard. Richard is like my surrogate father, no he could never replace my dad, but I do love him just like my own father. He is older than most my friends, they all know him too, in fact, he tells people he is our gay father. Richard more than a father figure, I tell people he is my GBF, which my gay best friend. I think every woman needs a GBF in her life.
Why? Well, they are the most honest. They are not afraid to tell you when you're a fool, and when comes to advising you about guys, they give the best advice. Plus they help you look fabulous.
So in honor of Father's Day, Sunday Supper is having MAN FOOD! Well, I asked my 2 favorite guys what recipe would they do for a manly burger. Between the two, I ended up with this combo. In a way it should be called The Pittsburgh-Cleveland Hogg Burger, because it is a fusion of the two cities, stacked up high like they do in Pittsburgh, and lots of pork like they like in Cleveland. The reason I settled on The Cleveland Hogg as it the name, in all honesty, I already have 2 Pittsburgh sandwich recipes on here already. I thought I just even the score slightly, just to give Cleveland a better chance.
So are you ready for more Man Food? Well check out this week's lineup:
Manly Starters:
Manly Mains:
Manly Desserts:
Yield: 2 servings
#SundaySupper The Cleveland Hogg Burger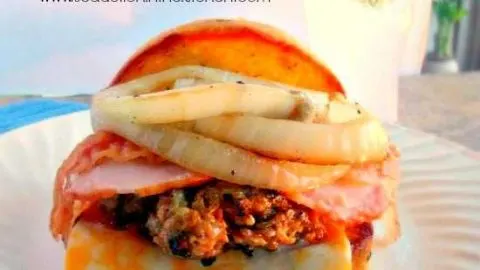 The Cleveland Hogg, an all pork burger inspired by men for #SundaySupper. A recipe from Seduction in the Kitchen.
Ingredients
6 slices of Garlic Texas Toast
2 lbs hot Italian sausage
3 slices cheddar jack cheese
1 small onion
1 lb bacon (cooked)
6 slices Canadian bacon (cooked)
grain mustard
Instructions
First, you want to slice the onion and saute it in either olive oil or butter. Saute the onion until it is clear and translucent. Then set it aside.
Next, bake the garlic Texas Toast according to the package., when done, set them aside.
While the Texas Toast is baking, form patties with the hot sausage, fry it on both sides until the meat is done and no longer pink.
Time to assembly the burger once the sausage is done. Place one slice of the Texas toast down, add a slice of the cheddar jack cheese on it.
Next lay the sausage patty on it. Layer on 2 slices of the Canadian bacon. Then add at least 3 strips of the bacon. Top it off with the sauteed onions and a squirt of the mustard.
Finally, add another slice of Texas toast and ENJOY!
Nutrition Information:
Amount Per Serving:
Calories:

520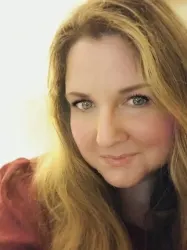 Latest posts by Deanna Samaan
(see all)