This post was most recently updated
Pan Seared Bruschetta was inspired by the bruschetta from Julie and Julia. This tomato bruschetta is pan roasted for flavor. It is the best bruschetta recipe! Serves 6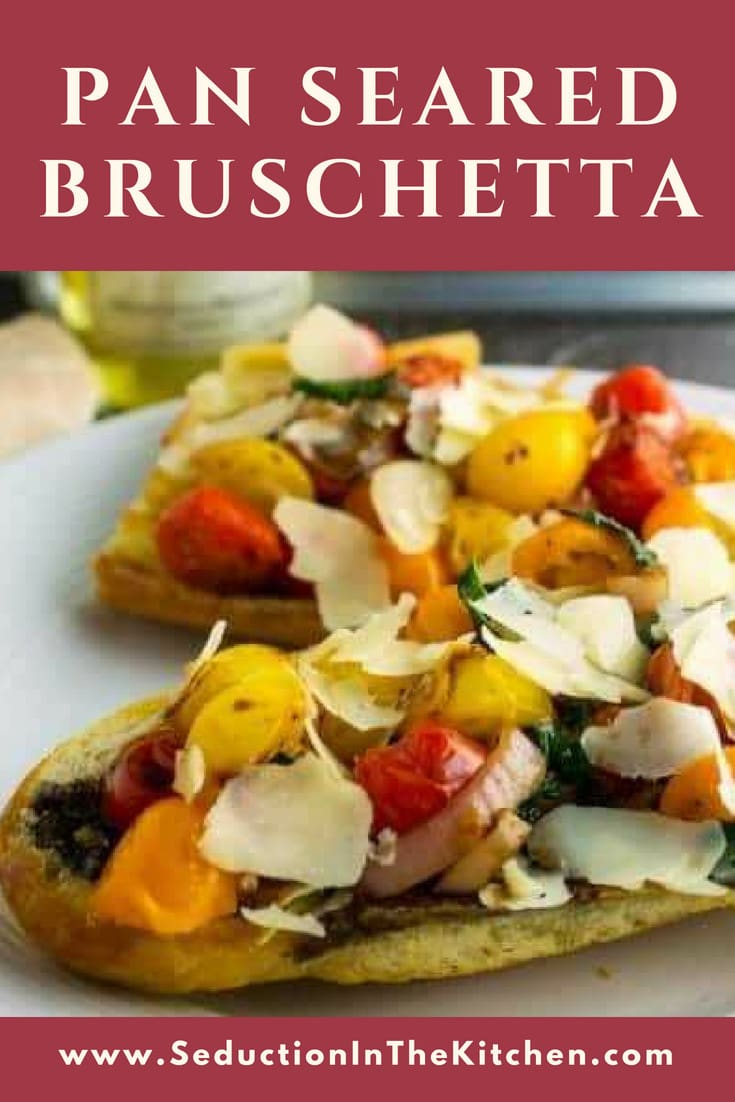 Julie and Julia Movie
Have you seen the movie, Julie, and Julia? That movie has inspired me in many ways, yes food blogging was one of them. The other was Julia Child herself, seeing her when she was starting out in the Julie and Julia movie,  showed me anything is possible.
For This Recipe You Will Need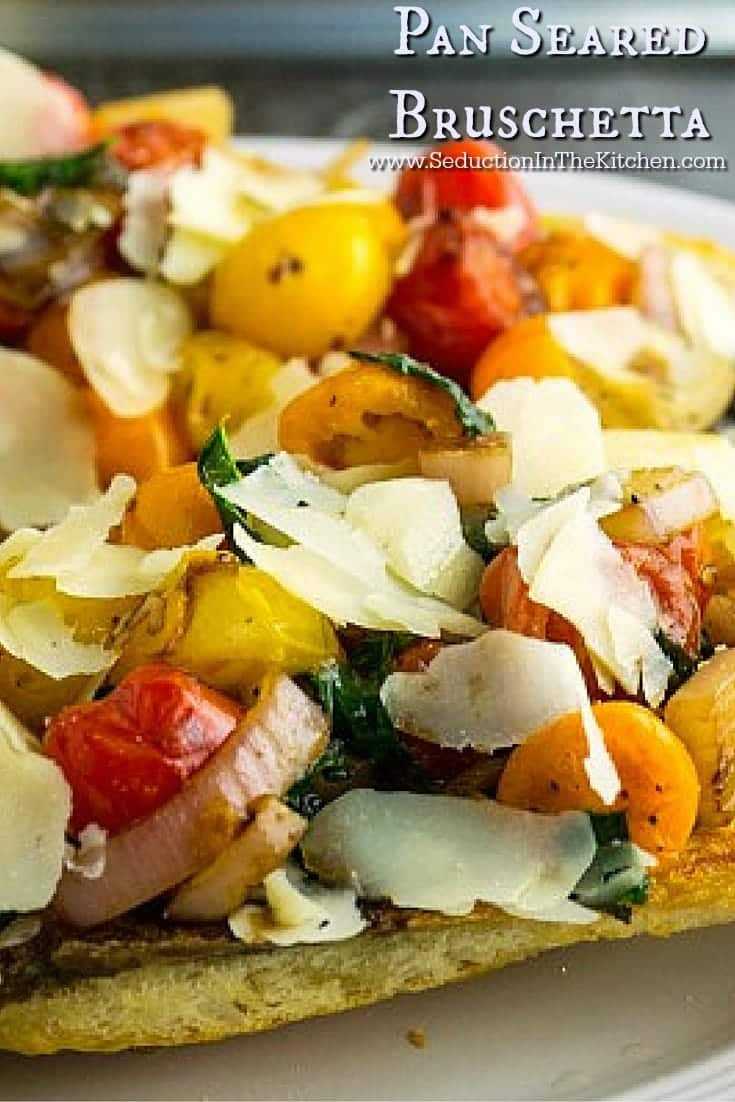 Julie and Julia Movie Saying
One of my favorite sayings in the movie Julie and Julia is:
Julia Child wasn't always Julia Child.
It is true, we all start out somewhere in life and work to be the person we are. I love that Julie and Julia movie saying!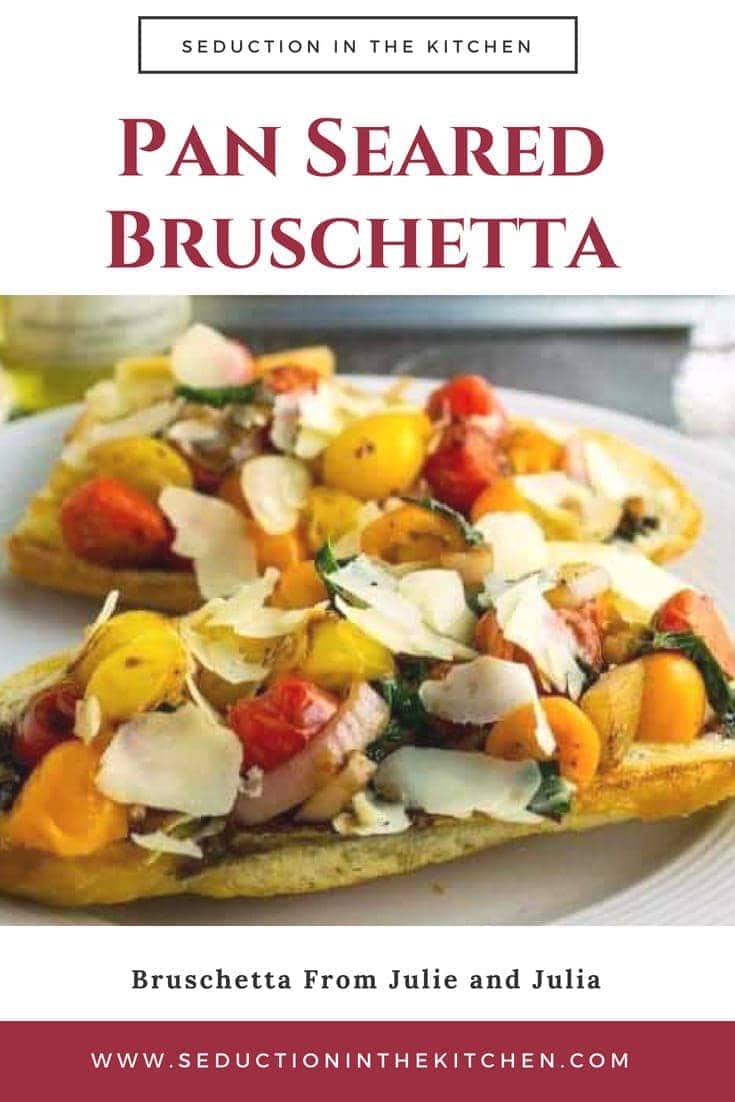 Bruschetta From Julie and Julia
Do you recall that bruschetta from Julie and Julia? Julie was pan searing the tomato bruschetta for her dinner with her husband. Her husband remarked how good it was?
Julia Child Bruschetta
That Julia Child bruschetta did look amazing in the Julie and Julia movie. I wanted to make that Italian bruschetta recipe.
Cherry Tomato Bruschetta
I decided the best way to pan sear this tomato bruschetta was with cherry tomatoes. Making a cherry tomato bruschetta would be the best bruschetta recipe.
Pan Seared Bruschetta
Pan seared bruschetta is a bruschetta recipe inspired a movie. It really is the best bruschetta recipe. It not only an easy bruschetta but so tasty too.
Bruschetta Recipe
A bruschetta recipe is always my goto end the summer recipe. This version of an Italian bruschetta recipe really is amazing. You will love making this cherry tomato bruschetta for your family's dinner!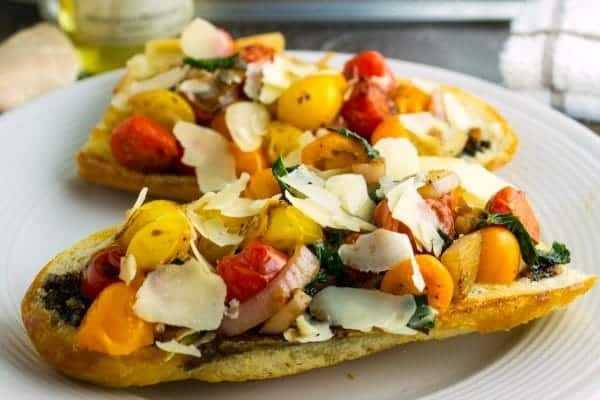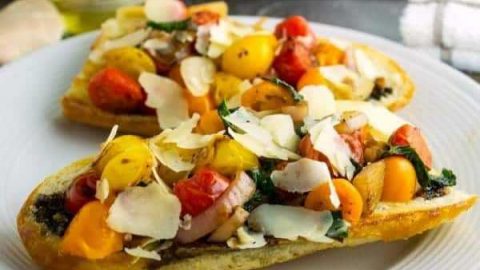 Yield:

4 servings
Pan Seared Bruschetta Recipe
Pan Seared Bruschetta is one of Seduction in the Kitchen's #SundaySupper recipes. A pan seared bruschetta is a dinner finger food that was inspired by the movie Julie and Julia.
Ingredients
1 loaf of French bread
2 tablespoons olive oil
1 pint of assorted cherry tomatoes (sliced in half)
1 large shallot (chopped)
10 leaves basil (torn)
1/2 teaspoon All Purpose Greek Seasoning
1 tablespoon Cherry Balsamic Vinegar
1/8 cup shaved Parmesan
Instructions
In a pan, heat up the oil.
Lightly toast the bread face down in the oil, about a minute or so.
Flip it over and toast the other side.
Remove the bread from the pan, and set aside
In the same pan, add the tomatoes, shallots, basil, and the Greek seasoning.
You may have to add a drop of olive oil, but saute the tomato mixture for about a minute.
Turn the heat off the tomato mixture.
Position the bread face up and add the tomato mixture to each slice.
Drizzle on the cherry balsamic
Top off with a little of the shaved Parmesan
Serve it up and ENJOY!
Notes
* If you cant find the Greek seasoning and the cherry balsamic then use Fresh black pepper and a little thyme. Regular balsamic for the cherry balsamic
Nutrition Information:
Amount Per Serving:
Calories:

280

I am Deanna Samaan, a phlebotomist by day and a blogger at night! Born in Pittsburgh, rebuilt my life in Cleveland, found my true self in Orlando. No matter where I am at, food always seduces me! Let your taste buds be seduced too!