Last Updated on September 17, 2020 by Deanna Samaan
Garlic Butter Ravioli with Spinach is a sauteed ravioli with spinach and garlic. The garlic butter sauce for pasta is what makes this ravioli recipe stand out. If you are looking for a light ravioli sauce this ravioli butter sauce dish is what you want to make! Serves 4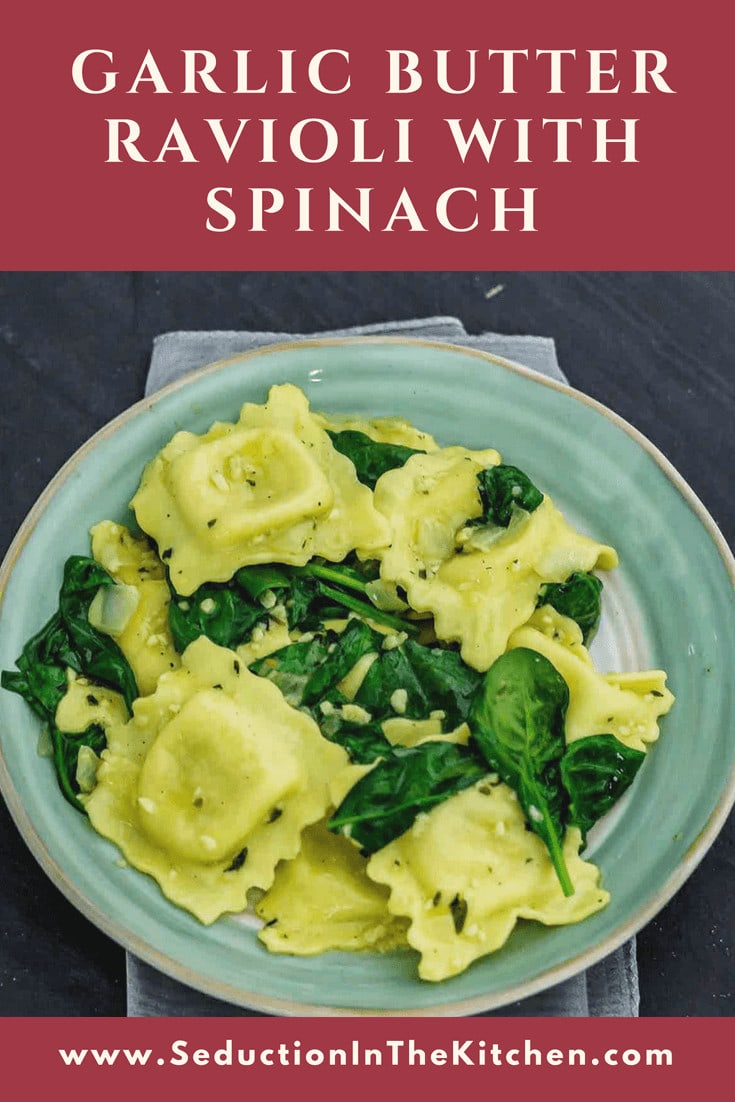 Sauteed Ravioli
I love cheese filled ravioli. I had a bag of homemade cheese ravioli in the fridge, but I wanted to sauteed ravioli instead of just boiling ravioli and covering it with tomato sauce.
For This Recipe You Will Need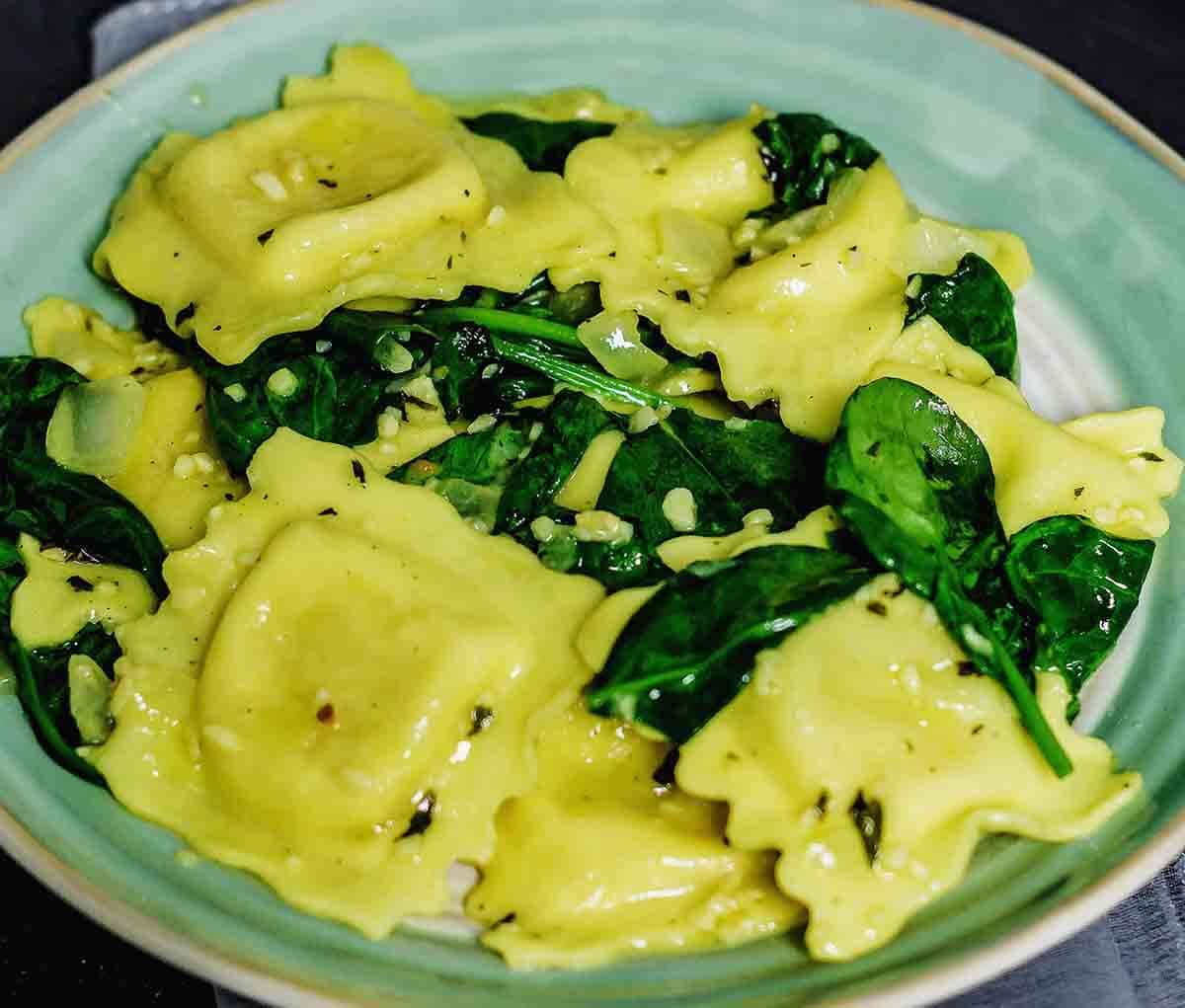 Ravioli Sauce
If I make sauteed ravioli then I need a good ravioli sauce for it? But what? I decided to do a garlic butter sauce for pasta. Then add in some fresh baby spinach for the ravioli sauce.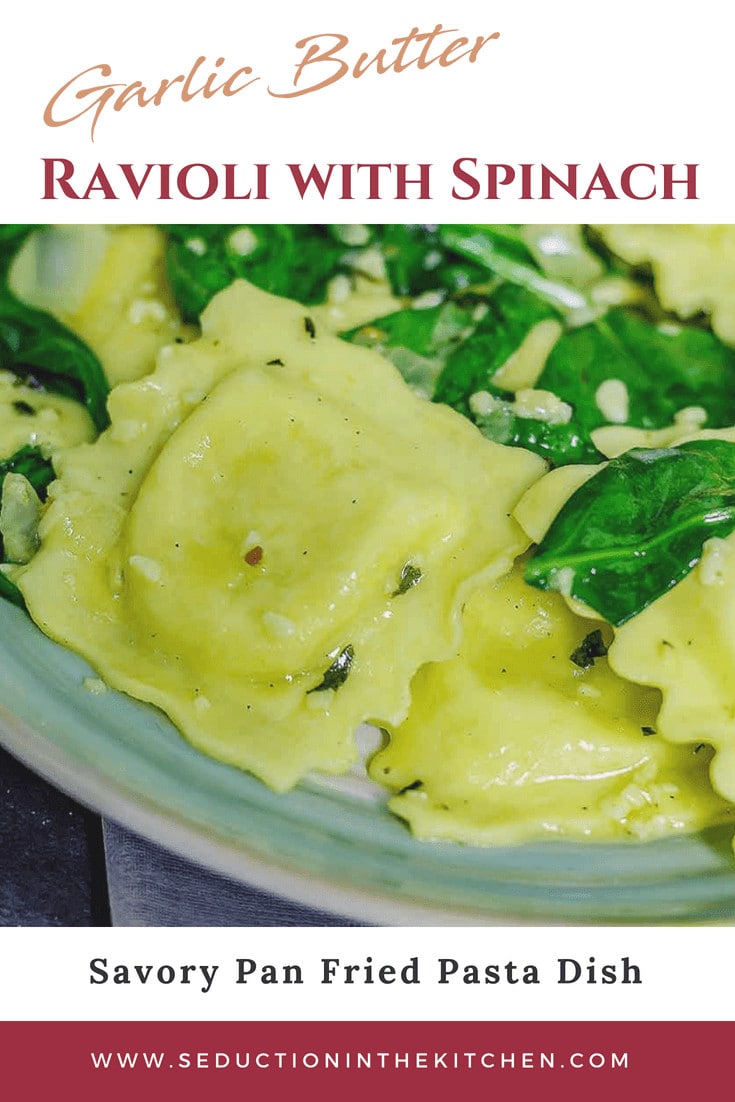 Garlic Butter Sauce For Ravioli
Since I making a garlic butter sauce for ravioli and using spinach in the sauce as well, I knew that the flavors needed to blend. Using the homemade cheese ravioli really helped blend the ravioli butter sauce. It still needed one more thing to really make this spinach ravioli sauce pop with flavor.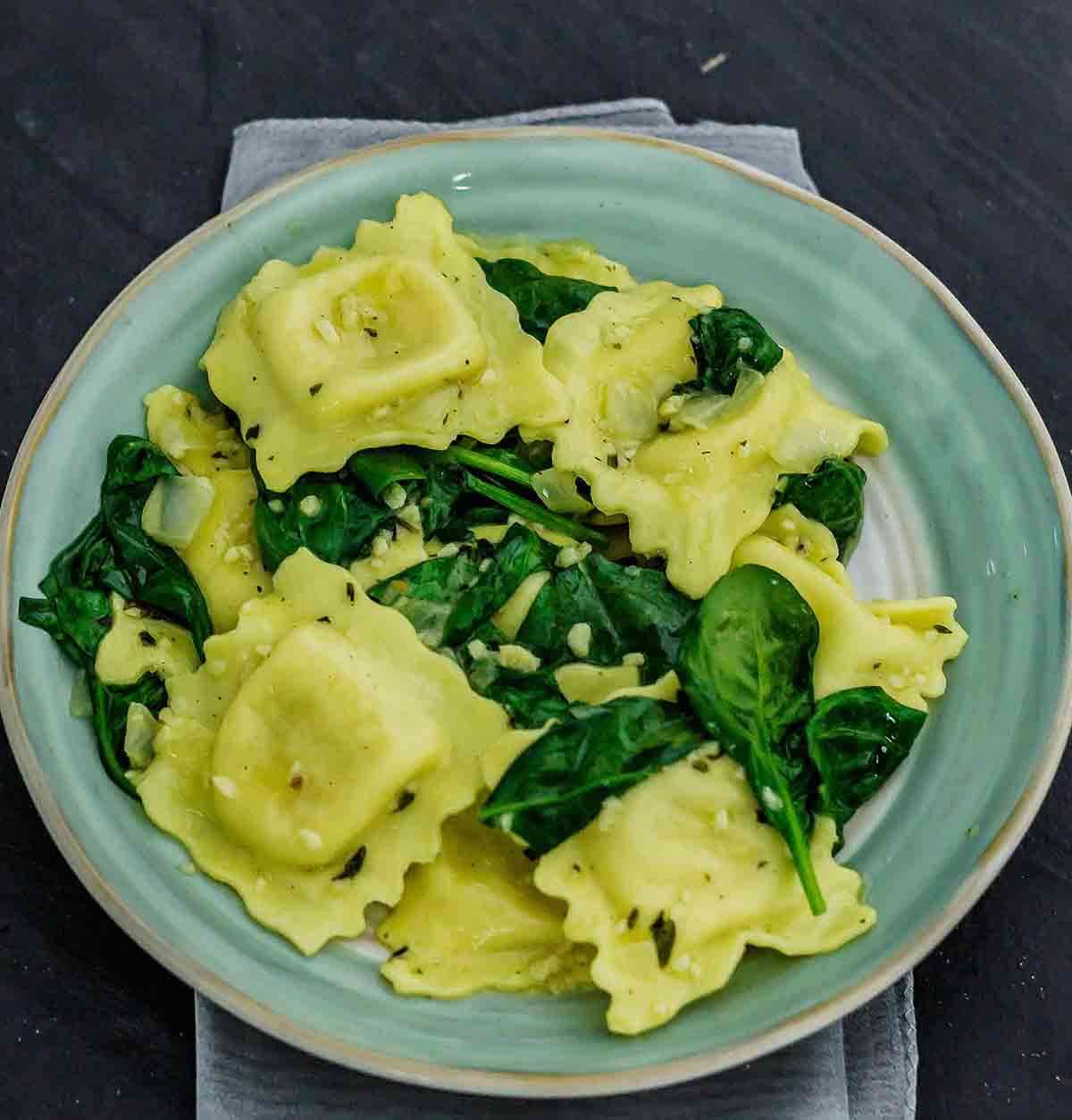 Ravioli Butter Sauce
Lemon was what I needed for this ravioli butter sauce. Lemon just makes this spinach ravioli sauce sing with flavor. My sauteed ravioli was the light ravioli dish I was craving.
Ravioli Cream Sauce
Why didn't I just make a ravioli cream sauce instead of using a garlic butter sauce for pasta? I love cream sauce, but I wanted a light ravioli sauce. A ravioli cream sauce can get a bit heavy so using a garlic butter sauce for ravioli was the better ravioli sauce choice!
Garlic Butter Ravioli with Spinach
Not only did my Garlic Butter Ravioli with Spinach have the lighter sauce it was full of wonderful flavor. Plus using fresh ravioli, all I had to do was pan fry the ravioli in one pan. The final verdict is ravioli butter sauce with spinach is a hit!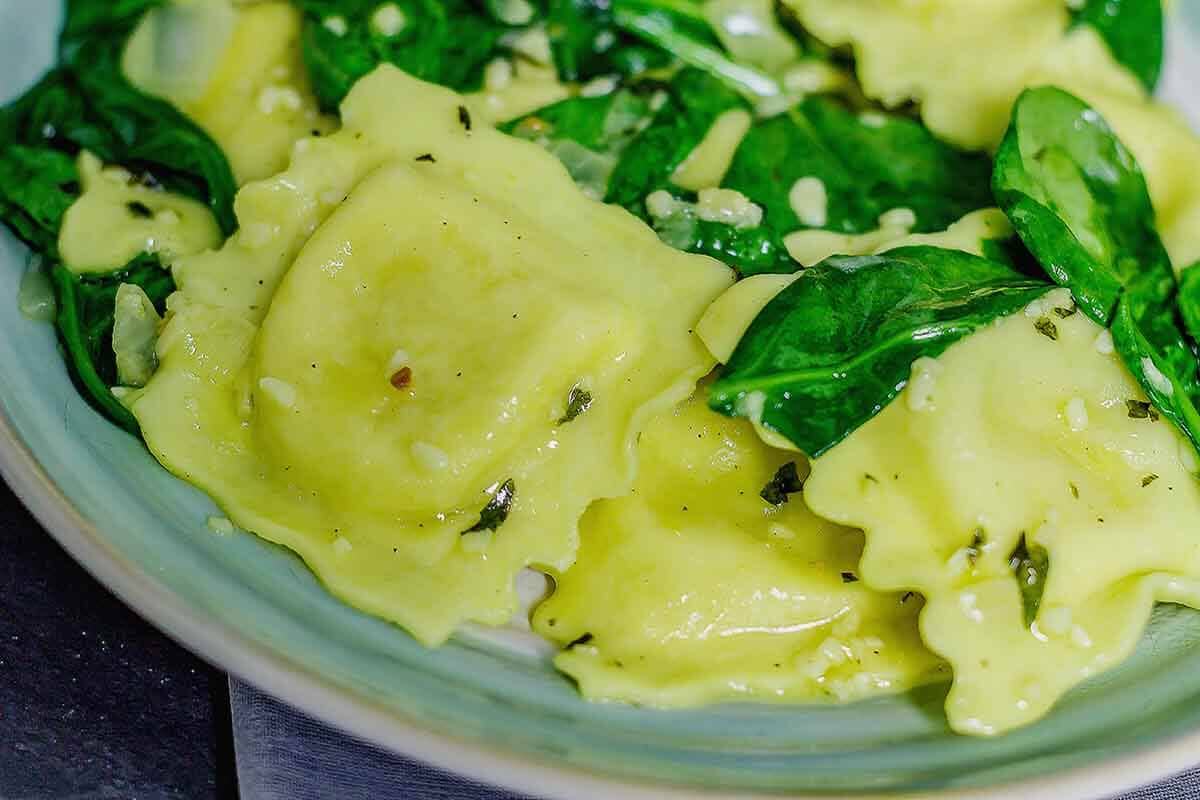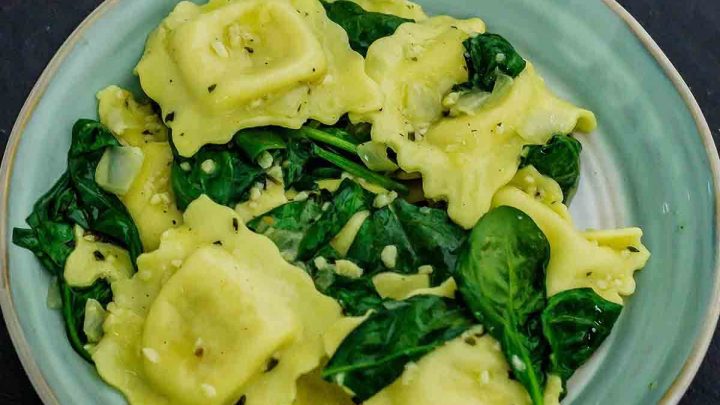 Yield:

4 servings
Garlic Butter Ravioli with Spinach Recipe
Garlic Butter Ravioli with Spinach is a sauteed ravioli with spinach and garlic. The garlic butter sauce for pasta is what makes this ravioli recipe stand out.
Ingredients
18 oz fresh cheese ravioli
2 tablespoons extra-virgin olive oil
2 tablespoons unsalted butter
2 cloves garlic, minced
1/4 cup chopped onion
1/2 teaspoon crushed red pepper flakes
2 tablespoons lemon juice
Freshly ground black pepper
5 oz baby spinach
1/4 cup chopped fresh parsley
1/2 cup freshly grated Parmesan
Instructions
Place the pan over medium heat. Add oil, butter, onion, and garlic.
Sauté until butter begins to bubble, about 1 minute.
Add lemon, red pepper flakes, salt, and pepper.
Add half the ravioli and stir gently until well coated with the sauce.
Add the rest the ravioli and stir until everything is coated with the butter sauce.
Cook ravioli until golden brown, about 5 minutes.
Toss in spinach and parsley and stir until everything is mixed well.
Take off the heat, garnish with the Parmesan.
Serve it up and ENJOY!
Nutrition Information:
Amount Per Serving:
Calories:

350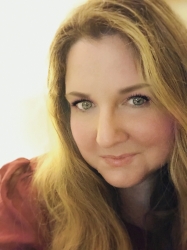 Latest posts by Deanna Samaan
(see all)