I am a participant in the Amazon Services LLC Associate Program, an affiliate advertising program designed to provide a means for me to earn fees to Amazon.com and affiliate sites.
Herb Green Bean Casserole With Balsamic Shallots is a gourmet take on the traditional green bean casserole that uses no condensed soups. A recipe from Seduction in the Kitchen.
I have been thinking about change lately. Part of this thinking has to do with the sudden death of my friend and co-worker, Mike. I realized tomorrow is not guaranteed. I admit I'm great at waiting for something then days go by, weeks, months. You know what I mean.
Usually, I'm waiting on someone then I end up missing out. So I want to make changes in 2016. One of the things I'm making changes on us actually dining reviews. I would do these reviews with a group of friends, and call ourselves the foodies. Long story short, we can't get together to do these like done in past. Lately, some are getting too picky, they won't go if this restaurant or they won't go if it in this part the city. It not what we started out doing.
We started doing these because I had the food blog. You can see I originally thought I do a recipe inspired by a restaurant. Along with the review. An example of this is in Spinach Salad With Honey Dijon. It got to be way too long for the recipe post, let's be honest.
So I decided I like doing reviews, stop being afraid of doing things by myself and just do it by myself. But this time, I'm just adding a section into Seduction that is simply called Dining around Cleveland. I just going to do this myself instead of waiting on friends.
I write about how change is good and it is, I'm just practicing what I preach. I'm doing changes. These changes are Dee being Dee. These reviews are Dee being Dee, not Dee waiting on others to do what Dee wants. I actually feel very good about. So yeah it is time to practice what I preach, change is good.
So, I admit I really do not like the traditional green bean casserole, to me it lacks something. I know many people like making it for the holidays, including my family. I know I am not the only person who thinks the traditional way of making green bean casserole is a little blah.
About eight years ago, I was at a family health center covering and there was a magazine there with an alternative way to make green bean casserole from scratch. It did not use the condensed soup. I must have put that thought in the back of my head, I always had that thought of how can you make this, add flavor and not use condensed soup?
The secret is in the sauce, you got to make a sauce that will compliment the mushrooms and green beans, What inspired me to make the sauce for this was actually seeing Sargento's Garlic and Herb Tastings. That was when it came to me on how to create this sauce. I admit I am also a fan of shallots and I had just got from the Fabulous Food Show here in Cleveland a bottle of white balsamic vinegar from Taste of Old Country. This was a line I fell in love with at the show. You can learn more about their products here. Anyway, the combo of the creamy sauce with assorted wild mushrooms and the balsamic shallots, this is in my opinion much better than the condensed soup version of green bean casserole. The flavor really comes together in this.
Yield: 6 servings
Herb Green Bean Casserole With Balsamic Shallots
A gourmet take on the traditional green bean casserole that uses no condensed soups. A recipe from Seduction in the Kitchen.
Ingredients
2 tablespoons unsalted butter (softened)
1 teaspoon ⁄4 table salt
1 teaspoon ⁄8 ground black pepper
1 large shallot (sliced thin)
2 cans green beans (drained (I use one regular, 1 French style))
3 tablespoons unsalted butter
1 cup of sliced assorted wild mushrooms
3 cloves medium garlic (minced)
fresh ground black pepper
3 tablespoons unbleached all-purpose flour
1 1 cups ⁄2 low sodium chicken broth
1 1 cups ⁄2 heavy cream
1 bar of Sargento Garlic and Herb Tastings (cubed)
2 tablespoons of Taste of Old Country White Balsamic
1 teaspoon Thyme
Instructions
Add butter to a Dutch oven and melt over medium-high heat until foaming subsides. Add mushrooms, garlic, 3/4 teaspoons salt, and 1/8 teaspoons pepper; cook until mushrooms release moisture and liquid evaporates, about 6 minutes.
Add flour and thyme and cook for 1 minute, stirring constantly.
Stir in broth and bring to simmer, stirring constantly.
Add cream, reduce heat to medium, add in the cheese, stir until the cheese melts.
Simmer until sauce is thickened and reduced to 3 1/2 cups, about 12 minutes.
Add green beans to sauce and stir until evenly coated, and set aside.
In a saute pan, melt 2 tablespoons of butter, add the shallots. Saute the shallots until then are turning clear.
Add the white balsamic, and continue stirring the shallots for about 2 minutes. The balsamic will start reducing and coat the shallots. Take off the heat and set aside.
Arrange in even layer in 3 quart (or 13 x 9") baking dish the green bean mixture. Top it off with the shallots.
Bake at 425F until top is golden brown and the sauce is bubbling around edges, about 15 minutes.
Take it out of the oven and serve and ENJOY!
Nutrition Information:
Amount Per Serving:
Calories:

310
Check out my the latest on my other blog: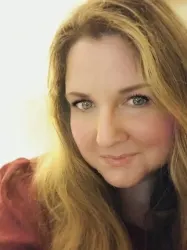 Latest posts by Deanna Samaan
(see all)