I am a participant in the Amazon Services LLC Associate Program, an affiliate advertising program designed to provide a means for me to earn fees to Amazon.com and affiliate sites.
[intro]Crock Pot Stuffed Peppers are an easy and tasty way to make stuffed peppers by using your slow cooker! Comfort food at it's finest! [/intro]
[spacer]
I don't know about you, but we were having lots of rain in Cleveland. In fact, I just said to someone: "Am I crazy or does it seem every Sunday it rains?" I noticed that it was a yucky day on Sundays because I been wanting to go out to the park to practice taking photographs with the new camera.
I came home and it was down pouring, then suddenly stopped, the sun was coming up, and there was this beautiful rainbow. I took a photo real quick with my iPhone, which is up on my Instagram account. Then thought, wait I can run upstairs and get the camera this perfect! By the time I got back outside the rainbow was fading and wasn't good to take photos with. I didn't let that discourage me, so I took photos of the overgrown ivy and grass in the neighbor's yard instead.
What is funny after I showed everyone these photos, because how I did the angles on them you would never know this just someone who doesn't mow his lawn! They thought I was in a meadow on a country road. Here I will show you:
I actually watch a few youtube videos on how to use this camera, and also I am watching ones on using Lightroom for editing, so yes I am still in learning when comes to photography. I love learning it. It actually became a new stress relief, besides cooking. If we do get a nice day with no rain, I would like to walk up the road from me, there is this old junkyard, with all these cars in it from the 40's maybe some 30's too. sitting all along the fence. I just think to be cool to get some photos of these cars in this junkyard.
Guess what! I had my first exclusive recipe published in Parade's Community Table! A Grilled Pizza Hot Dog!
Speaking of Parade, it been awhile since I updated you with my collections, in fact, my Pittsburgh Cookie Table one is doing so well, it was viral there for a moment on Facebook, what can I say, people love the 'Burgh tradition. So here they are and all you have to do is click on the collage and it takes you to that collection of recipes:
Right now, I am reinventing myself and all that around me. As I always said, change is good. Now I got this new camera and I am doing these Parade posts I am adding more visual items to my posts, which is good. So I am reinventing how I do a post in a way. Also, I am going to do some redesign on Seduction, because it looking very heavy to me. Sometimes you need to reinvent to keep going forward, and that is what I am planning on doing.
Everyone knows what a stuffed pepper is, and most make them in the oven. In my family, we always made them in a slow cooker. What is nice about making stuffed peppers in a slow cooker is that the peppers do not go mushy and bitter like they do in the traditional way in an oven. So in a way, by cooking in a slow cooker or crockpot, your reinventing how to cook a stuffed pepper. I actually like a slow cooker method on stuffed peppers and it because it does keep the pepper from being bitter. It makes that part more enjoyable to the taste buds.
Yield: 6 servings
Crock Pot Stuffed Peppers
Easy and tasty way to make stuffed peppers by using your slow cooker! A recipe from Seduction in the Kitchen.
Total Time
6 hours
10 minutes
Ingredients
1 cans tomato sauce (8oz)
1 cup ⁄2 water
2 tablespoon brown sugar
2 tablespoon red wine vinegar
2 teaspoon prepared mustard
2 teaspoon Worcestershire sauce
1 teaspoon ⁄2 dried oregano
1 teaspoon ⁄2 dried basil
1 teaspoon ⁄2 garlic powder
1 teaspoon ⁄2 parsley flakes
1 teaspoon ⁄2 salt
1 teaspoon ⁄2 pepper
6 green bell peppers
1 lb ground beef
1 cup ⁄2 onion (chopped)
1 tablespoon garlic (minced)
1 egg (whisked)
1/4 - 1 cup ⁄2 breadcrumbs
1/2 cup shredded Velveeta cheese
1 tablespoon Worcestershire sauce
1 teaspoon salt
1 teaspoon ground pepper
1 teaspoon ⁄2 oregano
1 teaspoon ⁄4 parsley
Instructions
In the slow cooker mix everything for the sauce. Give a taste and adjust the sauce to your liking.
In a mixing bowl, mix the beef with everything, except the green peppers. The amount of the bread crumbs depend on how wet the meat is. start off with a 1/4 the cup, and gradually add more if needed so the meat isn't too wet.
Cut off the tops the green peppers, and remove the seeds.
Stuff the meat mixture into the peppers and and place the peppers, standing up into the sauce in the slow cooker.
Cover and turn on low for 6-8 hours or High for 4-6 hours.
Take out the peppers, spoon some sauce over them and ENJOY!
Nutrition Information:
Amount Per Serving:
Calories:

510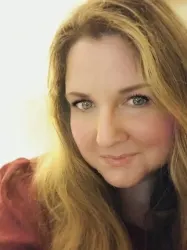 Latest posts by Deanna Samaan
(see all)