I am a participant in the Amazon Services LLC Associate Program, an affiliate advertising program designed to provide a means for me to earn fees to Amazon.com and affiliate sites.
[intro]Fried Strawberry Cheesecake Crepes With Chocolate Balsamic Drizzle combines the sweetness of cheesecake, with a layer of fried strawberries on top, then rolled up into a crepe. Then topped off with a chocolate balsamic drizzle.[/intro]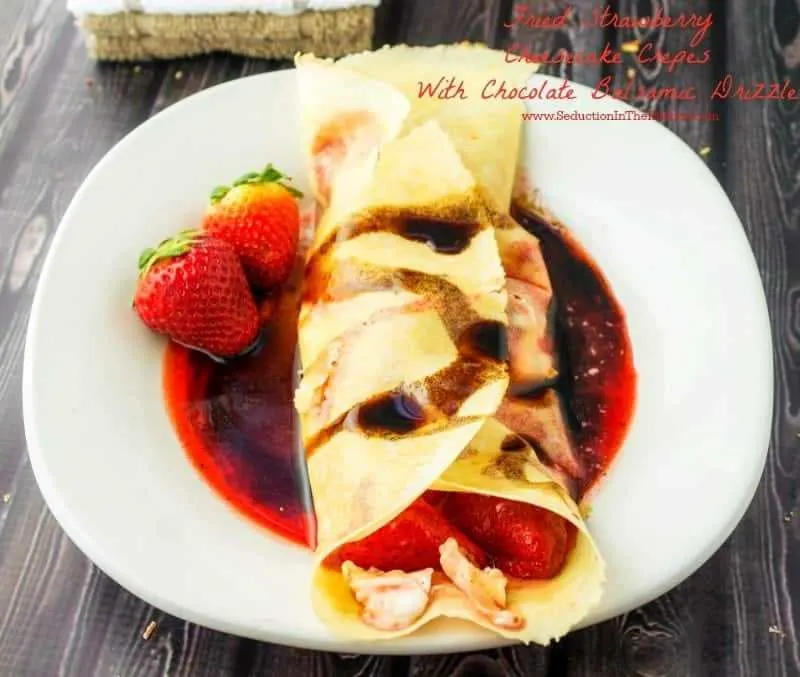 Time is flying. Easter is almost here and we now in Spring, but it really feels like time is flying. It was almost like yesterday I am talking to you guys about Christmas. Don't get me wrong I do love the warmer weather is here, but time is going by a little too fast!
What can you do about the time flying by? You can sit back and let it fly by, or you can make the best of it. I want to choose the make the best of it, but I admit sometimes I do let time fly by. I would love to rewind time, but that is something that simply can not be done. Try to not waste the time by letting it fly by, and make the most of it. As I said, that is not always easily done.
To stress about how time is flying by, that is not reasonable. All it will give you is a headache because guess what, no matter how much you stress, time is still going to go by you. I think of that Taio Cruz song and the one lyric:
I throw my hands up in the air sometimes
Saying AYO!
Gotta let go!
I wanna celebrate and live my life
Saying AYO!
So make plans and do it. Don't just dream it, be it, at least that is what I keep telling myself. Actually, I am on the cusp of making one my dreams come true. It has been a long process and I am finally reaching a possible light at the end the tunnel. I hope by May I will be able to tell you guys all about it. I don't want to say too much, I really don't want jinx myself with it.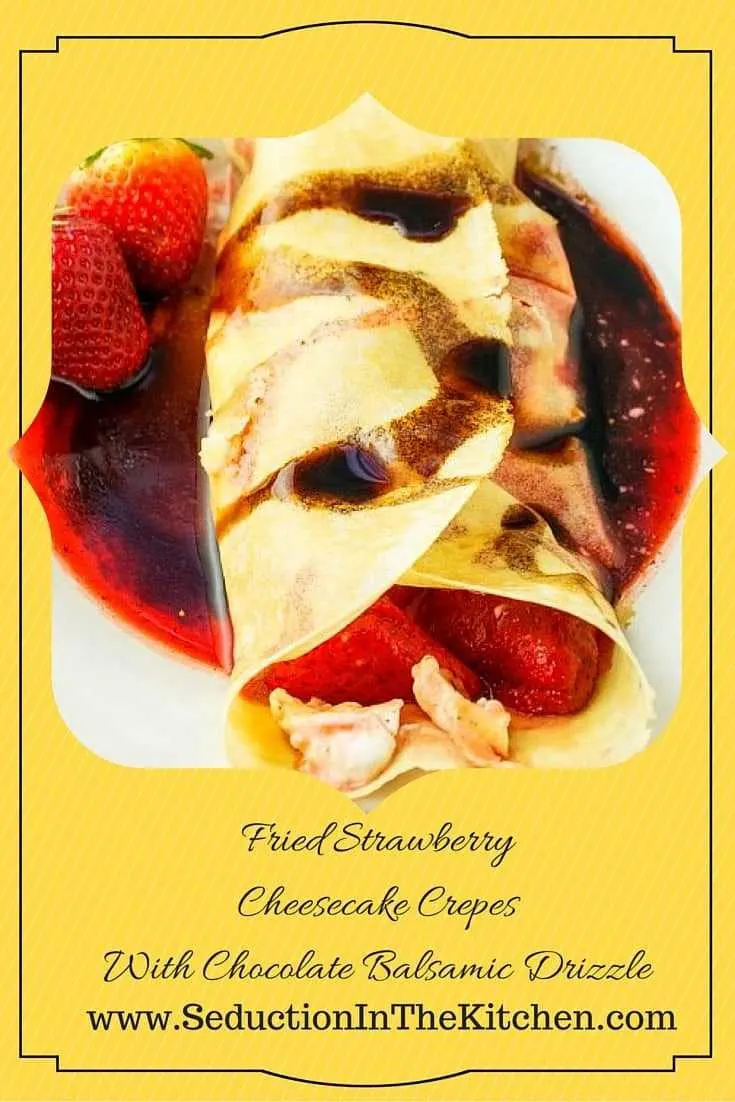 Strawberries have been on sale here for the last few weeks. Even though this is Ohio, we get California and Florida strawberries here in our supermarkets. So right now, they buy one package get one free. Now, this is going to sound funny how I came up with this idea, but I was actually inspired by fried apples.
Fried apples? Yep, fried apples. Cracker Barrels to be exact. Fried fruit does not have to have a batter on them. They are sugar fruit that is sauteed in butter basically. It makes this wonderful gooey creation. This is how the apples are done. SO it made me think that I could do something similar with strawberries.
What could these be good on? Crepes came to mind. These thin, French pancake like goodie was perfect to stuff this fried strawberry into, but it needed more, that was when cheesecake filling and top off with a chocolate balsamic drizzle, YUM! Well, truth be told I got the chocolate balsamic from the trade show I went to in November. The Olive Tap has this Dark Chocolate Balsamic Vinegar that is simply AMAZING and it is really good on this crepe.
Yield: 6
Fried Strawberry Cheesecake Crepes With Chocolate Balsamic Drizzle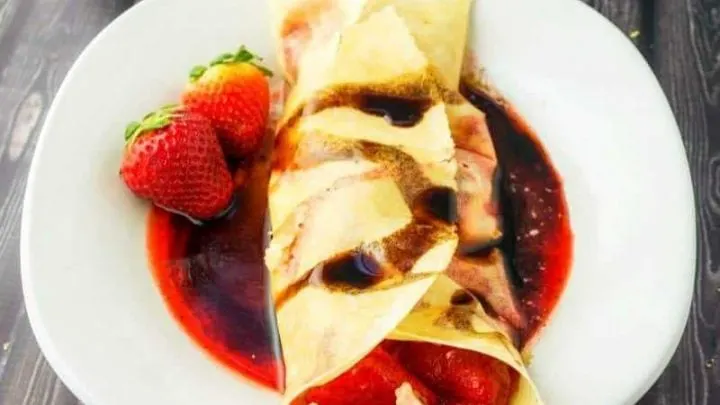 Fried strawberry cheesecake crepes combine the sweetness of cheesecake, with a layer of fried strawberries on top, then rolled up into a crepe. Then topped off with a chocolate balsamic drizzle. A recipe from Seduction in the Kitchen.
Ingredients
1 cup flour
1 1 cups ⁄2 milk
2 eggs
1 teaspoon vegetable oil
1 teaspoon ⁄4 salt
1 pint strawberries (washed, and sliced)
1/2 cup sugar
4 tablespoons butter
1 cup Philadelphia Cheesecake filling
6 tablespoons Chocolate Balsamic Vinegar (divided)
Instructions
Crepes
Combine flour, milk, eggs, and oil.
Add salt.
Heat a lightly greased 6 inch skillet; remove from heat.
Spoon in 2 Tbsp batter; lift and tilt skillet to spread evenly.
Return to heat; brown on one side only.
To remove, invert pan over paper towel.
Repeat with remaining batter.
Fried Strawberries
Place the strawberries in a bowl, and sprinkle with the sugar.
Let the strawberries sit for about 15 minutes so that the "juice up."
In a saute pan, melt the butter.
Next add the strawberries and saute them in the butter for about 5 minutes. Just till they start to get a little mushy and the sugar starts to gel a little.
Take them off the heat and set aside.
Assembly
On a plate, place a crepe.
Next, spread a little bit of the cheesecake filling, about 1/8 of a cup or so. Spread it in the center of the crepe.
Spoon some of the fried strawberries on top the cheesecake filling.
Roll up the crepes, and you can dust a little powder sugar on the top.
I like to put a little the strawberry juice around the crepe, then drizzle on the chocolate balsamic vinegar.
Serve them up and ENJOY!
Nutrition Information:
Amount Per Serving:
Calories:

200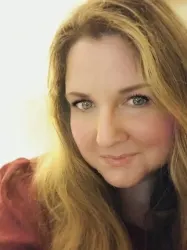 Latest posts by Deanna Samaan
(see all)