This post was most recently updated
Eggnog Sticky Buns is a wonderful Christmas Delight for breakfast. If you like eggnog, you love a bite of this pastry.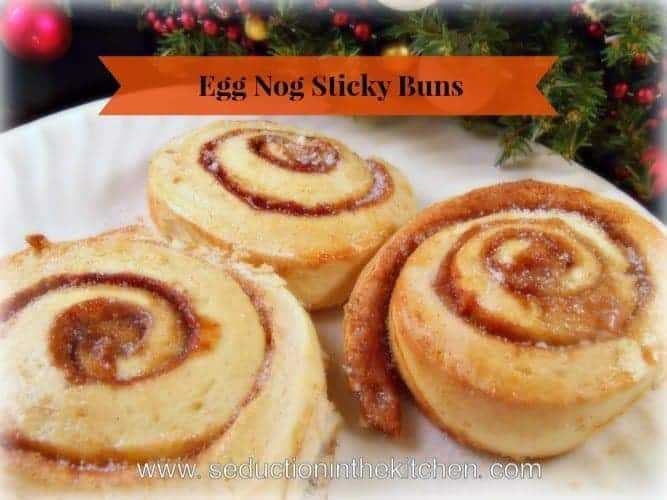 This post was originally from 2014
Snow
W
e got the first snow of the holiday season today. At 6 am, walking out to my car, it looked pretty. It was the white fluffy snow.
The thought that it looked pretty quickly passed as I realized, "Man I got clean off the car."  As I started driving other thoughts came to mind as I was on the highway, yelling at drivers who are scared to drive. Please if you're scared to drive in snow, stay home, take a bus, or carpool.
Your panic is what causes most accidents in snow. Just drive, it will be ok, and please do not brake every 5 minutes, just drive. But for that brief moment it did look pretty and the thought, wow it starting to feel like Christmas, did go through my head.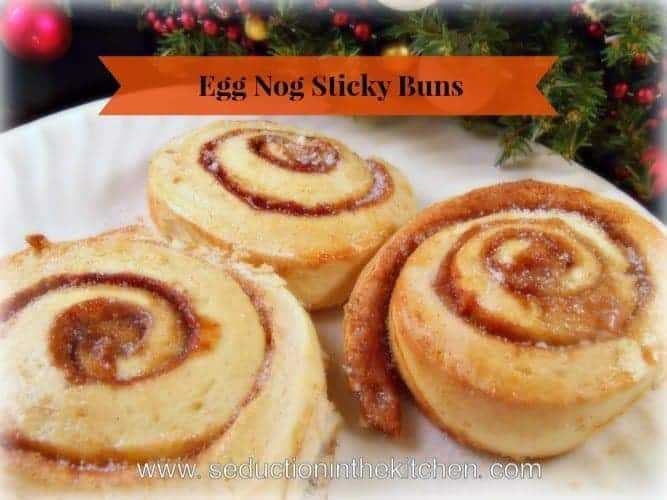 The holiday feeling I had this morning actually gives me a happiness inside me. It is making me realize 2014 is right around the corner. I can already feel that 2014 is going to be a better year. I have already started making some positive changes. One is as, silly as it sounds, I gave myself a sultry makeover. So many kept telling me to dye my hair dark after seeing me as Elizabeth Taylor for Halloween. So I did: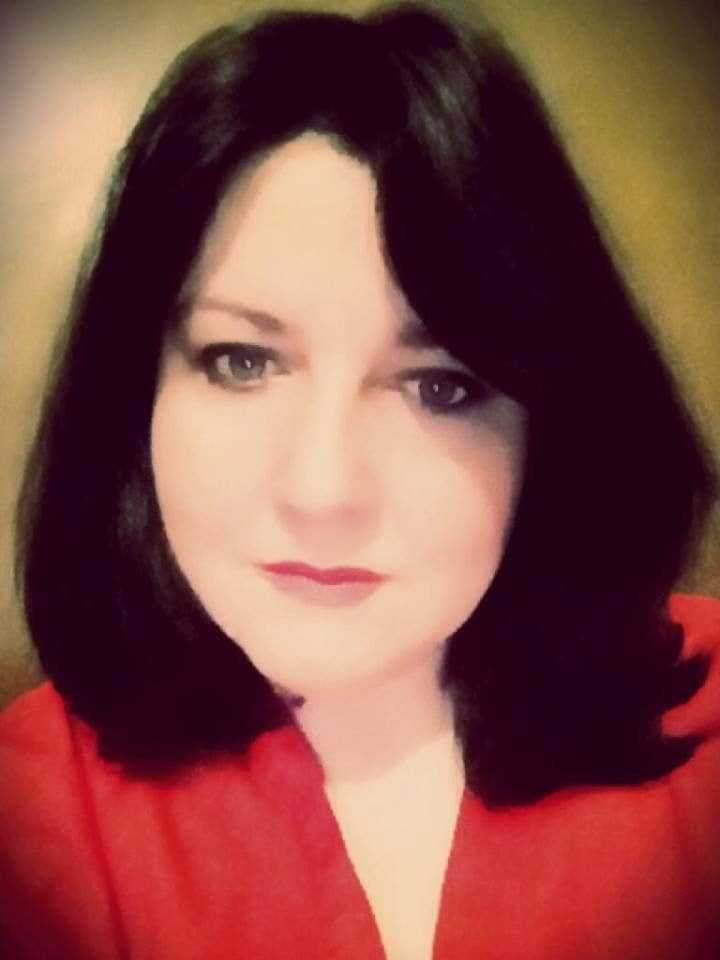 I forgot dark brown was my natural color! I am pleased with the results. Going back to basics, that is a good way to end the year and going into a new year. It a good concept, especially when you want to change your life, like me.
Eggnog Sticky Buns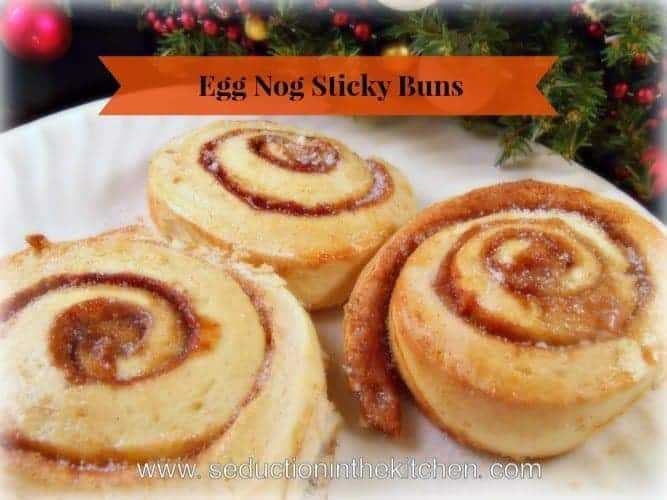 I know in some families they got a tradition of opening presents then enjoying sticky buns and hot cocoa afterward. That is a lovely tradition I think for Christmas. I had got a carton of eggnog for making fudge, but I was wondering if I could use it for other goodies.
The Eggnog Sticky Buns came to my mind as I was thinking of goodies to use with this eggnog I bought. A little tinkering a sticky bun recipe and Viola! Eggnog Sticky Buns was born. Let me tell you these Eggnog Sticky Buns would be the perfect morning treat on Christmas morning.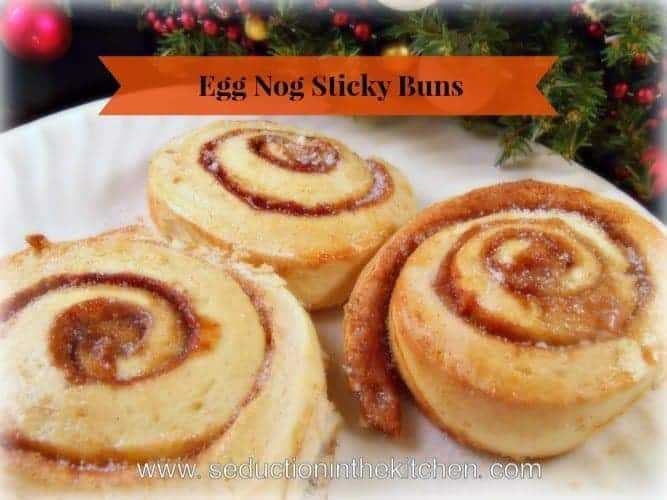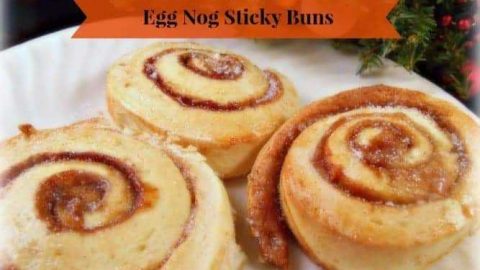 Yield:

8
Eggnog Sticky Buns
Prep Time:
1 hour
30 minutes
Total Time:
1 hour
50 minutes
Eggnog meets a sticky bun, a sweet recipe from Seduction in the Kitchen
Ingredients
3 1/3 cups flour
3 tablespoons sugar
1/2 teaspoon salt
1 tablespoon fresh yeast
1/3 cup melted unsalted butter
1/2 cup eggnog
2 large eggs
3 tablespoons sugar
1/2 cup light brown sugar
1 tablespoon cinnamon
Instructions
Place all the ingredients for the dough in your bread maker, use the dough cycle. I come to find this just puffs the dough just right when I make bread items with yeast.
When the dough cycle is complete, take the dough out and roll it into a nice thin rectangle. You want to roll it to about 1/4 of an inch. Once it is rolled out, take 2 tablespoons of egg nog and spread it over the dough. This going to help the filling stick.
Mix the ingredients for the filling, spread it onto the egg nog glazed dough.
Roll the dough up into a log once you have the filling spread on the dough.
Slice the dough into the rolls and let them rise in a warm spot for 20 minutes. Then glaze the tops with eggnog, and bake them in a warm oven at 350F for 20 minutes.
Take them out of the oven, can sprinkle with a little sugar if you like, let them cool and ENJOY!
Nutrition Information:
Amount Per Serving:
Calories:

368
Total Fat:

10g
Saturated Fat:

6g
Trans Fat:

0g
Cholesterol:

76mg
Sodium:

177mg
Carbohydrates:

61g
Fiber:

2g
Sugar:

20g
Protein:

8g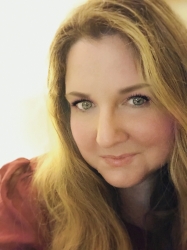 Latest posts by Deanna Samaan
(see all)