I am a participant in the Amazon Services LLC Associate Program, an affiliate advertising program designed to provide a means for me to earn fees to Amazon.com and affiliate sites.
Crock Pot Cheese Soup is a savory cheese soup made in a crockpot. A recipe from Seduction in the Kitchen blog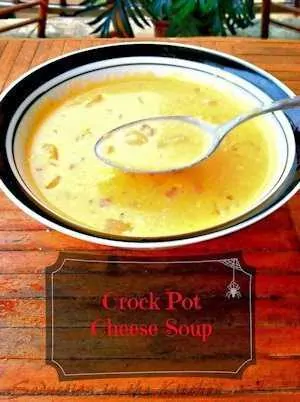 Do you know what October 6 is? It is my birthday, I am turning 38. Every year I always take my vacation around my birthday and go to Pittsburgh for the week, though I have gone to Walt Disney World a few times instead. I love that the Food and Wine Festival around that time, can you think of a better birthday trip then to the Magic Kingdom? It is cool, a little Disney tip/ secret for you: go to the Town Hall in the Magic Kingdom and tell them it is your birthday, they give you a FREE button to wear, hey it a nice souvenir! The entire Magic Kingdom cast members wish you happy birthday, I got a fee dessert at one the restaurants, it makes the trip even more special. I remember one year, I was in line for Splash Mountain and when we got to the loading area for the boats, one the cast members saw my "It's my Birthday" button, and all the sudden all the cast member went into this song and dance singing to me "Happy, Happy, Happy Birthday!"
This year been weird, as you know had a lot that happened to me over the last few months. I admit, since returning to work from being in the cast for those few months, I have been under a lot of stress. Most of my stress is from my work. It, not my job, I love being a phlebotomist. And it isn't even my place of work, the company. It is my co-workers that are the cause of my stress. They are immature 20 somethings, who are simply put very unprofessional. Truth is, I talked to my boss, they know about their antics, and nothing is ever done, they admit that my co-workers are extremely immature, but they work. That is why nothing is ever done about the unprofessional behavior.
October 5 is on of their birthdays, mine October 6 as I said. That Friday, it is my last day before my vacation begins, one the other co-workers towards the end the day, goes to the one's station that birthday is October 5 and decorates it with balloons and streamers, and a huge sign that said HAPPY BIRTHDAY. Right in front of me. I never got even a card or even Happy Birthday said to me from them, nothing. Something happened inside me I felt this hurt welling up inside me. I have gone above and beyond for these co-workers. I have invited them to every function/ dinner/ party I have hosted, every time I make food, I bring it in for them. I was doing a panel product reviews for Lovely Pink Diva, and I always gave them makeup I was given so they can give their opinions for reviews. They treat me like I am nothing.
Seeing that, and wasn't like they didn't know it was my birthday is the next day after the other co-workers. We have it on the calendar, everyone we work with in other family health centers all knows this so that excuse of I didn't know doesn't apply. I went towards the supervisor's office, I shut the door, she looked at me and asked what was wrong and I told her. She not really our supervisor, but she does see all the things that go on in that lab. She said how rude those girls are to me and truthfully, there is no reason for them to be that way with me, that I am one of the nicest people she knows.
I left for the day to start my vacation, and as I said, I didn't even get as I was leaving, "Enjoy your vacation and by the way, Happy Birthday." No, nothing. Just "see ya later", was said to me. I called a friend who I worked with and knows what I deal with my co-workers, she is a float like I used to be. She was so appalled and said how rude that was to do that. She said to me that they could have waited till I left for the day to do that, that way I would have never known. I think she was more upset than I was. Then I called my mom and I can not hide anything when I am upset, my mom heard it in my voice, wanted to know what was wrong, so I told her about what happened, my mom said this to me:
"Pay no mind to the simple kinds, assholes tend to like assholes, and what they are is simply assholes and your surrounded by them, common sense is something simple minded assholes do not have. So I would pay no mind to simple kinds"
My mom is 100% right. These girls, they are so immature, truthfully I don't need them, and I know one day the way they act it will get the best of them, karma I guess is what comes to mind. What is that other saying ?treat others as you want to be treated. Well, I guess by them acting like this, they like people being rude and immature to them. I got a week away from them, so I am not even going to think about that place. When I return, trust me, things are changing, the first thing I know I am doing, I been planning a Christmas party, like I always do, they are off the guest list, and I am removing their names from the email list for the functions/gathering/ dinners I host, which what this Christmas party is. This party will be for my REAL friends and co-workers who are mature.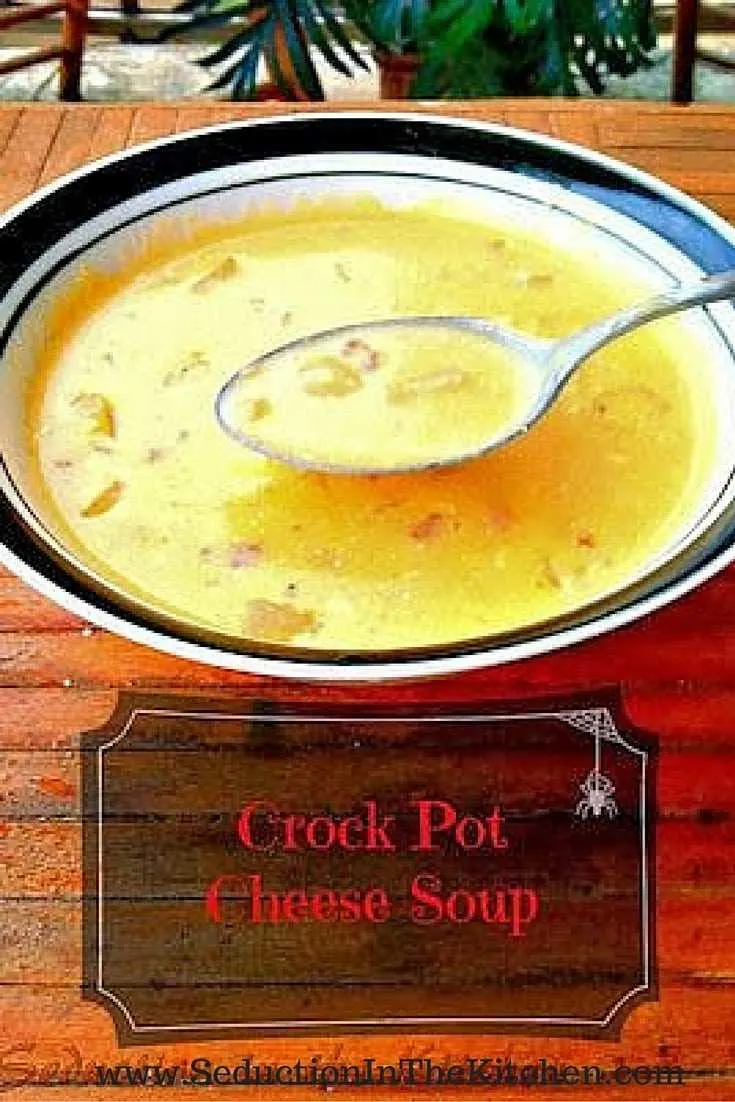 Someone asked me what is your favorite food, truthfully, I LOVE cheese soup. It something I really enjoy, and I been on a slow cooker/ crock pot kick lately. That because fall is here and I love using that crock pot this time of year. Cheese soup can be tricky, but I come to find out doing it in a slow cooker actually helps take many the "trickiness" out of it. It not quite fix it and forget it, but is is somewhat, you do have to do something every few hours for it, but they are quick and the results make the taste buds sing!
Yield: 6 servings
Slow Cooker Cheese Soup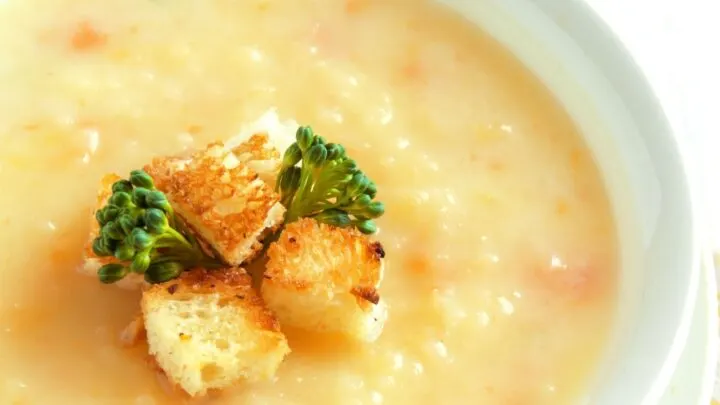 Slow cooker cheese soup is an easy recipe with Velveeta cheese. Looking for slow cooker soup recipes? Then this cheese soup is for you.
Cook Time
3 hours
40 minutes
Total Time
3 hours
50 minutes
Ingredients
3 (14 1/2 ounce) cans of chicken broth
1 small onion (chopped)
1 celery rib (chopped)
1 clove garlic (minced)
4 tablespoons butter (divided)
1 teaspoon salt
1/2 teaspoon pepper
4 tablespoons flour
1 tablespoon Worcestershire sauce
1 teaspoon garlic powder
1 (8 ounces) package cream cheese (cubed and softened)
2 cups shredded Velveeta cheese
1 pieces package of Hormel recipe bacon
Instructions
In a crock pot, add the garlic, onion, celery to the broth
Season the broth with salt, pepper, garlic powder, and 2 tablespoons of the butter.
Once the butter is melted taste your broth see if it needs to be adjusted with the seasonings.
Let it cook on low for about 4 hours,
After 4 hours, add the cream cheese to the slow cooker.
Add the bacon at this point as well, so the smokey taste of it can go into the broth.
Let the soup cook for another hour
Melt the other 2 tablespoons of butter and mix the flour with it. You want to form a paste.
After about an hour of cooking the cream cheese into the broth. Mix it up well, There will be cream cheese floaties, I find it best to push those up against the wall of the slow cooker with back the spoon. It helps blend it into the soup better.
Then Mix the flour paste into the soup.
Then cook the soup for another hour.
After an hour, give the soup another stir,
Add the Velveeta cheese.
Stir the cheese into the soup and cover and let finish cooking for another 15-30 minutes, until it is all blended together.
Ladle the soup out into bowls and ENJOY!
Notes
A tip about blending the cream cheese, let it come to room temp and cube
Recommended Products
As an Amazon Associate and member of other affiliate programs, I earn from qualifying purchases.
Nutrition Information:
Yield:
6
Serving Size:
1
Amount Per Serving:
Calories:

249
Total Fat:

19g
Saturated Fat:

12g
Trans Fat:

0g
Unsaturated Fat:

3g
Cholesterol:

60mg
Sodium:

1259mg
Carbohydrates:

11g
Fiber:

0g
Sugar:

5g
Protein:

9g
Do you love this Crock Pot Cheese Soup? Follow me on Facebook and Instagram! Don't want miss a recipe? Signup for my monthly newsletter with all the recipes posted in last month! Don't forget to check out my Flavor Store for great tasting spices, dips, and so much more!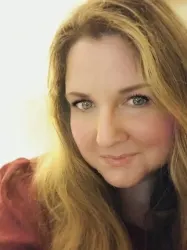 Latest posts by Deanna Samaan
(see all)