This post was most recently updated
Goat Cheese Stuff Burgers With Roasted Garlic Truffle Oil Mayonnaise is a French inspire gourmet burger that is full of flavor. A recipe from Seduction in the Kitchen.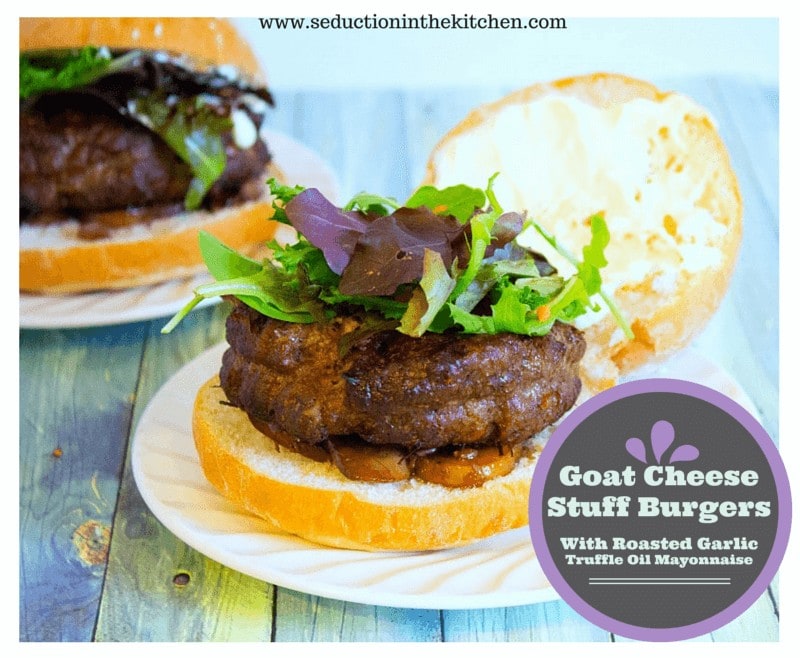 I got word that the redesign on Seduction in the Kitchen is starting on Monday. I am very excited about this redesign, as you know from reading Seduction in the Kitchen, I am very comfortable with change. As I always say on here: "Change is good."
I told the design team, I want to have a little more of a feminine feel. I like the posts to be less heavy-looking. A better stream line look. I cant wait to see what they come up with. This redesign is long overdue for Seduction in the Kitchen.
Speaking of change, I think I am finally getting the hang of the new camera. This photo was just taken and, wow I am so impressed with how it turned out. Practice really does make perfect. The YouTube videos are really helping me in mastering this Canon Rebel. That and all the help I found suggest I get a tripod, so I did, best investment, it really does help!
As I said, I like change, I like learning, I like to keep improving myself. So many times I look beyond the box to see what can I do to take something to the next level. It can be something personal or it can be food. Right now I am on a burger kick. I want to make a burger and take it a step up. I will be honest it is fun playing around with these ideas.
This all started when I realized I need more meat recipes on here. I promise I will get to chicken one these days, but right now it all about beef. I saw these Angus patties in the store and that is when inspiration hit me about creating a new type of burger. I personally love the taste of Angus beef and looking at these big beefy patties, I was inspired, goat cheese came to my mind. The next thing I know I was inspired to try to make a French-inspired burger.
Right now I admit I am a little obsessed with stuffing items into the meat. Like for this recipe, I stuffed the goat cheese inside the beef. Just a little sneaky peak, but also have created a Red Wine Burger, it has cheese as well inside the meat. Also today I am going to play around with a Canadian Poutine Burger, and it will have to saute mushrooms and onions inside the beef. If you follow me on Instagram, you know as I create stuff I post photos of it in the making on it, so some of you got to see that wine burger.
Yield:

2 servings
Goat Cheese Stuff Burgers With Roasted Garlic Truffle Oil Mayonnaise
A French inspire gourmet burger that is full of flavor. A recipe from Seduction in the Kitchen.
Ingredients
1 lb Angus Beef
2 oz herbed goat cheese
1 tablespoon butter
4 oz sliced fresh mushrooms
1 shallot (sliced)
2 tablespoons rosemary olive oil
1/4 cup red wine
1 tablespoon sugar
1/4 cup mayonnaise
2 drops truffle oil
1 clove roasted garlic (minced)
field lettuce
bakery buns
Instructions
Form four patties with the Angus beef, or cheat and just buy a package of them already formed.
Take one of the patties, in the center, place at least 1 oz of the herbed goat cheese. Next to the goat cheese.
Cut the tablespoon of butter in half, and place 1 piece of it next to the goat cheese.
Place another beef patty on top, and seal all round it so that the butter and goat cheese is covered.
Grill the beef to your desired likeness, To ensure food safety in cooking hamburgers, a temperature of 160° F is recommended, or until the middle is no longer pink and the juices run clear. I like medium well so I cook them till reaches 170° F.
In a saute pan, heat up the rosemary olive oil, if you do not have rosemary olive oil, place regular olive oil with teaspoon of rosemary into the pan.
Add the mushrooms to the olive oil, let saute for about 2 minutes then add the shallot. Continue to saute for another minute.
Add the wine and sugar to the mushroom mixture. give everything a good stir, and bring it to a simmer.
Reduce the wine over the mushroom mixture, when the wine starts to coat the back of the spoon, take the mushrooms off of the heat and set aside.
In a small bowl, mix the mayonnaise with the truffle oil and roasted garlic. Truffle oil is very strong and a little goes a long way with it.
To Assemble:
On the bottom part the pun, place the mushroom mixture on it, then add the burger. On top the burger add the field greens. Finally on the top part of the bun, place a layer of the mayonnaise. Then ENJOY!
Nutrition Information:
Amount Per Serving:
Calories:

450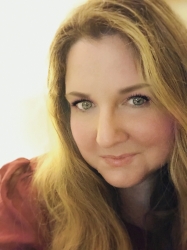 Latest posts by Deanna Samaan
(see all)