This post was most recently updated
Chocolate Sour Cream Mini Donuts are moist, chocolate baked donuts that is sinfully delicious. A recipe from Seduction in the Kitchen.
When I was growing up, I was taught to be nice without expecting anything in return. I always thought everyone was taught that. After I moved to Cleveland, I found out quickly that isn't the case and there are those people will only be nice to if they think they get something in return.
I was reminded of this today. I am the first to admit I get taken advantage of because of this I do help and do not ask"what's in it for me." So when someone manipulated a few others with lies, it hurt me deeply. Why because those who I thought knew me, believed that persons lies and manipulations
It is easier to believe drama then someone who has always been there to help them. In the end, they will know the truth, but the drama has already done the damage. So you just got to get through it, you know the real truth.
There will always be that one person or persons, as in my case, who love to create drama. They will do it by any means because they have insecurities. If people choose to believe them, despite every good thing you were done, then that another insecurity that might be in them, they choose to believe the lie despite what they know the truth.
You will never please everyone, this I know. I am reminded of the quote my mom told me a few years ago when the "click" at work was really bad and destroying my confidence at work:
"Pay no mind to the simple kinds, assholes tend to like assholes, and what they are is simply assholes and your surrounded by them, common sense is something simple-minded assholes do not have. So I would pay no mind to simple kinds"
Between my friend's quotes and my mom's quote, it did make me feel better. I hate workplace drama. Sometimes you need to hear some good advice from someone who knows you and is being nice and doesn't expect anything in return. Truthfully, that is the best type of person to be and yes we may get taken advantage of, in the end, the one is nice because they think they can gain something in return will end up alone in all the drama they create.
I will be the first to admit, when drama like this does enter my life, I stress eat. Some girls it is ice cream they will grab, for me it is baking sweets. Even though drama can drain you, for me it has helped create some great sweets. That is my way of looking on the bright side, trust me I do not want this drama in my life.
I have this mini donut maker in my closet I got for a Christmas present a few years ago. I knew I also had fudge cake mix as well. As I said, I needed to deal with the stress of drama, so I decided I wanted to create a recipe that uses this mini donut maker.
I decided to use the sour cream in the recipe because my favorite donut is the sour cream ones. I thought the chocolate cake mix and sour cream would make a great baked donut. Turned out I was right!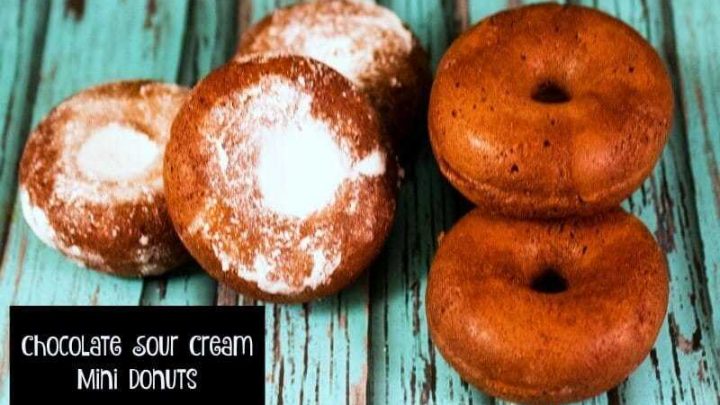 Yield:

24
Chocolate Sour Cream Mini Donuts
A moist, chocolate baked donut that is sinfully delicious. A recipe from Seduction in the Kitchen.
Ingredients
1 box of chocolate fudge cake mix
1/3 cup oil
2 eggs
1/4 cup sour cream
1 tablespoon of milk
Powder sugar (optional)
Instructions
Plug in the mini donut maker and spray the cavities with a non stick cooking spray. Heat it up according to the manufacture's instructions.
In a bowl, mix together the cake mix with the sour cream, oil, eggs, and milk.
When the donut maker is ready, place a tablespoon of the batter into the cavities, shut the lid and cook for about 3-4 minutes.
Take the donuts out the donut maker and let cool, If you want dust with some powder sugar before they cool completely.
Serve them up and ENJOY!
Nutrition Information:
Amount Per Serving:
Calories:

310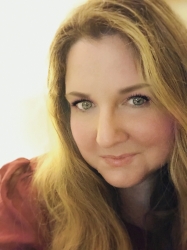 Latest posts by Deanna Samaan
(see all)