Weekday Supper Cinco de Mayo Wraps is a combination of sweet fiery glazed chicken with assorted veggies all done up in a wrap. This wrap has a zing to it that makes perfect for Cinco de Mayo.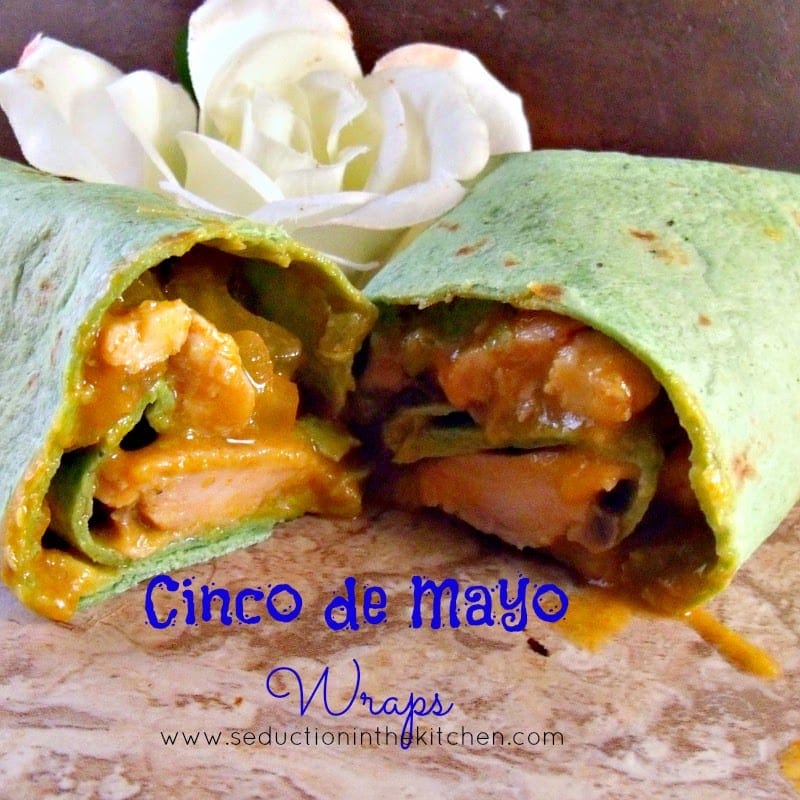 Cinco de Mayo
Happy Cinco de Mayo! Time to celebrate and get your margarita on! They may say it is 5 o'clock somewhere when you want a margarita any other time, but on Cinco de Mayo, everyone is celebrating all day long, so that 5 o'clock rule has been thrown out!
I am a margarita person, so yes I love this day. The Mexican restaurants here in Cleveland, Ohio have margaritas half off. It is just a nice way to have fun and relax with friends in my opinion.
Weekday Supper Cinco de Mayo Wraps
In the celebration of the day, you could be having a potluck party. you could make Slow Cooker Dorito Taco Casserole or Casa Noble Creamsicle Margarita. What recipe can you make that is quick and easy that will embrace Cinco de Mayo?
Or maybe you are a little low on funds and need to use up some leftover chicken, that is where these Weekday Supper Cinco de Mayo Wraps comes in very handy for all those reasons and was the perfect choice to do today for the:
What is nice about these Weekday Supper Cinco de Mayo Wraps is the versatility.  You really can make it your own. The filling is actually on the healthy side, so if you want to watch carbs, do it up in a lettuce wrap.
Vegetarian, omit the chicken and add more veggies. Even a vegan will find this recipe suitable. The main thing about these Weekday Supper Cinco de Mayo Wraps is the sauce.
After that, it is all in what you have in the fridge really. I had an avocado I needed to use, so I put it in there, along with some mushrooms, onions, green peppers, and celery. In the past, I have added carrots, cucumbers, black olives, and even added leftover steak and shrimp from a BBQ, it all still works because of the sauce for the Weekday Supper Cinco de Mayo Wraps.
Yield:

2 servings
#WeekdaySupper Cinco de Mayo Wraps
A #WeekdaySupper recipe. It is Cinco de Mayo, enjoy this quick, sweet but spicy chicken wrap that is perfect for leftover chicken. From Seduction in the Kitchen.
Ingredients
1/4 cup hot sauce
1/4 cup of honey
1/4 cup lime juice
1 cup of cooked (leftover chicken (cut up))
1 cup of assorted cut up vegetables (cucumber (avocado, onions, celery, green pepper, black olives, etc))
leaves Tortillas or lettuce
Instructions
In a sauce pan, mix the lime juice, honey and hot sauce. Then bring to a light boil, meaning when start to boil, the first couple of bubbles you see, that a light boil.
When it does that add the chicken and veggies to the sauce, let it cook for about 1 minute. Take off the heat.
Using what you want to use for the wrap, lettuce or a tortilla, place on that on a flat surface, then add at least 1/4 cup of filling to the wrap.
To do a wrap, fold sides over the filling, the from the bottom roll it up. Most tortillas that say "wrap" on them, will have photo directions to help you with the rolling of a wrap.
When you have it rolled up, then ENJOY!
Nutrition Information:
Amount Per Serving:
Calories:

250
This post was most recently updated
I want to hear what you have to say about this recipe that is on
SEDUCTION IN THE KITCHEN!
Let's get this conversation started! What do you think of this recipe?