The Witch'tini is a Witchy brew that will help you get into the spirit of Halloween. A recipe from Seduction in the Kitchen
.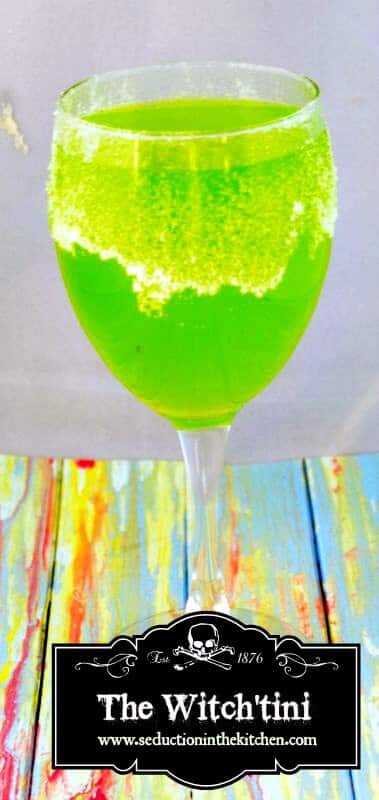 "Oh me, oh my, I sit and cry it's no where in my head, my recipe for witches brew is gone, I'm filled with dread." I had to sing that song in 6th grade in some musical number. I was the witch. It only part that song I remember and I really don't know why I remember that line.
I remember I talked in voice like an old woman, I kind of remember having to wear a fake nose. But I can not tell you what the musical was even about. Funny how you remember little things like that from your childhood, isn't it.
Why did I bring that memory up? Well, Halloween is coming up isn't it? I always think of that stupid line from that musical this time of year for some reason.
My friend who has that annual Halloween party, was not going to have it this year. Well she changed her mind last-minute, now she is having it. I have no idea what I am going to go as. Normally I got a costume planned out weeks in advanced. I enjoy putting together my costumes. Let's see I gone as:
Audrey Hepburn- Breakfast at Tiffany's
Woodland fairy nymph
Belly dancer
Vintage wine
Marilyn Monroe
Nikki Minage/ Lady Gaga
Liz Taylor – Cat on Hot Tin Roof
Pirate serving wench
My favorite costume was vintage wine.
My next favorite was when I went as Liz Taylor.
What am I going to do this year? I am not sure yet, but I do have a fun idea. So have to see if I can pull it off, just have to wait to see what it is!
So since it is Halloween time, I needed a Halloweenish recipe. Cocktails is easier for me to theme for Halloween, so a cocktail it is. I wanted something that looks pretty and has that Halloween spirit to them. What I really like is when I dipped the glass in some sugar, it gave the drink the illusion of being magical, This is perfect for Halloween.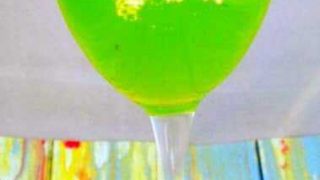 Yield:

1 drink
The Witch'tini
A Witchy brew that will help you get into the spirit of Halloween. A recipe from Seduction in the Kitchen
Ingredients
1 ounce Hawaiian Punch Green Berry Blast
1 ounce vodka
1 ounce green apple vodka
sugar for garnish
Instructions
Place the Hawaiian Punch, vodka and the green apple vodka to a shaker filled with ice.
Shake well.
On a glass, moisten it with a little water and rim the glass into sugar.
Strain the drink into a sugar rimmed martini glass.
Drink up and ENJOY!
Nutrition Information:
Amount Per Serving:
Calories:

150
Check out my the latest on my other blog:
40K Followers
This post was most recently updated
I want to hear what you have to say about this recipe that is on
SEDUCTION IN THE KITCHEN!
Let's get this conversation started! What do you think of this recipe?