Slow Cooker Bacon Cheeseburger Sheppard Pie is a cheeseburger casserole recipe. This sheppard pie recipe is great for your budget and it is made in the slow cooker. Your family will love this recipe for cheeseburger pie! Serves 6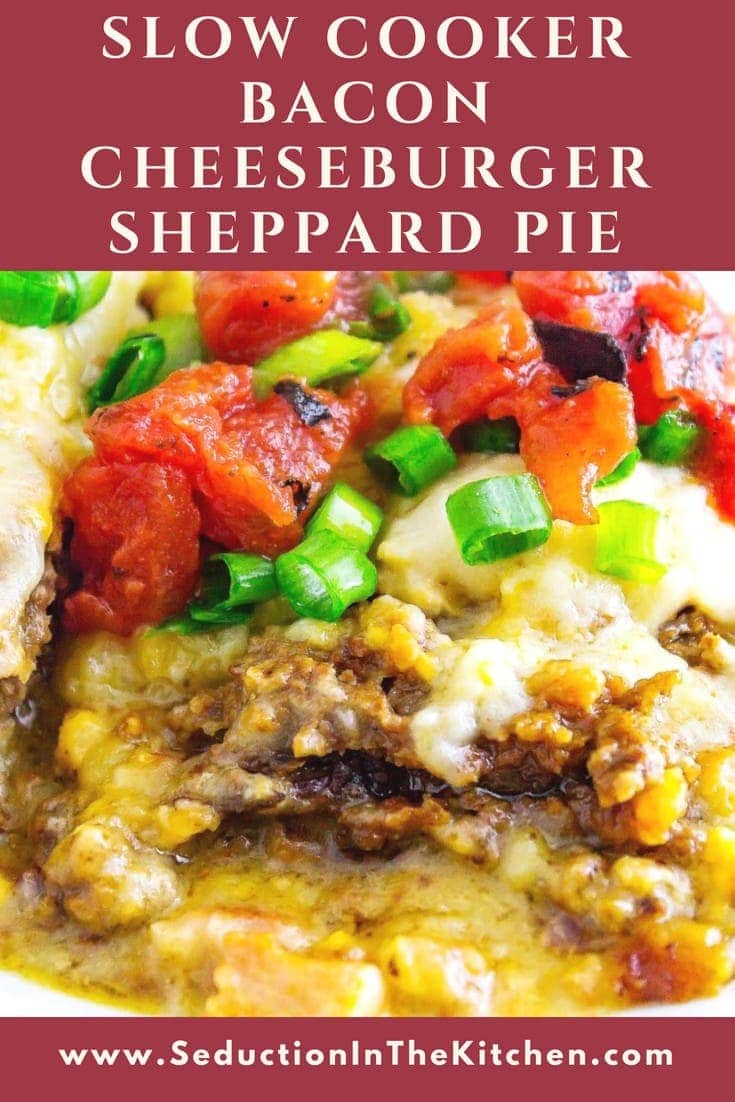 Sheppard Pie
I have a coworker who loves sheppard pie. She is always asking me when will I post a sheppard pie recipe? Truth is, I never really knew what a sheppard pie really is.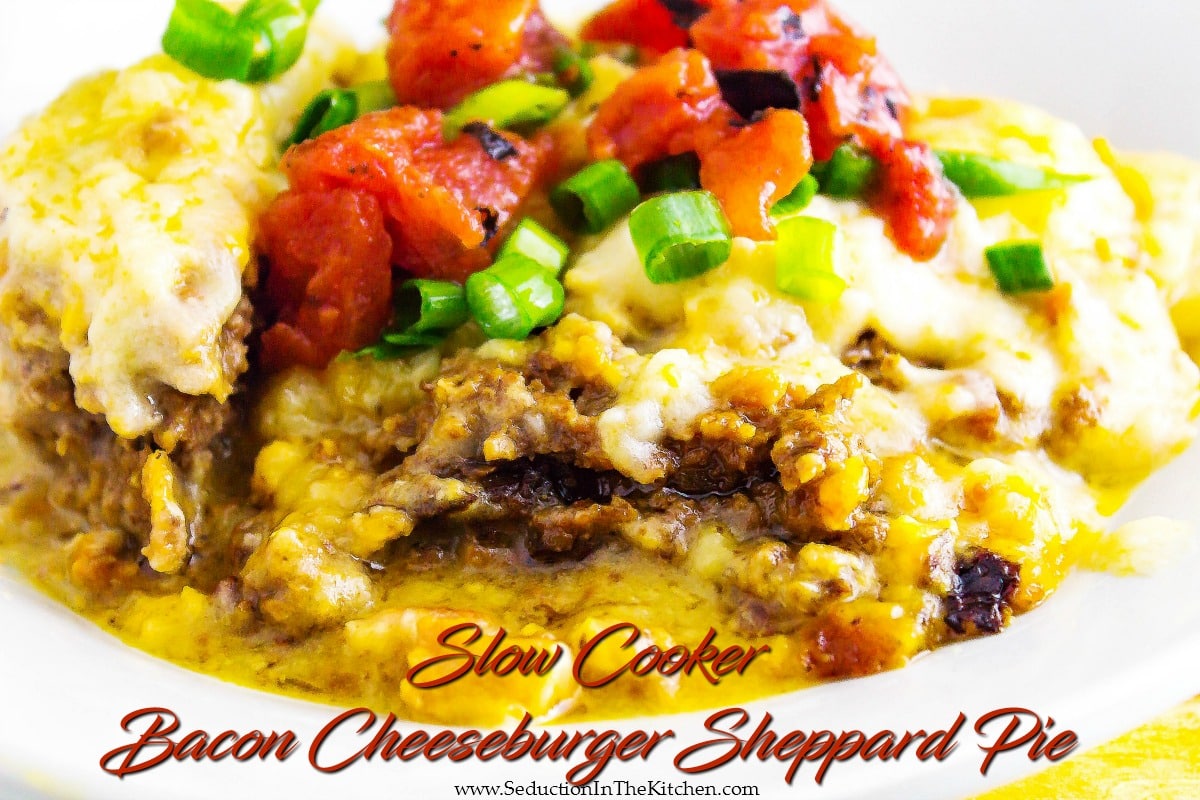 Sheppard Pie Recipe
Her constant asking me for a sheppard pie recipe, finally convinced me to research sheppard pie. What I found is that a sheppard pie recipe is similar to a cheeseburger casserole recipe, only it uses mashed potatoes instead of biscuits.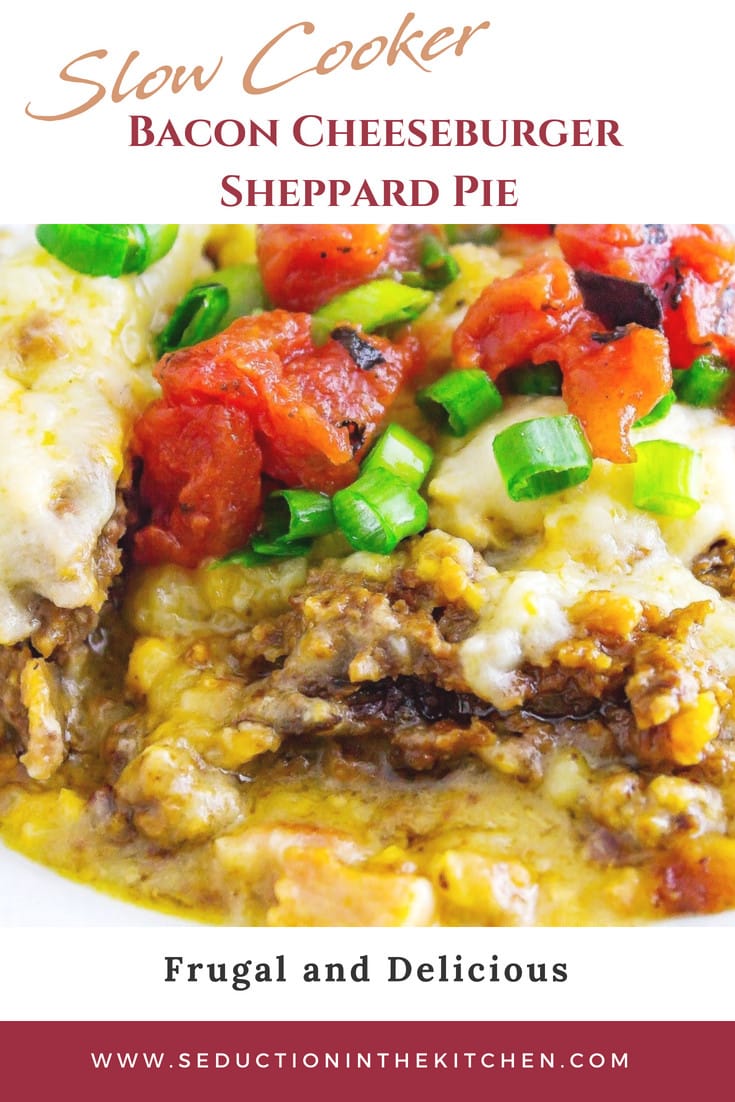 Cheeseburger Casserole
So what inspired me to take a cheeseburger casserole and turn it into Slow Cooker Bacon Cheeseburger Sheppard Pie?  I was looking for slow cooker recipes for both a cheeseburger casserole and sheppard pie when I realized I could make cheeseburger pie with mashed potatoes!
Cheeseburger Pie Recipe
Can you make this sheppard pie recipe just a cheeseburger pie recipe without the mashed potatoes? Actually yes you can. This bacon cheeseburger casserole is that versatile!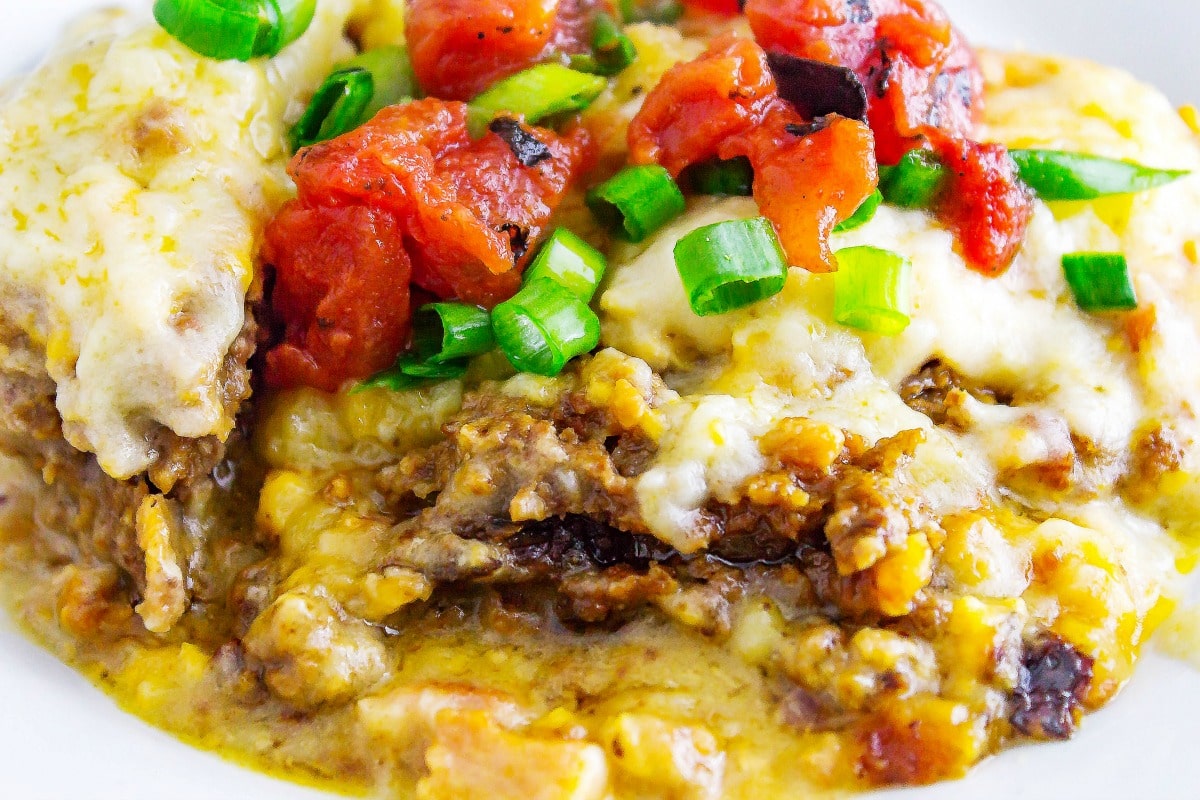 Bacon Cheeseburger Casserole
Bacon makes everything taste better. So I decided to also change up the cheeseburger pie by also adding in some bacon and making this a bacon cheeseburger casserole. The bacon was a perfect touch!
For This Recipe You Will Need
Cheeseburger Casserole Recipe
How does this hybrid of flavors taste for this cheeseburger casserole recipe? The verdict, my cheeseburger pie creation was fantastic! You will love this bacon cheeseburger pie with or without the mashed potato topping.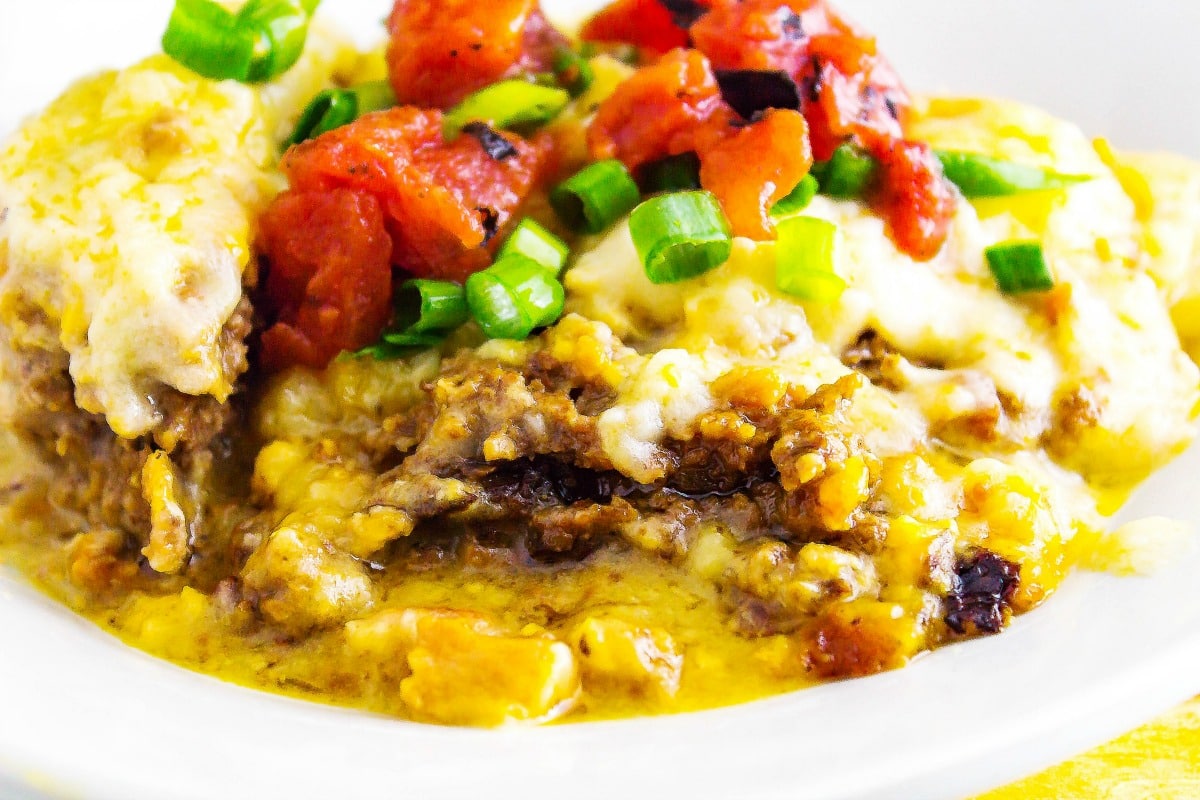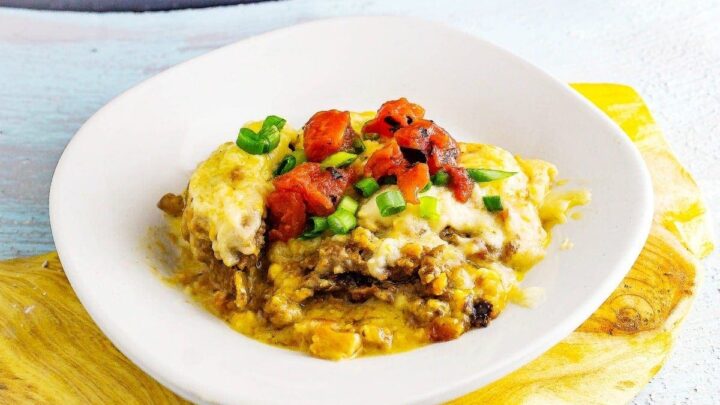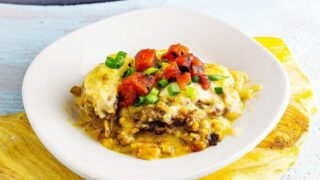 Yield:

6
Slow Cooker Bacon Cheeseburger Sheppard Pie Recipe
Total Time:
6 hours
10 minutes
Slow Cooker Bacon Cheeseburger Sheppard Pie adds a yummy bacon cheeseburger twist. Easy to make and your family will love it!
Ingredients
1 1⁄2 lbs lean ground beef
1⁄2 cup plain breadcrumbs
1⁄2 cup finely chopped onion
1⁄4 cup ketchup
2 teaspoons prepared mustard
1 tablespoon worcheshire sauce
6 slices bacon, cooked and crumbled
2 cups prepared mashed potatoes
2 cup shredded cheddar cheese, divided in half
1 clove garlic, minced
1 medium tomatoes, chopped
2 green onions, sliced
Instructions
Combine ground beef, breadcrumbs, onion, ketchup, mustard and,worcheshire sauce and mix well. Press hamburger mixture in bottom of the slow cooker. Place a layer of the 1/2 of the cheese on top the hamburger mixture. Next, layer on the bacon on top the cheese. Mix the potatoes with the minced garlic and rest the cheese and spoon potato mixture on the top of the bacon layer in the slow cooker. Place the lid on the slow cooker and cook on low for 6-8 hours or on high for 4-6 hours. When it is done, Serve it up, garnish it with the chopped tomatoes and green onions and ENJOY!
Nutrition Information:
Amount Per Serving:
Calories:

599
Total Fat:

38g
Saturated Fat:

16g
Trans Fat:

1g
Cholesterol:

131mg
Sodium:

927mg
Carbohydrates:

25g
Fiber:

2g
Sugar:

5g
Protein:

38g
I want to hear what you have to say about this recipe that is on
SEDUCTION IN THE KITCHEN!
Let's get this conversation started! What do you think of this recipe?