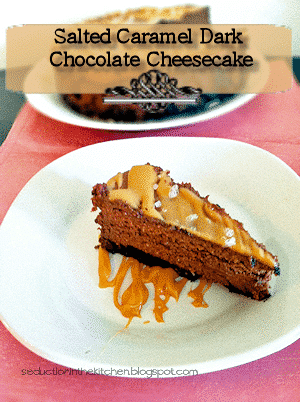 I decided to do something a little different on this post. It is an old post and I updated it. It is a year old, and this was the first photo that I got accepted by one the MAJOR food porn sites, but the post itself, well let's just say I had a fight with Virgin Mobile and I put in the post. A year later, I decided let's redo the wording, the photo is my pride because it was the first photo to be accepted, so I do not have to update that photo, so that is what I am doing here.
I talk about change being good so much on here, so why not take the negativity out of a post and updated with a positive vibe, I mean this is a cheesecake, it has to be a fun post! So out with the negativity and in with something positive it is!
So confession time, when I think of cheesecake, I can not help but think of Golden Girls. That show, it was well written and entertaining. Who could not help but love Rose, Sophia, Blanche, and Dorothy? However, if I ate as many cheesecakes as those gals did, I would be 500lbs. I admit I was and still am a fan of the show. Sometimes, when I have a nervous patient getting blood drawn, depending on the topic, I have been known to quote the show.
Some of my favorite quotes from the show are:
It was a good show, what can I say? It did bring a whole new level to Cheesecake.
Cheesecake, oh what is it about that luscious dessert that makes a mouth water? They are so sinfully good. I love the creamy texture of them. I am in love with salt caramel, Cheesecake that has that, well that a mouth orgasm right there!
Yield:

6 servings
Salted Caramel Dark Chocolate Cheesecake
Total Time:
1 hour
10 minutes
Salted Caramel Dark Chocolate Cheesecake recipe that will delight your taste buds from Seduction in The Kitchen.
Ingredients
1 cup Oreo cookie crumbs
1/4 cup butter (melted)
3 packages cream cheese
2 cans sweetened condensed milk (divided)
2 tablespoons heavy cream
1 teaspoon of vanilla
1 bar baker dark chocolate
1 package semi-sweet chocolate chips
4 eggs
30 caramels
4 tablespoons heavy cream
course sea salt
Instructions
A great stress relief, put Oreos in a bag and take a rolling pin to them, and crush them to make the crumbs. After dealing with that drama, trust me this a great stress relief.
After you get nice and crushed, mix them with the melted butter and press the crumbs to the bottom of a spring form pan.
Set the pan aside, and pour 1 and 1/2 cans of the condense milk into a bowl, along with the 2 tablespoons of heavy cream, vanilla, and the cream cheese. Mix it until it is smooth. To blend it better, make sure the cream cheese is room temp, it mix better.
After you got the cream cheese mixed, time to melt the chocolate. Put all of it into a bowl and microwave it for 30 seconds, stir, microwave again for 30 seconds. Keep doing that until the chocolate is all melted. You don't want do a long time in microwave, you could burn the chocolate, so why we do it in 30 second intervals.
After the chocolate is melted, add it to the cream cheese batter. and then mix it until well blended in. Confession, this one the times I wish I had a Kitchen Aid stand mixer, someday on my list I will have one. Unless, you never know Kitchen Aid might sponsor me and give me one, I would do that, hey I can have hope!
You want to beat in one egg at a time. Doing this helps incorporate the egg into the batter, doing one at a time makes for a much smoother batter.
After you have the eggs beaten into the batter, take a pan of water and place in the oven on the lower shelf. turn the oven on to 300 degrees. Then pour the batter over the cookie crumbs in the spring form pan.
Smooth the batter out in the pan. This helps even it out, so make sure you do this part. The batter is thick and wont just, "settle, so why we do the smoothing.
Finally place it in the oven at 300 degrees with the water bath. The water bath helps keep the cheesecake that nice creamy texture. Bake it for 55 minutes.
When it is done, take out the oven and run a knife around the edge, it help loosen the cake from the side, and help with cracking too.
Let the cheesecake cool, it be an hour to hour and a half. After it is cool to the touch, Put the cake on a plate and remove the side from the spring form pan.
Place the caramels in a bowl, add the rest the condense milk and add the cream. Do it in 1 minute intervals, microwave, then stir until the caramel sauce is nice and smooth.
Drizzle the caramel sauce on the top the cheesecake.
Then, finally sprinkle on the sea salt. Then let sit in the refrigerator for at least 4 hours to over night, before you serve it.
Once it is nice and chilled you can drizzle the remaining caramel sauce on plates, there will be extra, and place the slices on top and enjoy!
Nutrition Information:
Amount Per Serving:
Calories:

420
This post was most recently updated
I want to hear what you have to say about this recipe that is on
SEDUCTION IN THE KITCHEN!
Let's get this conversation started! What do you think of this recipe?