The Pittsburgh Panini is based on the famous Pittsburgh sandwich with fries and coleslaw but made into a panini! Pittsburgh comfort food made right at home.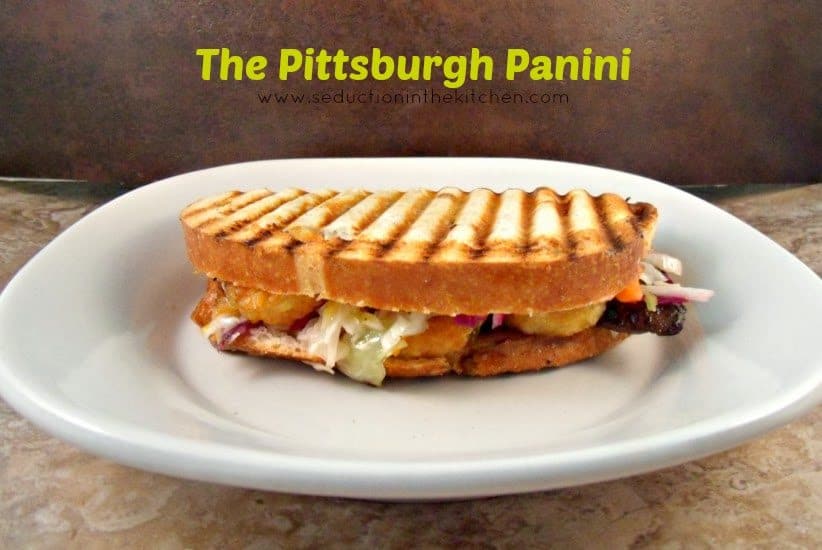 Roller Coaster Of Life
W
ell, I think I am back on track with things as far as Seduction in The Kitchen goes. I took a small break to deal with everything my dad was going through with the colon cancer. We got the results back and the new growth they found was negative.
Finally, something we can relax and breathe over. I do have the best fans of this blog and many have shown such great support as I was dealing with this new obstacle in the roller coaster of life. So from the bottom of my heart, Thank you.
The Pittsburgh Panini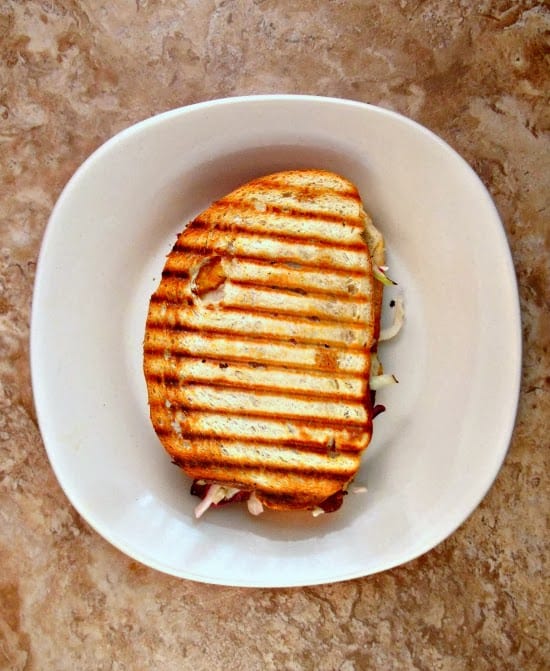 So, since I was in Pittsburgh for my family, it made me homesick for Pittsburgh. I was born and raised there. So yes, black and gold run through my veins. You can take the girl out of Pittsburgh, but you can not take the Pittsburgh out the girl.
I have said it many times on here, a Pittsburgher living in Cleveland is interesting. Cleveland does try to copy Pittsburgh, but you will never get them to admit that, though. They have a restaurant here called Panini's that has sandwiches that have slaw and fries on them. It is just like the Original Primanti Brothers in Pittsburgh, only it is not the same.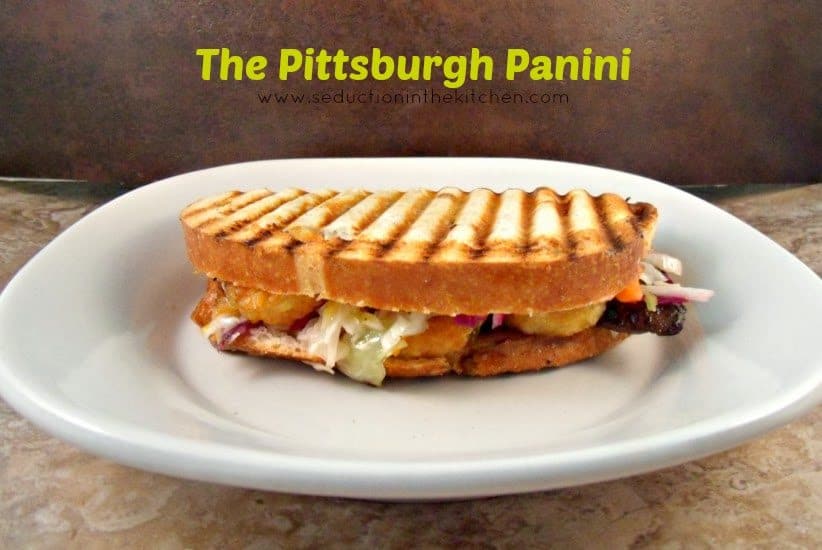 I told my Cleveland friends, "I am sorry, but this is just an imitation Primanti brothers sandwich." It is the coleslaw they use. The Pittsburgh Sandwich does not use a creamy coleslaw, it is an Italian vinegar based slaw.
What makes the Pittsburgh sandwich unique is that and they use Italian bread and hand cut French fries besides that oil and vinegar based cole slaw. It is those 3 elements are what makes the Pittsburgh sandwich. That is the essential if you want the famous Pittsburgh taste.
So yes I was craving this sandwich, but I am in Cleveland, and I do not like this Panini's place that has this imitation Pittsburgh sandwich. So I decided let's do the Pittsburgh sandwich, but with a twist. I just got a panini maker so let's make The Pittsburgh Panini.
It would be Pittsburgh comfort food made right in my home. The first obstacle was the Italian bread, no Manzini's bread is sold here. That is what really makes a Pittsburgh sandwich.
So I settled for what they have here in Cleveland for the Italian bread. Plus what I could get was already sliced, it actually too thin to be a Pittsburgh sandwich, but is perfect for The Pittsburgh Panini. Then the next obstacle was the hand cut fries. I was being lazy, I did not feel like hand cutting a potato.
Then I thought if I use tater tots, it would hold better on the panini. Plus with the sandwich being pressed, smooshed fries may not sound good. Ok, let's make my Pittsburgh Panini and my craving for "home." You know what, no not the original Pittsburgh sandwich, but this Pittsburgh Panini was very close!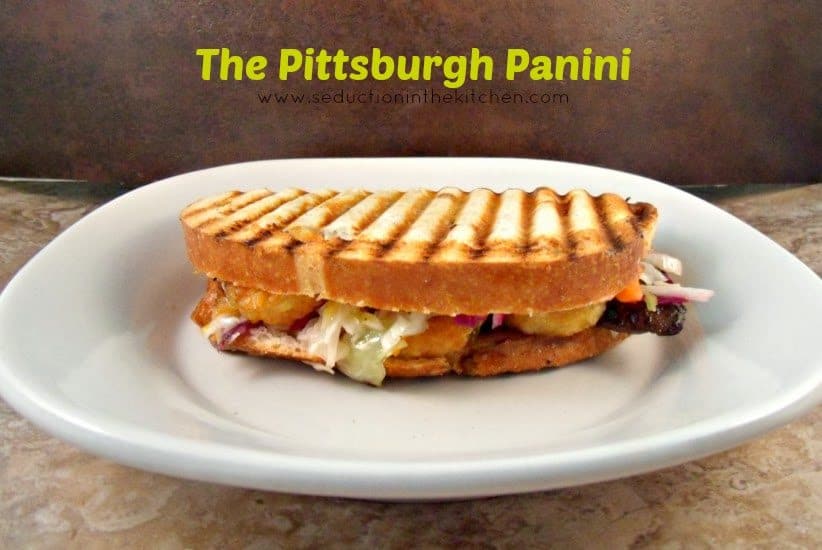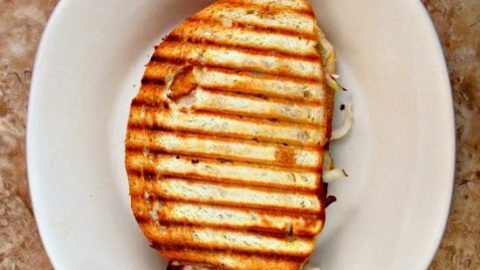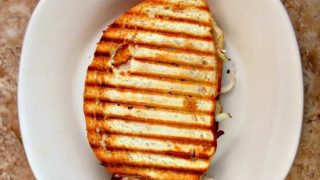 Yield:

1
The Pittsburgh Panini Recipe
The Pittsburgh sandwich but in Panini form! A recipe from Seduction in the Kitchen.
Ingredients
Panini
Italian bread, sliced thin
Seasoned steak sliced thin and cooked
shredded cheese
Tater tots
Slaw:
Medium onion chopped
1 bag of coleslaw mix
1/2 cup of apple cider vinegar
6 tablespoons of sugar
6 tablespoons olive oil
1/4 teaspoon celery salt
1/4 teaspoon black pepper
Instructions
First thing is to make the slaw, place the onions and coleslaw mix in a bowl, and toss them together. Next you want to whisk together the dressing. Add the sugar, vinegar, celery salt, black pepper, and olive oil together. Now I know there several versions of the "Pittsburgh Slaw" out there, and one the more popular ones say do not use olive oil. Truth is, Primanti Brothers uses olive oil in the secret recipe. It is an Italian family, they would not use anything less. The one copy cat recipe says it makes too strong, truthfully to me it is just right.
Pour the dressing over the slaw, and toss it well to coat and then set aside for about an hour or so. In the meantime as the flavors are blending for the slaw, cook thinly sliced stead for the sandwich. With think steak slices they will cook up within minutes. I like to season my steak with a little of Trader Joe's Grinder Garlic salt, and a little black pepper. Also the sauteed mushrooms that is just a taste preference for me, I love mushrooms, I sauteed them with the steaks so they have that steak flavor on them.
As the panini press is heating up, it is time to assemble this sandwich. Place the steak and some cheese on top of a slice of Italian bread.
Layer on the mushrooms if you want them.
Layer on the tater tots
Top it off with the 'Burgh Slaw
Place the top slice of the Italian bread on top, then place it on the panini press. Press it for 2-3 minutes.
Then ENJOY!
Nutrition Information:
Amount Per Serving:
Calories:

315
This post was most recently updated
I want to hear what you have to say about this recipe that is on
SEDUCTION IN THE KITCHEN!
Let's get this conversation started! What do you think of this recipe?