Last Updated on August 3, 2020 by Deanna Samaan
So having a girl's night in, especially in the winter time, could have a theme, like "soup and slippers." Gather up your best gal pals, take off your shoes, put on your comfortable slippers, pour a few drinks and then enjoy some nice filling soup, and talk the night away and enjoy yourself. That would make for a great girl's night in!
One of my personal favorite soups, and it also a favorite of several of my gal pals is mushroom soup. So for me to have soup and slippers, I would serve this soup up. Letherbee Distilleries sent me a bottle of their gin to create a girl's night in the recipe with. Here is something interesting you may not know when comes to gin and cooking. Gin can actually be used in place of sherry. That is right, if you do not have sherry, you can use gin instead. So I decided to play up a mushroom bisque I have made for awhile, but I wanted to be more flavor than what I usually did. Back in Pittsburgh, there was a restaurant that went to that made this sherry mushroom bisque, I loved the flavors of it. So remembering that I decided let's use the Letherbee Gin in my go to recipe and change it up by adding and subtracting a few things. The results were amazing. The Letherbee Gin really brought an amazing flavor to this soup.
Letherbee Distillers describes their gin on their Facebook page as few gins unfold like Letherbee's flagship tipple — a Chicago-made, grain-neutral spirit distilled by hand with a clean yet robust blend of 11 botanicals. Juniper berries spearhead a mélange of spices, including coriander, cardamom, and cinnamon, while cubeb berries evoke a touch of pepper and a hint of ginger in the finish. Dried lemon peel and orange pith lend the dry, balanced concoction a bit of room for keen drinkers to pick up subtle notes of licorice and almond.
So this recipe is just perfect for a soup and slippers: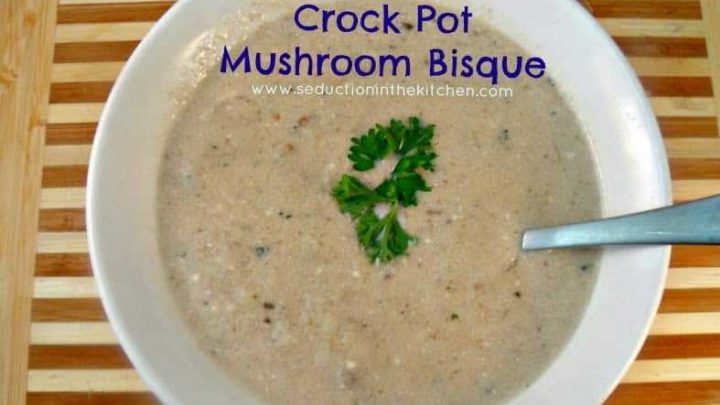 Yield:

6 servings
Girl's Night In: Letherbee Gin Crock Pot Mushroom Bisque
Cook Time:
3 hours
30 minutes
Total Time:
3 hours
45 minutes
Have soup and slippers themed girl's night in with this savory mushroom bisque made in a crock pot using Letherbee Gin. A recipe from Seduction in the Kitchen.
Ingredients
2 packages of sliced baby bella mushrooms
5 tablespoons of unsalted butter
1 whole onion (grated)
2 cloves garlic (minced)
2 1/2 cups chicken broth
1 tablespoon Letherbee Gin
1 1/2 teaspoon garlic salt
1 teaspoon fresh ground pepper
1/2 cup sour cream
1/2 cup heavy cream
2 tablespoons melted butter
2 tablespoon flour
Instructions
Saute the mushrooms in the 5 tablespoons of butter, saute them for about 2 minutes then add the onion continue sauteing the mushrooms and onions for another 2-3 minutes.
In a crock pot, put the chicken broth and the Letherbee gin in it. When you are done sauteing the mushrooms and onions add them to the chicken broth mixture. Let them cook on low for about 2-3 hours, just till the vegetables get soft.
After cooking for 2-3 hours, take a slotted spoon and take out about half the mushrooms and put them into a blender to puree them. You do not have to pure them till smooth, just til they are chunky smooth.
Add the pureed mushrooms back into the crock pot. Give it a good mix.
Add the sour cream and heavy cream to the soup. Stir again so that well blended together.
Season with the garlic salt and pepper, taste it to see if you need to adjust. Then cover and let cook for another hour on low.
Mix the 2 tablespoons of melted butter and 2 tablespoons of flour together. You are making a roux, to thicken the soup, doing this works the best to add to a crock pot. Once you have this flour and butter mixed together, take a soup spoon scoop it out the bowl and stir it into the soup, keep stirring the spoon till it it clean. Cover and let cook for a half hour longer, so it will thicken up.
Ladle some up in a bowl and ENJOY!
Nutrition Information:
Yield:
6
Serving Size:
1
Amount Per Serving:
Calories:

255
Total Fat:

25g
Saturated Fat:

15g
Trans Fat:

1g
Unsaturated Fat:

7g
Cholesterol:

71mg
Sodium:

825mg
Carbohydrates:

6g
Fiber:

0g
Sugar:

3g
Protein:

3g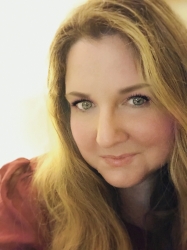 Latest posts by Deanna Samaan
(see all)