Disclosure: This post may contain affiliate links.
You are here:
Home » Drinks » Festive Dumante Soda Stream Cosmo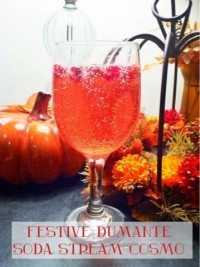 This will be a interesting post! In my last post, I gave you the Sugared Cranberries recipe. I talked how my laptop mouse acted up and had to send it in to be fixed. It would ok because I have my desktop. Well, my desktop is not even a year old, and it blew. The whole os system needs to be replaced, but luckily it is covered by the HP warranty. This so funny, I lose both my computers a week apart. Oh, I am just chalking it up to the curse of the 13.
I'm just ready for 2013 to be over. All this weirdness, it just needs to be over and done with. 2014 please get here soon! I want to shout that from the roof top! Anyway, I can't use my camera, because I have no way right now to edit photos. I have my iPhone, I got my iPad. Ok, I got make it work, there is no way I can not have any posts for 2 weeks. So let try something, ah I got my soda stream machine. They just came out with a Cosmo, margarita, and piña colada syrup for it. Hmm. Wait, Dumante, the same liquor I used in the Apple Pie Cupcakes, oh let's make a festive drink. Wait the sugared cranberries, the idea started coming to me. Honestly, I also needed a drink, it been a rough week as a week with work and the stress life gives you. The combo of the sugared cranberries, soda stream, and Dumante pistachio liquor, all can say is it is delicious!
Festive Dumante Soda Stream Cosmo
A festive Cosmo drink using SSodaStreamand Dumante liquor. A recipe from Seduction in the Kitchen
Ingredients
Sugared cranberries
Soda Stream Cosmo
Dumante pistachio liquor
Directions
Carbonate water in the soda stream
Add the Cosmo syrup to the carbonated water.
Add the sugared cranberries to a glass and add about ounce of the Dumante Pistachio Liquor to the glass.
Pour in the Cosmo soda
Then ENJOY!

Is this something you would love to whip up in your kitchen? Share it and inspire others with this recipe! 
XOXO