This post was most recently updated
This post is sponsored in conjunction with AppleWeek. I received product samples from sponsor companies to aid in the creation of the AppleWeek recipes. All opinions are mine alone.
Deconstructed Skillet Apple Dumplings is an easy apple dumpling recipe. This fuss-free recipe is perfect for a quick apple dessert!
Apple Week
This is now day 3 of Apple Week! This time I am bringing you a simple apple dumpling recipe. First, what is apple week?
To apple week is when a group of food bloggers is posting, yep, apple recipes. There is a giveaway, as well. To learn more about apple week and the awesome giveaway, check out Apple Fritters recipe for all the details!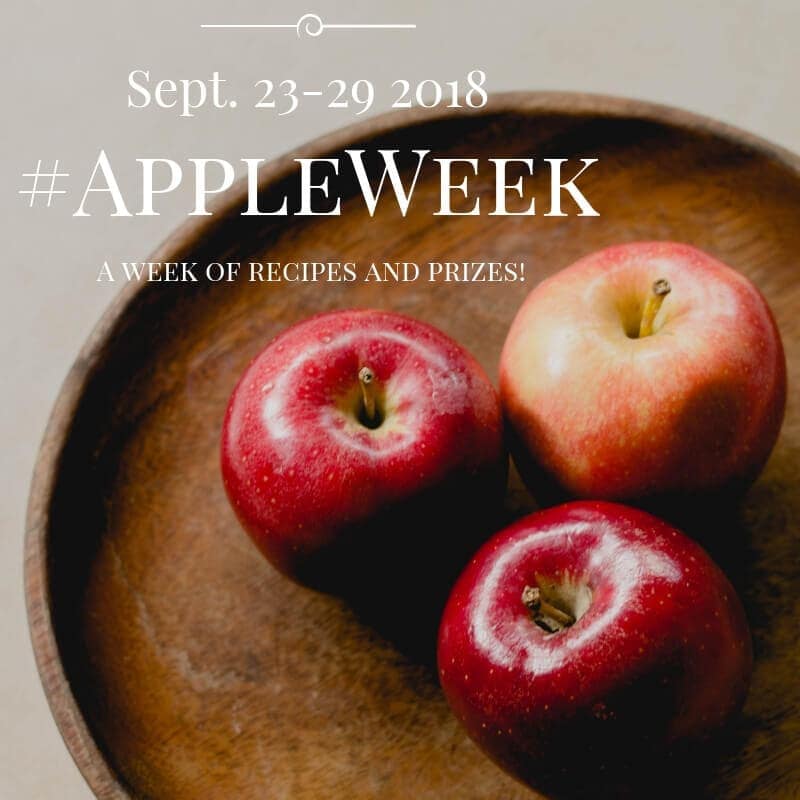 Envy Apples
This apple recipe was created by Envy Apples! What is Envy Apples? Well, the motto says it all:
When you're this good, they call you envy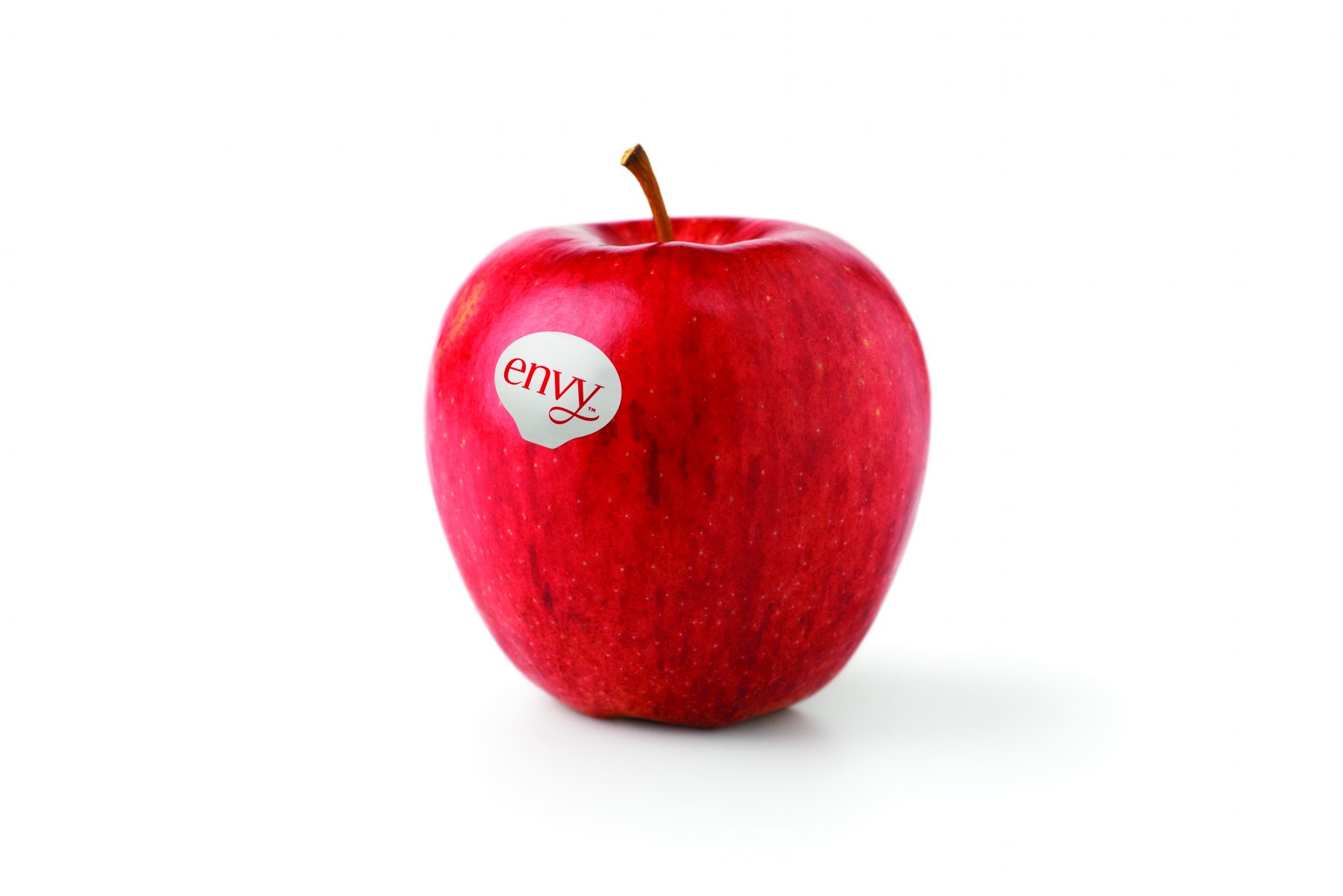 This apple is the bomb! It has this spicy yet sweet taste I have never tasted before on apple. The Envy apple is perfect for baking into a dessert, like this skillet apple dumpling recipe.
About Envy Apples
You can read about the envy apple here, but a quick synopsis from the Envy website:
It's an apple grown for our busy, modern lives. A pure and pristine apple that's a genuine work of orchard-growing genius. And one you can enjoy just about anywhere. With its extraordinary crunch and texture, refreshingly sweet palette and beautiful colours – it's nature's passport to a magical moment of indulgent time. Brought to you from the world's most caring growers.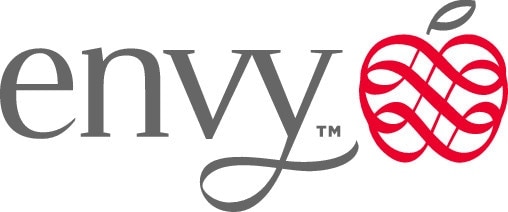 Deconstructed Recipe
I actually like deconstructed recipes. What is a deconstructed recipe? It when you take a recipe that is usually together and make it not together. This apple dumpling is an example of a deconstructed recipe.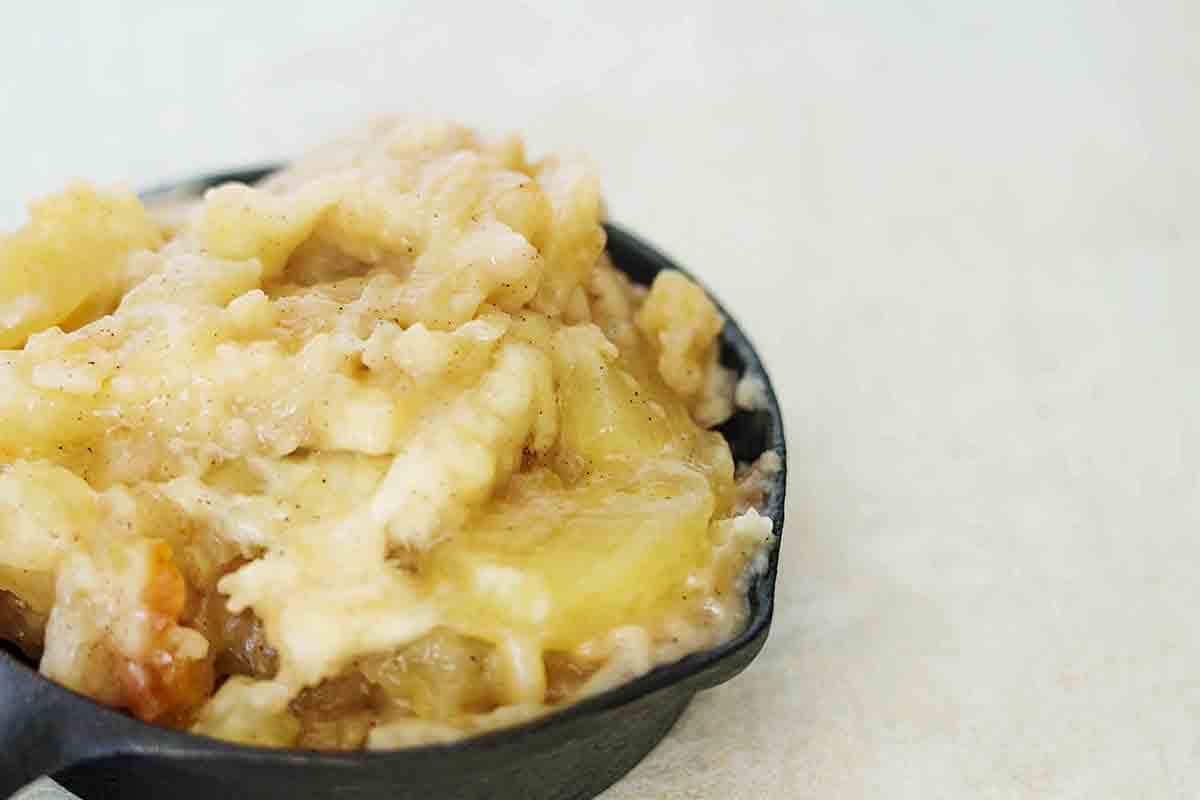 Apple Dumplings
Normally apple dumplings are apples, seasoned, and wrapped up in a dough and baked. So I decided to take a few steps out of apple dumplings and make it an easy apple dumpling recipe.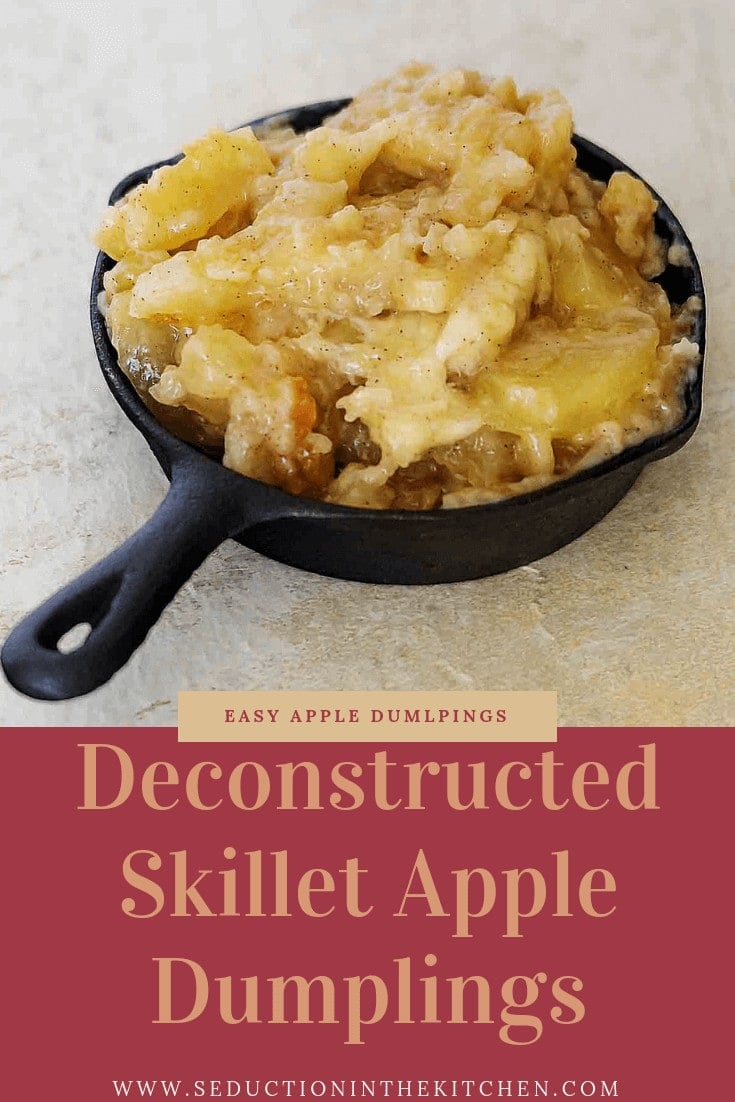 Skillet Apple Dumpling Recipe
I will admit, what inspired this skillet apple dumpling recipe was something I saw on a frozen bread dough wrapper. They had this apple skillet recipe. I decided to mix up that recipe and use crumbled pie dough instead of bread dough to create a skillet apple dumpling.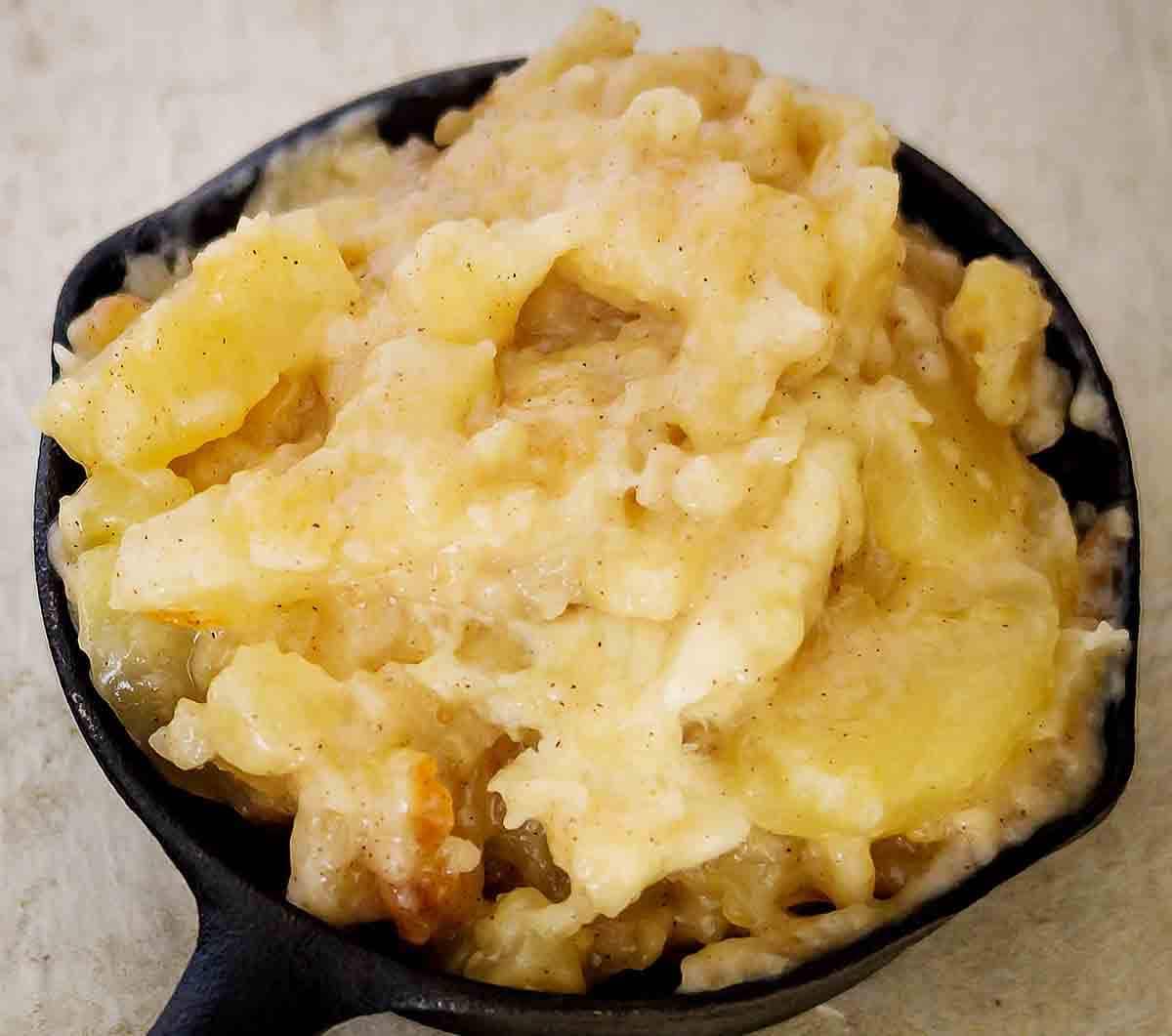 Easy Apple Dessert
What I think is the appeal of this apple recipe is that it is an easy apple dessert. It is basically dumped in a skillet cook and serve. I personally like this apple skillet recipe with a scoop of ice cream, now that is dessert recipe I love!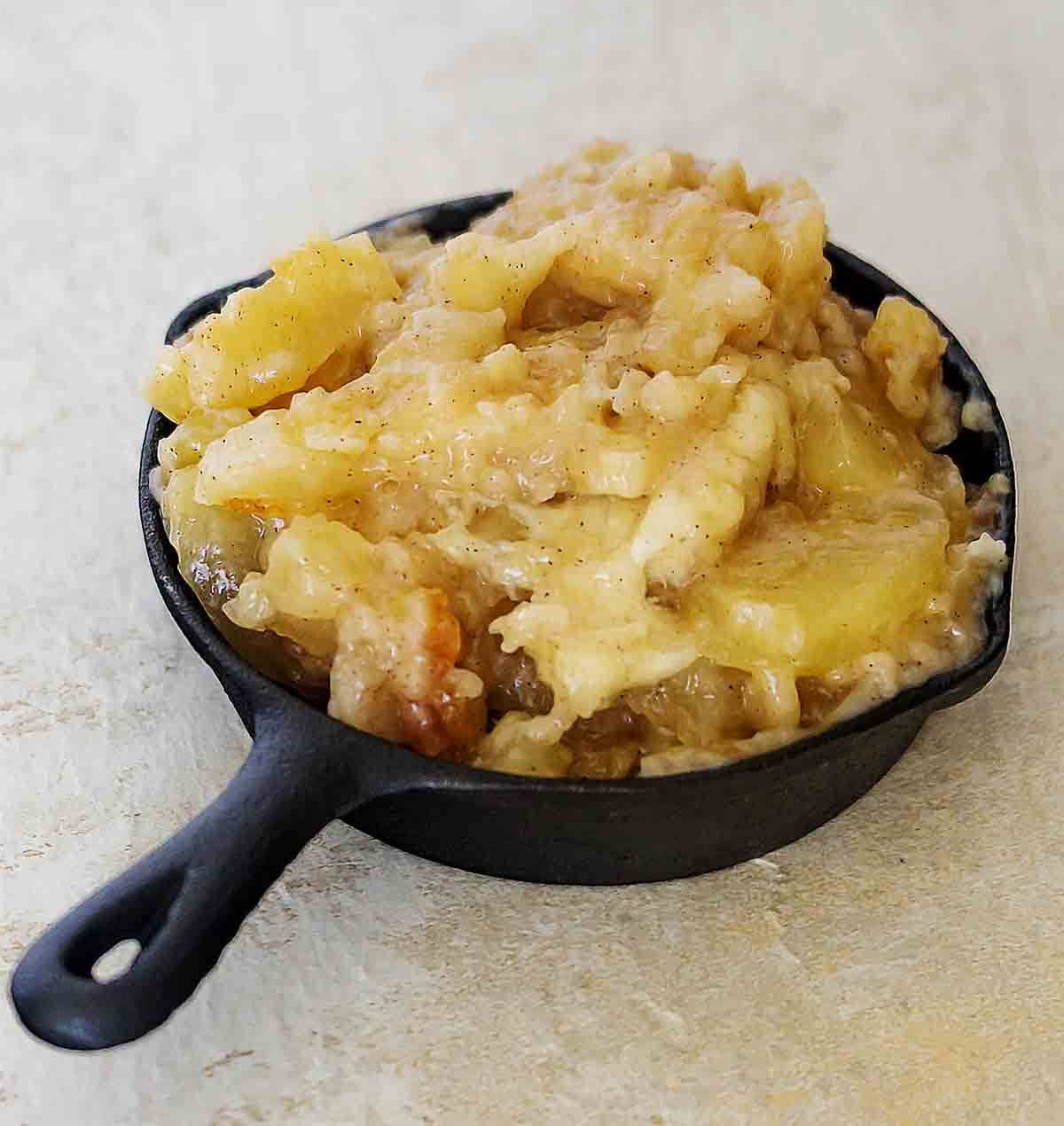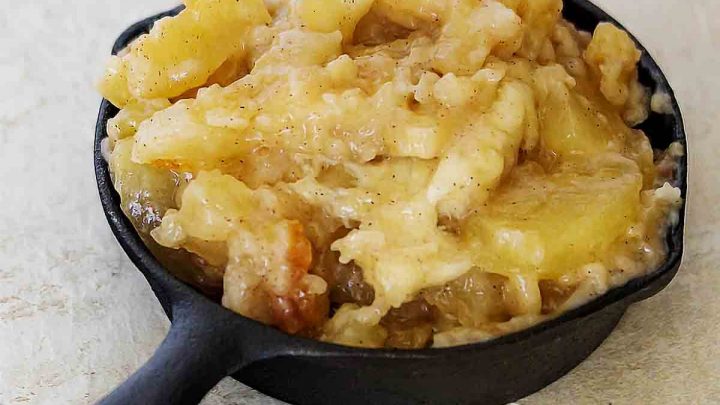 Yield:

6 servings
Deconstructed Skillet Apple Dumplings
Deconstructed Skillet Apple Dumplings is an easy apple dumpling recipe. This fuss-free recipe is perfect for a quick apple dessert!
Ingredients
2 Envy apples, peeled and diced
1 teaspoon lemon juice
1 teaspoon vanilla extract
2/3 cup heavy cream
5 tablespoons butter, cut into small pieces
1 cup brown sugar
1 1/2 tablespoons flour
1 teaspoon cinnamon
1 pie crust
Instructions
Add apples into a large skillet. Add the lemon juice, vanilla extract, heavy cream and butter.

In a separate bowl, add the brown sugar, flour and cinnamon

Sprinkle the cinnamon over the apple mixture.

Lightly stir until all the ingredients are blended together.  

Bring the apple mixture to a boil, reduce heat to med-low and simmer for 5 minutes until slightly thickened. 

Drop in crumbled pie dough into the apples.

Continue to cook until the dough starts turning golden, about 10 minutes.

Take off the heat. serve it up and ENJOY!
Notes
Best serve warm also is great with a scoop of vanilla ice cream!
Recommended Products
As an Amazon Associate and member of other affiliate programs, I earn from qualifying purchases.
Nutrition Information:
Amount Per Serving:
Calories:

375