This post was most recently updated
Crockpot Caramel Rice Pudding is smooth, sweet, and creamy is how you would describe this rice pudding that is made in the slow cooker. A recipe from Seduction in the Kitchen.
I talk a lot on here about how change is good. Another thing I am big into is how actions speak louder than words. Many people simply do not realize how their actions tell more about them the words that come out their mouths.
Sometimes we forget that little things do matter. It the little acts that really show the greatest amount of love one has. An example what I mean, you fall sleep on the couch, and your spouse doesn't want to disturb you, so they put a blanket on top of you, so you don't get cold and can simply sleep. That action shows way more love than saying I love you.
It is just like when we say "life's simple little pleasures." The simplest little things can bring such joy, like getting an icy ball in the North Side of Pittsburgh. It a simple little treat but getting one brings you pleasure. Why maybe because it associated with a good memory from your childhood. In our bigger is better, want today, fast paced life, I think we forget these two things: actions speak louder than words and life's simple pleasures.
I was thinking about these, well the actions speaking louder than words one because I was constantly telling it to the guy I was seeing, the guy I referenced in the Pineapple Zucchini Bread. Truthfully it was his actions was how I knew he was playing a game with me. The simple pleasures, well again have to do with a guy, but I had an ex-boyfriend text me recently. That text out the blue reminded me how simple pleasures, like getting a text out the blue, can bring a smile to your face.
Simple pleasures can be anything that brings you joy. For some when comes to food, it is chocolate. For me it is caramel. I love smooth, creamy caramel. It is that simple pleasure and just the action of getting me something with caramel that will make my day.
Another guilty simple pleasure of mine is rice pudding. I am right now in a slow cooker frame of mind. I find it really cool that you can make anything, including a dessert like rice pudding, in a slow cooker. This did take a few tries to get the nice caramel taste I wanted, but it really came out nice.
Yield:

6 servings
Crockpot Caramel Rice Pudding
Total Time:
2 hours
10 minutes
Smooth, sweet, and creamy is how you would describe this rice pudding that is made in the slow cooker. A recipe from Seduction in the Kitchen.
Ingredients
3 cups cooked white rice
1 teaspoon vanilla
1 ounce can sweetened condensed milk (14)
1 ounce can evaporated milk (12)
1 tablespoon brown sugar
optional caramel sundae topping
Instructions
Spray inside of 2- to 3 1/2-quart slow cooker with cooking spray.
Mix all ingredients except the caramel sundae topping.
Cover and cook on low for about 2 hours or until liquid is absorbed.
Make sure you stir pudding occasionally.
Scoop some out and if you want to have extra caramel taste top with a little caramel sauce and ENJOY!
Nutrition Information:
Amount Per Serving:
Calories:

110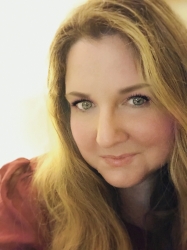 Latest posts by Deanna Samaan
(see all)