This post was most recently updated
I know, it has been awhile since I posted. Moving is not fun! Most it was due to getting Internet. I had AT&T Uverse at the old apt, but not available here in the area I moved to. I was then transferred to Windstream, well first Windstream lost the order, then I realized the wall Jack had a blank plate, talking to landlord, they put that up because, well no one really uses DSL. Windstream was going to charge me to put in a new wall jack, I said no. I used an excuse wasn't allowed but that was my way to get out the deal. I'm not paying to have a wall jack. I rent, I do not own this place. So called Time Warner, they going to install cable, yep after 4 years not having cable, I decided I will give it another shot. Anyway, I went with a bundle that had Internet. Viola! Finally almost 3 weeks moving in I got my Internet!
I do like my new place, it feels more like a home then an apartment. I need so many little things that I didn't have with old place, like curtains! My old apartment only had 1 big window in bedroom and a sliding door to my balcony. This place I have 2 windows in my living room, 1 in my bathroom, 1 in my kitchen, 2 in my bedroom. Plus the kitchen much larger then my old kitchen but has less cabinet space. So I'm getting a baker rack and pot rack to help in that area.
Last night I had an idea, I got the huge walk in storage closet right next to kitchen. Right now got my appliances in it on the shelf and my sweeper. I also have a huge walk in closet in my living room, it got seasonal decor stored in it and coats. Plus got the laundry room, so why not take sweeper put in the living room closet or laundry room, turn that hall closet into a pantry! Just need a bookcase saw at Walmart for $15, and the over the door shelves which seen for $20 in some catalogs. Yeah that would work!
It is going to be fun doing projects for this place. I'm on the hunt for a small table to turn into my bar, it be like one I did at my old place. I didn't bring it only because the table itself was shot and wasn't that stable. New place new stuff!
Moving is interesting, you learn things I think when you move. One is how much you accumulated. I lived in Fairview Village for 6 years, I realized I never called it home always my apartment, here I said home a few times already. However in those 6 years, wow the stuff I had! I gave so much if it away or threw out. I wonder if I am a pack rat?
Anyway, in moving I got to cleanse myself of that old, well junk, but also get rid the very last stuff from my marriage. One was that bedroom set. I didn't take it. It forcing me to buy a new set. I started already I bought a new mattress and box spring which is being delivered sometime today. I seen the headboard I want get but got order it, plus the dresser I seen online too. I creating my own bedroom. Finally I will sleep on things that are mine, not something that I shared with someone that cause me pain. It may have took me 6 years to get myself back after being married to an abusive and manipulative man, but I did it. I am back and feels wonderful to throw those old reminders, like furniture and what I talked about in the post when I announced my moving.
Moving is a way of starting over. It like what always said on here, change is good. Moving is change. We need change. Sometimes we need a push to change, For me it was Fairview Village getting a crooked manger who drove the place downhill and then another one who decided to illegally raise the rent. Enough was enough, I felt my energy change as I moved into this new apartment. So it reinforced in me why change is good.
Change is good even in cooking. I was craving chicken dumpling soup,but I wanted to do a short cut, instead of doing traditional dumplings, I knew I had a package of gnocchi, that would be perfect to use in a chicken dumpling soup I thought. Plus with the move, the crock pot has become my friend, Why because I am still setting up my new kitchen. Plus, I just love cooking in a slow cooker. In fact I am thinking of doing a eBook of slow cooker ideas.
Yield:

6 servings
Crock Pot Gnocchi Chicken Soup
Cook Time:
5 hours
20 minutes
Total Time:
5 hours
30 minutes
Crock Pot Gnocchi Chicken Soup is a easy crock pot soup recipe that is perfect for a chilly day. A recipe from Seduction in the Kitchen
Ingredients
4 cups of chicken stock
2-3 boneless (skinless chicken breasts)
1 small onion (chopped)
2 celery stalks (chopped)
2 carrots (chopped)
1 tablespoon soy sauce
1 clove of garlic (minced)
1.5 teaspoon of thyme
1/2 teaspoon rosemary
1 package of gnocchi
salt and pepper to taste
Instructions
In a crock pot add the chicken stock, Mix in the soy sauce and the seasonings.
Then chicken breasts, onion, carrots, garlic, and celery. Let it all cook on low for 4-6 hours.
Next strain out the chicken breasts and shred them, add back to the soup. Now add the gnocchi. Cover and continue to cook for another hour.
Ladle some the soup into a bowl and ENJOY!
Nutrition Information:
Amount Per Serving:
Calories:

415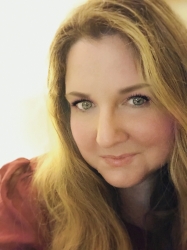 Latest posts by Deanna Samaan
(see all)