This post was most recently updated
I hit a milestone, well actually a double milestone. This is the 100th post here on Seduction in the Kitchen, but I also hit 2000 likes on the Facebook page as well! Both at the same time, it is amazing!
I remember sitting on my couch, leg propped up in a cast, looking at the 4 walls in my apartment. I was bored out of my mind. I could not drive because it was my right leg. I decided I wanted to get back into food blogging, to help keep me entertained. That was back in May of 2013, now 100 posts and 2000 likes later, here I am.
I have said it before, I am grateful to have just one person who likes my recipes and this blog. To me, cooking is my stress relief, and I turned that stress relief into a passion. I do get question constantly as to why I do cook and bake so much, especially when I am on a date with a guy.
My answer has always been the same, it a passion of mine. I love seeing the look on someone's face when they take a bite of my food that I made. That is part of the pleasure in cooking, seeing that look of enjoyment on a face.
When I realized I was getting to this 100th post, I wasn't sure what I would do for it. I was going through my phone to show someone a photo when I saw the photos for this recipe I made a while ago. I never published it for some reason.
The more thought about it, I thought this would be the best recipe for my 100th post. My most popular recipe on Seduction is the Crock Pot Cheesy Bacon Potatoes. This is another version of that recipe but with a different flavoring. It sounds perfect for the 100th post.
Yield:

6 servings
Crock Pot Bacon Ranch Potatoes - The 100th Post
Cook Time:
5 hours
20 minutes
Total Time:
5 hours
30 minutes
Creamy crock pot potatoes made with ranch dressing and bacon, a recipe from Seduction in the Kitchen.
Ingredients
1 bag of frozen hash browns (country style)
1 can of condensed cream of potato soup
1 can of condensed cream of celery soup
8 oz of sour cream
1 envelope of dry Hidden Valley Ranch dressing mix
1 pieces bag of Oscar Meyer recipe style bacon
Instructions
Spray the crock pot with a little cooking spray. Then mix the soups and the ranch dressing together in the crock pot
Next you want to add the bacon. I find using the bacon pieces works very well in recipes, it why I use it the most. plus it is cheaper. Instead buying a whole pound of bacon and only using 4 slices, this gives you that and less mess as well! Anyway stir in the bacon to the ranch mix.
Finally add the sour cream to the mix. Stir it in well. Then add the potatoes, one final mix so that the potatoes are covered with the bacon ranch mix. Cover the crock pot with the lid and let it cook on low for about 4-6 hours.
When done, put some on the plate and ENJOY!
Nutrition Information:
Amount Per Serving:
Calories:

425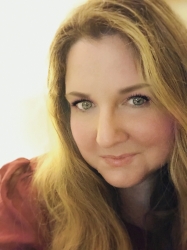 Latest posts by Deanna Samaan
(see all)