This post was most recently updated
Caesar Pasta Salad With Smoked Salmon is a savory salad is bursting with flavors with the smoked salmon and the Caesar dressing. A recipe from Seduction in the Kitchen.
Did you ever get something or read something that just brought a smile to your face? That was me tonight with an email. I got this email from the daughter of what I think is my oldest reader.
The email said that her mom really likes reading Seduction in the Kitchen, however, her mom is computer challenged because she is 80 years old. So she, the daughter, is an email subscriber to Seduction in the Kitchen,  so when mom is over she lets her read the posts in her email. This reading of my recipes started with a roast beef recipe I posted ways back. She showed it to her mom and from that point on she was hooked on Seduction in the Kitchen.
The part of this email that made me smile was what she wrote next. Her mom encouraged her to write me to say "screw those guys, obvious they are blind, if they can't see what a beautiful woman you are not only on the outside but on the inside, they are fools. Not to worry that men are only good in the baby making department anyway, half the time, even that isn't great, that I'm better off being a divorced woman."
Sometimes you need an older woman's perspective to enlighten you. I thank you, Helen, for your words of wisdom, I admit I turn 40 in a few days and had mixed feelings about that, so been in a funk, and your email to me from your daughter really made me feel good. Thank you, I will keep your advice in mind from now on.
So yeah, I decided it is time for a new chapter with me turning 40, so expect some changes, after all, I do say change is good, do I not? It is time for me to blossom, I can feel it within me. I feel I am always waiting on something. So it is time to just stop waiting and do just do it myself. I want to go videos, so do videos, stop waiting on friends to help you. I wanted a 40th birthday party, I realized no one else was organizing it, so I am going it myself.
How does this effect Seduction in the Kitchen?  Well let's say I think you're going to see more of my personality, and it is not just in my writing. I already started too in a way.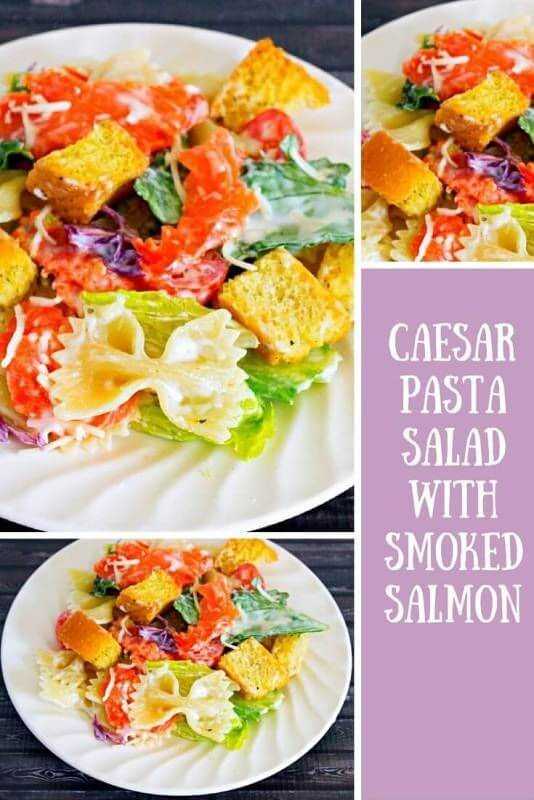 I wanted to do something different. I got inspired to do something different with Caesar Salad when a few friends invited me to a pub style restaurant for dinner. The special that night was a caesar salad salmon sandwich. The combination of that caesar salad with the salmon was superb. Was perfect combo for this salad.
Yield:

4 servings
Caesar Pasta Salad With Smoked Salmon
This savory salad is bursting with flavors with the smoked salmon and the Caesar dressing. A recipe from Seduction in the Kitchen.
Ingredients
40 z smoked salmon (chopped)
3 tablespoons lemon juice
2 teaspoons Dijon mustard
2 teaspoons anchovy paste
1 clove large garlic (minced)
1 cup ⁄2 extra virgin olive oil
1/2 lb bow tie pasta (cooked til tender, rinsed and drained)
1 head romaine lettuce (chopped)
2 1 ounces ⁄2 fine grated parmigiano-reggiano cheese
1 cup crouton
salt
pepper
Instructions
Whisk together the lemon juice, mustard, anchovy paste, garlic and olive oil in a large bowl. Set aside.
In a salad bowl, add smoked salmon, pasta, romaine, cheese and croutons.
Add the dressing and toss to combine.
Season with salt and pepper to taste and serve it up and ENJOY!
Nutrition Information:
Amount Per Serving:
Calories:

420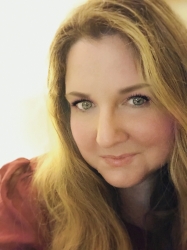 Latest posts by Deanna Samaan
(see all)