Disclosure: This post may contain affiliate links.
You are here:
Home » Bread » Bavarian Pub Pretzel Crisps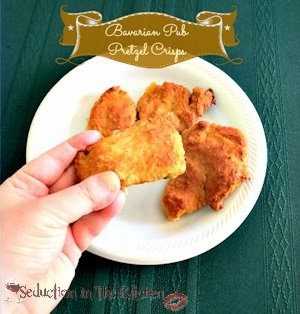 It is my last night of my vacation and my visit my parents in Pittsburgh. I have to go back to Cleveland, back to my life there. Being with my family in Pittsburgh, it really has helped me with clarity on some things in my life.
I have been saying for the last few years, I just do not like living by myself in Cleveland. I always come up with a reason to stay, one is I have a good job with one the hospitals in Cleveland. Another excuse was that I had stayed for my friends. My common excuse was, that I just didn't want to move and start over again, yet if my relationship with the Persian guy would go to that level, I would move to Williamsport, PA to be with him.
If your not happy, then you have to make a change to be happy. I do believe that everything happens for a reason, and I think what happened at work before I left for vacation, that I talked about in the Crock Pot Cheese Soup, maybe it was the wake-up call I needed. Things will never change at work because of the lack of discipline there. I came from a place where actions had consequences. In Cleveland, particularly the health center I work at, that doesn't exist, part the reason is there are no supervisors on site to see the unprofessionalism that goes on. This is one the reasons I am unhappy in Cleveland.
I am last of a dying breed there, I like being professional. I am not going to lounge in my draw chair playing Sugar Crush while there are patients. I am not going to eat popcorn in the lab, when not supposed to. I was brought up, if you're planning an event and going to talk about it at work, you invite everyone, because that is good manners. That is who I am, my coworkers are not like that. Maybe it is the age difference, there is a good 10 year age difference between me and them. Maybe it the attitude, I look at my job as my job, they look at it as a way to earn a paycheck, I don't know.  What I do know is for the first time in 8 years, I feel it is time to leave and go back home. Come January many hospitals lift the freeze on hiring because it is a new budget. So 2014, I am putting in my resume and ending my time in Cleveland, it's time for me to make changes, for me, not for love, not for friends, and not because of fear. Being in Pittsburgh, it finally became clear to me, my ah-huh moment, and my family helped me realize this.
Speaking of family, my mom been on me to make Pretzel Rolls. It is better I do in Pittsburgh, but my sister's bread maker broke, and I actually have my mother's because she hardly used it. So when I was here, I thought, ok I can do it by hand, until I discovered no one had yeast. Ok, how can I make a pretzel bread for my mom? I make Beer Crisps, and what makes a pretzel a pretzel is a baking soda par boil. Ok, let's do this, but with some twists, use the brown sugar, that the secret to a good Bavarian pretzel, and I had a bottle of Oktoberfest beer, so it would have a good pub taste to it.
Bavarian Pub Pretzel Crisps
A quick and easy way to make pretzel bread. A #recipe from Seduction in the Kitchen.
Directions
Combine the flour, brown sugar and beer together in a bowl.
Mix the it together until it forms a dough, then set it aside and let rest for about 30 minutes.
Meanwhile, bring the 6 cups of water to a boil on the stove.
After the dough has rested, place on a lightly floured surface and roll the dough out to 1/4 in thick. You can make it a bit thicker if you like. Then cut it into strips.
The water should be a rolling boil, add the baking soda to the water, but be careful it will react very quickly and can boil over very easily.
Adding a few strips at a time to the water, let the dough boil for about 30 seconds and take it out and placed onto a non stick baking sheet. A side note, see all that white, I didn't use a big enough pot and the water boiled over as soon as I added the baking soda. So make sure you use a big enough pot or that will happen when you add the baking soda to the water.
As soon as you have the strips parboiled brush with a little melted butter and sprinkle with the salt. Than bake the strips in a 400 degree pre heated oven for about 10-15 minutes, just until the strips are a nice brown color.
Once they are nice and brown, take them out the oven and let cool, then ENJOY!
Recipe Notes

Is this something you would love to whip up in your kitchen? Share it and inspire others with this recipe! 
XOXO